Food + Drink
| Craft Beer
Saucy Brew Works, Cleveland
This Cleveland brewery welcomes beer lovers with creative styles, tasty stone-oven pizzas and an inviting brewpub that merges the building's industrial past with cozy touches.
February 2020
BY Andrew Poulsen | Photo by Casey Rearick
February 2020
BY Andrew Poulsen | Photo by Casey Rearick
Saucy Brew Works has been one of the most recognizable names on the Cleveland brewery scene since it opened midway through 2017. Its vibrant cans are distributed throughout northeast Ohio, and the beer-maker has a popular brewpub just outside downtown. An Aramark-run space inside Rocket Mortgage FieldHouse also features Saucy Brew Works beer.

As far as the brewery's name, co-founder and brewmaster Eric Anderson calls it a "triple entendre." First, it's inspired by Anderson and co-founder and CEO Brent Zimmerman's self-described saucy personalities. Secondly, it's a nod to the term "sauce" being used as a colloquialism for alcohol. And, finally, it reflects the New Haven-style pizzas — or "apizzas" — that the brewery's kitchen churns out on a stone-oven conveyor system that can bake a hot, crispy and deliciously charred-edge pie in just over three minutes.

"Naming a brewery is pretty difficult," says Anderson. "It has to have a lot of jumping off points. We wanted the name to be nonregional, because sometimes that can pigeonhole you into naming your beers a certain way."

Saucy Brew Works' Hingetown neighborhood brewpub is located in the Steelman Building, once the home of a machine shop that made parts for water-treatment plants. The 14,000-square-foot space had been vacant for more than a decade, and Anderson and Zimmerman opted to keep some of the building's charm by leaving the original concrete floors, two of the walls, center posts and jib cranes. To give the space balance, the industrial aesthetic was offset by inviting touches like wood-burning fireplaces, a 100-foot-long sidewalk patio, an upstairs mezzanine and long wooden communal tables crafted by a local woodworker.

"It was homage to the original building," Anderson says. "We created a mix of heavy steel and brought in some warmth with the tables. We try to keep it fun and cozy."

The idea for the open and airy space and its concise menu of mostly pizzas, meatballs and sandwiches was inspired by Anderson's time living in southern California, where he visited countless breweries during the region's craft brewery boom. Instead of servers, Saucy Brew Works has a more casual process, with food and beer orders placed at the bar. The brewery's chef-designed pizzas are made with fermented homemade dough and local ingredients, but customers can also build their own pies by filling out a checklist of sauces, meats, cheeses and toppings.

"Pizza was always my first concept, because it's approachable," Anderson says. "You know what you're getting into, and it's just fun."

A graduate from the Master Brewing Program at Chicago's Siebel Institute of Technology, Anderson says his background in both brewing and microbiology gives him and his team of brewers the ability to be creative and craft beers that transcend conventional styles, such as the El Churro Mexican chocolate stout or the Modern Crimes toasted coconut porter.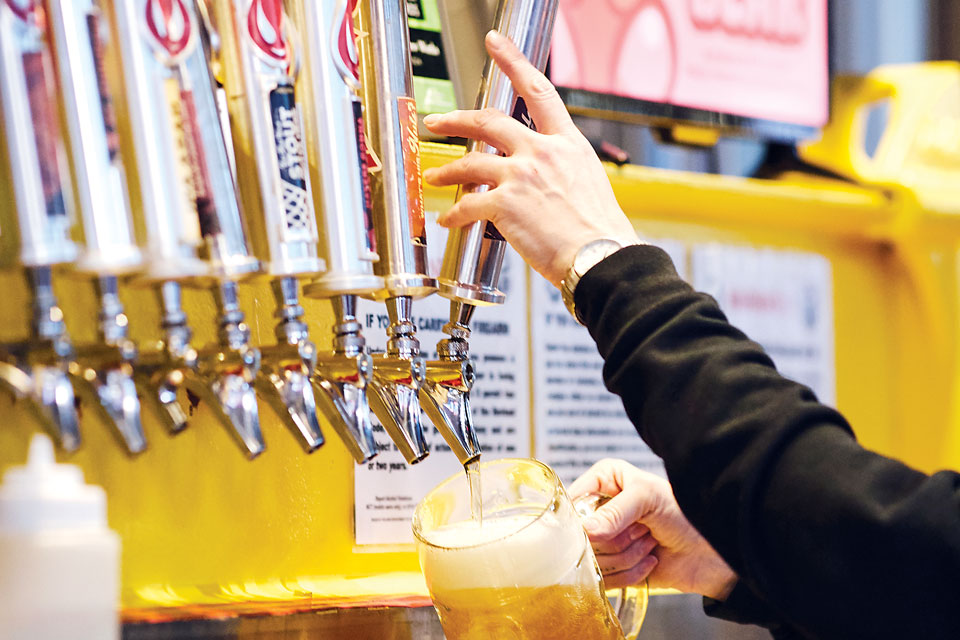 Another factor that allows Saucy Brew Works to have a broad brewing palate is the way it invests in its equipment. Its state-of-the-art, German-engineered BrauKon brewing system is efficient, eliminates waste and can be controlled by a tablet or smartphone. The brewery also uses an in-house yeast-growing system and creates unique sour beers without any bacteria, while an advanced microbiology system can detect potential beer spoilers on a genetic level.

At its core, Saucy Brew Works' beer list consists of German styles, modern interpretations of American styles and several experimental brews that are unique to their kegs. Casual drinkers would likely go for crossover beers like the light, crisp Habituale Kolsch, a recipe that has remained unchanged since Anderson's first batch. More adventurous beer enthusiasts might favor the juicy and hoppy Love You Bye hazy imperial IPA.

"If you're a brewer in the U.S., you have to make hoppy beers, but I never wanted to be an IPA brewery," Anderson says. "I think there's way more to a brewer's palate, so we try to flex our muscle in a lot of ways."

2885 Detroit Ave., Cleveland 44113, 216/666-2568, saucybrewworks.com