Food + Drink
| Craft Beer
Royal Docks Brewing Co., Canton
Inspired by their time living in Great Britain, John and Adriana Bikis bring their take on the English pub experience to Stark County.
February 2019
BY Andrew Poulsen | Photo by Kristen Jones
February 2019
BY Andrew Poulsen | Photo by Kristen Jones
Despite a name inspired by a famous English shipyard and a beer list that features nods to King Arthur, Vlad the Impaler and other bits of European folklore, the interior of Royal Docks Brewing Co.'s taproom is far from the dark and dank pub one might expect.
Instead, the cozy space is a juxtaposition of updated American and British decor. Tables and barstools are made with wood reclaimed from Ohio barns, while the polished concrete countertops and walls lined with subway tile make the room feel reminiscent of the London Underground. Although it may be an unconventional English pub in its design, Royal Docks does right by its inspiration in its spirit and ambience.
"We are no longer looking at ourselves as just a bar," says John Bikis, owner of Royal Docks Brewing Co. "It's more of a modern version of the English pub, where you can tell stories with your friends and family or sit next to someone you've never met before and have a conversation."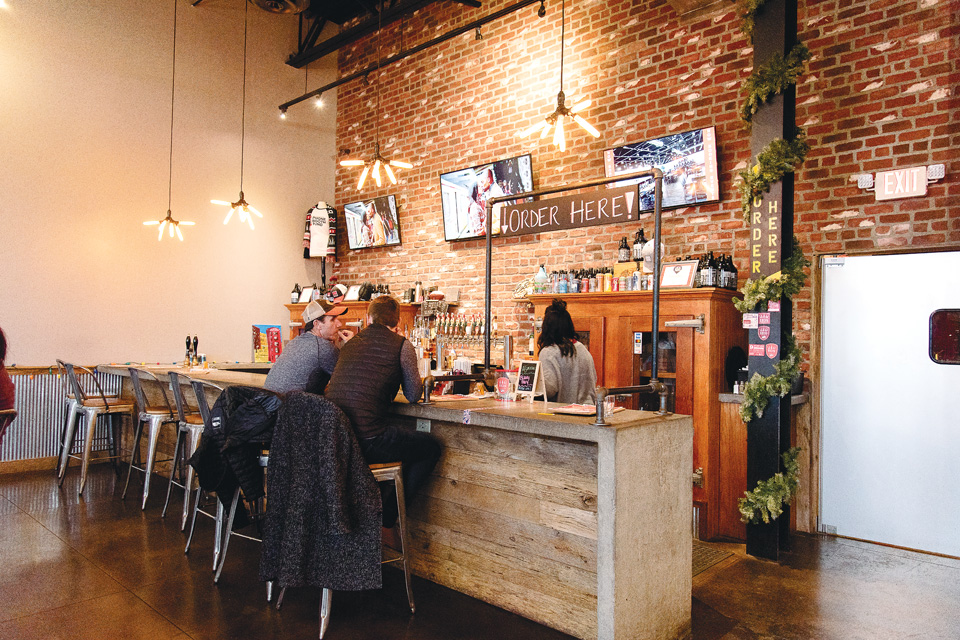 While working in sales and living in the historic Docklands area of East London, Bikis and his wife, Adriana, were greatly enamored of the city's pub culture and the notion that a pub was not just a place to grab a pint but rather a local institution for the whole family. One such place that greatly resonated with the couple was a pub known as Brew By Numbers, a small, garage-based operation that brewed during the week and opened its doors to the public on weekends. The simple, good-humored atmosphere of these weekend gatherings inspired the Canton native to bring the local pub experience to his hometown.
After moving back to Canton in 2014, John and Adriana met local brewer Dave Sutula and opened Royal Docks Brewing Co.'s taproom and kitchen a year later. It features 24 handles and a food menu that spans classic pub favorites like fish and chips as well as flavors from around the world, including Lebanese fries, Bavarian pretzel sticks and more than a dozen creative flatbreads.
"Ironically, the best way to describe the way in which we are an English pub is to use the German word 'Gemütlichkeit,' " says Sutula, brewmaster at Royal Docks Brewing Co. "It's defined as the way you feel when you're with friends or in a convivial atmosphere, especially one where beer acts as a social lubricant."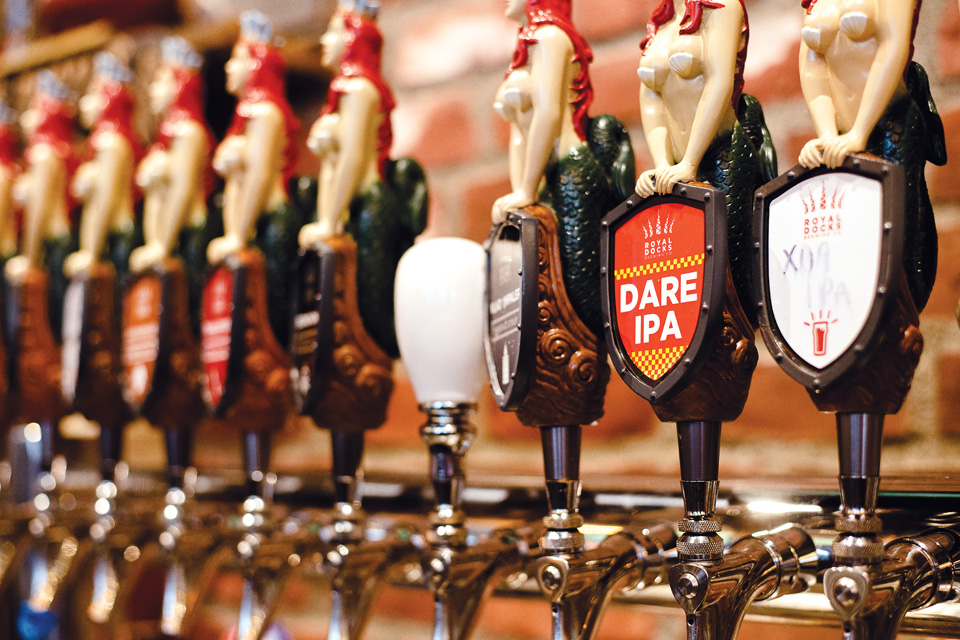 An admitted anglophile, Sutula received his formal education in brewing from Heriot-Watt University in Scotland, where he developed a strong fascination with British history and brewing traditions. In addition to their historical significance, many of the region's most famous beer styles also abide by Sutula's major brewing principles, which revolve around balance and drinkability.
Though styles like the brewery's Dare IPA are revered for their complexity and clean finish, Sutula isn't afraid to get esoteric when creating some of his more robust ales, such as Royal Docks' Much old ale.
"I have to have a story that influences what I make," Sutula explains. "With Much, I asked myself, 'What kind of beer might they have brewed back in the day of Robin Hood?' So, the beer was made with maple syrup, venison bacon, cherries and anything else they might've had in Sherwood Forest."
This year, Royal Docks Brewing Co. expanded its operation by purchasing a former skating rink that is now home to the business' brewhouse, cannery and event space. In addition to having a larger space for weddings, reunions and other events, the brewhouse now also offers Saturday tours once a month.
"Breweries are so new to this area, and you see the consumer gravitating toward this local story because the person now feels like they can know and be a part of that story," Bikis says. "Now, you can get great beer and atmosphere without driving to Cleveland or Columbus." Taproom and kitchen: 7162 Fulton Dr. NW, Canton 44718, 330/353-9103; brewhouse and cannery: 5646 Wales Ave. NW, Massillon 44646; docks.beer