Food + Drink
| Craft Beer
Masthead Brewing Co., Cleveland
This carefully designed downtown spot offers award-winning beer, a communal vibe and great wood-fired pizzas.
February 2018
BY Ruth Corradi Beach | Photo by Casey Rearick
February 2018
BY Ruth Corradi Beach | Photo by Casey Rearick
Nothing comes between you and your beer at Masthead Brewing Co. The spacious bar has two zones, carefully demarcated with metal pipes that serve as railings and signs to let you know precisely where to "enter" and "exit."

"You know how you go to a bar and it's crowded and you can't even get in to order, and you have to wave at the bartender to get a drink? That won't happen here," says Frank Luther, Masthead Brewing Co.'s co-founder and CEO.

You also don't have to worry about flagging down a server for food. All orders are placed at the bar, and a small buzzer alerts you when your wood-fired pizza is ready for pickup at the kitchen counter. The main dining room is filled with wooden communal tables — each long enough to seat a couple dozen thirsty folks or more.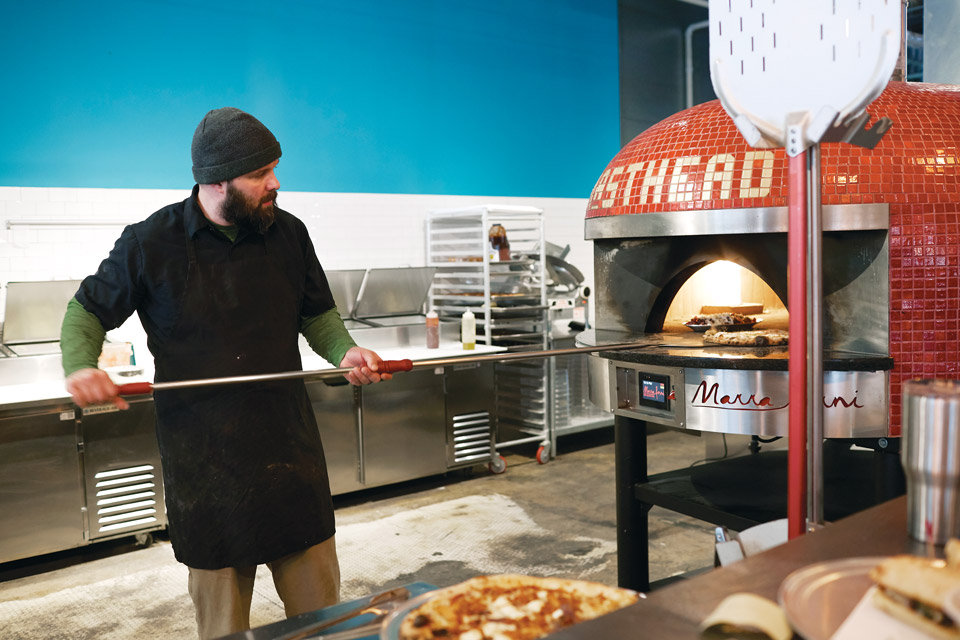 All these touches — the never-crowded bar, the food on demand and the inviting tables — make Masthead Brewing Co. the definition of unassuming, comfortable and casual. But there's nothing casual about the way this experience came to be. Every aspect of Masthead's operation is precisely engineered to flow as smoothly as the young company's already award-winning beer. In fact, co-founders Frank Luther and Mike Pelechaty, who opened the brewery with fellow co-founder Matt Slife, are former engineers.
"Mike and I like to say, 'We drank a lot of beer at a lot of places and distilled our experiences to create this place,' " says Luther.
Luther and Pelechaty considered more than 200 locations and toured more than 80 before finding their 17,000-square-foot space. It was most recently a bureau of motor vehicles office and was built in the 1920s as a Ford dealership.

"I've built manufacturing sites from the ground up or from existing buildings [in my previous jobs], so redesigning this was in my wheelhouse," Luther says. "At Procter & Gamble I worked with a lot of German companies, and they're known for their efficiency. Everything has its place, is thought out, immaculate."

The name for the brewery comes from the story of how a Cleveland newspaper in the 1800s couldn't fit the name of its publication on its masthead. Instead of rethinking what to call itself, The Cleveland Advertiser simply removed the "a" from city founder Moses Cleaveland's name, and the change stuck.
Masthead Brewing Co. opened in 2017 and made headlines during its first year, with its Midwest Red IPA winning a bronze medal in The Great American Beer Festival's Double Red Ale category, an amazing feat for a brewery that was less than a year old at the time.

"It's good to see Ohio beer on a national stage," Luther says. "You don't need to drink beer from outside Ohio to get great beer."

There are around a dozen Masthead beers on tap at the brewery at any given time, and Pelechaty already has a selection of more than 90 recipes from which to choose. There are also a few guest taps, which host only Ohio beers.

"Lots of people say they aren't beer drinkers, but that makes me raise my eyebrows," Luther says. "Really? Out of hundreds of styles there's not one they like? The spectrum of flavors is so much broader than wine."

To that point, the selection of beers on tap at Masthead at any given time is varied enough to include something for every taste, a fact that is as deliberate as the other elements of this broadly pleasing, tightly engineered gathering spot.

"People who try to tell you that brewing is an art like painting or sculpture probably don't brew very good beer," Luther says. "It's a science. There's creativity to it, but it's a science."
1261 Superior Ave., Cleveland 44114, 216/206-6176, mastheadbrewingco.com