Food + Drink
| Craft Beer
Market Garden Brewery, Cleveland
Brewmaster Andy Tveekrem creates fresh versions of classic beer styles that go well with executive chef Andrew Bower's high-quality pub fare.
February 2016 Issue
BY Frances Killea | Photo by Kevin Kopanski
February 2016 Issue
BY Frances Killea | Photo by Kevin Kopanski
Cleveland's West Side Market hums with hardworking vendors, curious tourists and determined shoppers — all common sights at the more than 100-year-old landmark. But walk next door, and the scene is a bit more relaxed.

Long tables and large booths are perfectly suited for group gatherings, and three bars serve nighttime crowds. The place feels warm in spite of its size (the main level covers 11,000 square feet) and a fireplace makes the outdoor beer garden a three-season spot to hoist a pint.

Open since 2011, Market Garden Brewery is a place to slow down and enjoy brewmaster Andy Tveekrem's labors. The Akron native worked at Great Lakes
Brewing Co. in Cleveland and Dogfish Head Brewery in Milton, Delaware, before returning home to oversee Market Garden's more than 40 varieties.

"The real test of beer, for me, is the three-pint test," he says. "Can you drink three pints of that in one sitting? You go to Hamburg, Germany … they say it takes three liters to get acclimated to a beer."

While some craft brewers push the limits of their customers' palates with hops and huge flavors, Tveekrem explores the nuances of lagers and hefeweizens to create drinkable, refreshing beers.

"Sessionability is important," he says, referring to the practice of brewing beers with lower alcohol levels so more than one can be enjoyed in a sitting.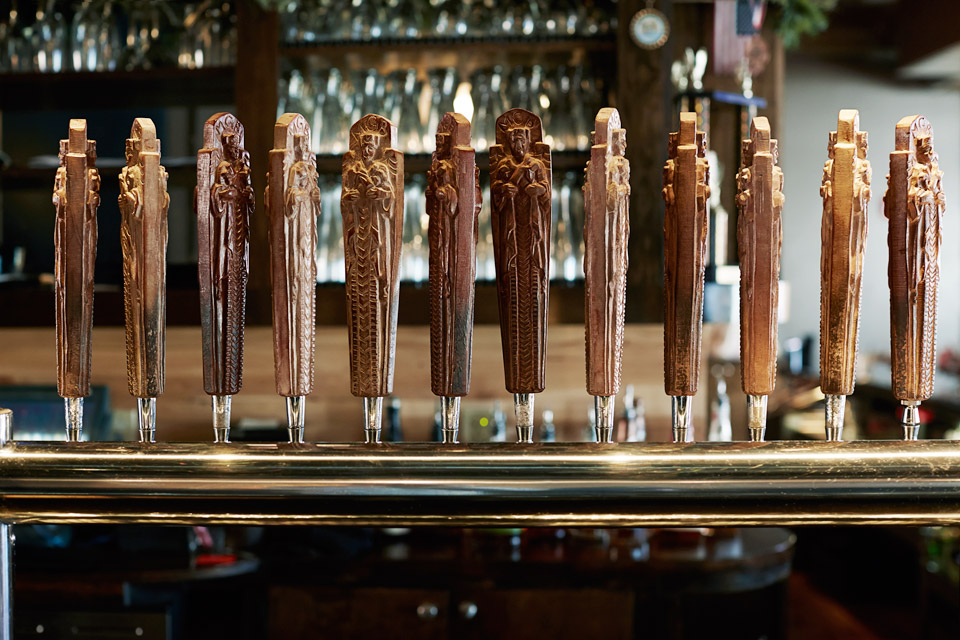 A food menu that complements and makes use of the brewery's beer list accompanies that easy-drinking attitude. Executive chef Andrew Bower incorporates local and seasonal ingredients as often as possible and makes nearly everything from scratch. "We don't do any freezer-to-fryer nonsense," he says.

And while there are lighter options, Bower's kitchen prowess shines in his high-quality takes on classic pub fare: a braised brisket burger, cheddar and potato pierogies and the Scotch egg (a soft-boiled egg dressed with chorizo, mustard and pickles) are favorites. The flatbreads are perfect for meals with friends.

Lighter dishes like the Market Salad go well with the brewery's crisp Prosperity Wheat, while bigger meals such as the brisket burger stand up to dark and bold beers like the Wallace Tavern Scotch Ale. Beer shows up as an ingredient in dishes such as the stout-bathed sauteed mussels and hearty beer-and-cheese soup.

"[Tveekrem] celebrates the classics, which lend themselves well to food," says Bower, who had a holiday-season favorite in pairing Market Garden's Festivus Ale with an apple tart dessert.

For other desserts, Market Garden co-founder Sam McNulty favors the Progress Pilsner. "I've always thought a pilsner plays very much like a champagne," he says. "You can pair champagne with just about anything."

Light, fresh and sippable, Progress Pilsner is the sort of beer Tveekrem and Bower like to work with and one that embodies the atmosphere McNulty prizes.

"We're excited that people come and enjoy conviviality, conversation," he says. "There's something special about that social experience of sitting around for three hours with your friends or family ... reveling in the moment."

1947 W. 25th St., Cleveland 44113, 216/621-4000, marketgardenbrewery.com

***

Order This
Chef Andrew Bower shares a few of his favorite food-and-beer pairings at Market Garden Brewery.

Ham and Cheese Sliders + Citramax IPA:
"Tasso ham is a Cajun ham. It's rubbed with [spices] and it sits for four to six days curing, and then we smoke it," Bower says. He adds that it goes well with IPAs, which often have a spiciness of their own.

Roasted Pork Flatbread + Progress Pilsner:
"It's got a lot of pineapple, cilantro — a sweet and spicy kind of thing," says Bower, who finishes the dish with lemon zest and arugula. "Pilsner is so refreshing. The arugula and that go together well."

Coriander-Crusted Yellow Fin Tuna Tacos + St. Emeric's Stout on Nitro:
"[This stout] is a little lighter," says Bower. "It has a little bit of a give … the fish is going to go well with it. It's going to be able to support the sweetness of the mango [salsa], too."