Food + Drink
| Craft Beer
MadTree Brewing Co., Cincinnati
Creativity is at the heart of this brewery, which obsesses over fresh takes on favorite styles and provides a spacious place to enjoy them.
February 2019
BY David Nilsen | Photo by Matthew Allen
February 2019
BY David Nilsen | Photo by Matthew Allen
Step inside MadTree Brewing Co.'s expansive taproom in Cincinnati's Oakley neighborhood, and the historical photos on the walls are your only clues to the building's long history.
The brewery occupies a thoroughly modern space, with sleek but welcoming industrial-chic design elements and a wall of windows to let warm sunlight fill the lively bar area. But beneath this new skin are the bones of tradition.
Much of the current structure was built around the dawn of the 20th century to house Cincinnati's Frog & Switch Co., which made railroad-track components. The production brewery occupies an attached building that resembles a giant aircraft hangar and dates to the mid-20th century. MadTree Brewing opened the facility in early 2017, after outgrowing its original location about a mile away from its new home. This blending of tradition with innovation has been built into the brewery's business philosophy from the start.
"Our original thought was, How do we use this brand to inspire madness, creativity and passion and create community around that," recalls co-founder Brady Duncan, who founded the brewery with Jeff Hunt and Kenny McNutt in 2013. " 'Mad' spoke to that madness and creativity while obsessing over process and ingredients. 'Tree' was the softer side, our connection to community and being rooted in what we do."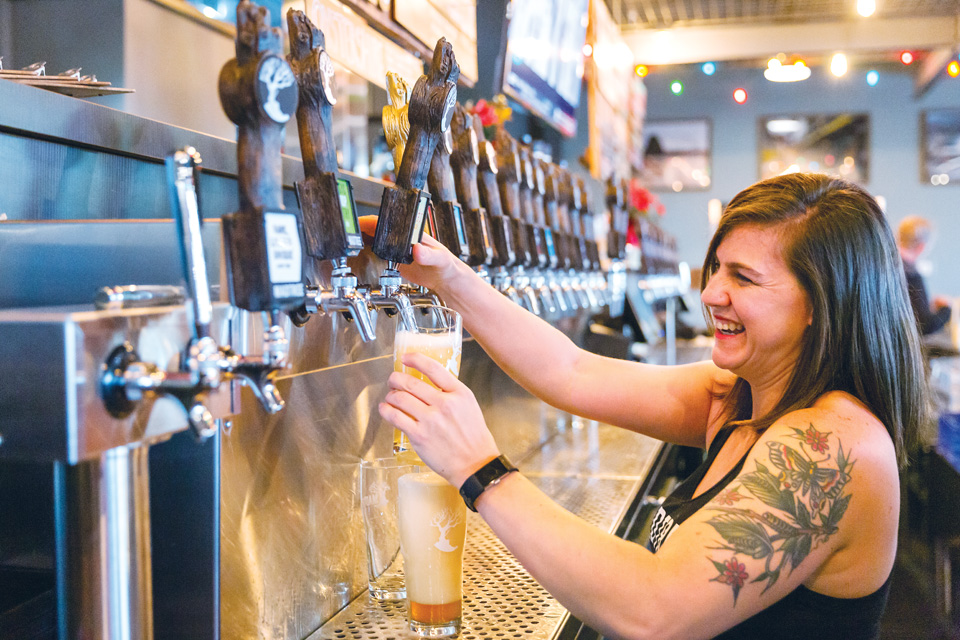 That marriage is further demonstrated on the taproom's expansive draft list, with 32 beers on tap at all times. They're scattered all over the craft-beer spectrum as well, from traditional, workhorse standards to experimental, one-off expressions.
MadTree's core lineup of beers, such as the Great American Beer Festival gold medal-winning Happy Amber and generously hopped PsycHOPathy IPA, are always around to enjoy. But keep an eye out for taproom-only brews that range from old-school styles like British pale ale or Belgian tripel to trendy takes like New England-style or brut IPA to esoteric experiments like a pale ale made with plum and lemongrass or a spruce-tip IPA.
"At any given time, we have five to seven handles where brewers just make what they want to make," Duncan says of the artistic license he gives his staff. "These are beers we might be looking at releasing two or three years from now. It's part of our methodical, obsessive nature. We're taking inspiration from spirits, mixed drinks, and even wine."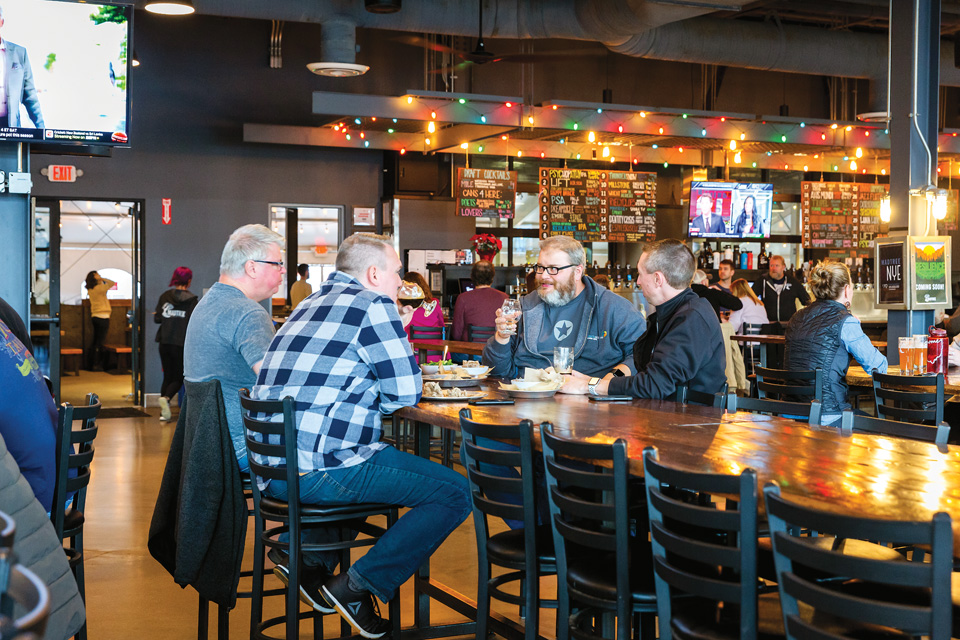 On that note, MadTree Brewing Co. has worked with a local farm to make a hard cider for its taproom and partnered with Columbus' Watershed Distillery to make cocktails available. As far as food to soak up all these delicious libations, the taproom's Catch-a-Fire Cafe churns out excellent wood-fired pizzas as well as appetizers, salads and desserts.
The 7,000-square-foot taproom is bustling all day, but ample seating ensures there's always a place to sit. Long tables allow visitors to make new friends or accommodate a large party, while bar seating and smaller tables provide more intimate options. An attached 10,000-square-foot outdoor beer garden allows visitors (and their well-behaved dogs) to soak up the sun in warm weather, and part of the space is tented and heated in the winter.
Despite MadTree's growth, Duncan says he still feels the same excitement he did when the business launched as one of Cincinnati's first craft breweries half a decade ago.
"I don't think it's changed much," he explains. "It still goes back to our curiosity of how we can build something, whether it's a beer or a taproom."
Duncan and his team have indeed built something impressive, and he grins like the beer geeks who pack the place when he stops for a moment to think about it.
"I still walk into the taproom on any given day and see beer I haven't tried," Duncan says, "and I'm like, 'Oh, that's awesome.' " 3301 Madison Rd., Cincinnati 45209, 513/836-8733, madtreebrewing.com