Food + Drink
| Craft Beer
BrewDog, Canal Winchester
The world's first craft brew hotel promises the ultimate weekend getaway for beer fans and plenty of fun surprises along the way.
February 2019
BY Nicholas Dekker | Photo by Sam Kendall
February 2019
BY Nicholas Dekker | Photo by Sam Kendall
The Aberdeen, Scotland-based BrewDog made landfall in the United States in 2017 with the opening of its 100,000-square-foot production facility and brewpub in Canal Winchester. Next, it added taprooms in Columbus' Short North and Franklinton neighborhoods as well as a Canal Winchester facility focused on sour beer varieties. Then came the final piece: The DogHouse — the world's first hotel inside of a brewery.
The place is easy to spot from the road, with colorful murals gracing a gray concrete exterior. Hotel guests must cross the property's spacious patios to find the DogHouse entrance marked with bright red neon lettering, a common theme throughout. (In our room, a neon sign proclaiming "The Good Ship BrewDog" hung on the wall, and a large section of wallpaper featured diagrams teaching the brewing and distribution process.)
Martin Dickie and James Watt founded BrewDog just north of Aberdeen, Scotland, in 2007. Initially just canning and bottling its beers, the company began opening brewpubs in 2010, and since then has expanded to more than 42 pubs across the United Kingdom, and more than 50 around the world. Seeking out a production headquarters in the United States, Stone Brewing owner Greg Koch pointed Dickie and Watt to central Ohio after Columbus was a finalist for Stone Brewing's eastward expansion plans. The BrewDog owners selected a 42-acre site in Canal Winchester to house their American operations.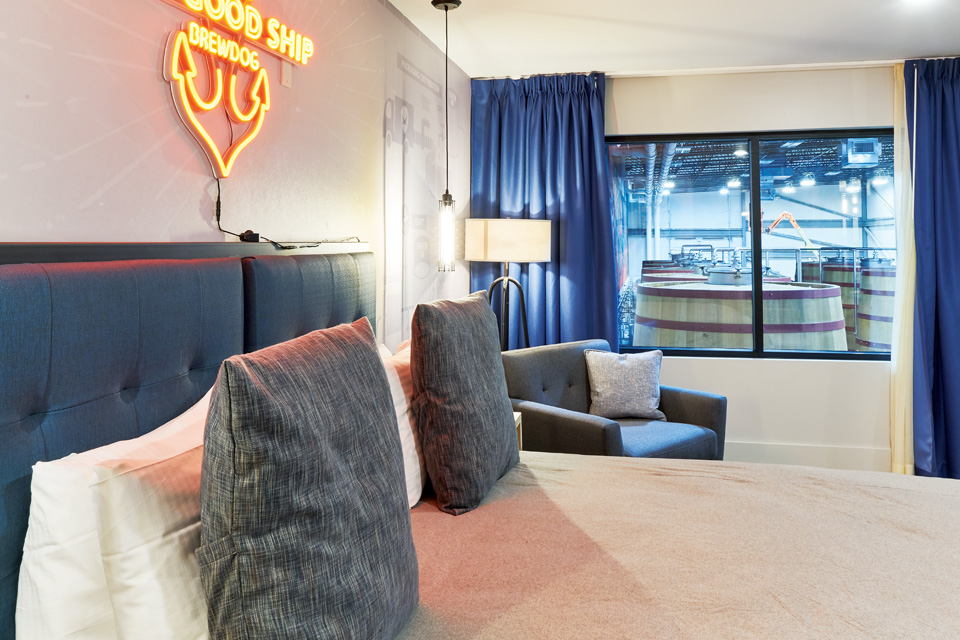 BrewDog isn't shy about championing its beer or its brand, and both are ingrained into the DogHouse experience. Everyone staying in one of the 32 rooms is offered a complimentary beer at check-in. When booking a room, guests have the option of ordering a 64-ounce growler of their favorite BrewDog beer accessible via an in-room tap. Each room also has two mini refrigerators. The one next to the shower is filled with BrewDog beers, while the one in the main room is stocked with selections from around the world. Even the soaps and shampoos — produced by Glenn Avenue Soaps in Columbus — are infused with BrewDog's Elvis Juice grapefruit IPA.
"We always had this idea of creating an immerse experience," says Jon Quick, general manager of the DogHouse hotel. "There's always a little magic that exists in the hotel world. It's the one industry that people volunteer to sleep over at. It gives people more than a single-serving interaction with us."
The hotel rooms have concrete floors, but the couches, chairs and bedding are soft and comfortable. The suites even feature half-size garage doors that roll up and open directly onto the sour brewery's barrel-aging space.
The on-site brewpub matches the feel of the hotel, with a comfortable yet industrial aesthetic highlighted by welded metal bars and sturdy slabs of wood. In the morning, guests can enjoy a complimentary breakfast in the hotel lobby, with selections that include yogurt, cereal, huevos rancheros casserole, Stauf's coffee, pastries and even "beermosas" made with BrewDog's Hazy Jane IPA and orange juice. The brewpub offers lunch and dinner, plus a full range of house beers as well as guest varieties from other breweries. This is by design, says Tamar Banner, production manager for BrewDog USA.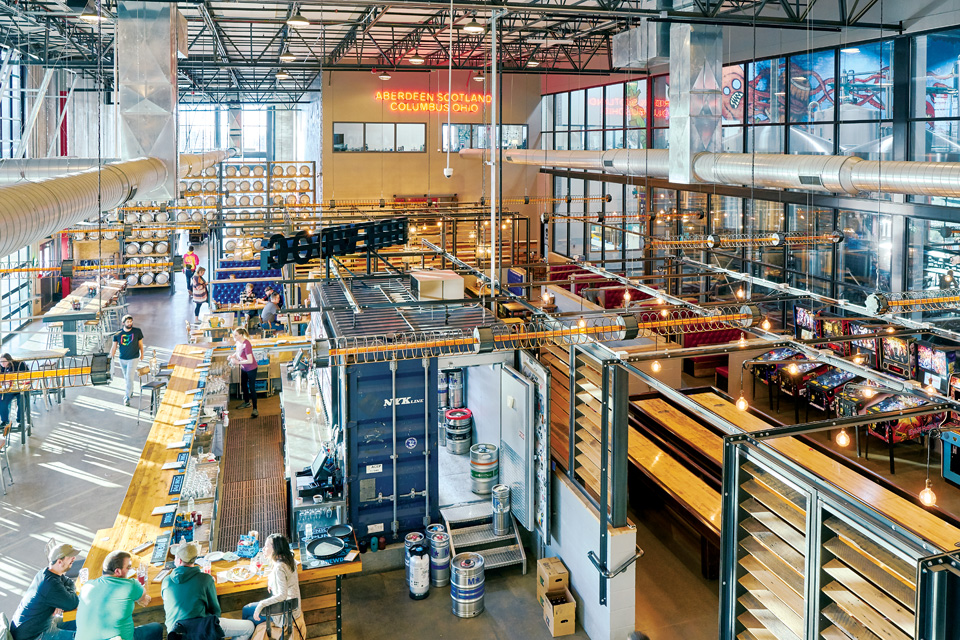 "We never want all the beers on tap to be our beers," she explains. "Part of our ethos is to share craft beer."
Easy starting points are BrewDog's Punk IPA (a balanced but hop-forward IPA), Elvis Juice (an IPA infused generously with grapefruit), Hazy Jane (a cloudy and citrusy New England IPA) and Jet Black Heart (a rich and smooth milk stout).
The food menu covers familiar ground for brewpubs: giant soft pretzels, mussels, tacos, pizzas and burgers. Each dish employs some creativity while remaining approachable, like the Andouille sausage pimento cheese on the fried chicken sandwich or the cauliflower florets that are battered, fried and seasoned to taste like Buffalo chicken.
During their stay, guests can lounge on the large outdoor patios, visit the on-site BrewDog Beer Museum or book a tour of the production facility. True to its name, select rooms at the DogHouse are dog friendly, with your four-legged best friend also welcome in the hotel lobby and at an on-site outdoor dog park.
The hotel has drawn loyal fans since before it even opened, thanks to a crowd-funding campaign that raised nearly $325,000 in 2017 to help fund construction. Those who currently want to throw their support behind the company beyond buying beer can purchase shares in BrewDog USA thanks to the Equity for Punks program.
"Customers are our biggest fans and critics, the people we can trust to tell us when we are succeeding or how [we can] get better," says Banner, who oversees a team of 15 that handles brewing, packaging and facility maintenance. "Ownership is powerful. They think of this as their brewery, and they should." 100 Gender Rd., Canal Winchester 43110, 614/908-3051, brewdog.com/doghouse