Food + Drink
The Harp, Cleveland
Authentically Irish but distinctly Cleveland, this spot serves traditional favorites of the Emerald Isle merged with influences from the city it calls home.
March 2020
BY Ruth Corradi Beach | Photo by Rachael Jirousek
March 2020
BY Ruth Corradi Beach | Photo by Rachael Jirousek
If a picture really is worth a thousand words, a pint of Black & Gold tells the story of The Harp. Equal parts Great Lakes Brewing Co.'s Dortmunder Gold and Dublin, Ireland's own Guinness, the drink on the restaurant's mixed draughts menu is both unmistakably Cleveland and authentically Ireland — much like The Harp itself.

"We're in a traditional Irish area and we cater to the people here," says Joseph Nagy, The Harp's chef since 2004. The soda bread, for example, is made from owner Karen O'Malley's grandmother's recipe, and Nagy adds, "Our shepherd's pie and fish and chips are made from traditional Irish recipes, and they have been staples since we opened."

But The Harp embraces not only its roots, but its Cleveland location, and its wildly popular boxty is a perfect example. A classic Irish dish, The Harp's boxty is made from a traditional recipe, but it's stuffed full of Cleveland. Instead of the flat potato pancake you'd find in Ireland, The Harp's version takes some liberties.

"Our take on it is that we stuff it with different proteins and serve it with different sauces," Nagy says. The Corned Beef Boxty is the restaurant's most popular variety, with corned beef that's made, sliced and portioned in-house daily. It's served like an omelet, with the crisped potato pancake folded in half and filled with tender beef, tart sauerkraut and melted Swiss — all topped with house-made Russian dressing.

The dish is an Irish staple with a Cleveland twist, just like The Harp itself. Rich wood, paintings of the Irish coast and one of the most beautiful wooden bars around mean that when you're inside, you may well think you're on the Emerald Isle. But when weather allows, step out onto the large and popular patio and you're treated to a unique view of the city as you look out over the Shoreway to downtown.

"When the patio's open," Nagy says, "we go through 500 to 800 pounds of corned beef a week."

4408 Detroit Ave., Cleveland 44113, 216/939-0200, the-harp.com

---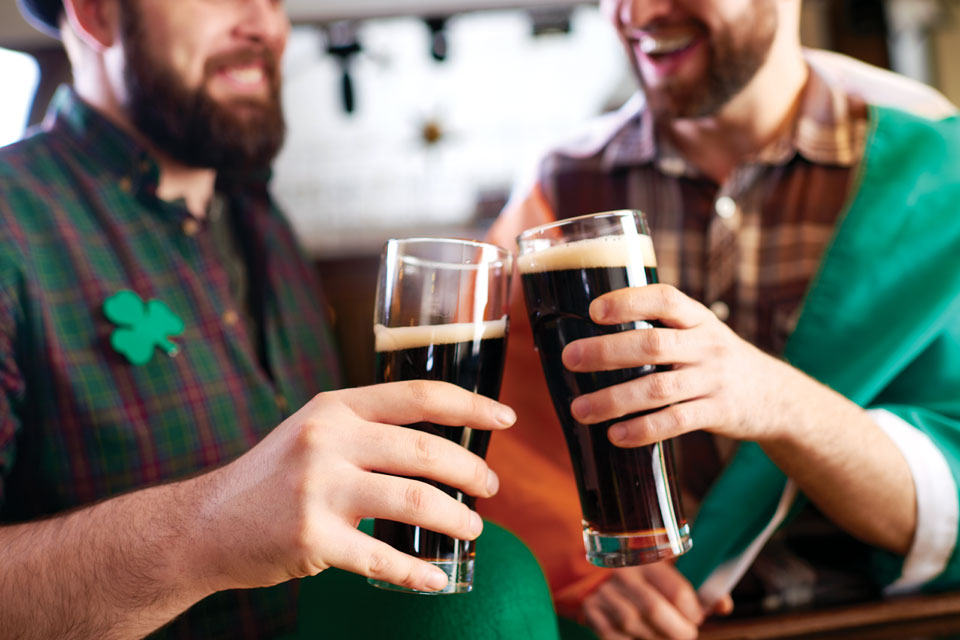 Isle Style
Here are three other great places to raise a pint and grab a bite in honor of St. Patrick's Day. — Sarah Arnold

Fado Irish Pub • Columbus: This establishment, which has locations in eight American cities, embodies the Emerald Isle's rich pub culture. The interior decor is imported from Ireland and the from-scratch kitchen turns out favorites like corned beef and cabbage and fish and chips. fadoirishpub.com/columbus

The Blarney Irish Pub • Toledo: This spot was shaped by its owner's visit to more than 35 Irish pubs, including one near The Blarney Castle in County Cork, Ireland. The bartenders can pour you a perfect pint of Guinness, and the menu features Celtic favorites such as shepherd's pie and Irish boxty. theblarneyirishpub.com

The Dublin Pub • Dayton: This pub was built with reclaimed materials from 20 separate local structures, including a 108-year-old church. It's known for its huge St. Patrick's Day party, but visit any time for a pint and house specialties like chicken O'Brien and Jameson Whiskey Chops. dubpub.com.