Food + Drink
Sweet on Mead
Kent Waldeck's Mogadore meadery puts a modern spin on one of mankind's oldest drinks.
June 2017 Issue
BY Dorian Slaybod | Photo by Kevin Kopanski
June 2017 Issue
BY Dorian Slaybod | Photo by Kevin Kopanski
Kent Waldeck works from home. More specifically, he works behind his home. In an attached warehouse filled with stainless steel brewing equipment, rows of blue plastic kegs and repurposed bourbon barrels, Waldeck brews and flavors an ever-expanding variety of mead, also known as honey wine.
Red, white and blue "Open" flags wave in the wind at the end of his driveway and, on Fridays and Saturdays, Waldeck opens a space on the side of his house as the taproom for his business, Crafted Artisan Meadery. Inside, a bartender stands behind a makeshift serving window, ready to pour fresh-brewed mead from a homemade kegerator.
Modestly decorated with a handful of tables and wooden shelves adorned with bottles for sale, the business attracts visitors to the small eastern Ohio town of Mogadore from as far as Florida to sample Waldeck's honey wines directly from their source. For many people, however, Crafted Artisan Meadery's products are the first meads that they have ever tried.
"People don't know what mead is — that's the challenge," Waldeck says. "But I don't like to talk about challenges. I like to talk about opportunities."
Humans have been drinking mead for thousands of years, and for the past five, Waldeck has put a modern twist on the ancient process, crafting flavors recognized in competition as among the best in the world.
Mead's main ingredients are honey, water, yeast and time, and all of Crafted Artisan Meadery's production takes place in the 3,500-square-foot warehouse Waldeck built behind his home. More than half a ton of honey circulates with water and yeast in large metal vats nicknamed "Bill" and "Ted." The batches are maintained at a steady 68 degrees for more than 30 days because heat can kill honey's natural aromatics. The mead base is then cooled to 35 degrees and flavored in separate tanks.
"I maybe got a D or an F in chemistry," says Waldeck. "I think my high school chemistry teacher would be pretty surprised about what I'm doing today."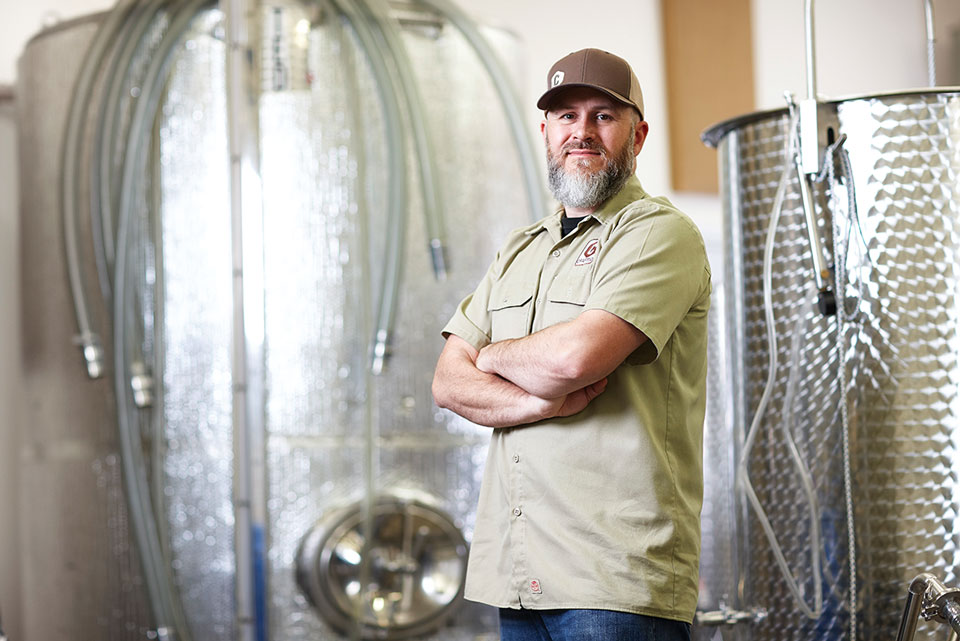 But Waldeck has always been handy. He built his own bottling machine, writes his own recipes and blends and bottles 500 gallons of mead per week with the help of six workers.
The 70,000 pounds of honey Waldeck purchased last year was sourced entirely from small Ohio producers and Dutch Gold Honey in Pennsylvania, and he continues to roll out new and creative varieties of mead.
For his Bananas Foster Forever flavor, he mixes the yeasted-honey base with banana juice, rum-flavored coffee, scorched sugar, vanilla beans and cinnamon. The result is lightly carbonated and mildly sweet with hints of graham cracker and green banana. In March, it won a silver medal at the Mazer Cup, an annual competition among mead-makers from around the world. The medal is but one of many of Waldeck's hard-earned successes, despite his modesty. "When you're using good, natural ingredients," he says, "it's hard to screw it up."

***

Waldeck grew up in Rootstown, Ohio, just a few miles northeast of Mogadore. He studied marketing at Kent State University and had a successful career in product management at companies in North Carolina and Cleveland. After opening the meadery in 2012, Waldeck quit his day job two years ago so he could focus on the business full time. Like a seasoned brewer, he now sports a thick beard peppered with gray and usually dresses in jeans and a ball cap. Though a professional for just a few years, he very much looks and acts the part. The skills, though, took time.
"I spent my childhood working on a farm," Waldeck says. "When I was 9 or 10 years old, I was driving a tractor while everyone threw hay on the back of it. … I've never been afraid of diving into something that may look daunting."
He first began making beer as a hobby while living in North Carolina. During that time, he found a recipe for Joe's Ancient Orange Mead, which called for Fleischmann's yeast and oranges, in the back of a homebrewing guidebook, so he gave it a try.
"It was pretty bad," Waldeck recalls. But he kept at it. When Waldeck and his wife moved back to Ohio, he made more than 30 1-gallon test batches of different meads. He then attempted 550 gallons of Pollen-Nation — a hopped blackberry honey wine.
"We knew we wanted to make a session mead," says Waldeck, referring to meads that are less sweet, lower in alcohol and less expensive — usually around $10 a bottle. To add complexity to the blackberry, Waldeck threw in hops and, finally, just a little cinnamon and vanilla bean. "You don't necessarily notice it," he says, "but it's there to add that extra little something … to bring it all together."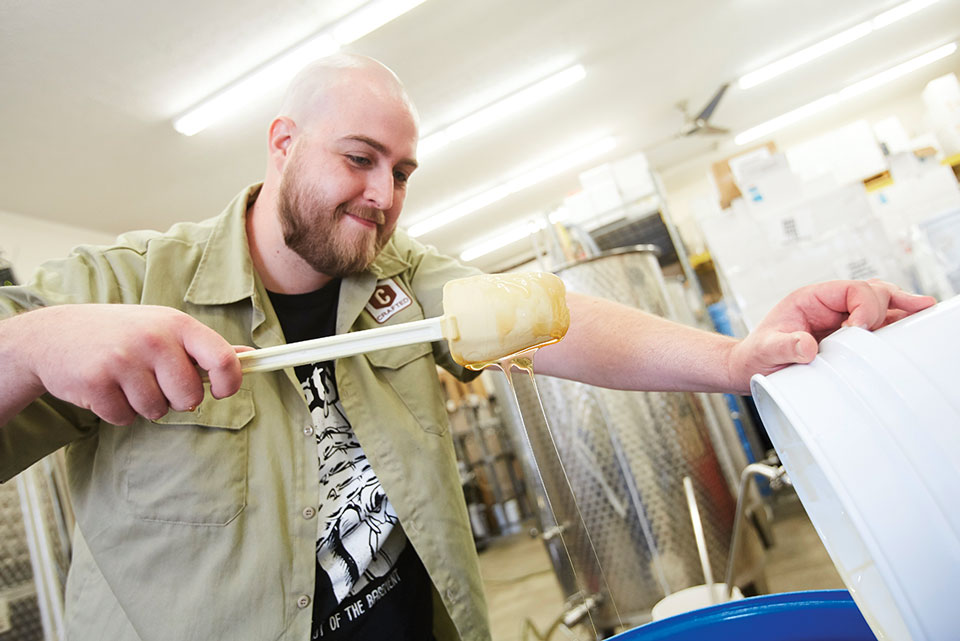 The Mazer Cup International Mead Competition recognized Waldeck's initial batch of Pollen-Nation with a gold medal in 2014. It claimed the bronze medal in the same contest the following year.
"We have entered seven of our meads for competition," says Waldeck, "and six of them have medaled."
Crafted Artisan Meadery's meads are now sold in 15 states and more than 600 bars and stores in Ohio. The success has been fueled largely by session meads, which come in accessible and fun flavors like Baklava To The Future flavored with walnuts and phyllo dough or Jinja Dragon made with ginger and hibiscus.
Although legally designated a wine, craft beer drinkers mostly seek out mead, according to Waldeck. The Florida brewery Cigar City even sent one of its brewers to Mogadore to collaborate with Waldeck on a Key lime-flavored mead called Criminal KLP. Cincinnati's MadTree Brewing also collaborated with Waldeck to make a maple-syrup-and-fig-flavored mead called Nucleus.
"We don't take ourselves too seriously," says Waldeck. "Mead doesn't have to be super expensive and super sweet. We're making mead for everybody."
For more information, directions and taproom hours, visit craftedmead.com.

----

Tasting Notes
Crafted Artisan Meadery makes mostly small-batch, limited releases. Taproom options and bottle selections are constantly changing, which is part of the fun. Here are a few of the meads you may find at the taproom or a store near you.
Barrel-Aged Wildflower: Using single-sourced wildflower honey, this noncarbonated mead is aged for more than six months in bourbon barrels with vanilla beans and coffee from Akron coffee roasters. "It has the right amount of barrel character without overpowering the coffee and vanilla notes," says owner Kent Waldeck.

Strawberry & Basil: This flavor is part of Crafted Artisan Meadery's new Gastrognome Series of meads inspired by fine dining. "How we make our mead — it is a very culinary approach," explains Waldeck. "The basil pairs together very well with the strawberry's jammy sweetness."
Pollen-Nation: Made with blackberries and cascade hops, this mead was Waldeck's first session mead. He made 550 gallons without even sampling a test batch, and it went on to win a gold medal at the 2014 Mazer Cup, an international competition for the best meads in the world. "This is our flagship session mead," says Waldeck. "The floral notes of the cascade hops marry well with the tart blackberries. … It is a great gateway mead for those who have never experienced mead before."
Baklava to the Future: This dessert-inspired mead is made with 200 pounds of toasted,
crushed walnuts. Waldeck and his crew also bake 150 pounds of phyllo dough and add it
to the batch. "We round that out with vanilla and cinnamon to capture that baklava character," explains Waldeck.