Food + Drink
Pie Greats
Three experienced bakers share the recipes (and secrets) of their award-winning desserts.
November 2013 Issue
BY Hallie Rybka & Jim Vickers | Photos by Jerry Mann
November 2013 Issue
BY Hallie Rybka & Jim Vickers | Photos by Jerry Mann
FRUIT FLAVOR
Two-time Geauga County Fair blue-ribbon winner Jody Grzywinski shares her secret to great apple pie.

Jody Grzywinski started baking pies 12 years ago, when she and her husband moved to Burton, just down the road from the Geauga County Fairgrounds.

Although she knew very little about baking at the time, Grzywinski asked a family member to share a recipe so she could submit an entry each year in the county fair's apple-pie-baking contest.

"We would walk it down on Saturday morning and wait for the call that never came — until last year," says the 41-year-old. In 2012, Grzywinski took the top prize for ages 25–50 and then claimed another first-place finish in her age bracket at this year's fair with the same recipe.

For her award-winning pie, she sautés apples with cinnamon, sugar, flour and salt, but only adds half the juice left over in the pan for the glaze filling.

"When I first started baking apple pies, it was always watery," Grzywinski says. "It wasn't until I started sautéing the apples that it stopped happening."

Over-baking her apple pie "until it's golden, golden brown" is another trick she's learned along the way. Grzywinski also sprinkles the traditional-looking pie with cinnamon and sugar for an aesthetic boost.

Finding the perfect apple combination came by chance. She was slicing some Gala apples for her 2012 winning pie when her mother-in-law popped into the kitchen with some Pink Ladies. "So I threw a couple in there," she recalls. "And I've done it ever since."

Pie Pointers
A few suggestions from Jody

Get Milk: Brush the crust with milk instead of egg. "If you use egg it's shiny, almost like a shellac, but milk doesn't affect the crust. … Secondly, it helps it golden well, especially when you over-bake it."

Butter Is Your Friend: "My crust has a mix of Crisco and butter, and I put butter in with the apples."

Hands Off: Roll your dough out and then leave it alone. "You don't want to over deal with the dough. You want to get it right the first time. It's not as flaky if you keep handling it."

***

PEACH PERFECT
File this one away for summer. Beth McCarty's award-winning recipe is worth the wait.
Beth McCarty's German grandmother used to make a pie almost every day without ever using a recipe.
"She did everything by feel, and we would try to watch her," recalls the 55-year-old Hamilton resident. "My grandfather would eat the leftover pie from the night before for breakfast."
In her twenties, McCarty followed her grandmother's example and took charge of baking the pumpkin pie for holidays after delving into chef and television personality Julia Child's cookbooks.
Still, she never thought her skill could reach award-winning potential until she took home a red ribbon two years in a row at the Ohio State Fair, first for a blueberry pie in 2012 and then for her peach ginger pie crumble in 2013.
McCarty learned about pairing ginger and peach on a Food Network show. "You use candied ginger in the crust and ginger spice in the filling," she says. "The peach is very sweet, so the ginger makes a nice little contrast."
McCarty seeks local providers for her fruit filling and often heads to Findlay Market in Cincinnati. For apple and berry pies, she prefers to do the picking herself.
"When I was a little kid, we would collect cherries off our neighbor's cherry tree," she says. "There was always a couple weeks in the summer we would pick sour cherries and mom would make cherry pie."
Pie Pointers
A few suggestions from Beth
Ripeness Matters:
Be selective when buying your peaches. "You don't want them too ripe, because they'll fall apart and cook down too much. But they have to have a little ripeness to make them sweeter."
Key Ingredient:
"The tapioca helps absorb the liquid from the fruit so, when you cut your pie, juice doesn't go everywhere. It's a thickening agent."

Practice, Practice, Practice:
"Follow a recipe until you're confident. Keep practicing, even when you don't really need a pie."
***

GOOD GOURD
Kevin Lohr offers his winning approach to making a fall-season favorite.
Kevin Lohr has fond memories of the Thanksgiving dinners of his youth. The adults in his family always dined on mincemeat pie at the conclusion of the feast, while he and his cousins at the kids' tables were each served a slice of pumpkin pie.
"Everyone seemed pleased as punch, but I was always more fascinated with the mincemeat," recalls Lohr, who resides in Columbus' German Village. "I guess they thought kids just wouldn't like it."
The 48-year-old's recipe box includes an authentic version of the classic Old World mix of meat, fruit and spices. He even took it to the Ohio State Fair in 2007, where it failed to win favor with contest judges. But that same year, Lohr claimed a blue ribbon for what he calls his "extra-special pumpkin pie," inspired by a recipe that he found in a magazine but tweaked by modifying the baking temperatures.
"Starting a pie at a higher temperature is what browns up the crust right off the bat so it doesn't become soggy," he explains.
Lohr's fascination with and love for pie baking stretches back to his boyhood when he would thumb through his mother's Betty Crocker cookbook. He says the pictures and the step-by-step directions eventually gave him the courage to try making a pumpkin pie by himself when he was 12 years old.
"The biggest influence that drove me as a small kid was my mother's dislike for baking pies," Lohr says. "I can remember tackling the chore without any guidance, and I think my mother was shocked or amazed — I'm not sure which — when she came into the kitchen and saw me rolling out pie dough."
Pie Pointers
A few suggestions from Kevin
No Premixed Spices:
Buy individual bottles of nutmeg, cinnamon and clove rather than a pumpkin spice mix. "I have used them before more out of curiosity than taking a shortcut, and I find the cloves to be too prevalent."
Puree is OK:
"I never make my own pumpkin puree." Lohr says he's gotten better results from buying the canned stuff than creating it from scratch.
Sweet Advice:
Lohr says one of the judges praised his pie for not being cloyingly sweet, which he attributes to the use of less sugar in his recipe. "It's not grandma's pumpkin pie, unless grandma was pretty slick."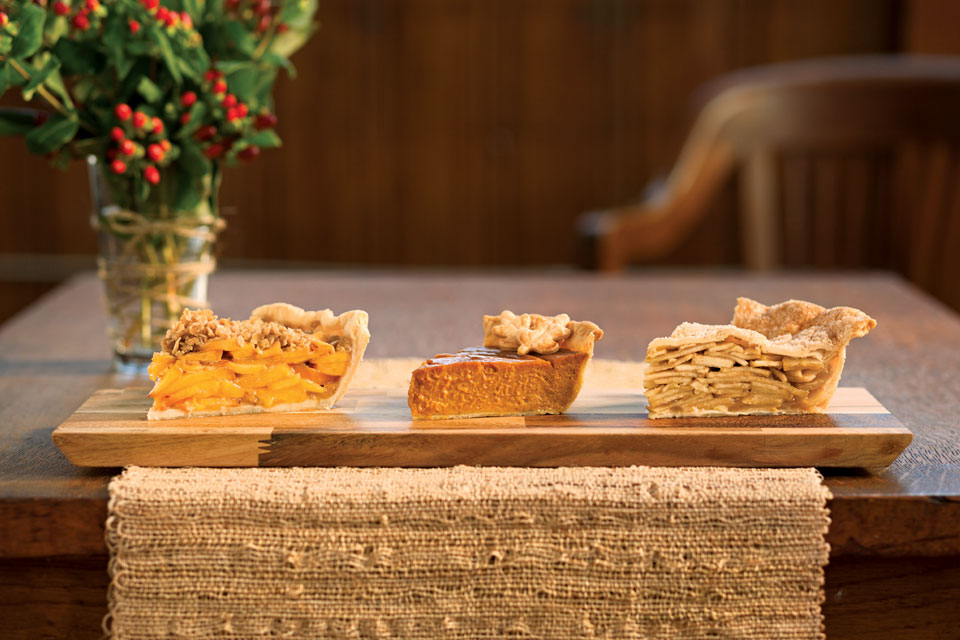 APPLE PIE
INGREDIENTS

Filling:
6 Gala apples and 2 Pink Lady apples, peeled and thinly sliced
1/3 cup brown sugar
1/3 cup white sugar
2 tablespoons flour
1 teaspoon cinnamon
1/4 teaspoon salt
1 tablespoon cold butter
Crust:
2 cups flour
1 teaspoon salt
2/3 cup shortening
2 tablespoons softened butter
DIRECTIONS
For the filling:
Mix brown sugar, white sugar, flour, cinnamon and salt. Toss with the sliced apples. Sauté everything in a large skillet over medium/high heat for 5 minutes. Set aside.
For the crust:
Mix the dry ingredients together. Add the shortening and butter, using a pastry blender. Do not over mix. Add 1 tablespoon of ice cold water at a time, until dough is just wet enough to work with (usually 4–5 tablespoons).
Assembly:
Grease a pie plate. Split dough in half. Using a pastry cloth and rolling pin, roll out the bottom crust with half of the dough. The size should be slightly larger than your pie plate. Place in greased pie plate, making sure the dough falls over the edges.
Fill with apples making sure to include most of the juice that has settled to the bottom of the apples. Cut 1 tablespoon of cold butter into four and spread over apples.
Roll out remaining dough, remembering to oversize it to match the bottom dough. Pinch edges together well, trim any excess dough and pinch crust to shape using your thumb and fingers. Slice four slits into top dough for vents.
Bake at 425 F for 40 minutes, covering edges with a pie crust shield or tin foil. After 40 minutes, uncover the edges and lightly brush the pie with milk and sprinkle with cinnamon sugar. Bake for an additional 15 minutes or until golden brown.
***


PEACH GINGER PIE CRUMBLE
INGREDIENTS

Bottom Crust:
(Note: This recipe is for a two-crust pie, so save one crust for later)
1/2 cup all-purpose flour, unbleached
1/2 cup plain bleached cake flour
1 teaspoon salt
1 1/2 sticks (6 ounces) of chilled butter unsalted, quartered and diced
1/4 cup (2 ounces) chilled vegetable shortening
1/2 cup ice water
Crumble Topping:
3/4 cup rolled oats (not instant oatmeal)
2 tablespoons all-purpose flour
1/3 cup light brown sugar
2 tablespoons candied ginger,
finely diced
1/4 teaspoon salt
6 tablespoons unsalted butter, cold and cut into small squares
Filling
:
7 fresh, ripe peaches, peeled and
cut into slices
3 tablespoons tapioca or flour
1/4 cup brown sugar
1/4 cup granulated sugar (adjust to the sweetness of the fruit)
1 teaspoon powdered ginger
DIRECTIONS
For the crust:
Blend flour, salt and butter until it appears to be small lumps, add shortening and blend, followed by the ice water. Finish on a surface by pressing dough with the heel of your hand. Form the dough into a cake or disc and refrigerate for 20 minutes. (Can be prepared a day ahead and refrigerated.)
Roll half of the crust to fit over a 9-inch pie pan. Trim edges to allow 1 inch overlay. Adjust oven rack to lower middle position and preheat oven to 425 F.
When oven is ready, line chilled pie shell with foil or parchment paper and fill with weights (dried beans work great for the weight), and bake on the lowest rack of the oven for 15 minutes. The weight will keep the pie dough from rising and becoming misshaped. The pie shell should be lightly browned. Remove pie shell from oven and allow it to cool completely. Reduce oven temp to 350 F.
For the filling:
Combine the peach slices, tapioca, brown sugar and granulated sugar, and powdered ginger. Set aside to allow the flavors to blend.
For the crumble topping:
Combine the rolled oats, flour, brown sugar, candied ginger and salt, and mix together until incorporated. Mix the cold butter and the dry ingredients between your fingers until the dry ingredients and butter form crumbly dough. Chill for 1 hour or more.
Assembly:
Pour the peach mixture into the crust. Top with the chilled crisp topping and bake for 30 minutes. The filling should be bubbling and topping golden brown. Cool completely before serving.
***

EXTRA-SPECIAL PUMPKIN PIE
INGREDIENTS
Crust:
(Note: Recipe is for two crusts, while the filling recipe below makes one pie).
2 1/2 cups all-purpose flour
1 teaspoon salt
1/2 teaspoon granulated sugar
1 cup cold vegetable shortening or
butter, cut into small pieces
1/2 cup ice water
Filling:
1 (15-ounce) can pure pumpkin
3/4 cup (packed) golden brown sugar
3/4 teaspoon ground cinnamon
3/4 teaspoon ground ginger
1/4 teaspoon freshly grated nutmeg
1/4 teaspoon salt
Pinch of ground cloves
3 large eggs
1 1/4 cup heavy whipping cream
DIRECTIONS
For the crust:
Combine flour, salt and sugar. Cut in shortening with a pastry blender. Slowly add water. Gather into a ball and divide into two equal portions, flattening them into round discs and wrapping each disc in a piece of plastic wrap. Refrigerate for at least an hour.
Position rack in bottom third of oven; preheat to 425 F. Prepare pie shell in the traditional manner, forming a high, fluted rim. Refrigerate the prepared pie shell while you mix the filling.
For the filling:
In a medium bowl, combine the brown sugar, spices and salt until thoroughly blended, leaving no stray clumps of spice or sugar. Set aside.
Run the pure pumpkin through a large-capacity food processor for about 2 minutes, scraping down the sides of the bowl once or twice. Add the sugar and spice mixture and process to combine thoroughly.
Add eggs, 1 at a time, pulsing after each addition. Gradually add cream, processing just until blended. Process
1 minute longer, scraping down sides of bowl a couple of times.
Assembly:
Pour filling into unbaked pie shell. Bake in preheated oven for 15 minutes. Reduce temperature to 350 F and bake for an additional 40 to 50 minutes or until knife inserted in center comes out clean. Cool on wire rack for
at least 2 hours.
Serve immediately or refrigerate. The pie is most flavorful served at room temperature, so remove it from the refrigerator about an hour before serving.
*Food Styling by
Melissa McClelland