Food + Drink
Pawpaw 101
Here's how you can put our state's unusual native fruit on your plate this season.
September 2015 Issue
BY Staff & Contributors | Photo by Ohio Images
September 2015 Issue
BY Staff & Contributors | Photo by Ohio Images
This article ran in our September 2015 issue. For more information about the annual Ohio Pawpaw Festival, visit ohiopawpawfest.com.

Author Andrew Moore encountered his first pawpaw grove during a visit to southeast Ohio five years ago. While attending the Ohio Pawpaw Festival with a friend, Moore was fascinated to learn that the surrounding woods were filled with trees bearing the fruit.

Although he wasn't exactly sure what he was looking for, he set out on foot, scanning the landscape for the long, symmetrical leaves that had been described to him. It wasn't long before he encountered a thick stand of pawpaw trees and got his first taste of one.

"I had never heard of pawpaws until going to the festival," recalls Moore, a native of Florida and resident of Pittsburgh. "I came away, like many people do, obsessed."

But Moore also had plenty of questions. The first was, how had he never heard of the pawpaw when it was the largest edible fruit native to North America? "We've all heard of picking blackberries and picking blueberries," he says. "How do you miss something that's bigger than all the rest?"

As Moore did research to quell his curiosity, he soon realized there was no go-to book on the topic, so he started researching and writing one — a journey that took him from Ohio to Louisiana and stretched from Arkansas to Maryland as he traversed the 26-state region where the fruit grows wild.

He covered thousands of miles, hitting as many parts of the United States' Pawpaw Belt as possible. Along the way, he found interesting characters and tasty culinary creations.

The resulting book, Pawpaw: In Search of America's Forgotten Fruit, was published in August 2015. We recently talked to Moore, who answered some of our own questions about pawpaws.

What's your best description of what a pawpaw tastes like?
People commonly say it tastes like a mix between banana and mango, and I think that's probably the best way to describe it. It's got this creamy, mild, tropical flavor. I like to say it tastes like a mixture of banana and mango with a custard-like texture. I like to point out the texture, because I think often people will notice the texture more than they do the flavor.

People are now putting pawpaw in everything from beer to bread. What are some of the more memorable creations you discovered during your travels?
The ice cream is hands-down my favorite thing you can do with a pawpaw besides eating it [fresh]. A lot of the recipes are just pawpaw, cream and sugar. A lot of people who aren't exactly won over by the taste of a fresh pawpaw are won over by the ice cream. It spreads out [the flavor] or tones it down a little bit. I've had that in Michigan and West Virginia. … I also once had a pawpaw cheesecake in Athens, Ohio, and that was wonderful.

What's the secret to finding a pawpaw in the wild?
They're common along rivers and streams, and they abound in Ohio, so Ohioans are lucky. … Also, learn to identify the leaves, because there are very few trees that would look like it; very few leaves that would match it. They are very tropical — long, symmetrical leaves that are among the largest in the eastern United States.

How can people get their hands on a fresh pawpaw besides searching for one in the woods?
My advice to the average person in Ohio is to start asking at farmers markets. Some farmers are starting to grow them. Especially in Ohio, a lot more people are growing them. But also sometimes farmers will have pawpaws growing on their property, and if you ask them to bring some, they might just go into the woods and pick you some. … If they're aware there is a demand for them, they might just start bringing them to market. … They can be found.

For more information about Pawpaw: In Search of America's Forgotten Fruit, visit chelseagreen.com/pawpaw.

***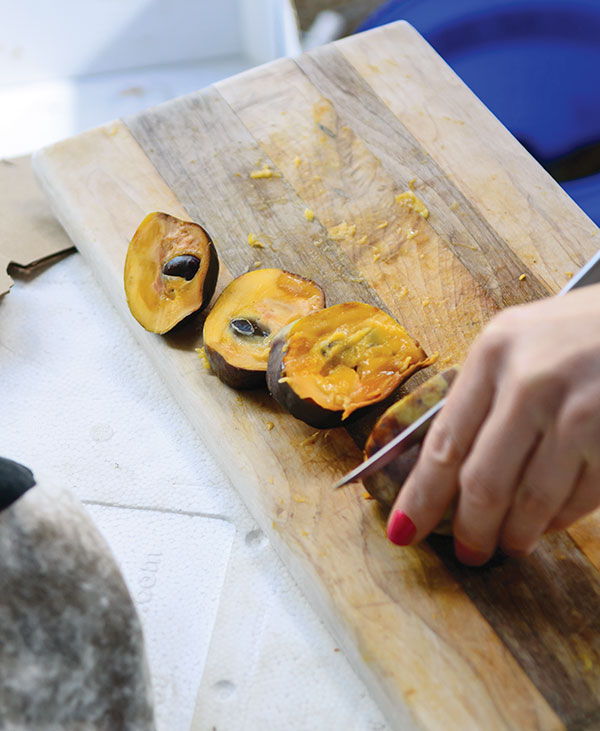 Not-So-Secret Ingredient
Pawpaws make everything taste better. At least that's the theory the Ohio Pawpaw Festival operates under, when it returns each September. We talked to some of the food-and-drink purveyors who have participated in the past to find out how they made use of the event's namesake fruit in food and drink they served during festivals past.

Note: This article ran in 2015. Some brews may not be available each year.

Weasel Paw Pawpaw Pale Ale
Weasel Boy Brewing Co., Zanesville
Weasel Boy's pawpaw beer is based on an English pale ale. "It's got a nice pronounced, but not over-the-top, fruity character," explains brewery owner Jay Wince. weaselboybrewing.com

Pawpaw Wheat
Jackie O's Pub & Brewery, Athens
The Marietta Brewing Co.'s first pawpaw beer inspired this brew crafted by Jackie O's owner Art Oestrike. "You can do a lot of things with the pawpaw," he says. "But it seems to carry a lot of flavor through to the beer." jackieos.com

Cookie Duster
Black Box Brewing Co., Westlake
Along with pawpaw, Black Box Brewing Co. owner Jerome Welliver adds Tellicherry peppercorns to this Belgian-style oatmeal rye. "I noticed a lot of people at the [festival] … eat [pawpaw] raw and sprinkle black pepper on it," he says. bbbrewco.com

Pawpaw Funnel Cakes
Hot Diggity Dog Unlimited, Athens
Fourteen years at the festival have helped Charles Richmond perfect this dish, but he knew it was a hit from the start. "Once I mixed the pulp into the batter, I instantly liked the way it was coming out."

Pawpaw Mousse
Chelsea's Real Food, Shade
When Chelsea Hindenach started serving food at the festival three years ago, she found inspiration for this dish in her already-popular chocolate mousse. "I thought, pawpaw and vanilla are pretty good friends, so I experimented." chelseasrealfood.com

Paw Nut Cookies
Becky Jean's Kettle Corn, Jackson
Fair warning: Rebecca Nelson's paw nut cookies typically sell out within the first day of the festival, so act fast if you want to try one. "It's a soft cookie made out of pawpaw pulp and walnuts," Nelson says. facebook.com/beckyjeankettlecorn

For more information, visit ohiopawpawfest.com.

***

Growing Trend
The Ohio Pawpaw Growers Association spreads the word about how to best cultivate our state's native fruit.

The pawpaw is credited for satiating a very hungry Lewis and Clark as rations ran low during the last week of the legendary explorers' famous expedition. Our state's earliest settlers also embraced the fruit as an important food source, just as the American Indians did before them.

"The pioneers found that there were relatively no native fruits in Ohio at the time of settlement, so pawpaws were an important part of their diet," explains Ron Powell, president of the Cincinnati-based Ohio Pawpaw Growers Association. "It saved a lot of them from starvation during hard times."

Although the pawpaw's popularity faded over the years, its resurgence during the last decade has boosted the popularity of Powell's 14-year-old association. "We're trying to look at production and educate people on how to work with [pawpaws] and how to process them," he says.

Because the pawpaw has a shelf life of around four days, it's difficult to stock in grocery stores. Powell says it is slowly making its way to mainstream markets, mostly in the form of frozen pulp, but he adds that private orchards are still the place where one is most likely to find the fruit in its natural state.

Pawpaw trees also face growing challenges. They're shorter than other trees and are often shaded by foliage, which, in turn, produces smaller fruit. The Ohio Pawpaw Growers Association shares orchard-planting strategies with its 200 paid members and 600 newsletter subscribers to help them achieve better results.

Finally, Powell says, there's the hurdle of getting consumers to try a fruit that's billed as a mango-banana mash-up but sports an unusual green hue. "It's an uphill battle," he says. "I'm finding out that the people who have tried pawpaw really find it a wonderful fruit."

For more information about the Ohio Pawpaw Growers Association, visit ohiopawpaw.com.