Food + Drink
New Traditions
Four Ohio chefs share recipes that'll help you reinvent your family feasts this season.
December 2016 Issue
BY Stephanie Grauer | Photos by Casey Rearick
December 2016 Issue
BY Stephanie Grauer | Photos by Casey Rearick
Meat-and-Potatoes Makeover: With dishes like catfish tacos with pineapple pico de gallo and wood-fired ham and cheese served with housemade blackberry mustard, the chefs at J. Marie's Wood-Fired Kitchen & Drinks in Wapakoneta know how to revamp classic foods in unexpected ways. Chef Robert Schmiesing's roasted pork loin with spiced rum apples, butternut squash and polenta is no exception, as it reimagines the typical meat-and-potatoes compilation as a single dish. Instead of a bland roast piled next to tired old mashed potatoes, Schmiesing nestles succulent pork tenderloin in a bed of creamy polenta surrounded by tangy squash and tops the meat with mulled apples. "Hearty flavors that mingle very well together set the whole meal," says Schmiesing. "You still have your pork as well as all the fixings that go with it." Meanwhile, chef Stanley Watson's bacon-wrapped asparagus with blue cheese broccoli puree turns the typically springtime vegetable into an earthy winter side. jmarieskitchen.com
Roasted Pork Loin with Spiced Rum Apples, Butternut Squash and Polenta
Courtesy of J. Marie's Wood-Fired Kitchen & Drinks | Serves 6–8
Chef's Note: Chef Robert Schmiesing suggests preparing the pork loin and butternut squash first, and making the polenta while the pork loin and squash are roasting. The apples can be made either in advance or following the other components.
INGREDIENTS
2 pounds pork loin
1 teaspoon salt
1 teaspoon pepper
1 teaspoon garlic powder
1 teaspoon onion powder
1 teaspoon dry basil
1/2 cup brown sugar
3/4 cup olive oil
DIRECTIONS
Combine all spices and rub thoroughly on pork loin. Heat skillet with olive oil and sear pork loin on all sides. Cook pork loin at 325 F for 30 minutes or until internal temperature reaches 135 F.
For plating, set the pork loin atop a bed of polenta, surround with butternut squash and top the pork with the apples.
Apples
INGREDIENTS
3 apples
4 ounces butter
1/2 cup brown sugar
1 teaspoon cinnamon
1/2 teaspoon nutmeg
Pinch of salt
1 ounce spiced rum

DIRECTIONS
Core and slice apples. Mix brown sugar, cinnamon and nutmeg together and toss with apples to get equal coating. Heat butter up in saucepan and add apples. Stirring continually cook until tender. Deglaze pan with rum and simmer for 2 minutes.
Polenta
INGREDIENTS
2 cups milk
1/4 cup butter
Pinch of dried dill
2 teaspoons cinnamon
1 teaspoon nutmeg
1 cup instant polenta

DIRECTIONS
Combine all ingredients in saucepan except polenta and bring to a boil. Add polenta
and whisk vigorously until creamy. Turn heat down and simmer for 5 minutes while whisking occasionally. Then turn off heat and put a lid on the pan and let sit for 10 minutes. If desired creamier, at this stage add milk until desired creaminess.
Butternut Squash
INGREDIENTS
2 butternut squash
1 cup melted butter
1 teaspoon salt
1 teaspoon pepper
1 teaspoon cinnamon

DIRECTIONS
Peel and large-dice butternut squash. Toss in butter, salt, pepper and cinnamon. Lay on sheet pan and cook at 325 F until fork tender, about 25 minutes.

***

Bacon-Wrapped Asparagus with Blue Cheese Broccoli Puree
Courtesy of J. Marie's Wood-Fired Kitchen & Drinks Serves 2
INGREDIENTS
12–14 asparagus stalks
2–4 pieces raw bacon
3 cups broccoli florets
1 tablespoon dried cranberries
2 tablespoons sliced almonds
3 tablespoons blue cheese
1 teaspoon honey
1 teaspoon Cajun seasoning
1 teaspoon cooking oil
Salt and pepper

DIRECTIONS
Wrap 6 to 7 asparagus stalks in 1 to 2 pieces of bacon each and secure with toothpicks. Season with salt and pepper. Bake wrapped asparagus on a foil-lined tray in a 400 F oven for 10 to 15 minutes, rotating as needed until the bacon is crisp and the asparagus is tender.

Bring 4 cups of water and 1 tablespoon of salt to a boil (for a richer puree, replace 2 cups of water with heavy cream and add a tablespoon of butter). Add 3 cups of broccoli and allow to simmer for 7 minutes or until tender. Drain broccoli, reserve simmering liquid, and place broccoli in a blender. Puree for 2 minutes, incorporating simmering liquid into the broccoli until smooth. Add 2 tablespoons of blue cheese and puree for 30 seconds until cheese is incorporated. Season to taste.

Divide almonds evenly and coat 1 tablespoon with 1 teaspoon of cooking oil and 1 teaspoon of Cajun seasoning. Coat the other 1 tablespoon of almonds with honey and mix.

Remove toothpicks from the bacon and drizzle blue cheese puree over the asparagus stalks. Garnish with dried cranberries, Cajun almonds, honey almonds and blue cheese crumbles.

***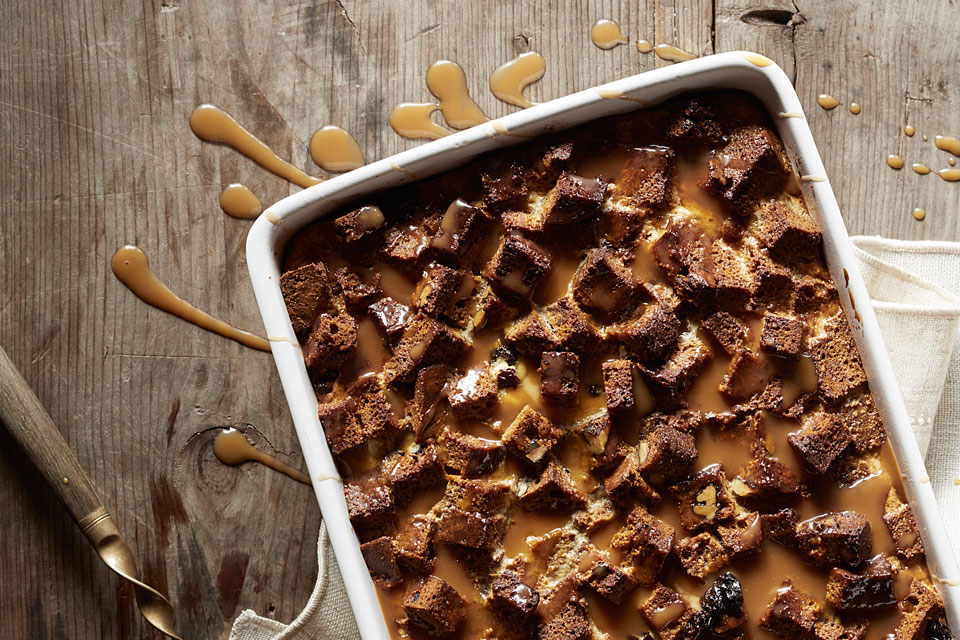 Sugar and Spice: Chef Anthony Schulz of Kindred Spirits restaurant at the Inn & Spa at Cedar Falls in the Hocking Hills looks forward to the holidays as a prime season for decadent desserts. "In the winter, we do something a little bit heavier," he says. "That's when we get to have more fun, because we get to use more butter, more cream." Schulz's pumpkin bread pudding with caramel sauce, a richer take on the classic bread pudding, is infused with sweetness and seasonal spices. It can complement a traditional holiday spread or stand as a statement on its own. "You have to have dessert," says Schulz. "You can change anything you want, but I would not give up dessert." innatcedarfalls.com/restaurant

Pumpkin Bread Pudding with Caramel Sauce
Courtesy of Kindred Spirits restaurant at the Inn & Spa at Cedar Falls | Serves 10–12

Chef's Note: Chef Anthony Schulz suggests making the bread for this recipe the day before. The caramel sauce can be made while the pudding is baking.

INGREDIENTS
5 large eggs
1/2 cup granulated sugar
2 cups half-and-half
1 1/2 cups canned evaporated milk
1 tablespoon vanilla extract
1 pumpkin bread, cut into 1/2-inch cubes (recipe below)
3/4 cup raisins
Caramel sauce (recipe below)

DIRECTIONS
Preheat oven to 325 F. Spray a 13-by-9-inch pan with cooking spray. In a separate bowl or standing mixer, beat eggs and sugar until pale in color. (You should be able to make a figure-eight with the whisk on top of the egg mixture: the "eight" will sit on top of the mixture for a few seconds before sinking in.) Gradually mix in the half-and-half, evaporated milk and vanilla. Combine the bread and raisins in baking pan. Pour the egg mixture over and mix gently. Bake pudding for 45 to 55 minutes or until a tester inserted in center comes out clean.

Pumpkin Bread
INGREDIENTS
1 cup granulated sugar
1/2 cup vegetable oil
2 large eggs
1 cup pumpkin puree
1/4 cup water
1 3/4 cups all-purpose flour
2 teaspoons cinnamon
1 teaspoon baking soda
1/2 teaspoon salt
1/4 teaspoon ground cloves
1/2 cup pecans, chopped

DIRECTIONS
Preheat oven to 350 F, and spray a 9-by-5-inch loaf pan with cooking spray. Combine sugar and oil in a large bowl. Beat in the eggs one at a time. Mix in water. Sift together the flour, cinnamon, baking soda, salt and cloves. Stir into the egg mixture. Mix in the pumpkin and the pecans, and pour into prepared pan. Bake until tester inserted in center comes out clean (about 45 minutes). Cool in pan for 10 minutes. Turn out onto rack and let cool completely. Can be made ahead of time, up to a couple of days.

Caramel Sauce
INGREDIENTS
1/2 cup granulated sugar
1 cup heavy cream
2 tablespoons unsalted butter
Water

DIRECTIONS
In a stainless steel or copper saucepan, add the sugar and slowly add just enough water to make the sugar the consistency of wet sand. Be careful with the water, as you don't want to splash the sugar onto the sides of the pan. (It will form crystals and turn the caramel into a rock.) Place pan over medium-high heat and let sit. Do not shake or touch the pan yet. When the sugar becomes golden brown remove from heat. (This will take about 5 to 7 minutes.) Carefully whisk the heavy cream into the sugar and then finish by adding the butter and fully whisking it in. Drizzle over the pudding.

***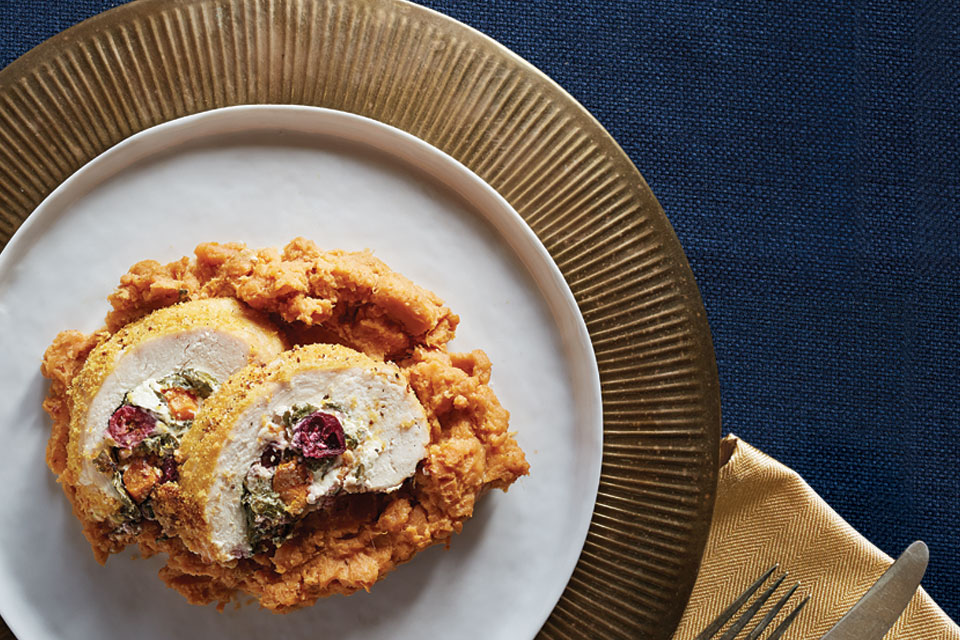 Talking Turkey: There's no reason to wrestle with cooking a big bird this holiday season — not when you can get great flavors in a much simpler and equally tasty preparation. Plus, as Black Creek Bistro chef Alex Fuller points out, "[A turkey] is an awkward-shaped thing to have in the oven." Fuller first concocted his turkey roulade stuffed with winter squash and fresh cranberries with a side of bacon fat sweet potatoes for a wine-tasting event at his Columbus restaurant, and the special was an instant hit. The cream cheese of the filling melts, eliminating the need for gravy, and the bacon fat cuts the typical sugary taste of the sweet potatoes. Plus, when sliced, the roulade has a festive red, white and green spiral that makes it perfect for Christmas. "It's something that looks daunting when it's served," says Fuller, "but it's an easier dish overall." blackcreekbistro.com
Turkey Roulade Stuffed with Winter Squash and Fresh Cranberries
Courtesy of Black Creek Bistro | Serves 6–8
INGREDIENTS
1 whole boneless turkey breast, skin off
1 medium butternut squash
1 pound fresh cranberries (can use frozen)
1/2 pound fresh spinach
1 pound cream cheese
Panko breadcrumbs, as needed
Vegetable oil, as needed
Salt and pepper
Twine
DIRECTIONS
Peel squash using vegetable peeler and cut in half. Scoop out seeds, and cut the squash into 1/4-inch cubes. Place on baking tray, sprinkle with vegetable oil and roast at 350 F until tender. Place turkey breast on cutting board lined with plastic wrap, and place another layer of plastic wrap over turkey. Pound gently to about 1-inch thickness. The goal is to make the turkey breast an even thickness without tearing the meat. When squash is finished roasting and cool to the touch, mix by hand in a large bowl with cream cheese, cranberries and spinach until evenly combined. Season with salt and pepper. Place mixture on top of turkey breast staying about 1 inch from the edge. Roll up and tie at one-inch intervals. (It should look like a very large turkey cigar). Brush with oil, coat with breadcrumbs and bake at 350 F until it reaches an internal temperature of 165 F. Let rest and keep at 140 F in oven until ready to slice and serve. Don't forget to cut the string off when serving.

Bacon Fat Sweet Potatoes
Courtesy of Black Creek Bistro | Serves 6–8

INGREDIENTS
6 sweet potatoes
1/4 cup rendered bacon fat (drippings from cooking bacon)
1/2 pound butter
2 cups cream
2 tablespoons ground cloves
Salt and pepper
DIRECTIONS
Start a large pot of boiling water. Peel and cube the sweet potatoes, then add to the pot of boiling water. Cook until tender, when a fork can go through without much resistance. While potatoes are boiling, combine butter, cream, bacon fat and ground cloves in small pot and bring to a low simmer. Strain sweet potatoes and put in mixing bowl. Add combined ingredients from the smaller pot, mash to desired consistency and add salt and pepper to taste. You can hold these in the oven at 140 F with the turkey roulade.