Food + Drink
Marion Popcorn Festival Recipes
Everyone's favorite movie snack holds a special place in Marion's history — a fact the town celebrates every September.
September 2017
BY Nicholas Adkins | Photo by Anna Lattanzio
September 2017
BY Nicholas Adkins | Photo by Anna Lattanzio

The city of Marion has more than one claim to fame. For one, Warren G. Harding, the 29th President of the United States, lived there and published the town's Marion Star newspaper for years. He even campaigned for the presidency from the front porch of his home at 380 Mount Vernon Ave.
Then, there's the Marion Steam Shovel Co., which the U.S. government hired in 1903 to provide the equipment to help build the Panama Canal.
But the city's most celebrated legacy may be its role in popcorn production during the 20th century — a time when the snack cemented itself as a favorite of moviegoers, carnival attendees and sports fans across the nation.
Every year, the city hosts the Marion Popcorn Festival the weekend after Labor Day. The event, which now spans seven downtown blocks, routinely attracts 250,000 visitors to celebrate all things popcorn over the course of its three-day run.
"People come from all over the state and all over outside the state," says festival trustee Karen Herr. She adds that many attendees are former residents. "People come back home to Marion, and it becomes a sort of family reunion."
The festival features attractions such as food vendors, crafts, rides, art, beer and wine tastings, a kiddie tractor pull, the annual Popcorn Parade, a popcorn-themed costume contest for dogs and an annual popcorn-cooking contest that highlights the event's star ingredient in a creative way. Each year also features a lineup of main stage musical entertainment.
Marion's signature festival owes its humble beginnings to Warren Hoover Brown, who started a business in 1936 that would make Marion a center of the snack food industry. During the heart of the Great Depression, he created the Wyandot Popcorn Co. to support his family, initially planting 100 acres of popcorn.
The company grew steadily through the Great Depression, as popcorn served as an inexpensive treat. By the 1950s, Wyandot Popcorn Co. was developing special hybrids: one for superior taste, another that resisted crumbling for automated manufacturing plants and a third that produced a ball-shaped piece of popcorn that could easily be coated with caramel without breaking up.
Later, during the recession of the late 1970s, a group of Marion community leaders was brainstorming ideas about how to help the town get back on its feet. They eventually decided to celebrate the food that put Marion on the map four decades earlier. The inaugural Marion Popcorn Festival was held in 1981.
"Popcorn has been giving to the city for years through employment opportunities," says Gale Martin, director of the Wyandot Popcorn Museum located in town, which traces the history of the snack food. "It still gives back through the popcorn festival."
George Brown, the son of Wyandot Popcorn Co.'s founder, created the museum in 1982 as a way to showcase his collection of antique popcorn machines. Located in the city's former post office building, the big-top-inspired museum holds more than 50 antique popcorn machines, carts and wagons dating back to the late 19th century.
The museum also features exhibits dedicated to Marion's contributions to the science of popcorn as well as a historic collection of toys from Cracker Jack boxes.
"If you really want to get down on the history of popcorn," says Martin, "this is the place to go."
Visit popcornfestival.com for more information.

A version of this story originally ran in the September 2017 issue. The 2022 Marion Popcorn Festival runs Sept. 8 through 10. Visit popcornfestival.com for more information.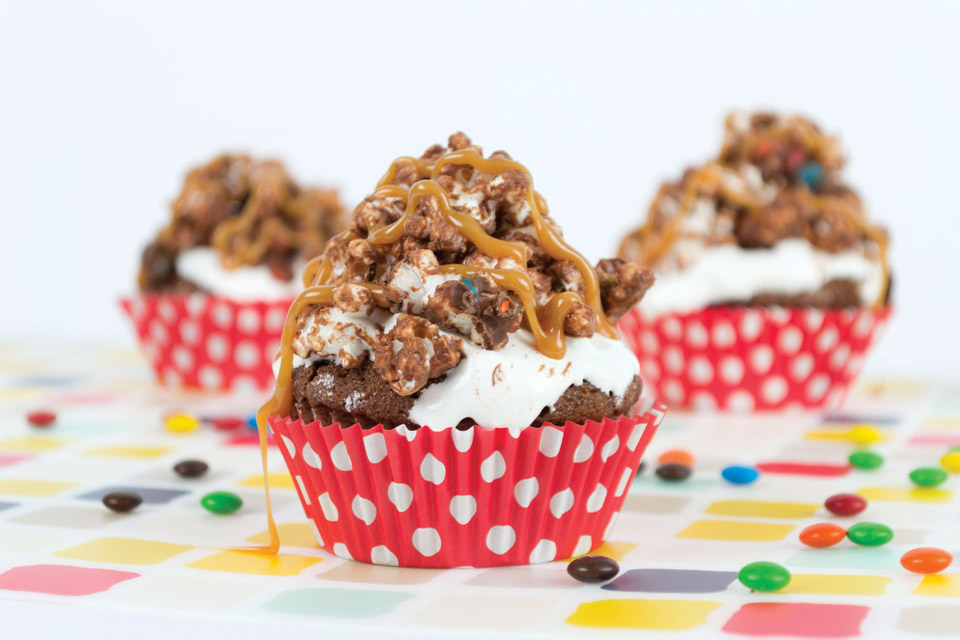 Chocolate Caramel Popcorn Cupcakes | Makes 12
Submitted by Josette Schaber, adapted from irishbakingadventures.com recipe

"It's definitely a challenge to do something different," Marion resident Josette Schaber says of her Chocolate Caramel Popcorn Cupcakes. "A lot of entries tend to be snack mixes." Originally from Columbus, Schaber's family moved to the area when she was 11 years old, and she has attended the popcorn festival every year since. A recipe a friend's mother liked to use inspired Schaber's 2016 popcorn-cooking contest entry. Although, like most of her baking projects, she added some of her own ingredients, as well as popcorn, to make the creation her own. "I'll think, this sounds good, but then realize I don't have all the ingredients," Schaber says. "So, I'll just mix things up on my own."
INGREDIENTS
Chocolate Cake
4 tablespoons boiling water
1/4 cup cocoa powder
3 eggs
3/4 cup unsalted butter, softened
3/4 cup granulated sugar
3/4 cup self-rising white flour
1 teaspoon baking powder, rounded

Popcorn Topping
2 cups salted popcorn or 1 bag of microwave popcorn, popped
1/2 jar of marshmallow fluff
1 cup milk chocolate melting chocolate
1 cup mini M&M's

Caramel Drizzle
12 Kraft caramels
1 tablespoon milk
1/4 teaspoon salt

DIRECTIONS
Preheat oven to 400 F. Line muffin pan with baking cups. Sift cocoa powder into a bowl, pour in the boiling water and mix into a thick paste. In separate bowl, combine sugar and butter, then eggs and add to cocoa mixture. Add remaining dry ingredients and mix with electric hand whisk (or beat with a wooden spoon). Divide the mixture equally between the 12 baking cups. Bake for 15 to 25 minutes, until well risen and springy to the touch. Cool on a wire rack.

Melt the 1 cup of chocolate for topping in a double boiler until very runny. Put popcorn into large bowl and pour the melted chocolate over top. Mix gently until popcorn is covered, then stir in the mini M&M's.

Spread a heaping tablespoon of marshmallow fluff over each cupcake. Using a spoon, heap two tablespoons of popcorn on top of each. Lightly press together with your hands and leave in the refrigerator for 30 minutes until set.

Place caramels in double boiler. Add milk and 1/4 teaspoon of salt. Cook until caramels are completely melted and mixture is well blended, stirring frequently. Remove cupcakes from refrigerator and drizzle each with the melted caramel.

***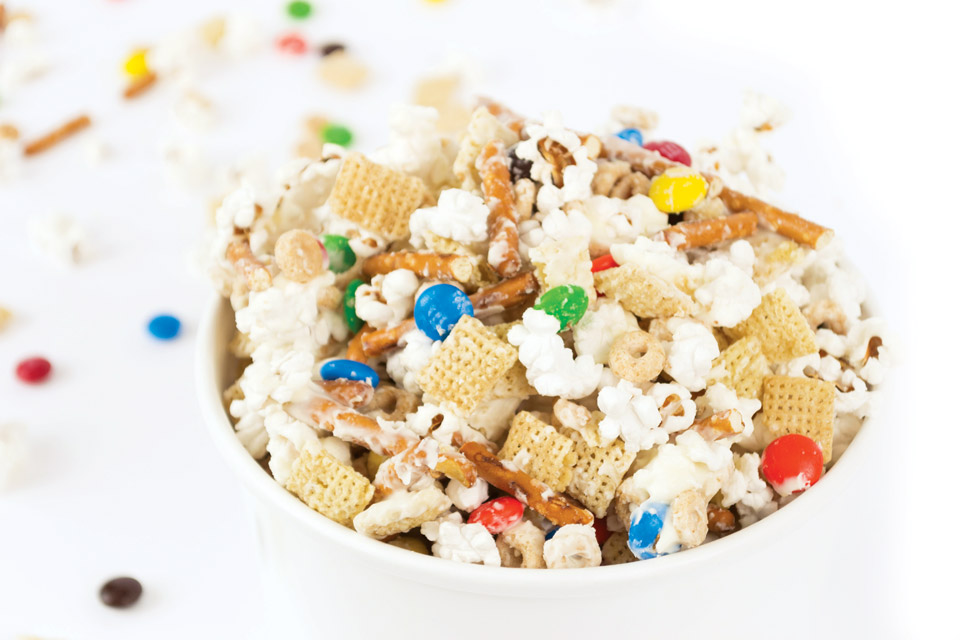 Under the Big Pop | Makes about 10 cups
Original recipe submitted by Carol Ault

A resident of the Marion County village of Caledonia, Carol Ault has been a regular participant in the Marion Popcorn Festival's annual cooking contest since it began in 2005. Her 2016 entry, dubbed Under the Big Pop, took third place in the contest. "I collect popcorn recipes throughout the year," says Ault. "I love looking at old cookbooks to get ideas." Through trial and error, Ault combined different snack recipes and mixed popcorn with various ingredients until she came up with a perfectly salty and sweet combination. "They asked me what the secret was. I just used real popcorn," Ault says, adding that microwave popcorn just doesn't deliver the same flavor.

INGREDIENTS
Cooking spray
2 cups popcorn, popped
2 cups vanilla rice cereal
2 cups M&M's
2 cups small or stick pretzels
2 cups Cheerios
2 cups white chocolate chips

DIRECTIONS
Mix first five ingredients in a sprayed foil roaster pan. Melt white chocolate chips in double boiler. Pour over popcorn/cereal mix. Refrigerate for 20 minutes. Break up and serve.

***


Caramel Popcorn Cheesecake Bites | Makes 24
Submitted by Annslea Schaber, adapted from Kraft Foods recipe

An aspiring pastry chef, Annslea Schaber was a member of 4-H nearly all of her childhood and completed almost every cooking project the organization offers. As fellow popcorn-cooking contestant Josette Schaber's daughter, it's only natural she entered her own creation in Marion's 2016 contest. Her Caramel Popcorn Cheesecake Bites are tiny treats that'll have you coming back for seconds. "You have the creamy texture of the cheesecake and on top you have that popcorn crunch," Schaber explains. Currently a baking and pastry student at Sullivan University in Kentucky, Schaber says she hopes to one day open a "rescue bakery" that acts as both a bakery and animal shelter. "I've always loved animals," she says, "and I want to bring those two loves together."

INGREDIENTS
1/2 cup graham cracker crumbs
1/2 cup chopped peanuts
1 tablespoon brown sugar
1/2 teaspoon kosher salt, divided in half
2 tablespoons butter, melted
1 1/2 packages Philadelphia cream cheese (12 ounces total), softened
1/2 cup granulated sugar
1 egg
12 Kraft caramels
1 tablespoon milk
1/2 cup whole salted peanuts
Caramel popcorn (see recipe below)

DIRECTIONS
Heat oven to 325 F. Mix graham cracker crumbs, chopped peanuts, brown sugar, butter and 1/4 teaspoon salt and press into bottom of 24 paper-lined mini muffin cups. Beat cream cheese and granulated sugar in large bowl with mixer until blended. Add egg and beat until just blended. Spoon into muffin cups, adding about 1 tablespoon to each. Bake for 15 minutes or until the centers of the cheesecakes are almost set. Remove from oven and let cool completely. Refrigerate for 1 hour.

Place caramels in a small bowl. Add milk and the other 1/4 teaspoon salt and melt in double boiler. Cook until caramels are completely melted and mixture is well blended, stirring frequently.

Remove mini cheesecakes from refrigerator and drizzle about 1 teaspoon of caramel sauce over each. Lightly press pieces of the caramel popcorn and a couple of peanuts into the hot caramel. Refrigerate 1 hour.

Caramel Popcorn

INGREDIENTS
Cooking Spray
4 quarts popcorn, popped
1 cup brown sugar
1/2 cup corn syrup (light or dark)
1/2 cup butter or margarine
1/2 teaspoon salt
1/2 teaspoon baking soda
1 teaspoon pure vanilla extract

DIRECTIONS
Preheat oven to 250 F. Spray large shallow roasting pan with cooking spray. Add popcorn and place in oven while preparing caramel. Mix brown sugar, corn syrup, butter and salt in a heavy 2-quart saucepan. Bring to a boil over medium heat, stirring constantly, and then let boil for 5 minutes without stirring. Remove from heat. Stir in baking soda and vanilla and mix well. Pour syrup over warm popcorn, stirring to coat evenly. Bake for 45 minutes, stirring occasionally. Remove from oven and spread on foil that has been sprayed with cooking spray. Once cooled, break apart and store in a tightly sealed container.