Food + Drink
High Bank Distillery, Columbus
This capital city distiller has garnered praise for its great lunch, dinner and brunch fare and inventive lineup of cocktails.
July/August 2022
BY Nicholas Dekker | Photo courtesy of High Bank Distillery
July/August 2022
BY Nicholas Dekker | Photo courtesy of High Bank Distillery
Jordan Helman and Adam Hines opened High Bank Distillery in Columbus' Grandview neighborhood in May 2018. The duo had worked together through Zest Juice Co.; Helman and his wife co-owned the series of juice bars while Hines crafted their branding.

"We realized we had similar work ethics and goals," Helman says. "And so, we started down the road of opening a brewery together, and when Ohio laws changed to allow a restaurant and a distillery on the same site, we decided to go that route because of our passion for brown spirits."

To name the business, they borrowed the designation applied to the site of the state capitol, which was built on the "high bank" of the Scioto River in 1812. Hines took on the role of head distiller — completing courses at Moonshine University in Louisville, Kentucky — and created an award-winning portfolio that includes High Bank Vodka, Statehouse Gin, Whiskey War and its specialty barreled versions named Midnight Cask.

In just four years, High Bank has found success. In spring of 2022, the distillery took home five Double Golds at the San Francisco World Spirits Competition. In 2021, it won Best Blended Whiskey in America for its barrel-proof Whiskey War.

On top of all that, High Bank opened a second location in Gahanna, on the northeast side of Columbus, in May 2022.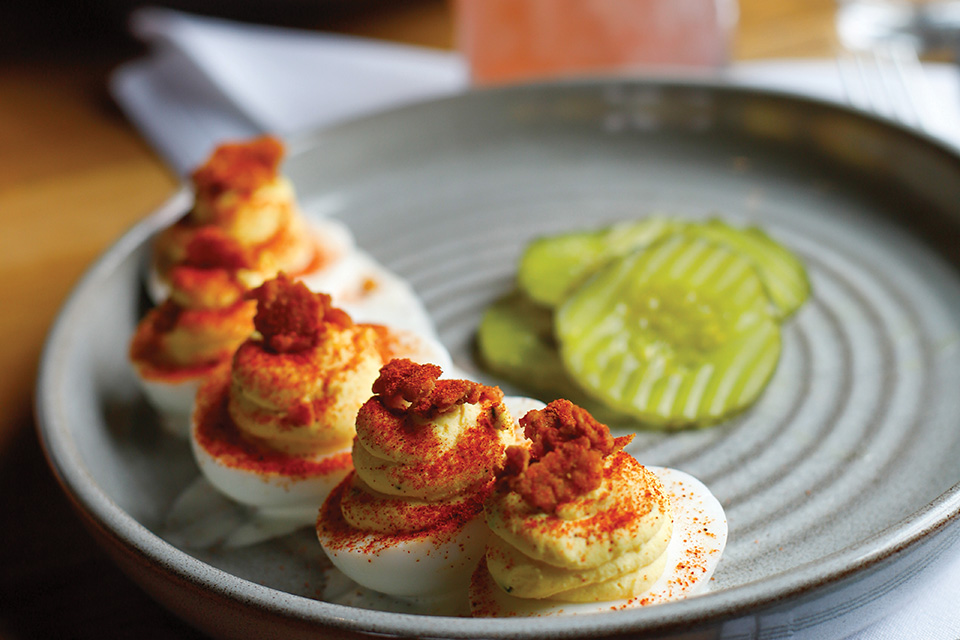 The Grandview location features a large, open space, with a long bar and tables. There is a wide patio in the front, and glass walls in the back reveal the distillery.

Helman and Hines credit the kitchen team and mixologists behind the bar with creating the lunch, dinner and brunch menus and putting spirits to creative use in the cocktail menu. The dishes explore classic American fare with touches of Mexican, Vietnamese and Southern cuisine. Start with the smoked cheddar pimento cheese or the queso fundido laced with chorizo, then move on to the spicy chicken sandwich or pork belly banh mi. Larger featured dishes include mushroom ricotta pizzas and steak frites featuring Ohio beef.

Of course, don't miss the cocktail list, which includes the Rosé Cooler with High Bank's vodka, strawberry simple syrup, rosé and lime. The British Fog blends Statehouse Gin with Cocchi, Earl Grey tea, cardamom syrup and fresh lemon. Beverages include an expert wine selection, craft beers, Thunderkiss Coffee cold brew and mocktails.

Even with the awards, the two locations and its lauded offerings, High Bank Distillery feels like it's just getting started.

"We took more double golds than any distillery in America," says Hines, "and we're sixth in the world. This little distillery in Columbus, Ohio."

1051 Goodale Blvd., Columbus 43212, 614/826-5347, highbankco.com