Food + Drink
Guide to Goetta
This unusual food's epic journey began in the German countryside and continues today in butcher shops and on restaurant menus across Cincinnati.
March 2019
BY Sara Bir | Photo by Matthew Allen
March 2019
BY Sara Bir | Photo by Matthew Allen
It's packed with oats, unknown to most and beloved by many. Goetta, the breakfast meat with old-world roots, is an emblem of pride for those living in the southwest corner of our state.

"Goetta is more than the sum of its parts. It's this weird, unique food," says Dann Woellert, a food-focused historian and author of Cincinnati Goetta: a Delectable History (due July 2019). "It represents our German heritage, the culture of Cincinnati — that we keep what we love close to us."

In the past few decades, tastemakers in southwest Ohio and northern Kentucky have transformed goetta (pronounced get-ah) from humble food to regional pop culture icon. Fans can order goetta crumbles on pizza, buy "Goetta Life" shirts and revel at multiple goetta festivals.

"We've created this fusion of goetta," Woellert says.

Why the fuss over a homely sludge that's a mix of oats, ground meat and seasonings? The glory of goetta is its texture: sliced and griddled, it attains a pebbly browned surface that's addictively crispy. Top it with a runny-yolk egg or a drizzle of syrup, and you're in business.

Thanks to the oats, goetta has whole grains and fiber. And unlike bacon and ham, it's free of nitrates and nitrites. Curiosity about unusual foods plus smart marketing — a lot of it by Glier's, the leading maker — have piqued outside interest. We can also credit people who grew up with the food and then moved away. Because to love goetta, is to explain goetta.

"A lot of people think goetta is something Germans made up here," says Woellert. It's true there'd be no goetta as we know it without the influx of German immigrants to Cincinnati in the 1830s, "but gruetzwurst, or grain sausage, was very much a part of their culture where they came from."

The author points to what he coined the "cradle of goetta," a parallelogram-shaped area in northwest Germany where farming communities each had their own gruetzwurst variations. Divergent opinions about where and how to best enjoy goetta ultimately create a bond, says Woellert. "Is it sweet or savory? Do you put ketchup or syrup on it? Should it be pan-fried or crispy, or mushy and loose? It's a hyper-regional discussion, but one that can last for hours."

---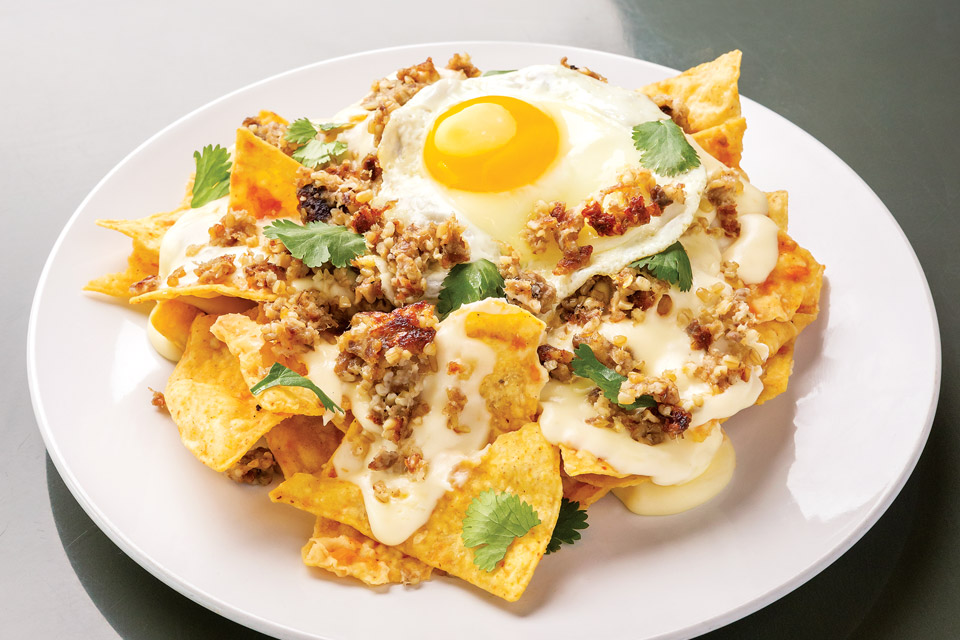 CWC, The Restaurant • Breakfast Nachos
A bar-food favorite gets a morning makeover with goetta crumbles and a fried egg.

Cincinnati born and bred, chef Caitlin Steininger and her sister Kelly Trush have eaten goetta since childhood. From their business' earliest days of operation, "we have put goetta in as many things as humanly possible," Steininger says.
That includes CWC, The Restaurant's Breakfast Nachos, a pile of chips, homemade tomato salsa and queso crowned with goetta crumbles and a fried egg. (For maximum crispy crust, they double-griddle their goetta, which they source from Glier's.)

The inspiration for the nachos came from the sisters' niece, who said she'd ordered nachos every time she saw them at brunch. The restaurant's nachos are now a fixture on an otherwise ever-changing menu.

How exactly does one eat nachos topped with a fried egg? Steininger says it depends on the pace. The chips soften under the queso the longer they sit, so if you linger, "it's more of a knife-and-fork food." 1517 Springfield Pike, Wyoming 45215, 513/407-3947. Note: CWC, The Restaurant is now permanently closed. Find a taste of the owners' newest venture at Station Family + BBQ.

---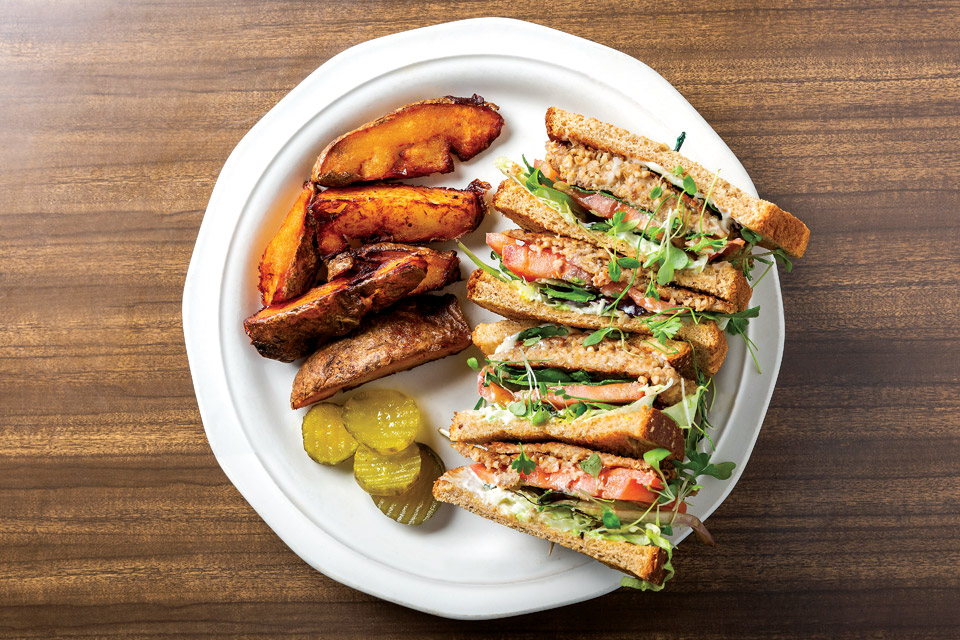 Tucker's Restaurant • GLT Sandwich
If you want to experience goetta in its most traditional form (as well as a creative one), this is the place.

A fixture in the Over-the-Rhine neighborhood since 1946, Tucker's Restaurant is a Cincinnati institution. If you want an unassuming yet classic diner breakfast, this is where to get it. And if you want to experience goetta in its purest context — as a side to an eggy breakfast — for the first time, this is where to do it.
"People come in from out of town and don't even know about it, and a lot of times I'll give them a piece, let them try it," co-owner Joe Tucker says. "Twenty out of 21 times, they like it a lot."
For over 10 years, the restaurant has used goetta from Cincinnati's Wassler Meats, and Tucker calls it "the best goetta we've served in the 40 years I've been here."
Order goetta with the breakfast platter of eggs, home fries and toast. Or, if you're looking for something a little different, try the off-menu GLT sandwich, which swaps bacon for goetta. 1637 Vine St., Cincinnati 45202, 513/954-8920, facebook.com/tuckersrestaurantotr

---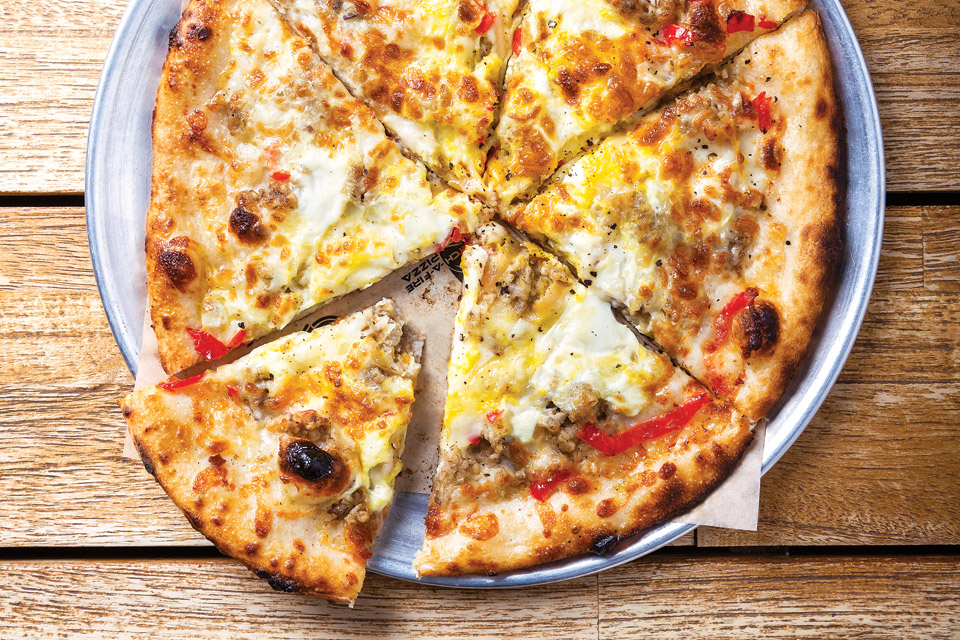 Catch-a-Fire Pizza • Goettup, Stand Up
Goetta meets pizza at this spot located inside MadTree Brewing Co.

Pizza. Goetta. Anytime is the right time to eat either, especially if they share the same bill. Catch-a-Fire Pizza's Goettup, Stand Up — smeared with roasted garlic and olive oil, then topped with caramelized onions, peppadew peppers, cheeses, wood-fired goetta and a cracked egg — is one of chef and co-owner Jeff Ledford's favorite pizzas.

"It's a beautiful bridge between breakfast and an anytime meal," he says.

He and co-owner Melissa Ledford debuted it at their cafe at MadTree Brewing Co. three years ago, but it's appeared on their food truck's menu as well.

Like many options on Catch-a-Fire's menu, the Goettup, Stand Up is a play on a Bob Marley song, while Catch-a-Fire refers to both the establishment's wood-fired oven and The Wailers' 1973 album of the same name.

Both Cincinnati born and raised, the Ledfords "are always experimenting with new flavors and combinations," says Jeff. "It seemed natural to pay homage to our German ancestry in the city." 3301 Madison Rd., Cincinnati 45209, 513/441-8565, catchafirepizza.com

---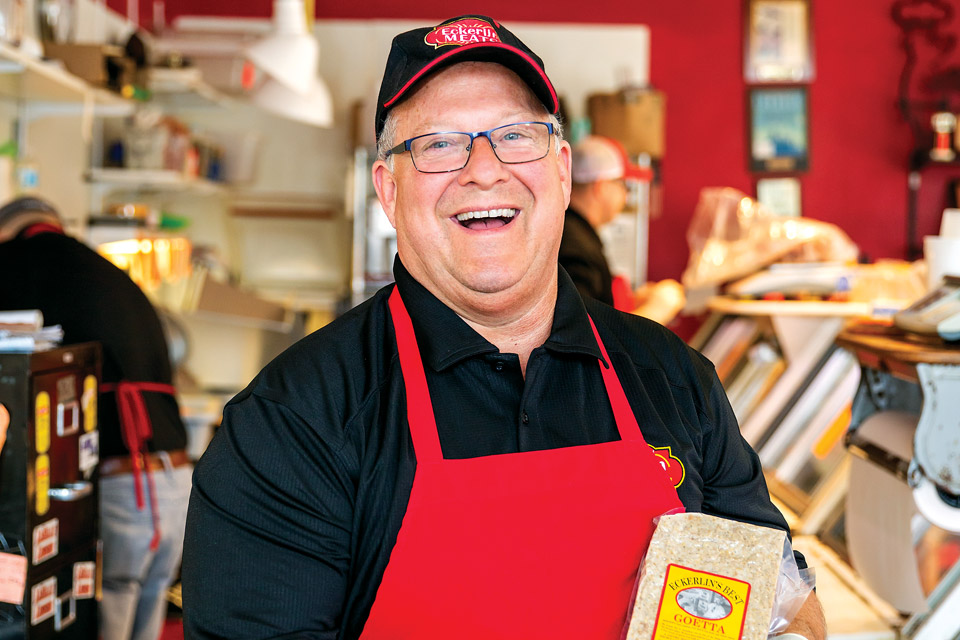 Family Traditions
The recipe for goetta is simple. And as with all simple recipes, small variations make a huge difference.

Bob Lillis, owner of Cincinnati's Eckerlin Meats, knows his goetta. In fact, the fourth-generation Eckerlin eats it almost every day. Although the family business has been in operation for over 160 years, Lillis estimates the shop's current recipe dates to the 1940s. "We do things the old-fashioned way," he says.

The shop uses ground pork shoulder, beef cheek, and beef trim, which all cooks up quite lean. That mixture is then gently simmered with oats until thick — 4 to 5 hours — and then poured into loaf pans.

Eckerlin Meats' goetta is appealingly balanced: peppery without too much of a wallop, and just salty enough to give toast or eggs a backbone. Try it on the shop's goetta sandwich, which has been served at Cincinnati's Findlay Market since 2016.

"There's a small griddle in the [Findlay Market] shop, and on Saturdays and Sundays we have an employee who does nothing but griddle goetta," Lillis says. "People line up for the sandwich."

It's not just regulars, but also visitors seeking out Eckerlin Meats' famed goetta. Why is that happening now, after years being a Cincinnati thing?

"People are realizing it's a good product," Lillis says. "It's something different from bacon. It's fun." eckerlinmeats.com

---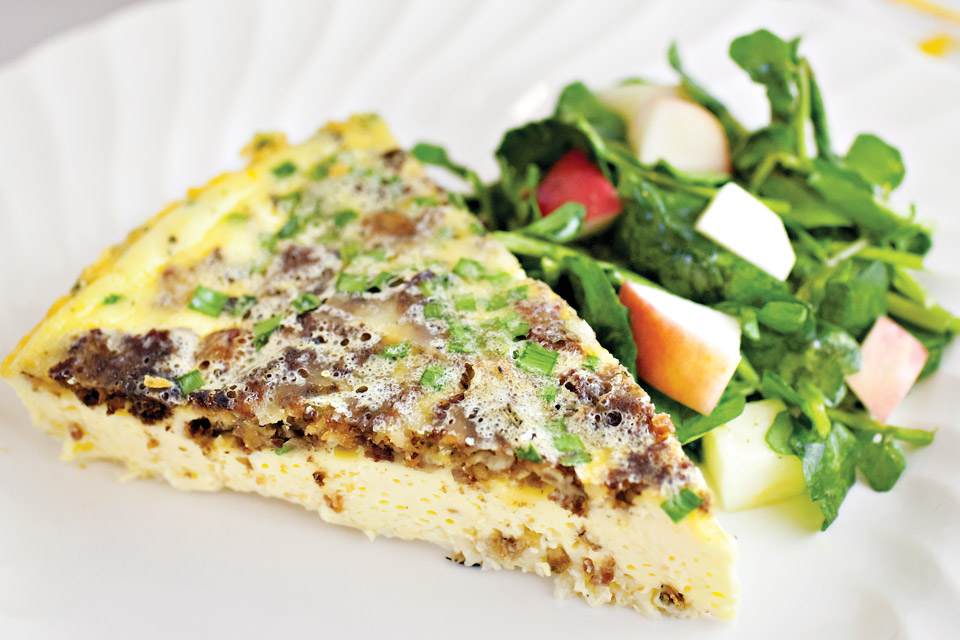 Recipe: Goetta Frittata with Watercress & Apple Salad | Serves 6 to 12
Chef Frances Kroner of Sleepy Bee Cafe in Cincinnati shared her goetta frittata recipe in Tasting Ohio: Favorite Recipes from the Buckeye State. Its custard-like texture calls to mind a crustless quiche. A crisp and tangy salad makes it a meal.

INGREDIENTS

Frittata
Butter for greasing the pan
2 teaspoons olive oil
9 ounces goetta, sliced1/2-inch thick
12 eggs, beaten
2 cups heavy cream
2 tablespoons sliced chives
Pinch dried rosemary
1 teaspoon kosher salt
1/8 teaspoon freshly ground black pepper
1 1/2 ounces (1/2 cup) shredded white cheddar cheese
1 1/2 ounces (1/2 cup) shredded Gruyere cheese

Mustard Vinaigrette
3 tablespoons champagne or rice wine vinegar
1 tablespoon honey
1/4 cup chopped fresh basil
1 1/2 teaspoons stone-ground mustard
2 tablespoons roughly chopped shallot
1/2 cup extra-virgin olive oil
1/2 teaspoon kosher salt
1/4 teaspoon freshly ground white pepper

To Serve
2 bunches watercress or arugula (about 8 loosely packed cups)
2 firm, tart apples, cored and thinly sliced into half moons

DIRECTIONS
Make the frittata: Preheat the oven to 325 F with the rack in the center. Butter a 10-by-2-1/2-inch springform pan. Set the pan on a piece of foil about 20 inches long. Fold the foil around the pan's edges as a protective blanket to keep the custard in the pan as it bakes.

Pour a light layer of olive oil into a large skillet over medium heat. Once the oil is hot, add the goetta slices and cook until nicely browned and crispy at the edges, 5 to 10 minutes per side. Drain the cooked goetta on paper towels.

Combine the eggs, cream, chives, rosemary, salt and pepper in a large bowl and whisk until fully incorporated. With a rubber spatula, fold in the cheese and browned goetta. Scrape into the prepared pan and cover, using the excess foil overhanging the pan, being careful not to drape it in the egg mixture. Bake for 40 minutes, then carefully peel back the foil cover to check for doneness. When the center is a bit jiggly but the rest is set, remove the foil and return the pan to the oven for an additional 5 to 15 minutes. Let rest 10 minutes before slicing.

Make the vinaigrette: Combine the vinegar, honey, basil, mustard and shallots in the jar of a blender. Mix at low speed until smooth. Increase the blender speed to medium and slowly add the oil in a thin stream until creamy and emulsified. Dip a piece of watercress or arugula and taste to check for seasoning, then adjust with salt or pepper as needed.

Plate and serve: Toss the greens with about 1/4 cup of the vinaigrette. Cut the frittata into wedges and serve with the dressed salad garnished with apple slices.

This recipe is excerpted from the cookbook Tasting Ohio: Favorite Recipes from the Buckeye State (Farcountry Press, 2018) by Sara Bir and is reprinted with permission from the publisher.

---

Homemade Goetta | Makes two 8-1/2-by-4-1/2-by-2-1/2-inch loaf pans

Though it's not difficult, goetta's long cook time and need for frequent stirring make it a weekend project. Try the pressure cooker variation to make it much more hands-off.

INGREDIENTS
4 cups water
2-1/2 cups pinhead or steel-cut oats
2 teaspoons kosher salt
1 pound ground pork
1 pound ground beef
2 medium onions, finely diced
4 garlic cloves, minced
1 teaspoon poultry seasoning
1/4 teaspoon cayenne pepper
1-1/2 teaspoons freshly ground black pepper
4 cups low-sodium beef stock
1 bay leaf

DIRECTIONS
In a large, heavy-bottomed pot, bring the water, oats, and salt to a boil. Reduce to a low simmer and cook, stirring often, until creamy, about an hour.

In a large bowl, thoroughly knead together the ground meats, onions, garlic, poultry seasoning, cayenne, and black pepper. Knead in the stock to make a sludgy paste. Stir into the pot of simmering oats. Add the bay leaf, raise the heat to medium-high and bring to a simmer, stirring constantly with a wooden spoon. Reduce the heat as low as it can go and cook, uncovered, at least 3 hours, stirring often (the oats tend to stick to the bottom and scorch as the mixture thickens).

The goetta is ready when it's thick enough that a spoon can stand up in it. It should require a lot of oomph to stir at this point, and resemble very stiff oatmeal (when in doubt, err on the side of cooking longer). Taste the goetta and adjust the seasoning, if needed — it should be very highly seasoned. Remove the bay leaf.

Line the bottoms of two 8-1/2-by-4-1/2-by-2-1/2-inch loaf pans with parchment; grease the pans and parchment with cooking spray. Divide the mixture between the pans and smooth the tops. Let the pans cool on the counter at least an hour, then refrigerate. The goetta is easier to slice and fry when it's had at least 12 hours to set. Slide a thin metal spatula between the pan and the goetta to loosen, then invert the loaf and wrap well in plastic wrap. Refrigerate up to 1 week or freeze for up to 1 year.

To cook, slice the goetta crosswise at least 1/2-inch thick. Heat 1 tablespoon vegetable oil or bacon fat in a skillet (preferably nonstick or cast iron) over medium-high heat. Add the goetta, being careful not to crowd the pan, and cook 5 to 10 minutes per side, disturbing the goetta as little as possible so you don't break up the crispy brown crust as it forms.

Pressure cooker variation: Omit the water, using only 4 cups beef stock. Combine all the ingredients in the cooker and knead thoroughly to make a sludgy paste. Lock on the lid. Bring to high pressure and cook 30 minutes, letting the pressure release naturally. Stir well, then scrape into prepared loaf pans.