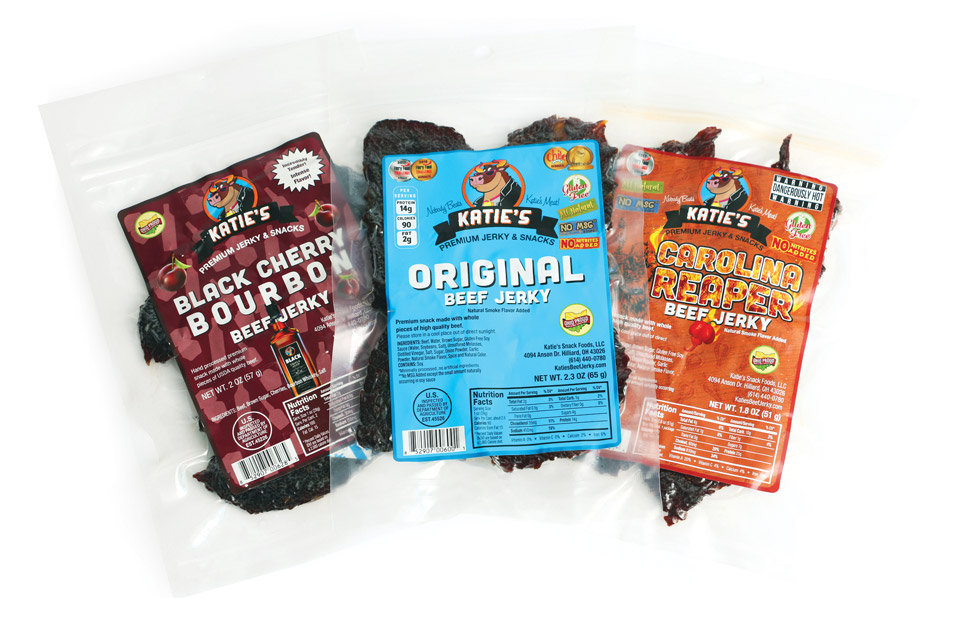 Food + Drink
Great Jerky, No Bull
Katie Levesque of Hilliard launched her business in 2014. She now makes more than 40 beef jerky flavors ranging from Black Cherry Bourbon to fiery Scorpion XXX.
September 2017
BY Nathan Havenner | Photo by Chelsea Saxman
September 2017
BY Nathan Havenner | Photo by Chelsea Saxman
Look out Slim Jim and Jack Link's, there's some made-in-Ohio beef jerky competing for customers' attention. Katie Levesque of Hilliard has grown what started as a culinary hobby into a full-fledged business by crafting inventive beef jerky flavors such as Black Cherry Bourbon and Carolina Reaper.
"When I was a kid, I liked jerky, and then in college I would make it because it was a nice snack," recalls Levesque. Soon, she was making the food for honors college fundraisers, and it wasn't long before friends asked her if they could order some.
After graduating with an engineering degree, Levesque worked in manufacturing before seeking out the approvals necessary to launch her business, Katie's Premium Jerky & Snacks, in 2014. Despite growth that has required her to add 12 employees, Levesque still creates each new flavor herself to ensure quality.
Today, she sells more than 40 varieties of jerky, including wild game and even a vegetarian pineapple version. But her company may be best known for its spicy flavors, including Scorpion XXX, made using the fiery Trinidad moruga scorpion pepper.
"I am a spicy food connoisseur," says Levesque. "When people are looking for super-hot jerky, they really want to get some heat in there."
For more information or to order online, visit katiesbeefjerky.com.