Food + Drink
Eat, Drink, Be Merry
Culinary, decorating and party-planning pros share their insight, advice and really tasty recipes.
December 2014 Issue
BY Kara Kissell | PHOTOS BY Jason Miller
December 2014 Issue
BY Kara Kissell | PHOTOS BY Jason Miller
DINNER
It was with good intentions that you offered up your home and kitchen for holiday dinner, but now the countdown is looming. Don't worry, Jaimee Patton, kitchen manager at The Hills Market, a specialty grocery store in Worthington, knows how to pull it off with panache, and she has the recipes ready to back it up. Patton builds meals by devising creative combinations of easy-to-find ingredients. "You can make these beautiful dishes that aren't that complicated and are easy to approach without having to spend a whole bunch of money on truffle oil that you might use a tablespoon of," she says. The meal Patton shares here is an innovative and delicious take on the traditional holiday ham, which she serves alongside maple-scented winter root vegetables. "It's taking your standard recipes and giving them some modern twists, like with chestnuts and cranberries," she says. "People don't think about serving those two together."
Riesling-Dijon Glazed Holiday Ham with Apple Mustard Sauce
Courtesy of The Hills Market
INGREDIENTS
1 14–16-pound whole cured,
smoked bone-in ham
2 cups Riesling, divided
7 cups water
4 tablespoons unsalted butter, divided
1/2 cup finely chopped shallots, divided
2 teaspoons fresh thyme leaves
1/2 cup whole grain Dijon mustard
1 tablespoon honey
1/2 teaspoon ground black pepper
1/4 teaspoon salt
6 red apples, cut into 1/2-inch wedges
(preferably a sweet varietal such as
Honeycrisp or Red Delicious)
1 teaspoon hot paprika
4 tablespoons apple brandy
Salt and pepper to taste
DIRECTIONS
Preheat oven to 300 F. Leaving fat intact, remove outer rind from most of ham, leaving a band around the end of the shank bone. Score fat crosswise (do not cut into meat) on top of ham with parallel cuts spaced 1/2-inch apart. Place ham in a large roasting pan. Boil 1 cup Riesling and 7 cups water in a saucepan for 5 minutes. Pour into bottom of roasting pan. Bake ham, basting with pan juices occasionally, until an instant-read thermometer inserted into center of ham registers 110 F (usually 2 1/2–3 hours).
While ham is cooking, melt 2 tablespoons butter in a medium skillet over medium heat. Add 1/4 cup shallots stirring often, until they are soft. Remove pan from heat; stir in the remaining 1 cup Riesling and return to stove. Bring sauce to a simmer over medium-high heat and cook until mixture is reduced to 1/4 cup. Transfer mixture to a food processor. Add thyme leaves, mustard, honey, pepper and salt. Process until well blended. Set aside.
Once ham has reached an internal temperature of 110 F, remove pan from oven and increase heat to 350 F. Using a spatula or pastry brush, spread Riesling mixture over ham. Return pan to the oven and tent ham with foil if browning too quickly. Roast for another 15–30 minutes, or until internal temperature reaches 135 F and crust is golden brown. Reserve pan juices.
Transfer ham to a large platter. Let rest for 30 minutes before carving.
Strain the pan juices into a bowl and skim off the fat. In a deep skillet, melt the remaining butter. Add paprika and remaining shallots. Cook over medium heat until the shallots are softened. Add the brandy. Using a long match, carefully ignite the brandy and let the alcohol burn off. Add the apples and pan juices and cook until the apples are just heated through. Season the sauce with salt to taste. Carve the ham and serve with the sauce.
Yield: Serves 8
Maple-Scented Winter Vegetables with Cranberries and Chestnuts
Courtesy of The Hills Market
INGREDIENTS
4 large carrots, halved lengthwise and
cut into 1-inch pieces
3 large parsnips, peeled, halved lengthwise,
and cut into 1-inch pieces
1 pound baby Brussels sprouts
2 tablespoons minced fresh thyme
3 tablespoons olive oil
3/4 teaspoon salt
1/4 teaspoon pepper
1 cup fresh or thawed frozen cranberries
1 cup roasted peeled chestnuts, quartered
1/4 cup maple syrup
DIRECTIONS
Preheat oven to 400 F. Toss carrots and parsnips in 2 tablespoons olive oil, 1 tablespoon thyme and season with salt and pepper. Spread mixture evenly on a greased nonstick sheet tray. Toss Brussels sprouts in remaining 1 tablespoon olive oil and thyme and season with salt and pepper. Spread mixture evenly onto a second greased nonstick sheet tray.Bake carrot mixture 30 minutes, stirring once. Add cranberries and bake for 5–10 more minutes, or until carrots and parsnips are golden and tender and cranberries are soft. Bake Brussels sprouts 15­–20 minutes or until tender and golden, stirring once. Remove vegetables from oven and combine with chestnuts in serving bowl. Drizzle with maple syrup and toss to coat.
Yield: Serves 8
---

KITCHEN PREP:
Dagmar and Ken Kupsche have owned The Cook's Shop in historic downtown Marietta for the past five years. The store boasts a 50-foot gadgets wall, cooking classes and a fresh olive oil and vinegar bar. We asked Dagmar her advice on how to stock your kitchen with cookware and serving pieces that will stand up to holiday hosting.
The MVP:
Dagmar calls the Dutch oven a must-have item for every household. "They cook in a confined environment, which tenderizes as it cooks and blends flavors very well," she says. Dutch ovens come in a variety of materials ranging from cast iron to ceramic, and they double well as serving pieces.
Heat Check:
"When buying serving pieces … look for ones that are ovenproof. This allows for baking, heating and serving all in one," Dagmar says. That goes for place settings, too. She adds that Le Creuset has oven-safe and scratch-resistant options that come in eight colors.

Lifetime Commitment:
Dagmar advises customers to invest in cookware lines with lifetime warranties made by companies that have been around for decades. Some of her favorites are Le Creuset, Wusthof and Chantal. "They are a bit more costly, but watch for sales," she says. "These companies have promotions throughout the year."
Measuring Up:
Ideally, we'd all cook focused solely on the task at hand, but that's tough to do during the holidays. "If you must cook and chat, do what the cooking shows do: Buy little prep bowls and measure out all the ingredients," Dagmar says. "This way you will never double-up on something or omit an ingredient."
BRUNCH
Warm quiches, freshly baked muffins and scones, granola fruit parfaits and luscious tarts line the inviting glass cases inside Petit Fours Patisserie & Café in Toledo. The selection offers a bounty of options to accompany chef and manager Kristy Schetter's recipes for eggs Benedict casserole with blender hollandaise and French toast crème caramel — two make-ahead brunch dishes that leave popping the food in the oven and whipping up the easy blender hollandaise the only morning-of-meal tasks. Brunch should be a laid-back affair for everyone, including the host, and Schetter's recipes help make that possible. "The casseroles cook at the same temperature and for about the same amount of time," she says. "And as long as there is the oven space for both of them, it will work out perfectly."
Eggs Benedict Casserole
Courtesy of Petit Fours Patisserie & Café
INGREDIENTS
6 English muffins, halved
1 large leek, thinly sliced
12 ounces Canadian bacon, sliced into 1/2-inch strips
2 tablespoons canola or olive oil,
plus more for baking dish
6 eggs
2 1/2 cups milk
1 1/2 teapsoons Dijon mustard
1 1/2 cups heavy cream
2 teaspoons chopped chives,
plus more for garnish
Pinch of cayenne pepper
Blender hollandaise
(recipe follows)

DIRECTIONS
Preheat oven to 350 F. Coat inside of 9-by-13 baking dish with oil. Place English muffins in a single layer on a sheet tray and bake until golden brown. Transfer to the prepared baking dish. Heat 2 tablespoons of oil in a large skillet over medium heat. Add leeks and cook until tender. Increase the heat to medium-high and add the bacon and continue to cook until leeks and bacon begin to brown. Spoon mixture over the English muffins in baking dish. In a large bowl, whisk together the eggs, milk, Dijon mustard, cream, chives and cayenne pepper. Season with salt and pepper. Pour over contents of baking dish and bake in 350 F oven until the casserole is puffed, golden brown and just set (about 40–45 minutes). Garnish with chives. Cut into serving sizes and serve warm.
Yield: Serves 6
Make Ahead:
This dish can be prepared the night before. Just remove from refrigerator two hours before baking.
Blender Hollandaise
INGREDIENTS
2 sticks butter
3 eggs, separated
Juice of 1 lemon
Cayenne pepper to taste
Directions
DIRECTIONS
In a small saucepan, melt 2 sticks of butter until sizzling. Place the yolks in blender. Turn on low to allow the yolks to combine and then begin pouring the very hot butter in a thin stream into the blender. (Blender should remain on the entire time, and be careful to pour in the butter very slowly.) Keep pouring butter until gone, then immediately begin squeezing lemon juice into the blender. (Use the juice of 1 whole lemon.) Stop and check the blender to make sure sauce is a liquid consistency and moving easily through the blades. If not, add a little more juice, give it a stir, then blend again on low. Add in a generous shake of cayenne pepper and blend briefly until mixed. Serve warm alongside eggs Benedict casserole. Optional: Serve with a side of cooked asparagus.
Chef's Note:
Kristy Schetter's blender hollandaise is a dependable version of the easily botched sauce. "I have always been a stickler for making hollandaise the old-fashioned way, cooking it in a double boiler, but that is very touchy," she explains. "And sometimes when you have a lot of other things going … there is a lot of room for error." Schetter also likes to sneak a little nourishment into her dish by serving cooked asparagus with her eggs Benedict casserole and blender hollandaise.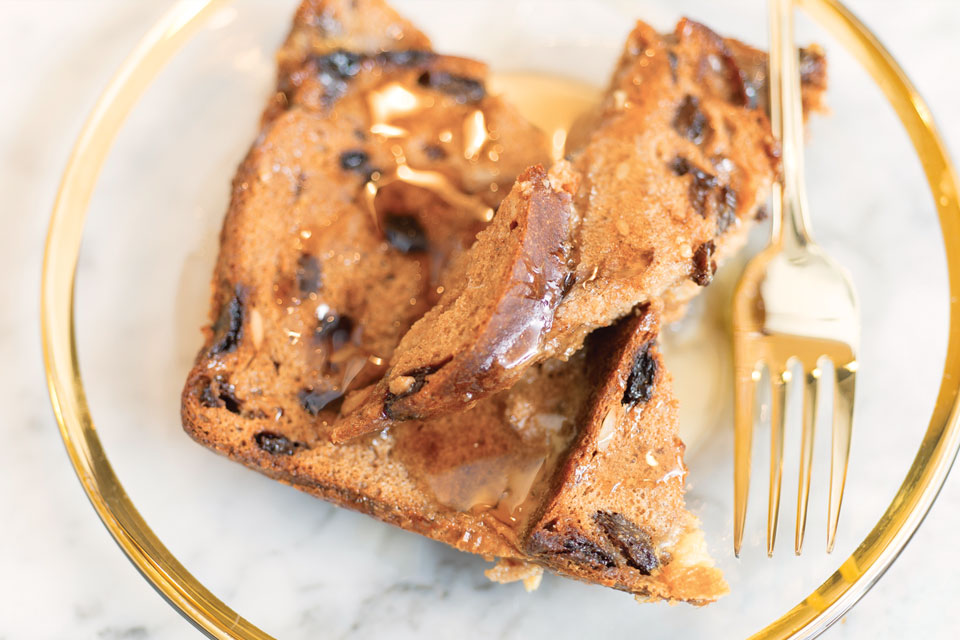 French Toast Crème Caramel
Courtesy of Petit Fours Patisserie & Café
INGREDIENTS
2 tablespoons corn syrup
4 tablespoons unsalted butter
1 cup brown sugar
6 eggs
2 cups whole milk
2 cups heavy cream
1/3 cup sugar
1 teaspoon salt
1 tablespoon pure vanilla extract
1 loaf cinnamon bread
(raisins optional)
DIRECTIONS
In a medium saucepan, melt corn syrup, unsalted butter and brown sugar over medium-high heat until bubbly. Pour mixture into an 11-by-17 glass baking dish. Overlap cinnamon bread slices on top of the syrup in two rows, letting the slices cover nearly a half of one another. In a large bowl, whisk eggs until light and fluffy. Add in whole milk, cream, sugar, salt, vanilla extract and mix well. Pour mixture over bread. Cover with foil and refrigerate overnight. Remove from refrigerator 2 hours before baking. Preheat oven to 350 F. Bake covered for 40 minutes. Uncover and continue baking for another 10 minutes until puffed and golden brown.Cut into individual serving pieces. Serve with warm maple syrup. Optional: Serve with strawberries and blueberries.
Yield: Serves 6
---
Table Talk
Barbara Schneider, owner of Far Hills Florist in Centerville, offers an elegant way to decorate your brunch or dinner table by using a simple red-and-white color scheme. "In my opinion, there is often too much glitz and not enough natural," she says. Her approach incorporates holiday greenery, cranberries and winter flowers.
Flower Power:
"Use red amaryllis and paperwhites," says Schneider, adding that the flowers are widely available in December. "They are both tall and when you mass them together, they are really stunning. I would put them in decorative pots." Bring in a woodsy feel with fresh cuttings of holiday greens laid down around your serving pieces. "You could also take pine cones and scatter them in there," she says.
Sense of Smell:
To add an extra sensory experience alongside the striking colors, Schneider suggests tying cedar evergreen or rosemary sprigs into tiny wreaths to use as napkin rings. "Even if you don't set the table with place settings, you could make a stack of [rolled] napkins look beautiful just by doing that," she says. "When you are taking the napkin ring off, the scent will be going through the room."
Creative Centerpiece:
For table centerpieces, Schneider prefers a simple and bold floral arrangement. "Take a 5-inch square cube vase and put a 3- or 4-inch vase inside it, which leaves a space between them. Fill that [space] with cranberries and then pour water into the inner vase and fill it with flowers. … I personally like the graphic contrast of white roses against the bright red cranberries."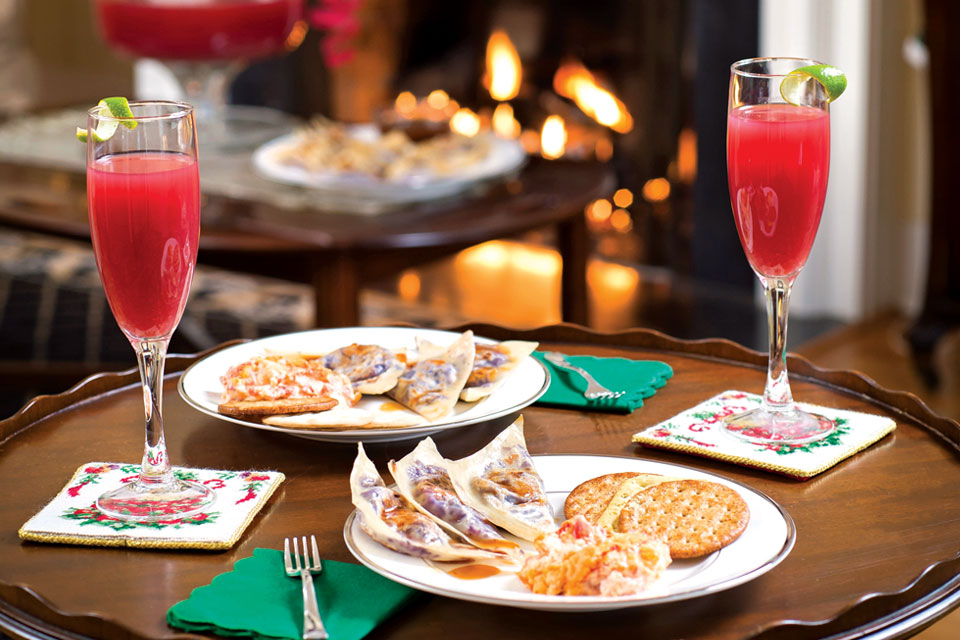 COCKTAILS

Hosting a successful cocktail party means being able to untether yourself from the kitchen for the evening, and that isn't always easy. "The key to being a good entertainer is to be available," says Ben Bebenroth, chef and owner of Spice of Life Catering Co. and Spice Kitchen & Bar in Cleveland. "If you are running around trying to put out fires and get food for people, you are not going to be an enjoyable host." Bebenroth suggests going with simple-but-tasty foods, such as the dip and dumpling recipes he offers here, as well as a do-it-yourself approach to drinks, so the host doesn't become bartender. "A self-serve bar with punch that is bubbling away and some beers in an ice bucket — that's awesome."
Mushroom Dumplings
Courtesy of Spice of Life Catering Co.
INGREDIENTS
1 3-pound cabbage
3/4-pound white or crimini mushrooms, diced small
1 tablespoon canola oil, plus more
for pan-searing dumplings
1/4 cup finely diced onion
1 tablespoon minced ginger
1/2 tablespoon porcini mushroom powder (see chef's note)
1/2 tablespoon chili paste
2 12-ounce packages of wonton wrappers
DIRECTIONS
Cut each cabbage in half and remove core. Shred cabbage and place in a colander. Season liberally with salt and let sit four hours or overnight. Rinse cabbage and tightly squeeze dry in a towel until cabbage has drained its liquid. Set aside.
Heat a large saute pan over medium heat and cook mushrooms until they sweat out their liquid (about 5 minutes). Remove with slotted spoon and set aside.
Heat 1 tablespoon of canola oil in a saucepan over medium heat. Add in the onions and ginger and saute until onions are softened (about 3 minutes). Add in mushrooms and cook on medium-low heat for another 2 minutes. Drain excess liquid and set aside.
Pulse the cabbage in a food processor, stopping to stir as necessary. Add cabbage to mushroom mixture and mix well. Add in mushroom powder and chili paste and mix well. Season with salt and pepper to taste. Let filling sit overnight in refrigerator.
Remove filling from refrigerator. Season with more salt and pepper if necessary. Brush edges of wonton wrapper with water. Spoon 1/2 tablespoon of mushroom filling into center. Fold over wrapper to create a triangle and press sides together. Place on a baking sheet. Continue until all of mushroom mixture is used up.
Bring a pot of water to a boil and ready a bowl of ice water. Blanch wontons in water for 1 minute and transfer immediately to ice water. Remove with a slotted spoon to a clean baking sheet. Drizzle a small amount of canola oil into a large skillet set over medium-high heat, about 1/2 tablespoon, just enough to moisten pan. Sear 8–9 wontons in pan at a time, browning only on one side. Flip to heat other side then transfer to serving platter. Serve with dumpling sauce
(recipe follows)
.
Yield: 125 dumplings
Chef's Note:
The porcini mushroom powder is important to the recipe (get it online or at specialty stores). To make ahead, place wontons on a tray in the freezer. Once they've hardened, seal them in a bag. To cook, remove from freezer and follow blanching and frying instructions. No thawing is needed.
Dumpling Sauce
INGREDIENTS
7 ounces of hoisin sauce
3/4 cup rice wine vinegar
1/2 cup brown sugar
1/4 tablespoon sesame oil
1 1/2 cups water
Juice of 2 limes
Directions
Add all ingredients to a saucepan and bring to a simmer over medium heat. Let simmer until sugar is dissolved. Transfer to a serving dish.
Yield: 3 cups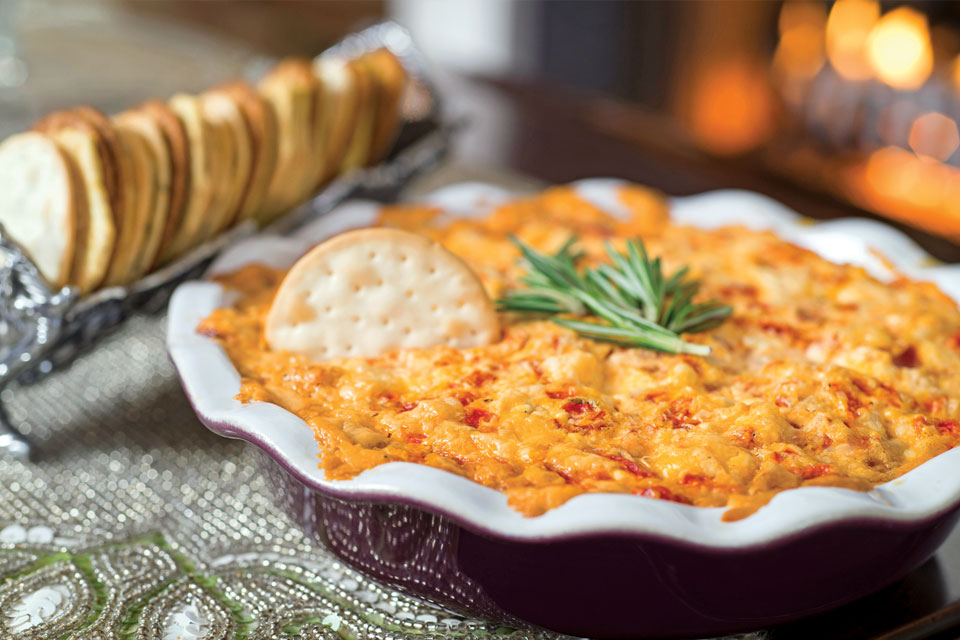 Roasted Red Pepper Dip
Courtesy of Spice of Life Catering Co.
INGREDIENTS
2 cups cream cheese, softened
8 ounces goat cheese
1 cup mayonnaise
Juice of 1 lemon
4 cups small-diced roasted red peppers
Parmesan cheese for sprinkling
Rosemary sprigs or basil for garnish
Salt and pepper to taste
DIRECTIONS
In a big bowl, whisk cream cheese, goat cheese, mayonnaise and lemon juice until smooth. (Optional: For a spicy kick, add 1/2–1 teaspoon Cholula hot sauce.) Fold in peppers and season with salt and pepper. Transfer to two 9-inch pie pans or 9-by-13 ovenproof casserole dish and top with Parmesan. Bake at 350 F for 10–15 minutes or until brown on top. Garnish with rosemary or basil. Serve hot or at room temperature.
Yield: 4 cups
---
Christmas Cocktail
Courtesy of Spice of Life Catering Co.
INGREDIENTS
2 quarts cranberry juice
1 1/2 quarts fresh squeezed orange juice
1 cup hibiscus syrup (purchase at specialty store or make from recipe that follows)
1 9-ounce bottle Andean fire orchid
elixir or 9 ounces of orange syrup
(orange syrup recipe follows)
750 ml bottle of vodka
DIRECTIONS
Add all ingredients to a large punch bowl and stir to combine. Serve alongside Pellegrino and lime wedges for guests to garnish their own drink.
Yield: 4 1/2 quarts
Orange Syrup
INGREDIENTS
1/2 cup granulated sugar
1 cup water
Zest of 1 orange
Juice of 1 orange
1 teaspoon orange blossom water
(available online and at specialty stores)
DIRECTIONS
Bring the water and sugar to a boil. Reduce to a simmer and stir until sugar is dissolved. Turn off heat and add zest. Let steep for 10 minutes. Strain zest and stir in orange juice. Let sit until cool then stir in orange blossom water. Can be made 1 week ahead and kept refrigerated.
Hibiscus Syrup
INGREDIENTS
1 cup granulated sugar
1 cup water
8 hibiscus flowers
DIRECTIONS
Bring the water and sugar to a boil. Reduce to a simmer and stir until sugar is dissolved. Turn off heat and add in hibiscus flowers. Let steep for 10 minutes. Strain. Can be made 1 week ahead and kept refrigerated.
---
Entertaining I.Q.

Katie Harris' Cincinnati business, Simply Events, consults on gatherings that range from small get-togethers to lavish weddings. Harris shared with us three things that party hosts should ponder while planning their seasonal soirees.

Decorate Smart:
If you buy decorations for your party, make sure you're investing in pieces that fit with your existing decor and that can be used after your party and the holidays have passed. "Decorative pillows are things that you can use again," Harris says, citing one example. "You can leave those out all season."
Choose a Theme:
"Having a theme gives you a sense of direction," Harris says. "You don't have to slap a Santa Claus or snowman on everything. You can make it very sophisticated just through your … color coordinating and the textures of your decor."
Make an Impression:
Evaluate your guests' experience from the moment they walk in the door. "Are they on a hard surface or can they kick their shoes off and be on a cozy rug?" Harris says it's vital to make people feel welcome as soon as they arrive. "An easy way to do this is to greet them at the door with a glass of champagne."
***
Holiday Helpers
Connect with the experts featured in this story:
Far Hills Florist
farhillsflorist.com
Petit Fours Patisserie & Café
mbaybrew.com/petit-fours
Simply Events
simplyeventsllc.com
Spice of Life Catering Co.
spiceheadquarters.com
The Cook's Shop
thecooksshop.com
The Hills Market
thehillsmarket.com