Food + Drink
Cookie Recipes from B&Bs, Inns & Bakeries
Sweet memories start in the kitchen. Whether you're looking for old-time classics or fresh takes on familiar favorites, you'll find something to love here.
Nov./Dec. 2020
BY Ruth Corradi Beach | Photo by Karin McKenna
Nov./Dec. 2020
BY Ruth Corradi Beach | Photo by Karin McKenna
Cranberry Pistachio Pinwheels
The Barn Inn, Millersburg

Gene Rowland found a version of this recipe in a magazine. "I'm a big fan of date pinwheel cookies," he says. "My mom and grandma always made them at Christmastime." He tweaked this new pinwheel to make it fit the holiday bill. "The tartness of the cranberries, nuttiness of the pistachios, and the red and green were perfect. But we decided it needed something more holiday, so we added a drizzle of orange icing, which gives it a sweeter flavor." Rowland, who owns The Barn Inn with his wife, Michelle, notes that these are ideal for busy bakers because the wrapped dough can be frozen.

Makes 28 cookies

INGREDIENTS
Dough:
1 cup unsalted butter, softened
1 cup sifted powdered sugar
1/2 cup sugar
1 tablespoon vanilla extract
1 egg
1 teaspoon baking powder
1 teaspoon kosher salt
2 1/2 cups flour

Filling:
1 1/4 cup finely blended pistachios
1 1/4 cup dried cranberries
3 tablespoons butter, melted
2 tablespoons sugar

Glaze:
1 cup powdered sugar
1/4 teaspoon orange extract
2 to 3 tablespoons orange juice

DIRECTIONS
Preheat the oven to 350 F.

For the filling: In a food processor, pulse pistachios and cranberries separately. Then, mix together finely blended pistachios with 2 tablespoons sugar, 3 tablespoons melted butter and chopped cranberries. Set aside.

For the dough: Mix together 1 cup of softened butter with 1 cup sifted powdered sugar. Next add 1/2 cup white sugar, vanilla extract, egg, baking powder and salt, scraping sides until everything is blended. Last, add sifted flour and mix until uniform.

Scrape dough onto large, floured sheet or parchment paper and press into a rectangle approximately 12-by-14 inches. Sprinkle pistachio-cranberry mixture over dough. Tightly roll dough from the 14-inch side so that the roll doesn't get too thick. Press lightly to seal up the roll. Wrap the roll with plastic wrap and freeze for an hour or refrigerate 4 to 8 hours before baking. (Logs can be refrigerated up to 3 days or frozen up to 3 months.)

When ready to bake, slice cookies 1/2-inch thick. Line cookie sheet with parchment paper (this helps the cookies bake evenly). Lay on cookie sheet and bake for 13 to 15 minutes or until edges turn golden brown.

Orange Glaze: Mix together powdered sugar, orange extract and orange juice. Put glaze in piping bag or resealable bag with a hole cut in a corner and top cookies. (Be sure cookies have cooled completely or the glaze will melt.)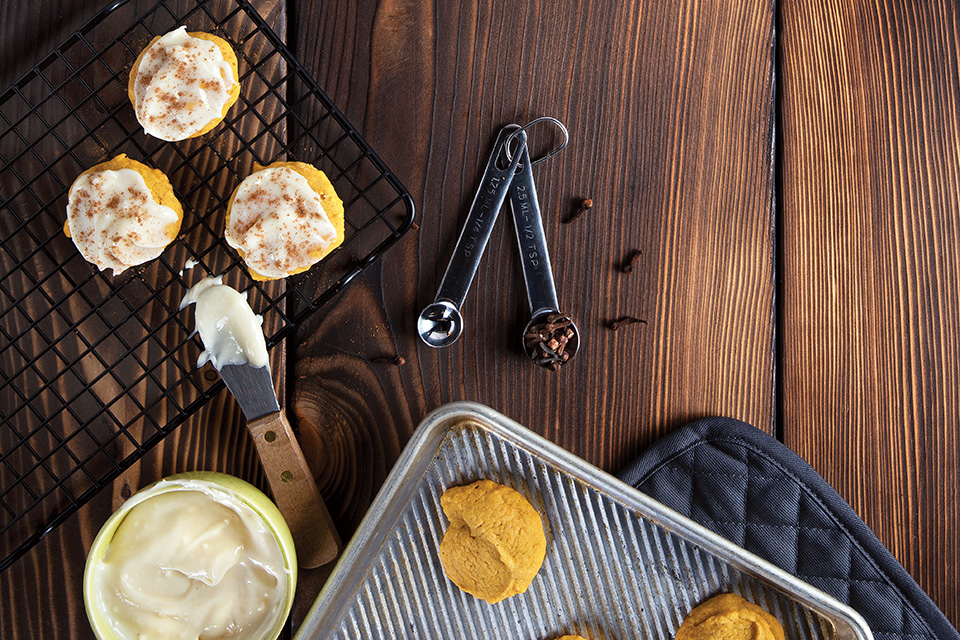 Pumpkin Drop Cookies
The Mocha House, Warren

This recipe came about as a way to use up extra ingredients, says Bill Axiotis, who owns The Mocha House with his family. "Our baker, Pete Panteloukas, had extra pumpkin filling after making pies. He played around with the filling and came up with this." More than two decades later, these drop cookies are among the first treats a visitor sees in the inn's pastry case every fall. "These are very moist and soft, like a chocolate chip cookie," Axiotis explains, "and if you mix a little maple syrup into cream cheese to make an icing, it really kicks off the taste."

Makes 4 dozen

INGREDIENTS
1 cup all-purpose shortening
1 1/4 cup sugar
1 egg
15 ounces canned pumpkin
3 cups cake flour
1 teaspoon baking powder
1 teaspoon pumpkin spice
1/4 cup vegetable oil

DIRECTIONS
Preheat the oven to 350 F. Mix shortening, sugar, eggs and pumpkin together until well blended. Sift cake flour, baking powder and pumpkin spice into a separate bowl and mix together. Slowly add dry ingredients to shortening mixture. Add vegetable oil. Scoop batter onto sheet tray with parchment paper using a 2-ounce scooper. Bake for 15 minutes. Ice cookies with cream cheese or cookie icing.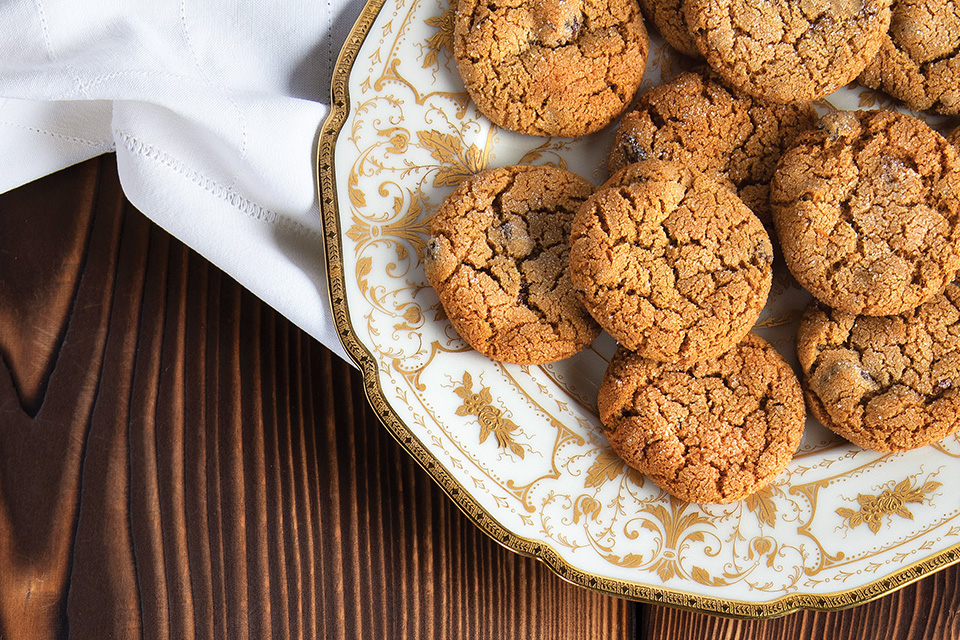 Williamsburg Ginger Cookies
Garver House Bed & Breakfast, Strasburg

Natalie Cline, owner of Garver House Bed & Breakfast, tried these cookies at a church bake sale 25 years ago and liked them so much she asked for the recipe. "These are better than gingerbread men because they're soft on the inside and crispy on the outside, since you roll them in sugar." The raisins are optional, but Cline likes the extra richness. "There are lots of spices in these," she says, "and they're so rich they almost look like they could be chocolate." You can make the dough ahead and freeze the balls, then thaw before baking. They go beautifully with warm spiced apple cider.

Makes 5 dozen

INGREDIENTS
3/4 cup canola oil
1/4 cup dark molasses
1 cup sugar, plus more for rolling cookies
1 egg
2 cups all-purpose flour
2 teaspoons baking soda
1/2 teaspoon cloves
1/2 teaspoon ginger
1 teaspoon cinnamon
1/2 cup raisins

DIRECTIONS
Preheat the oven to 350 F. Beat together the oil, molasses, sugar and egg. In a separate bowl, sift together flour, baking soda and spices. Add raisins and combine. Slowly add dry ingredients to oil mixture until well combined. Chill dough for at least one hour. When ready to bake, roll out dough into 1-inch-sized balls and then roll in sugar. Bake on a greased cookie sheet for 8 minutes.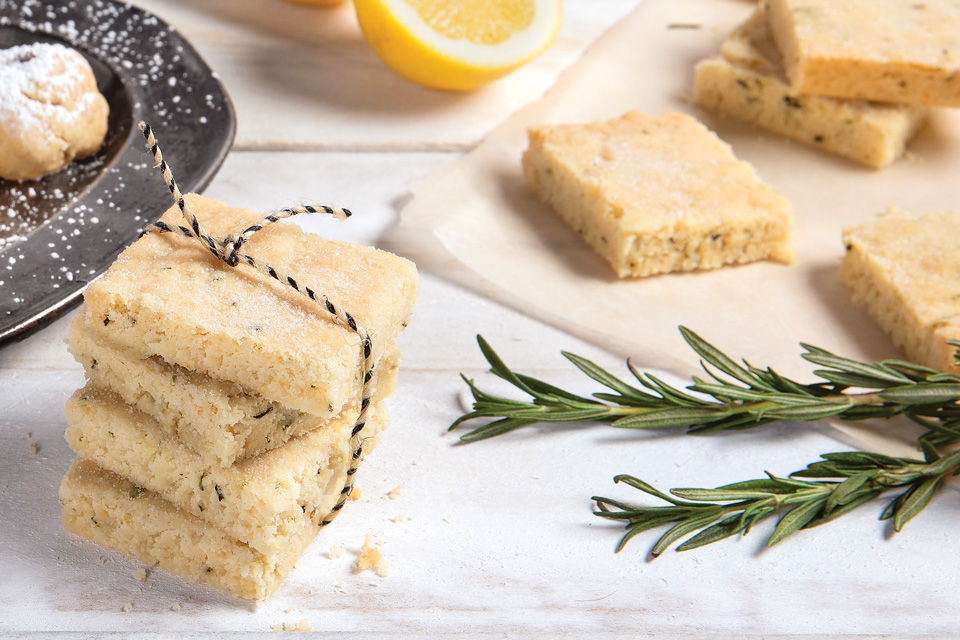 Lemon Rosemary Shortbread
The White Oak Inn, Danville

Yvonne Martin, owner of The White Oak Inn, started making shortbread with her Scottish grandmother as a small child. "While Grandma would be turning in her grave at the idea of adding other ingredients to her recipe, I've experimented over the years with a few additions," Martin says with a laugh. She added lemon because it's a favorite flavor of hers. A friend and fellow baker inspired Martin to add the rosemary, resulting in a crumbly, buttery cookie with a hint of lemon and the scent of fresh rosemary. "It's so easy to make," Martin says, "and a favorite of our B&B guests because it's not your typical cookie."

Makes 4 dozen

INGREDIENTS
1 pound butter, at room temperature
1 cup sugar
3 1/2 cups flour
1/2 cup rice flour
2 tablespoons very finely chopped fresh rosemary (do not use dried)
Zest of 1 large lemon
2 tablespoons sugar for garnish

DIRECTIONS
Preheat the oven to 300 F. Beat butter with an electric mixer and with the motor running slowly drizzle sugar into the bowl.

In another bowl, mix together flour, rice flour, rosemary and lemon zest. Gradually add to the butter mixture, stirring just until combined. Mixture may be crumbly. Turn mixture out onto an ungreased 11-by-16-inch baking pan. Knead gently and press evenly into the pan. Prick with a fork at 2-inch intervals.

Put in oven and bake until golden brown (about 25 minutes). Remove from oven and sprinkle 2 tablespoons of sugar over top, gently shaking pan to coat evenly. While shortbread is still warm, cut into 48 pieces. Let cool in pan.

Note: If you don't have an 11-by-16-inch baking pan, you can use two 9-by-9-inch ones. Baking time may be slightly longer.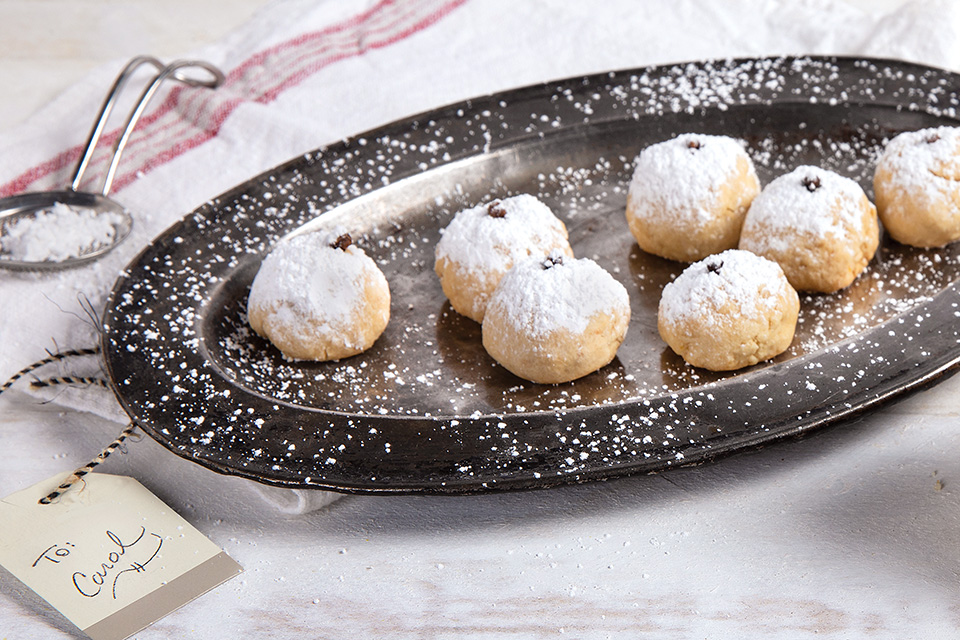 Kourambiethes
The Baker's Rack, Columbus

Traditionally a wedding cookie, these buttery Greek treats are ideal for the holidays, too, thanks to the fall flavors of citrus and clove. "My dad's side of the family is Greek and this recipe was his grandma's," says Carol Ross, owner of The Baker's Rack, a home bakery. "She was pretty secretive about her recipe, so I had to fiddle around with this till I got it right." It's important, Ross says, to scoop and chill the dough rather than the other way around. "Since it's mostly butter, the longer you chill the dough, the better it will be. The dough hardens and the flavor of the orange gets stronger."

Makes 5 dozen

INGREDIENTS
1 pound unsalted butter
1/4 cup white sugar
2 egg yolks
1/4 cup fresh orange juice, plus zest
1 ounce Grand Marnier or orange liqueur
5 cups all-purpose flour
1/2 teaspoon Kosher salt
1/4 cup ground almonds
Cloves
Powdered sugar

DIRECTIONS
Combine butter and sugar. Add in the egg yolks, orange juice and orange liqueur. In a separate bowl, mix together flour, salt and ground almonds. Combine dry ingredients with wet ingredients. Finish by kneading the dough, adding more flour if needed until not sticky. Shape the cookies with a small cookie scoop and chill for at least a day. When ready to bake, preheat oven to 325 F. Each cookie gets a whole clove stuck in it. Bake for 35 minutes. Let cool slightly and then dust or roll in confectioner's sugar. Pull the clove off before eating.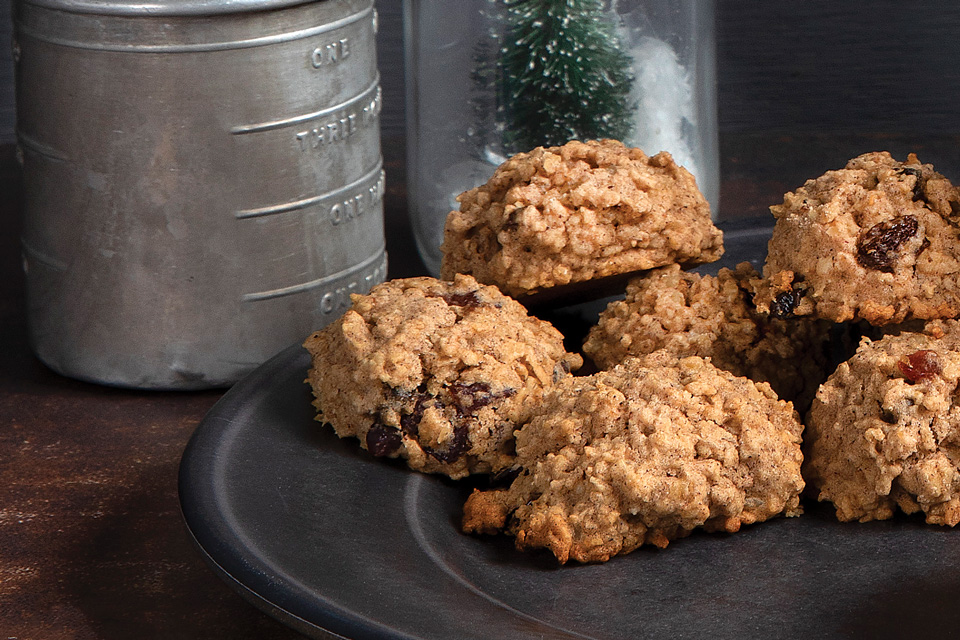 Old-Time Oatmeal Cookies
Granville Inn, Granville

Chad Lavely, executive chef at the Granville Inn, found this recipe in an antiques store in Delaware, Ohio. "An old Mother's Oats canister caught my eye, and there was this old oatmeal cookie recipe on there," he says. After deciphering what "sweet milk" was (drinking milk, as opposed to buttermilk) and what a "moderate oven" meant (Lavely decided 350 F), he added ginger, swapped out shortening for butter, and eventually settled on this recipe. "It's not an overly sweet cookie," Lavely explains. "It's surprisingly light and cakelike because there's such a small amount of flour in it. It's a nostalgic recipe, and we're all about history and tradition here."

Makes 4 dozen

INGREDIENTS
1 cup all-purpose flour
2 teaspoons baking powder
1/2 teaspoon baking soda
1 tablespoon cinnamon
1 teaspoon nutmeg
1 teaspoon ginger
1 teaspoon salt
4 cups quick oats
1 cup brown sugar
3/4 cup melted butter
1 egg
1 1/2 cups milk
1/2 cup raisins
1/2 cup dried cherries
1 cup chopped walnuts

DIRECTIONS
Preheat the oven to 350 F. Sift flour before measuring. Mix together flour, baking soda, baking powder, salt and spices, add oats and set aside. Melt the butter and combine with the brown sugar, add the egg and beat well. Pour in the milk, then the dry ingredients, dry fruit and nuts. Drop by rounded teaspoons onto a greased cookie sheet and bake for around 10 minutes (depending on size).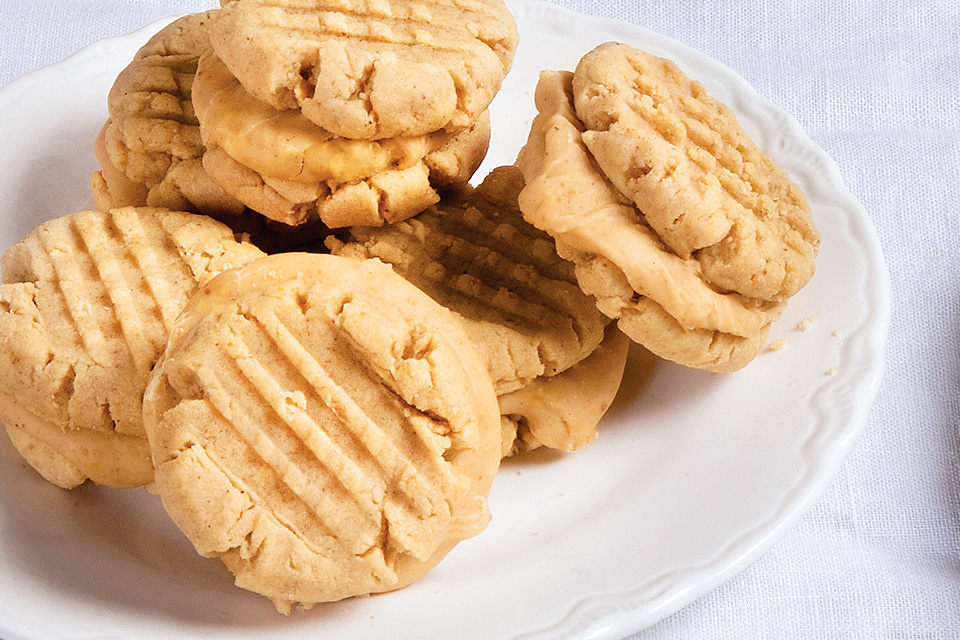 Peanut Butter Sandwich Cookies
Donna's Premier Lodging, Berlin

Peanut butter lovers, rejoice! This recipe, which Donna Marie Golden adapted from one in Country Magazine in the mid-1990s, packs a lot of peanut punch. "That's why they're bite-size, because they're so sweet and intense," says Golden, owner of Donna's Premier Lodging. "And they're unusual, as far as the vanilla in the actual filling. It just adds that other dimension to the peanut butter filling." Be sure not to overbake these, she cautions, since you're going for a soft cookie, not a crunchy one, and serve with something hot, Golden recommends. "A specialty coffee drink or warm milk is great."

Makes 50 sandwiches

INGREDIENTS
1 cup butter
1 cup creamy peanut butter
1 cup white sugar
1 cup packed brown sugar
1 teaspoon vanilla extract
3 eggs
4 cups all-purpose flour
2 teaspoons baking soda
1/4 teaspoon salt

Filling
1/2 cup creamy peanut butter
3 cups confectioners' sugar
1 teaspoon vanilla extract
5 to 6 tablespoons milk

DIRECTIONS
Preheat the oven to 375 F. In a mixing bowl, cream butter, peanut butter and sugars. Add vanilla. Add eggs one at a time beating well after each addition. Mix flour, baking soda and salt in a separate bowl and add to mixture in mixing bowl. Shape into 1-inch balls and place 2 inches apart on ungreased baking sheets. Flatten with tines of a fork. Bake for 5 to 6 minutes. Remove from oven and leave on cookie sheet for 2 to 3 minutes to allow the cookies to continue absorbing the heat from the cookie sheet. They should be slightly brown on the bottom. Cool cookies on wire racks. In a mixing bowl, combine and mix the filling ingredients until smooth. Spread on half of the cookies and top each with another cookie.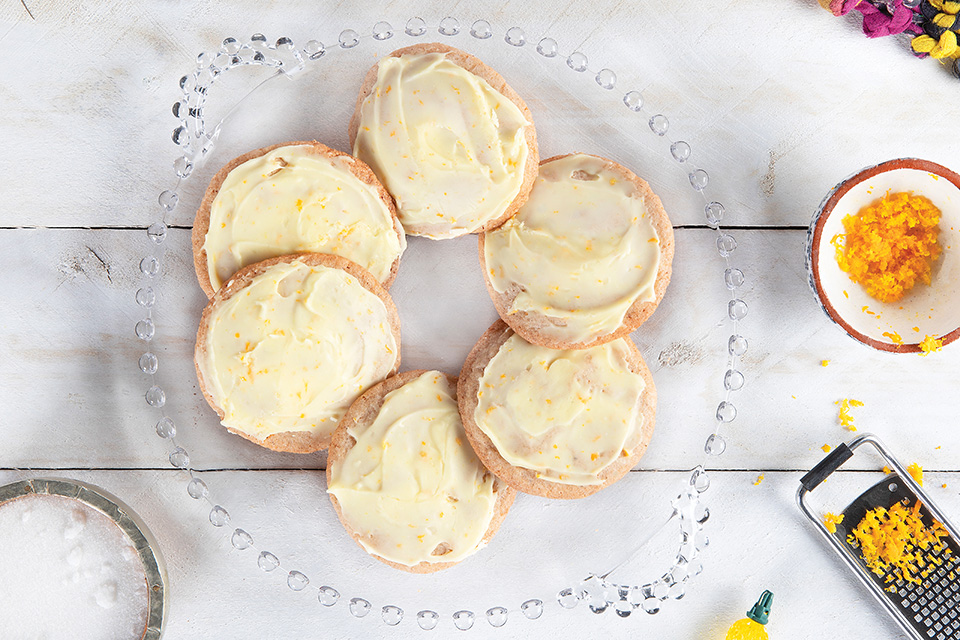 Citrus-Glazed Spiced Cookies
Guggisberg Swiss Inn, Charm

Julia and Eric Guggisberg have served this cookie for years at their Guggisberg Swiss Inn in Charm, and it's a sentimental favorite, Julia says. "These came from a guest, Karla Fanter, who has been staying with us as long as we've been open and has become a dear friend." Julia credits the cookie's popularity among the guests to its fresh taste. "It's so refreshing and moist," she says, "and it's different. You've got your citrus glaze over what's not a real sweet cookie. It's a nice flavor that stays with you." Pair these with a cup of tea for a soothing treat on a chilly evening.

Makes 3 dozen

INGREDIENTS
2 3/4 cups flour
1 1/2 teaspoons nutmeg
1 1/2 teaspoons cinnamon
1 teaspoon ginger
1/2 teaspoon cloves
1 teaspoon baking powder
1/2 teaspoon salt
1 1/4 cup unsalted butter, softened
1 3/4 cup and 2 tablespoons white sugar
2 larger eggs
1 teaspoon vanilla extract
1 teaspoon almond extract
1/4 cup white sugar, for rolling cookies

Glaze
2 cups powdered sugar
2 tablespoons melted butter
2 to 3 teaspoons fresh grated orange peel
3 to 4 tablespoons orange juice
DIRECTIONS
Preheat the oven to 350 F. Whisk together flour, spices, baking powder and salt in a medium bowl, set aside. Cream butter and sugar until light and fluffy. Beat in eggs one at a time, add vanilla and almond. Gradually add flour mixture until just mixed in. (Do not overmix!) Using a scoop, make 1 1/4-inch diameter balls, roll gently in sugar. Space dough balls 3 inches apart on lightly greased baking sheets. With the bottom of a glass dipped in sugar, flatten the cookies to 1/2-inch depth (width of 3 inches). Bake for 11 to 13 minutes. Cookies should flatten slightly to touch, but should not be golden or brown. Remove from oven and cool on sheet for 2 minutes, then transfer to a cooling rack. Mix together glaze ingredients, brush onto cooled cookies using a pastry or silicon brush. If desired, immediately sprinkle with chopped nuts or colorful sprinkles. Store cookies with wax paper between layers.