Food + Drink
Cockeye BBQ, Warren
This small and homey spot on the city's west side serves up slow-cooked barbecue favorites, new creations and a fun lineup of super-premium ice cream.
July/August 2020
BY Jim Vickers | Photo by Laura Watilo Blake
July/August 2020
BY Jim Vickers | Photo by Laura Watilo Blake
The sign in the kitchen says it all: Cook Like a Champion Today. Erik Hoover and his wife, Stacey, have done just that in their cozy space on the west side of Warren since 2015, serving tasty slow-cooked barbecue favorites and a solid lineup of sides.

Erik, a classically trained chef, is also a former professional pitmaster, which made the decision to open a barbecue joint a natural one. He and Stacey draw a legion of local fans as well as those who go out of their way to visit.

"We've really become a destination," Stacey says. "Barbecue aficionados are very particular, and they will drive to a place that does it right."

Whether dining in or picking up, orders come in a takeout box stuffed full of your choice of meats (ribs, pulled pork, brisket and chicken to name just a few) and a choice of sides from the restaurant's list of well over a dozen. Offerings span the usual staples (green beans, coleslaw, mac and cheese) as well as collard greens and fried okra that started as specials before becoming full-time additions.

Those who love pork rinds will want to order Cockeye BBQ's version, which arrive hot and still popping, dusted with either Cajun or ranch seasoning. The aptly named Mess Plate is a bed of mac and cheese smothered with pulled pork, shredded cheese and barbecue sauce topped with two large onion rings for good measure.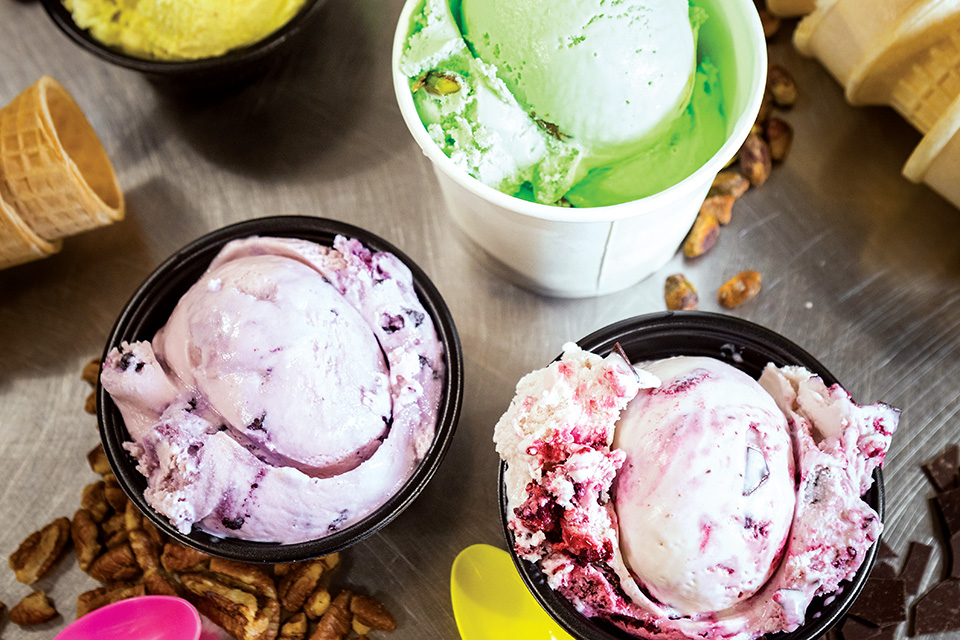 If all that isn't enough, since 2019, the Hoovers' son Max has been overseeing the on-site Cockeye Creamery, which churns out super-premium ice cream (containing 15 percent butterfat) in eight signature flavors and up to 15 others, which often start as one-off experiments like Coffee & Beignet.

"It was a foray into [the idea]: OK, I learned how to heat up stuff for 25 years, now let's freeze stuff," Erik says of adding ice cream. "It's an entirely different culinary process to create ice cream ... That's how I got into barbecue. It was American food."

1805 Parkman Rd. NW, Warren 44485, 330/369-4227, cockeyebbq.com