Food + Drink
Mom Wilson's Country Sausage Mart, Delaware
Known for its fun and inviting roadside signs, this place has been selling meats since 1959. We visited to see what's made the shop a local landmark.
June 2019
BY Rich Warren | Photo by Eric Wagner
June 2019
BY Rich Warren | Photo by Eric Wagner
The signs come into view along busy U.S. 23, just north of Delaware. One promises "No fatty in our patty." Another invites drivers to "Put R Skill in UR Skillet." Then, shortly after the long series of little red signs ends, a white barn with a smiley face painted on it appears, and, next to that, a rambling one-story building with big plate-glass windows and little cupolas on top.

Welcome to Mom Wilson's Country Sausage Mart. Even before they pull into the parking lot — or "Porkin' Lot" as it's labeled — visitors sense they've arrived somewhere fun. That assumption is reinforced at the front door, where folksy signs hang, with sayings such as "I want to grow my own food, but I can't find any bacon seeds."

Step inside, and one finds an interior decorated with porcelain pigs, antique clocks and old-fashioned farming implements. The knickknacks complement the long line of gleaming glass cases brimming with an enticing array of meats.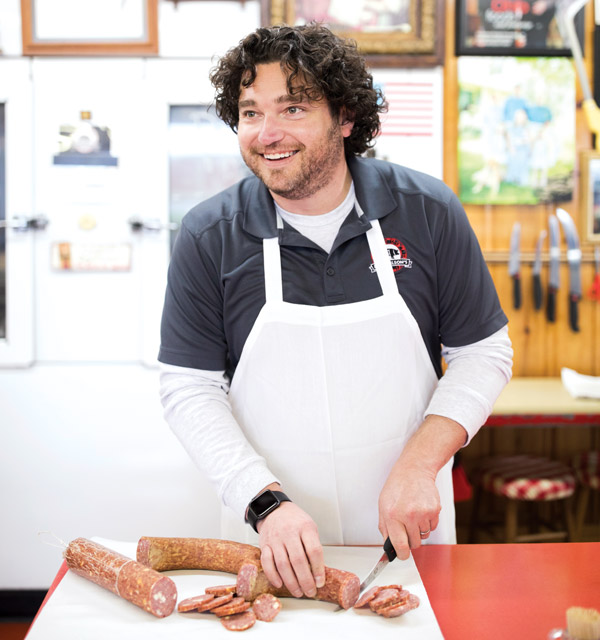 Behind those cases, you'll likely find one of the current proprietors, Sam Snavley, as well as his parents, Dennis Snavley and Sue Wilson Snavley. The friendly conversations they and their employees initiate with customers make even first-time visitors feel like they've been coming here for years.

The business began in 1959 when Sue's parents, Horace and Fern Wilson, started selling sausages they'd made themselves off the back porch of their farmhouse for nine cents a pound. In the beginning, they used livestock from their own farm and saw their informal enterprise as a way to earn extra income during the off-season.

"There was a sign on the back door that read 'Ring Bell. Will Sell,' " Sue recalls. "I remember how often my dad would be napping but leap up whenever that bell would ring."

And ring frequently it did. From the beginning, Horace had committed himself to using only the best and leanest cuts of meat. The demand was so strong the family decided to move the operation first into their garage and then into the current store in 1965, after U.S. 23 was widened into four lanes.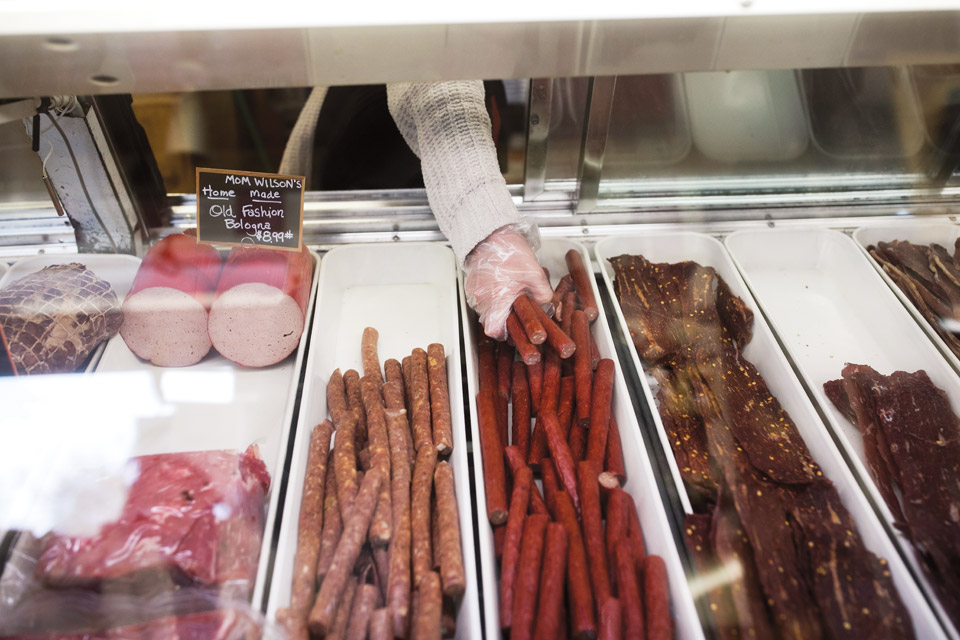 The shop's line of offerings has also been extended over the years. Today, in addition to several kinds of sausage, the full-service meat shop sells bacon, bratwurst, bologna, ham, salami — and even "Smoked Beef Bones for Your Dog." Each is made using techniques Horace learned from his own father, H.D. Wilson. The pair processed meat together during the Great Depression to generate more income from the farm.

By the mid-1970s, Horace and Fern were ready to retire. Their daughter Sue and her husband, Dennis, decided to leave their jobs at North Union Local Schools, where Dennis was a principal and Sue a kindergarten teacher, to start helping out.

"Mom and Dad were elated when we decided to step in," Sue recalls. "What a joy it was for them to pass the business along to someone in the family."
Fern, the "Mom Wilson" whose sense of humor Sue credits for all the kitschy slogans that have lasted through the decades, died in 1997, 14 years after her husband. After that, Sue and Dennis took over. Then, in 2011, their only son, Sam, came back to the business after pursuing a career in banking.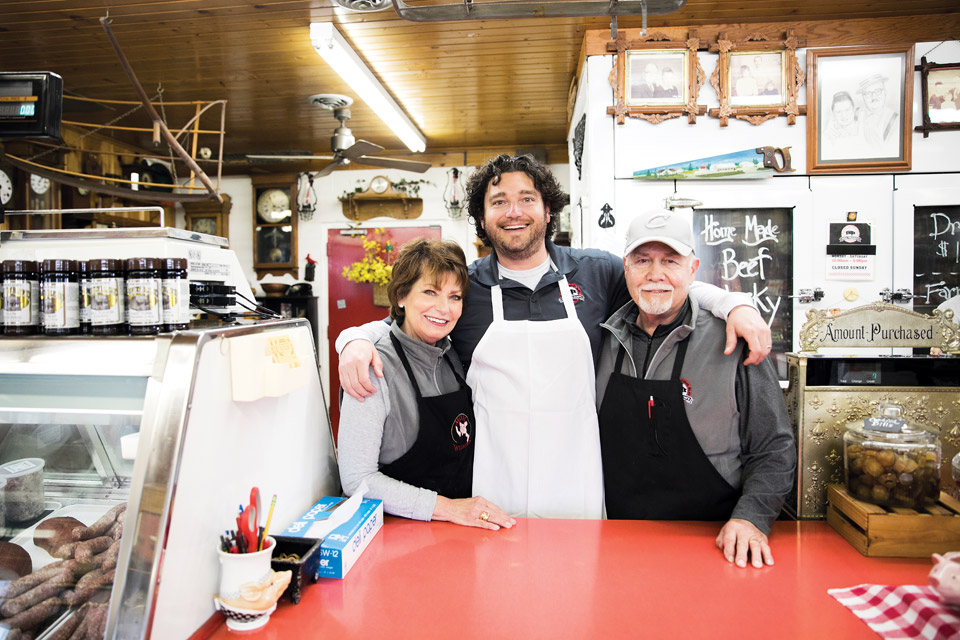 For Sam, the business holds fond memories. He recalls playing Nerf basketball in the back hallway as a boy and savoring the first hot dogs coming out of the cooker while they were still hot.

"It was home, the place I spent my childhood," he says. "Plus, it was a wonderful place to raise a family."

Sam continues to use his grandfather's handwritten recipes, now largely committed to memory. He also continues the tradition of processing all meat products on-site. These days, since the family's livestock consists of a goldendoodle and a few cats, Sam procures his meat from J.H. Routh Packing in Sandusky, a company he says shares Mom Wilson's commitment to lean, quality cuts of meat.

Over the years, the Snavleys have tweaked their products to please changing customer tastes, adding special spices, jalapenos and cheese. Their biggest sellers are thick-cut, hickory-smoked bacon as well as cracker sausage, the latter a product Dennis invented and named because it fits nicely on a cracker.

Although Dennis is technically retired, he still works shifts behind the counter at the shop. Sue has remained there full time.

"I love the customers too much to stay away," she explains. "They really appreciate the TLC we give our products."

Many of those customers are first-timers intrigued by the silly signs lining the highway.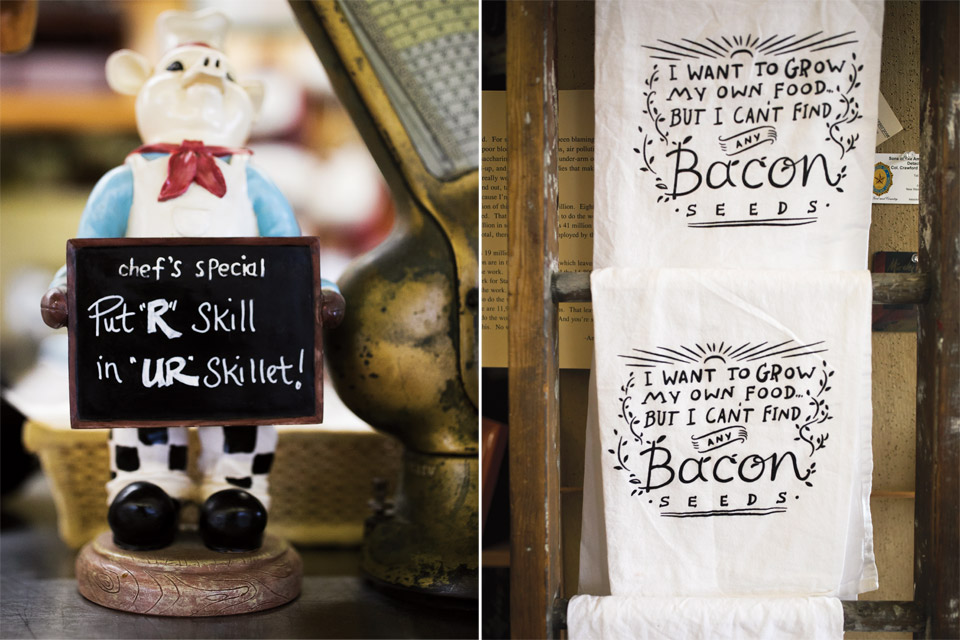 "One of the most frequent things we hear is, 'Oh, we've passed you a hundred times, but today we decided to pull in and check you out,' " Sue says.

But, not surprisingly, at least half of Mom Wilson's patrons are regulars who return not just because of the high-quality meat products but also because of the stellar service the Snavleys strive to provide. For almost 40 years, one customer has called them a few days before Christmas asking that her bacon be available the next morning wrapped in Christmas paper. The Snavleys are always happy to oblige.

Another customer made a powerful first impression when, after phoning in an order, asked the Snavleys to keep the store open an extra 10 minutes so he could pick it up. To say his arrival was memorable is an understatement: It was via a helicopter that landed on the shop's front lawn. The Columbus resident still pilots his chopper northward toward Mom Wilson's from time to time, but always gives advance notice that he's on the way.

As members of the Ohio Meat Packing Association, the Snavleys know their business model is a rarity.

"Most other meat producers also have a wholesale component to their business," Sam explains. "I can count on one hand the family-owned businesses like ours that sell meat products in Ohio strictly through retail."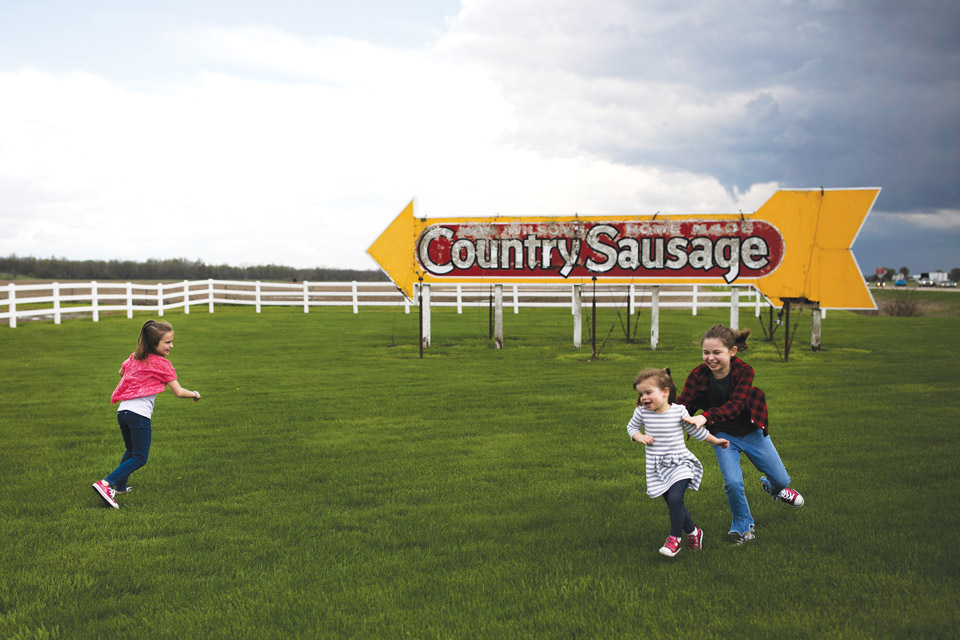 It's not yet clear whether their business will continue to the next generation. Sam and his wife, Jillian, have three daughters: Mary Kate, Maggie and Matilda, who, at ages 11, 8, and 2, respectively, are years away from deciding career paths. A fourth child, a son named Matthew, was born in May.

"Whatever happens," Sam says, "I'm just proud that my kids are the seventh generation of my family to grow up on this farm."

7720 U.S. 23, Delaware 43015, 740/726-2636, momwilsons.com