Food + Drink
9 Classic Ohio Bakeries to Visit During the Holidays
Whether you're looking for Old World flavors or local favorites that have been delighting customers for years, you'll find them here.
Nov./Dec. 2021
BY Ohio Magazine Staff | Photo by Gina Weathersby
Nov./Dec. 2021
BY Ohio Magazine Staff | Photo by Gina Weathersby
Schnecken
Busken Bakery, Cincinnati

Cincinnati's Busken Bakery has made a name for itself by crafting schnecken, a pastry that takes its name from the German word for "snail."

"The dough is rolled in a long rope," says Brian Busken, the bakery's vice president. "When the dough is cut into pieces, the tops have a coiled, snail-like appearance … I always describe schnecken as big, rich cinnamon rolls, the biggest difference being that schnecken has a lot more butter."

Busken Bakery's schnecken are made in special molds lined with softened butter. The dough is then rolled with more butter, cinnamon sugar and raisins before being cut into coils and stacked in threes in the mold. What's unique about Busken's recipe is that it comes from Cincinnati's famous Virginia Bakery. Busken reached out to Tom Thie, owner of Virginia Bakery, who was closing down his nearly century-old shop and made a deal to re-create Thie's famous recipe.

"I'll never forget the moment when I asked Tom for the schnecken formula so that we could begin producing them," Busken recalls. "He looked at me and pointed to his head. 'It's right up here,' he said with a grin."

Busken follows Thie's exact techniques, even packaging the final product in replica Virginia Bakery-branded boxes.

"The Virginia Bakery Schnecken is untouchable," he says. "It was refined by the Thie family for generations and in my opinion is the perfect holiday baked good."

Busken Bakery's schnecken is sold from Nov. 1 to Jan. 1, with a brief re-emergence for Easter. The bakery recommends pre-ordering, as it runs out every year.

Locations in Cincinnati, Batavia and Highland Heights, Kentucky, busken.com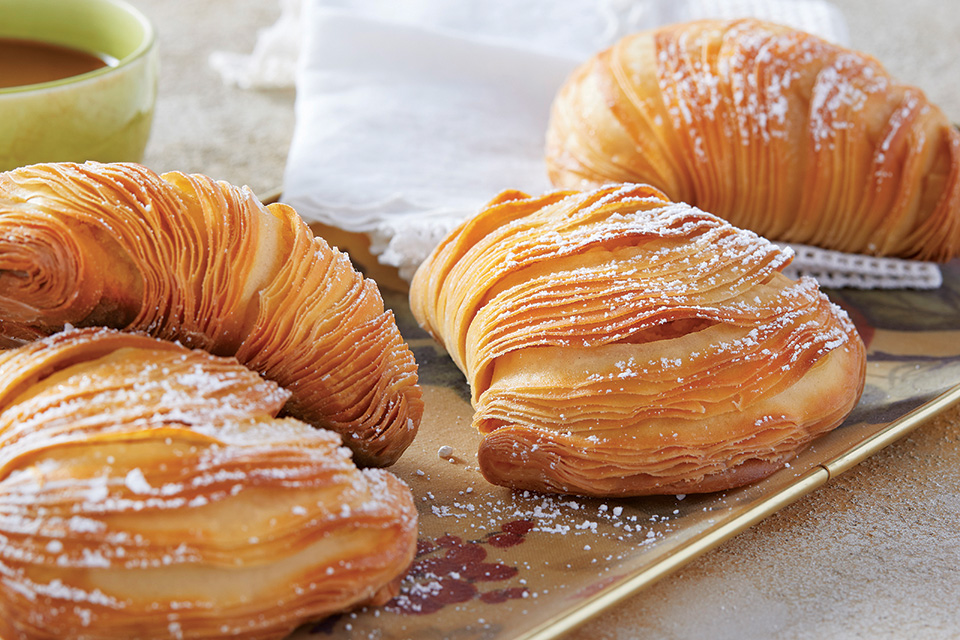 Sfogliatelle
Corbo's Bakery, Cleveland

Bite into a freshly baked sfogliatelle and you will hear an audible crackle of the leaf-like pastry layers (or foglia). Once you hit the creamy, aromatic custard inside, you won't mind the cascade of flaky crumbs and sugar on your shirt one bit.

Corbo's is one of few bakeries making sfogliatelle from scratch. Joe Corbo crafts the pastry the same way he was taught by his father, John, and his grandparents, Joe and Antoinette, who founded the bakery in 1958 with recipes they brought over from Sicily.

"I love the aroma of this crunchy, soft pastry baking in the oven. It takes me back and brings happiness and tears because it reminds me of my father and grandfather," says Valerie Corbo, Joe's sister. "The hours spent making them is pure dedication and passion."

Sfogliatelle are traced to 16th-century Naples, Italy. It is said that a nun created a filling of semolina, egg and dried fruit and stuffed it into a pastry shaped like a monk's hood. Two centuries later, an innkeeper-turned-baker was credited with making the adjustments resulting in sfogliatelle riccia, the kind Corbo's makes.

When baked, sfogliatelle fan out into a clamshell shape. Layers of crispy ridges catch a generous sprinkling of confectioner's sugar. The filling is ricotta and candied orange peel. If you get one fresh out of the oven … La vita è bella! — Lisa Sands

12210 Mayfield Rd., Cleveland 44106, 216/421-8181, corbosbakery.net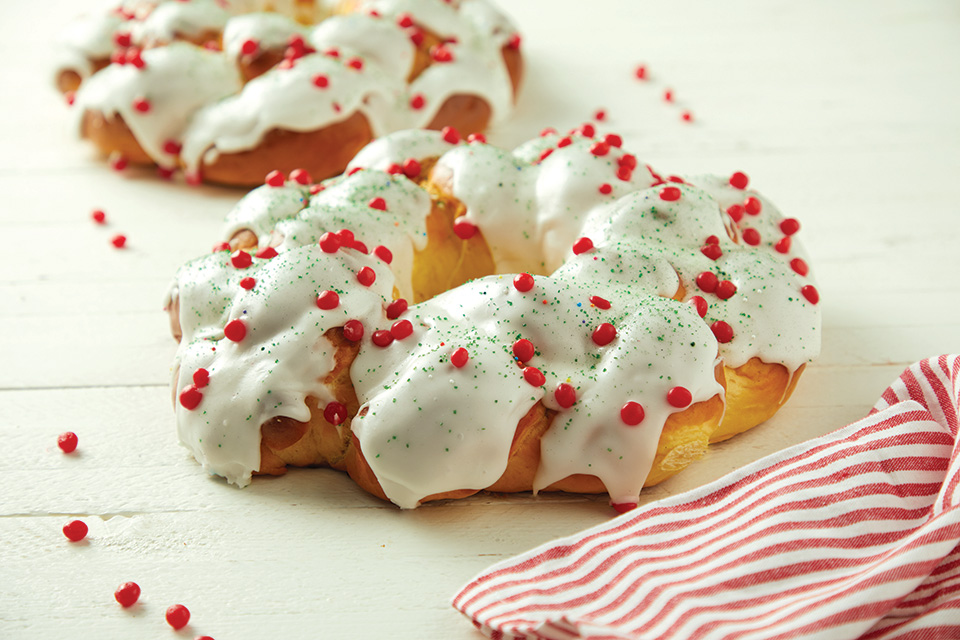 Christmas Danish
Resch's Bakery, Columbus

Situated on Columbus' east side, the family-run Resch's Bakery has been selling fresh breads, rolls, cakes and doughnuts since 1912. Amidst the holiday-themed offerings like Christmas tree cookies, stollen, pecan snowballs and date squares are wreath-shaped Christmas Danishes.

The large pastries, which can also be ordered in Christmas tree shapes, are generously coated with white icing, green sprinkles and red candies. The Christmas tree versions are iced and sprinkled, then additionally loaded with an almond and pecan filling.

Current owner Frank Resch is the fifth generation to run the family bakery. He started working there he was 12.

"But I would come up and sweep the floor when I was 7 or 8 instead of watching cartoons on Saturday," he adds. "We would get the phone call and Mom would drive me up to the bakery. I probably didn't really do anything, but in my mind, I was really helpful."

These days, one of Resch's sons works the bakery, too, making it six generations to carry on the family business. Resch estimates the bakery has been offering Christmas Danishes since the 1940s or '50s. He figures the bakery crafts about 50 to 100 each year, and customers need to order them ahead of time. "It's pretty time consuming," he adds, "but it's a unique item."

4061 E. Livingston Ave., Columbus 43227, 614/237-7421, reschsbakery.com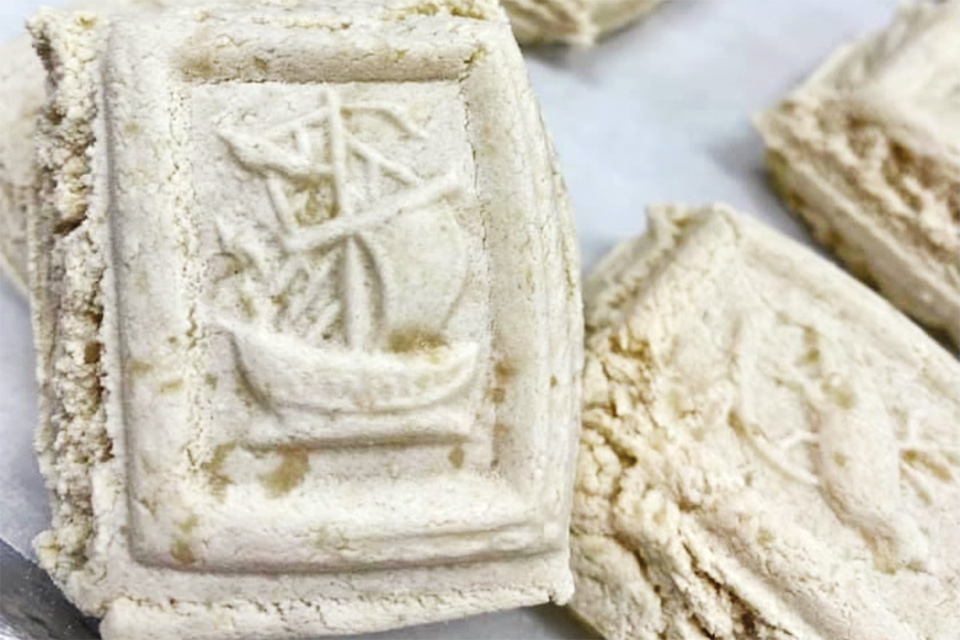 Springerle Cookies
Wixey Bakery, Toledo
These beautiful white German cookies have been a mainstay at Wixey since 1930. The raised ornament atop each is created by a single press — a Wixey family heirloom — that measures 6-by-9 inches. With hundreds of dozens of these cookies made every year, that's a lot of hands-on time. Plus, these simple cookies taste great, too: Their pretty appearance is complemented by a light, anise flavor, chewy center, and airy, crisp crust on top. The bakery achieves this by letting the cutouts air dry for up to 6 hours before baking. 2017 Glendale Ave., Toledo 43614, 419/382-6684, facebook.com/wixeybakery


Chinese Tea Cookies
Kennedy's Bakery•Cambridge
Patty Kennedy, who owns the bakery with her brother Bobby, doesn't know the origin of this treat's name. The recipe came from the siblings' grandfather who bought the bakery in 1925. The thumbprint cookies taste like a cross between a shortbread and a wedding cookie, with a dense and crumbly center that pairs perfectly with tea. The icing on each is the same one the bakery uses on its Danishes and doughnuts: a thin buttercream that is colored to reflect the season. Try the original, with pecans, or the even more popular nut-free variety. 1025 E. Wheeling Ave., Cambridge 43725, 740/432-2301, kennedysbakery.com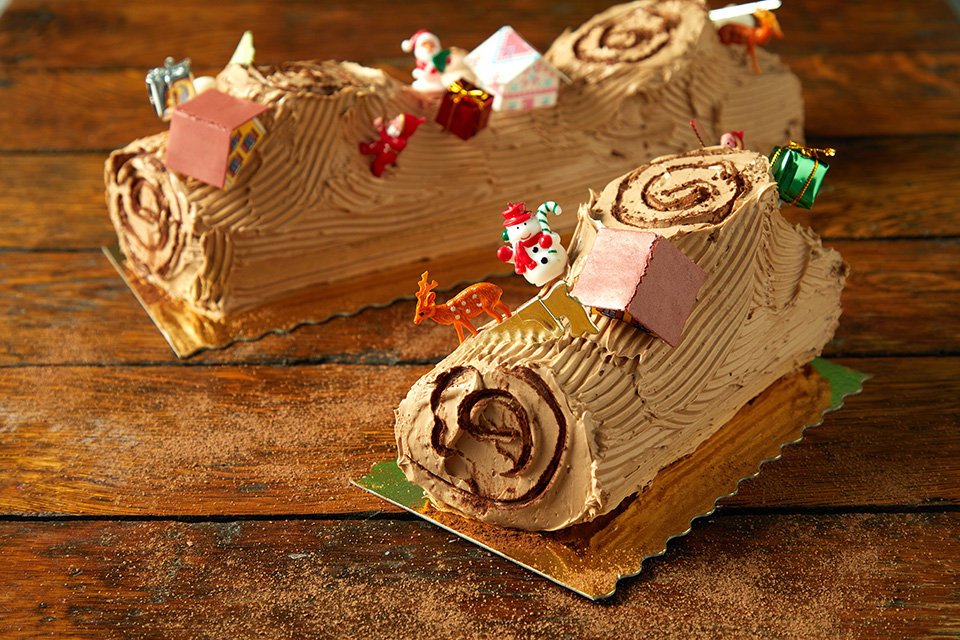 Bûche de Noël
La Chatelaine French Bakery, Columbus Area

Ever since the family-owned La Chatelaine opened in 1991, the French bakery has celebrated the holidays by serving up bûche de Noël (or "yule log"), a confection of genoise, or white sponge cake, rolled like a log with a layer of buttercream, then covered in more buttercream and decorated with colorful candies and plastic trinkets.

"The traditional bûche de Noël is a white sponge cake with vanilla buttercream inside," says Charlotte Harden, CEO of La Chatelaine and daughter of founders Stan and Gigi Wielezynski. "On the outside we typically offer vanilla, chocolate, Grand Marnier, mocha. We ask my brother to make the cranberry because it's hot pink."

The tradition, Harden says, comes from northern Europe, in celebration of a visit from Saint Nicholas.

"You put your shoes in front of the chimney," says Harden, "and at Christmas your shoes are filled with toys and candy. The folklore of the bûche de Noël was that they chopped down a tree, soaked it in alcohol so it burned overnight so Saint Nicholas could find your shoes."

La Chatelaine keeps its version booze-free. The bakery serves the cake logs in three sizes: individual, medium (serving eight to 10) and large (feeding 12 to 15). They're sold the first of December through Christmas Eve. Harden estimates the bakery sold 400 just on Christmas Eve last year. It takes a 24-hour marathon involving the whole family and even past employees rolling the sponge cakes together.

"We pull my parents out of retirement to roll," Harden says. "They're not allowed to go on vacation. We call it 'the rolling of the bûches.' "

Locations in Dublin, Worthington and Upper Arlington, lachatelainebakery.com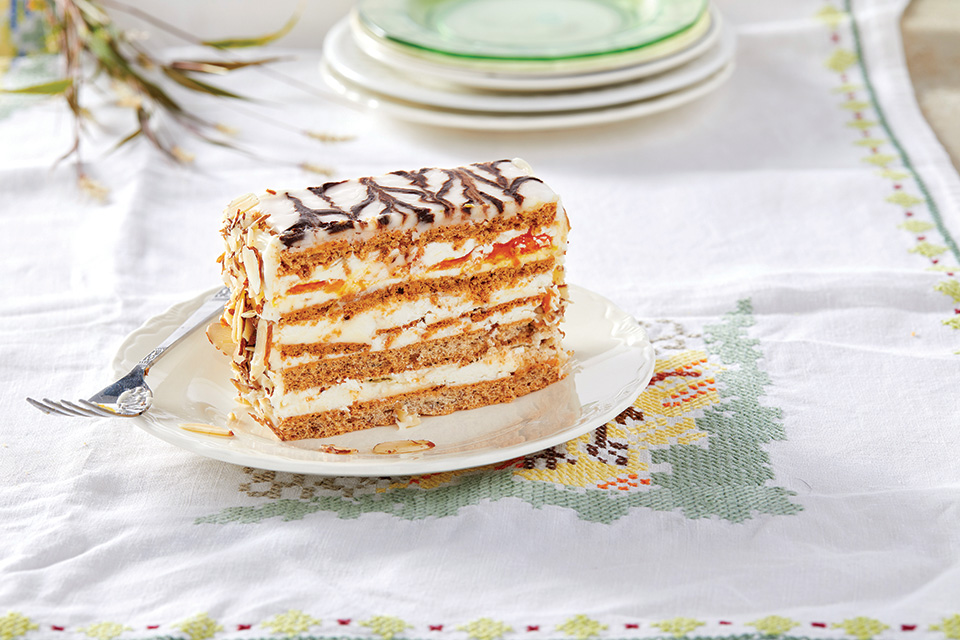 Esterházy Torte
Farkas Pastry Shoppe, Cleveland
Farkas Pastry Shoppe's elegant desserts have been a centerpiece of holiday tables since 1965. Few are as impressive as the bakery's famous Esterházy torte, named for a 19th-century Hungarian prince. Regal indeed — it is five layers of almond dacquoise (a baked meringue), ground almonds, buttercream, apricot filling and a fondant glaze with chocolate ganache. Each torte takes a few days to make, and Farkas Pastry Shoppe owner Mike Harrison says customers drive from all over to get one. The torte is also gluten free, a rarity for a decadent dessert. During the holidays, there are usually a few in the case, but be sure to order at least 48 hours in advance. 2700 Lorain Ave., Cleveland 44113, 216/281-6200, farkaspastries.com

Sufganiyot
Holtman's Donuts, Cincinnati
Difficult to pronounce but easy to eat, sufganiyot (pronounced soof-gah-nee-yote) make an annual appearance at Holtman's Donuts coinciding with the eight days of Hanukkah. These fried jelly- or custard-filled donuts are sublime in their simplicity. Sufganiyot don't come with over-the-top icing or covered in sprinkles, just a generous dusting of confectioner's sugar and a dollop of extra filling that previews what's inside. Regardless of which seasonal holiday you celebrate, a couple of freshly made sufganiyot will have you believing in miracles. Be sure to visit early in the day for the best selection. Five locations throughout Greater Cincinnati, holtmansdonutshop.com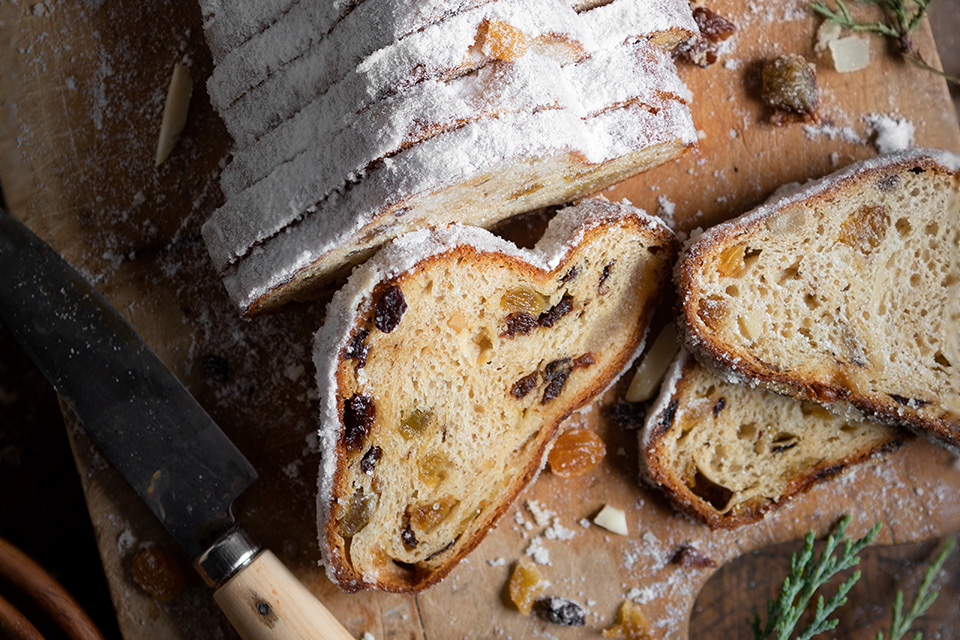 Stollen
Servatii Pastry Shop, Cincinnati

You'll be tempted to saw off a hunk of this traditional German bread and eat it like a slice of cake, but bakery owner Greg Gottenbusch recommends you enjoy it the authentic way: sliced thin, toasted and buttered.

"Germans take our stollen very seriously," says Gottenbusch. "There are actually laws about it in Germany, the percentage of candied fruit to butter to flour — it's all dictated."

Candied fruit is a catch-all term Gottenbusch uses to describe the candied citron peel, raisins, currents and slivered almonds that stud this hearty, springy, sweet loaf. To these treats, the folks at Servatii Pastry Shop add clarified butter, which reduces water content and extends the Stollen's shelf life, as well as a strip of almond paste that runs through the loaf.

"We flatten the dough, put a strip of the paste in the middle, then hand-shape it into the stollen," Gottenbusch explains.
After it is out of the oven, each loaf is brushed with clarified butter and rolled in vanilla sugar. The recipe was perfected by Greg's brother Gary. Both men trained in Germany, where their father, Wilhelm, emigrated from in the early 1950s. (Servatti is the name of the cafe their grandfather had in Germany, right next to St. Servatii Church).
While all this history makes Servatii's stollen a traditional favorite among those in Cincinnati with German heritage, Gottenbusch points out that the treat has reached well beyond that population since the shop opened in 1963.
"The popularity has extended to the whole Cincinnati area. We actually sell them in grocery stores around Ohio," Gottenbusch says. "It's become a tradition for lots of people."

3824 Paxton Ave., Cincinnati 45209, 513/871-3244, servatii.com