Food + Drink
Holiday Pies: 3 Winning Recipes
We asked three Ohioans who have won big with their baking skills to share inventive recipes that'll wow your family and friends this season.
November 2019
BY Frances Killea | Photos by Josiah Hull, Food Styling by Katy Hale
November 2019
BY Frances Killea | Photos by Josiah Hull, Food Styling by Katy Hale
Late autumn in Ohio is a sweet tumble into holiday comforts. As kids and commuters pull on heavier coats, home bakers don their aprons to warm kitchens with homemade holiday pies. Time-tested favorites like pumpkin and apple pies will always have a place at the dessert table, but some cooks shake tradition, going in unexpected — and delicious — directions. We asked three award-winning bakers from across the state to share a recipe, so you can bring one of their out-of-the-ordinary creations to your holiday celebrations this year.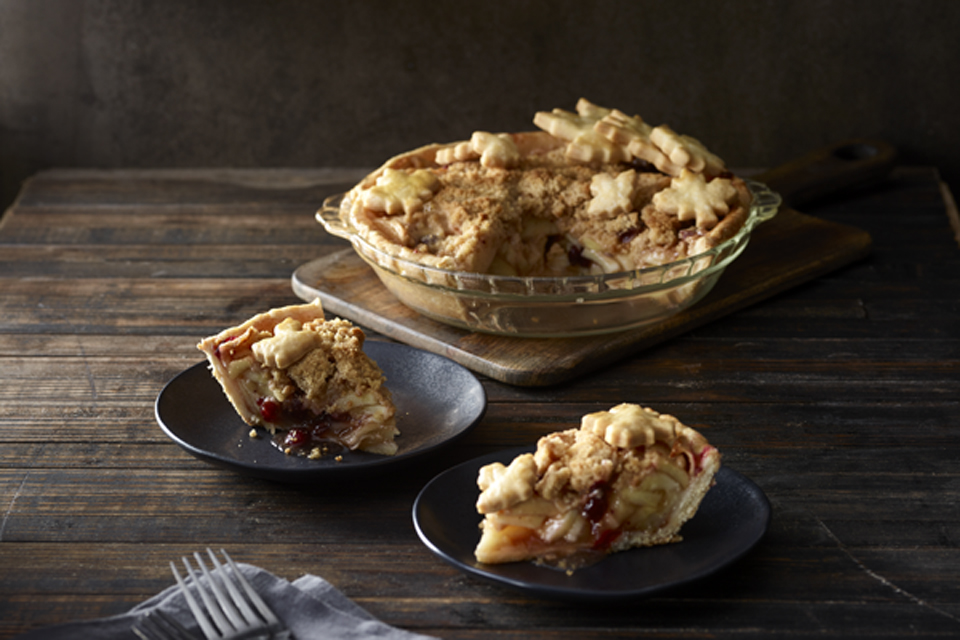 Double-Topped Cranberry Apple Pie

Karri Perry put all of her hopes on a single entry, but she still snagged the top prize at a local fair's baking contest more than a decade ago.

"My cake won first prize for the German Chocolate division, and then it went on and won Best of Show," she recalls. "I was hooked. I was like, 'Oh, let's try this again.' "

In the ensuing 12 years, Perry has won ribbons at fairs throughout the state, including Best of Show at the 2019 Ohio State Fair for her blackberry pie. To date, she's amassed 122 first-place ribbons. That impressive haul is also the inspiration for the name of Perry's blog, Blue Ribbon Kitchen, where she helps other home bakers try their hand at making her creations.

"I love presenting and sharing recipes," she says.

Perry also teaches baking classes at the local Ohio State University extension office in Butler County and has a monthly cooking segment on Cincinnati's Fox 19 television station.

"I receive emails and letters from people all over the world because of the blog," she says. "It's just so touching that these recipes have gone on. They're living their own lives other places."

Perry artfully presents her pies, many with ornate crusts or creative fillings. (For Ohio-based competitions, she likes to top the pie with a cutout of Ohio, the location of the fair marked with a heart.) But when it comes to making pies for her friends and family, Perry aims to please.

"I don't do anything super crazy," she says. "I'm trying to serve people what they're expecting, so it feels like the holiday to them."

She still throws a little twist in, though.

"Sometimes I'll mix it up a little bit, like I might do a cranberry apple pie," says Perry. Her inventive bent doesn't stop with the fruit, either.

"I create what I call a double-topped apple pie, because I put a crumb top and then the regular crust on top," she says. "An apple pie can be fantastic just simple. But I think that crumb crust and then the actual pastry on top kind of elevates it, and it's a surprise. People aren't expecting it."

Visit blueribbonkitchen.blogspot.com for Karri Perry's recipes and class schedule.


Double-Topped Cranberry Apple Pie
Courtesy of Karri Perry, Blue Ribbon Kitchen Blog

INGREDIENTS
Pie Dough
2 1/2 cups flour
2 tablespoons sugar
1 teaspoon salt
1/2 cup butter-flavored Crisco shortening
1/2 cup unsalted butter
1/4 cup ice cold water and 1/4 cup vodka, mixed 50/50

Egg wash
1 egg, beaten
2 tablespoons water
1 tablespoon cream or whole milk

Crumb Topping
1 cup packed light brown sugar
1/2 cup unsalted butter, softened
1 1/2 cups flour
1 teaspoon cinnamon
1/2 teaspoon nutmeg
Pinch of salt

Filling
2 to 3 medium Golden Delicious apples, peeled and sliced
2 to 3 medium Gala apples, peeled and sliced
1 Honey Crisp apple, peeled and sliced
1/2 cup fresh cranberries, rinsed and roughly chopped
3 tablespoons arrowroot (available in baking aisle of most grocery stores and online)
1 teaspoon cinnamon
1/2 teaspoon nutmeg
1/4 teaspoon cardamom
1 cup granulated sugar
2 tablespoons butter
Lemon water (2 cups cool water with 1 to 2 teaspoons of fresh lemon juice to keep apples from turning brown)

DIRECTIONS

Making the Pie Dough
Using a food processor, pulse the pie dough ingredients (flour, sugar, salt, butter and shortening); add just enough liquid to the mixture to allow the dough to come together. If you have leftover water/vodka, discard the extra. (A pastry blender can also be used to make the dough by hand). Once made, divide dough into two equal parts. Tightly cover with plastic wrap and let rest for 1 hour, up to 2 days in the refrigerator.

Making the Pie
Combine the crumb-topping ingredients in a small bowl and set aside. Combine the pie filling dry ingredients (cinnamon, nutmeg, cardamom, arrowroot and sugar) and set aside. Peel, core and slice apples approximately 1/4-inch thick. Cover with lemon water and set aside.

Roll out one of the chilled and rested pie dough rounds to 1/4-inch thick and place in an 8- or 9-inch pie plate. Trim edge, leaving about a 1/2-inch overhang and crimp edges. Place the prepared unbaked pie shell in refrigerator to chill.

Roll the second dough round 1/4-inch thick. Use decorative cutters or leaf-shaped 1- to 2-inch cookie cutters to make leaf shapes for the top crust. For an 8- to 9-inch pie, 35 to 45 small leaf shapes will be used to cover the top. Lay the dough cutouts onto a large (12 inch) dinner plate, brush with egg wash and set in freezer until ready to top the pie. (Not all of the egg wash will be used. Discard the extra.)

Drain the apples well and add the cranberries. Pour the prepared dry pie filling ingredients over the apples and cranberries and gently stir to coat. Fill the chilled, prepared pie shell with the apples and cranberries, filling the pie plate 1 to 2 inches above the rim of the pie plate, forming a slight dome with the apples and cranberries. Next, dot the filling with 2 tablespoons of butter.

Cover the apples with an even layer of the prepared crumb topping. Next, begin placing the pie dough leaf cutouts as desired, slightly overlapping one another.

Preheat the oven to 375 F. Bake pie on the lowest oven rack for 60 minutes or until filling is bubbly and crust is golden brown. Allow pie to cool before serving. (During baking, check the pie after 30 minutes, covering the edges of the pie with foil or use a pie-crust shield to prevent crust from overbrowning.)

Baker's Tip: "A Pie Drip Catcher from Chicago Metallic is a huge help in catching drips when baking pies. I would not bake a pie without one. Or, consider using a rimmed baking sheet lined with foil and place on the bottom rack."

---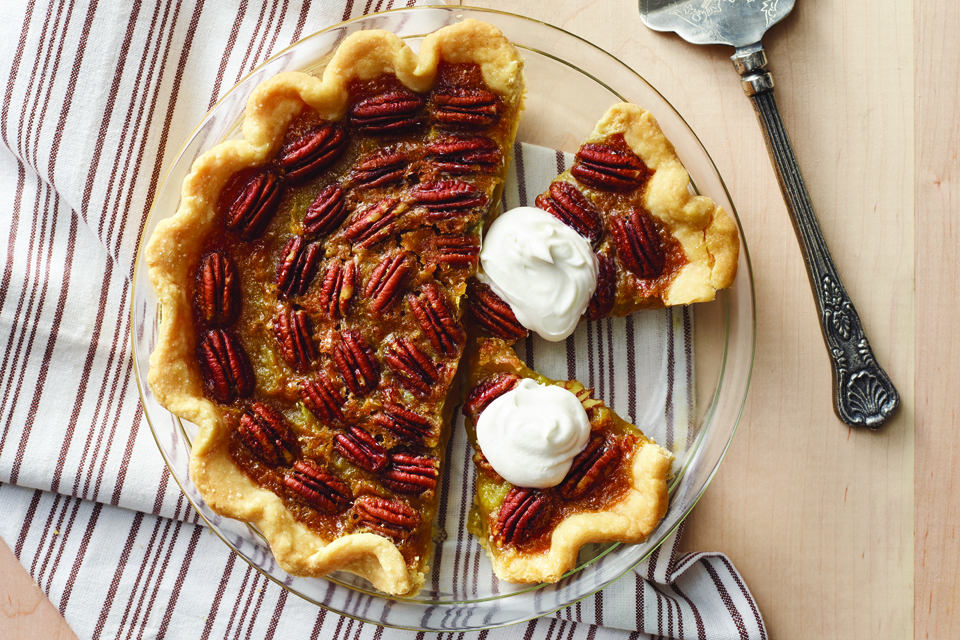 Lemon Pecan Pie

If ever there were a place that looked like it served award-winning pies, Nutcracker '50s Family Restaurant in Pataskala is it. The diner's interior glows with neon signs, fire-engine-red upholstery and gleaming chrome, which gives the space a seriously nostalgia-inducing feel.

Co-owner Nancy Butcher is behind the bakery case here, and on any given day you may find her filling and crimping more than 30 pies. That number jumps to the hundreds during the holidays and it's easy to see why, given the fact that two of her creations have won national honors in a General Mills baking contest.

Butcher spent 14 years in the Air National Guard and her husband, Steve, spent 26 years in the U.S. Air Force before the couple opened their restaurant in the 1990s, following their retirements.

"Initially, when [Steve] was in the military, he was in food service," Butcher explains. "I worked at a Burger Chef, so we both had food-service experience and it just seemed like a natural fit."

Butcher was not a trained baker, so for the first few years the diner was in business, she made fudge. After a 2005 restaurant fire destroyed her kettle, she shifted focus and set her sights on pies.

"It was a live-and-learn kind of thing, and I'm not afraid to experiment," Butcher says. "[It was] just trial and error to make it the best."

Butcher goes beyond cookbooks when it comes to finding baking inspiration. Customers at times share their ideas with her. One of her enduring favorite holiday pies came to her that way. Years later, the original recipe has been lost, but the inspiration endures.

"I've been able to re-create it pretty closely to what she told me, and it's lemon pecan," says Butcher. "It's fantastic. It has more of my own touches to it."

A traditional pecan pie with a citrus twist, this dessert relies not only on familiar buttery flavors, but a bright tang: Butcher uses small zests of about half a lemon per pie, which makes each comforting slice a little bit refreshing, too. Once cooled, she likes to add a topping to the pie for optimal enjoyment.

"The lemon pecan, definitely serve that with ice cream," Butcher says, adding that she sticks with a traditional choice. "And that would be vanilla." Nutcracker '50s Family Restaurant, 63 E. Broad St., Pataskala 43062, 740/964-0056, nutcrackerpataskala.com


Lemon Pecan Pie
Courtesy of Nancy Butcher, Nutcracker '50s Family Restaurant

INGREDIENTS
3 large eggs
1 cup light corn syrup
Zest of 1/2 lemon, short zests
1/2 teaspoon lemon extract
1 cup white sugar
1 teaspoon vanilla
2 tablespoons melted butter
1/8 teaspoon salt
2 cups chopped pecans
1 unbaked 9-inch, deep-dish crust (or use Nancy's recipe to the right for making a from-scratch pie crust)

DIRECTIONS
Preheat oven to 350 F. Combine sugar and eggs and mix. Add remaining ingredients through salt and mix. Place pecans directly in pie crust. Pour mixture into crust and bake for 30 minutes, then shake the pie so it continues to firm. Bake another 15 minutes. Remove from oven. Cool completely before slicing and serving. Serve alone or with ice cream or whipped cream and lemon zest garnish.

---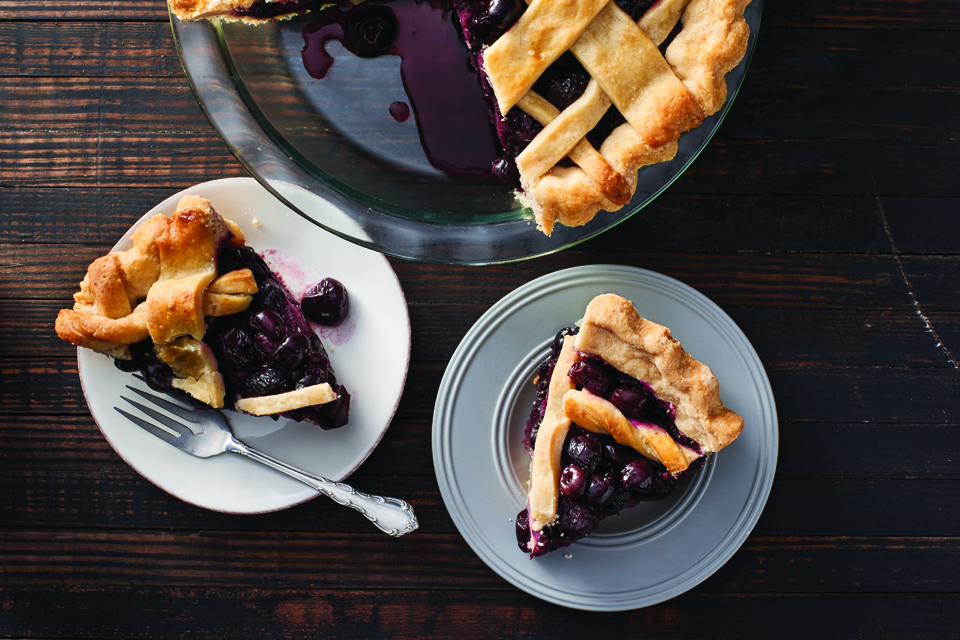 Luscious Lattice Cherry Pie

The Canfield Fair is no small-time event. It's been around for more than 170 years, and the six-day celebration of rural living covers 353 acres of the Canfield Fairgrounds once late summer arrives. More than 300,000 visit annually for music, animals, food and judged competitions that range from livestock to folk arts to Mahoning County resident Barbara Biery's flour-dusted wheelhouse: baking.

"I've just always baked," she says, attributing some of her own flair for pies to her mother and her mother-in-law's baking talents. This year, Biery took home a blue ribbon for her blackberry pie at the Canfield Fair, as well as a Best of Show for a deep, rich brownie walnut pie.

"This is not my first Best of Show in the fair," Biery says. "Actually — about 30 years ago — [I made] an elderberry pie that was Best of Show."

Biery grew up in Mahoning County, moving from Canfield to Goshen Township in middle school. She and her husband still live there today, and their home is both inspiration and provider for many of her recipes.

"We have a little farm and grow our own produce," she says. "I make a lot of things with what I have."

During the summer, that often means heaping homemade crusts with luscious berry fillings, and because she freezes some of the harvest, those sunny flavors often find their way onto her holiday spread as well.

"I almost never do apple," Biery says. "I have my own berries, blackberries, raspberries, strawberries — so it's almost always a berry pie. And we'll do a cherry, because I will purchase sour cherries and freeze them."

Finding the fruit for her cherry pies usually involves a trip to a nearby farm market, many of which order sour cherries for home bakers and canners in the absence of local crops. Pulled from the freezer for a midwinter celebration, they glow from beneath a woven lattice-topped crust. In fact, Biery's crust recipe remains the same, no matter what's inside.

"It's something that my mom taught me a long time ago," she says. "It's just very basic: flour, shortening, a touch of salt and water. I don't add any of the extra stuff. People will add a little bit of egg. Some people a little bit of vinegar, and I don't do that." Her cardinal rule for a flaky crust: "Don't overwork it!"


Luscious Lattice Cherry Pie
Courtesy of Barbara Biery

INGREDIENTS
1 cup sugar
3 tablespoons corn starch or quick-cooking tapioca
1/8 teaspoon almond extract
4 cups fresh or frozen sour cherries
1 pastry for double crust pie (see recipe below)

DIRECTIONS
Stir together sugar and corn starch/tapioca and extract; add cherries and toss to coat. Let stand 15 minutes, stirring occasionally to form syrup. (If using frozen cherries let stand 45 minutes to partially thaw.) Prepare 9-inch pie shell. Pour in cherry mixture and form lattice top (see instructions below). Place pie on baking sheet. To prevent overbrowning, cover edges of crust with foil strips. Bake 375 F for 30 minutes (50 minutes for frozen fruit). Remove foil and bake 25 to 30 minutes until bubbly and golden.

Flaky Pie Crust
For 9- or 10-inch double-crust pie

INGREDIENTS
2 cups flour
I cup shortening
1/2 teaspoon salt
5 to 6 tablespoons cold water

DIRECTIONS
Cut shortening into flour and salt until coarse, pea-sized crumbs form. Fork in the water. Be careful not to overwork. Form dough into two balls. Crust can be chilled or rolled out. For a lattice-top pie, roll top layer 1 inch beyond the edge of pie pan. Cut into 1/2-inch strips. Weave strips over filling in a lattice pattern, first laying strips in one direction, leaving space between each one. Give pie a quarter turn and fold back alternate strips as you weave remaining strips across. Trim off ends. Finish by moistening and laying strips on edge then crimp.