Food + Drink
25 Classic Ohio Ice Cream Shops and Stands
From old-school shops to roadside spots, these 25 destinations for ice cream offer a taste of what summer in Ohio is all about.
July/August 2023
BY Nicholas Dekker, Sarah Miller, Damaine Vonada, Jim Vickers and Gracie Wilson | Photo by Matt Witherspoon
July/August 2023
BY Nicholas Dekker, Sarah Miller, Damaine Vonada, Jim Vickers and Gracie Wilson | Photo by Matt Witherspoon
Young's Jersey Dairy | Yellow Springs

If you've never tasted Cow Patty ice cream, you've got plenty of company. "The No. 1 question our Dairy Store guests ask is, 'What's Cow Patty?'" says Dan Young, CEO and self-described Chief Ice Cream Dipper at Young's Jersey Dairy. Cow Patty probably is the darkest, most chocolatey ice cream you'll ever eat. It's loaded with chocolate chips, chocolate cookie pieces and chocolate-covered toffee bits, and to fathom the — uh — inspiration for its name, just peek into the stalls of the big red barn that houses the family's Jersey cows that have been a fixture on the farm since 1869.

Although Cow Patty is Young's Jersey Dairy's signature flavor, the place makes dozens of others. This summer's seasonal lineup includes Peaches & Cream, Lemon Custard and Triple Berry Sangria, while bestsellers such as Cookie Dough and Chocolate P-Nut Butter are available year-round. The latter, in fact, is a key ingredient in Young's famous Buckeye Bull Shake, a treat delectably topped with a peanut butter-filled Buckeye candy that is hand-rolled and hand-dipped in chocolate at the Dairy Store.

The Youngs started selling ice cream to the public in 1960, and over the years, successive generations of the family grew their farm into a multifaceted destination that delivers good times as well as good food in the countryside north of Yellow Springs.

"We create fun for our customers," says Young, "and everything we do and offer relates to that goal."

In the Dairy Store, you'll not only enjoy sandwiches and sundaes but also watch how Young's makes its ice creams and farmstead cheeses through giant viewing windows overlooking the production area. Then, go outside to savor the farm's fresh air and bucolic setting; feed the resident herd of frisky goats; or watch the cows' afternoon milking in the barn. You can even bounce through the fields on the Moovers & Shakers barrel ride or play farm-themed Udders & Putters miniature golf. 6880 Springfield-Xenia Rd., Yellow Springs 45387, 937/325-0629, youngsdairy.com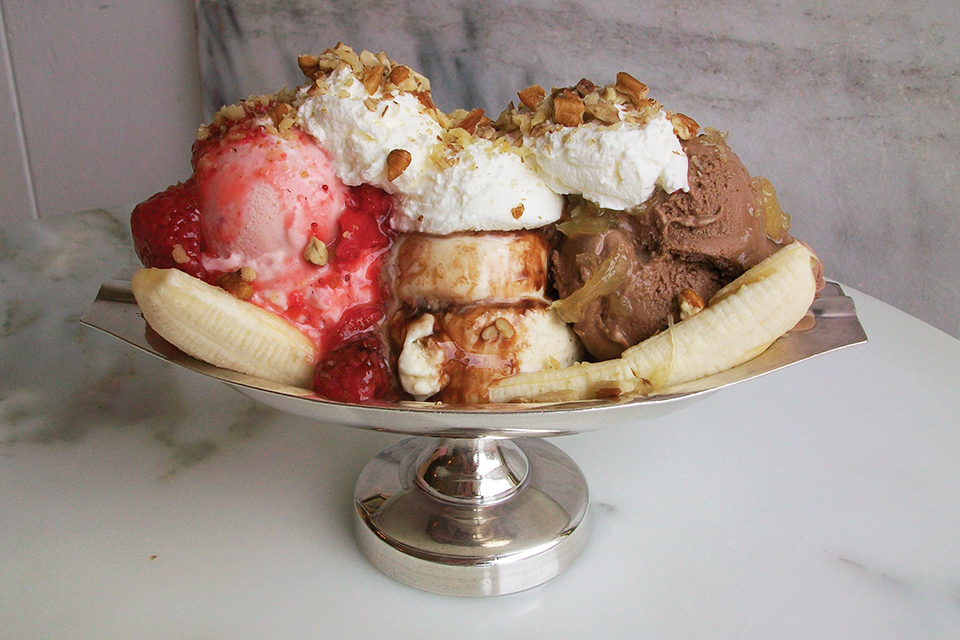 Aglamesis Bros. | Cincinnati
Aglamesis Bros. ice cream parlor on Cincinnati's Oakley Square embodies the history and tradition of the operation that Thomas Aglamesis and his siblings established in 1908. White marble counters and Tiffany lamps convey a turn-of-the-century vibe, and the atmosphere is the perfect setting for enjoying the shop's year-round and seasonal ice cream flavors. 3046 Madison Rd., Cincinnati 45209, 513/531-5196, aglamesis.com
--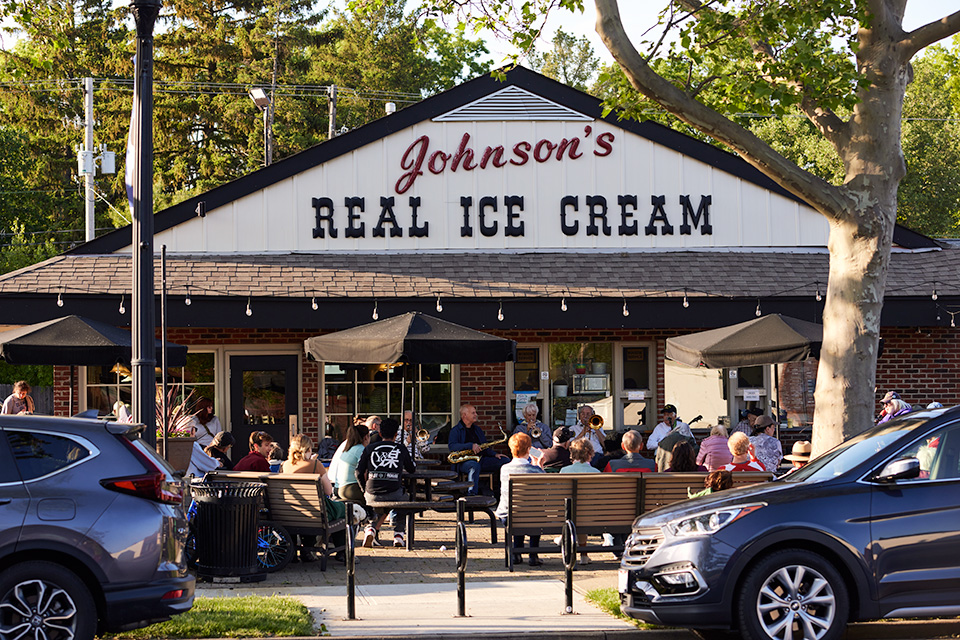 Johnson's Real Ice Cream | Bexley

The key to the longevity of Johnson's Real Ice Cream isn't just the shop's fresh and locally sourced ingredients. It's also the legacy of the five generations of family members who have served customers at its location along East Main Street in Bexley.

What started in a wartime meat-storage locker in the 1940s with chocolate and vanilla ice cream has grown into a local favorite that serves more than 60 flavors, including seasonally rotating favorites, at its Bexley location that opened in 1950 as well as at shops in Dublin and New Albany.
"We source local ingredients when we can," says Matt Wilcoxon, president of Johnson's Real Ice Cream. "Krema Nut Co. for instance, all of our nuts and peanut butters are sourced locally. We source within about a 300-mile radius."
The Bexley store started as a walk-up stand, but now customers can come in and sit in one of the 1950s-style booths after ordering from the chalk-written menu. The Salty Caramel Chocolate Pretzel Trap beckons those looking for a sweet-and-salty swirl of flavor, but the real standout for Wilcoxon is the shop's Triple Trouble Vanilla Bean.
"People say to me all the time, 'You guys have 60-some flavors, and your favorite flavor is vanilla?' " says Wilcoxon. "You can taste somebody's vanilla, and you can tell if they know what they're doing, and everything starts with the base of vanilla."
During the summer, you'll find customers sitting under one of the umbrella-topped tables enjoying cones and sundaes like so many families have before.
"They come to reminisce. There's just so many different stories and that's something that's special," says Wilcoxon. 2728 E. Main St., Bexley 43209, 614/231-0014, johnsonsrealicecream.com

--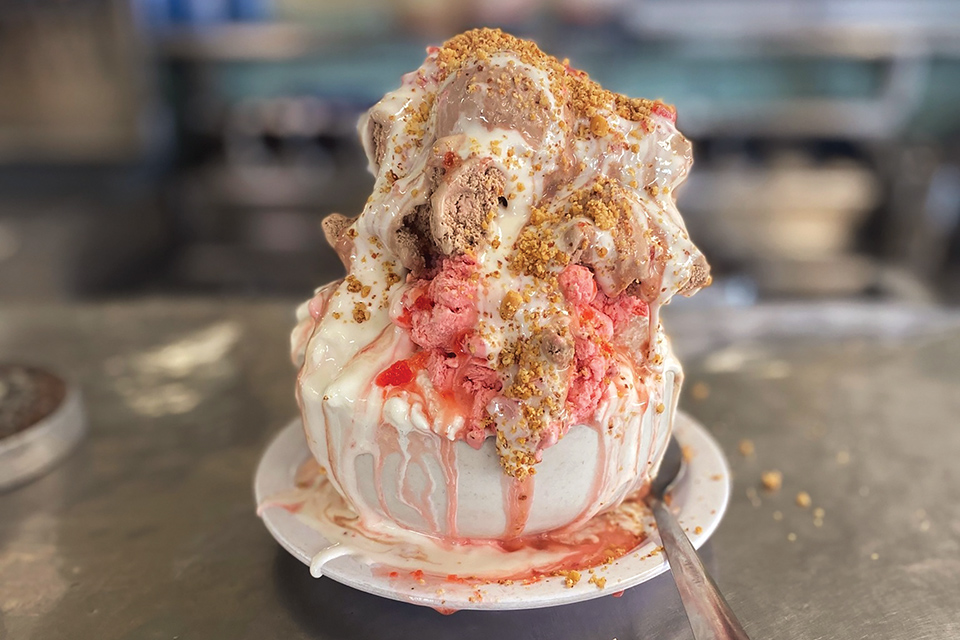 Tom's Ice Cream Bowl | Zanesville
Anyone making a visit to Zanesville will at some point be directed to Tom's Ice Cream Bowl, a local institution with a frozen-in-time appearance. It has been a fixture along McIntire Avenue since 1950, two years after owners Jack Hemmer and Tom Mirgon originally founded the Jack Hemmer Ice Cream Co. in a small space on Linden Avenue.

In 1953, Mirgon took over the place and renamed the business Tom's Ice Cream Bowl four years later. When he retired, he sold the shop to manager Bill Sullivan, who then sold it to Joe Baker in 2019. Baker began as a dishwasher at Tom's Ice Cream Bowl in 1977 and quickly worked his way up to manager.

Today, he maintains the traditions that date back to Mirgon's time at the helm, which means a textured terrazzo floor, cream-colored tile walls and green vinyl chairs. A long counter near the front door holds blanched peanuts, cashews, Spanish nuts, chocolate candies and caramels. Ice cream is, of course, the reason people come back time and again, and Baker says the shop makes close to 25,000 gallons of it on-site every year.

"Since I've been here, I've made about 829,000 gallons," he says in spring 2023. "I keep a record of it."

When asked for a favorite flavor, he says they all are. That should come as no surprise since he's the one who comes up with them.

"I make it to my taste," he adds. "I put what I want in it."

The shop's hard-packed ice cream is put to good use on cones, in milkshakes, over banana splits and scooped onto towering sundaes. Even the smallest portions arrive at the table wobbling and dripping over the side. Customers never seem to mind. 532 McIntire Ave., Zanesville 43701, 740/452-5267, tomsicecreambowl.com
--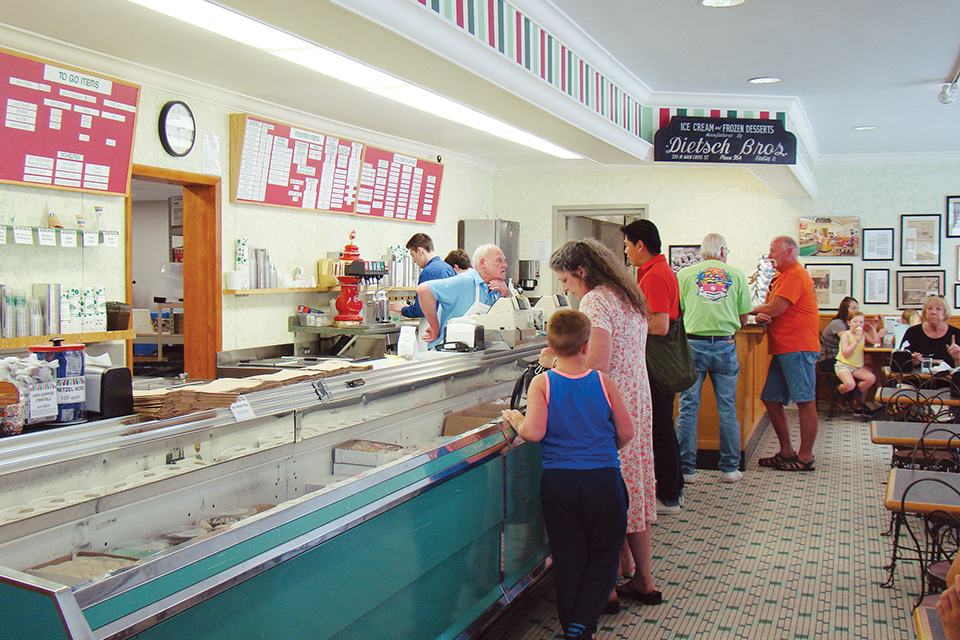 Dietsch Brothers · Findlay
Dietsch Brothers has been a family operation since it opened in 1937. The company has two parlors — its flagship on West Main Cross Street and another on Tiffin Avenue. Keeping things small, consistent and high-quality shines through in its approximately 40 flavors of ice cream, ranging from the classics to fun seasonal creations like coconut. 400 W. Main Cross St., Findlay 45850, 419/422-4474, dietschs.com

--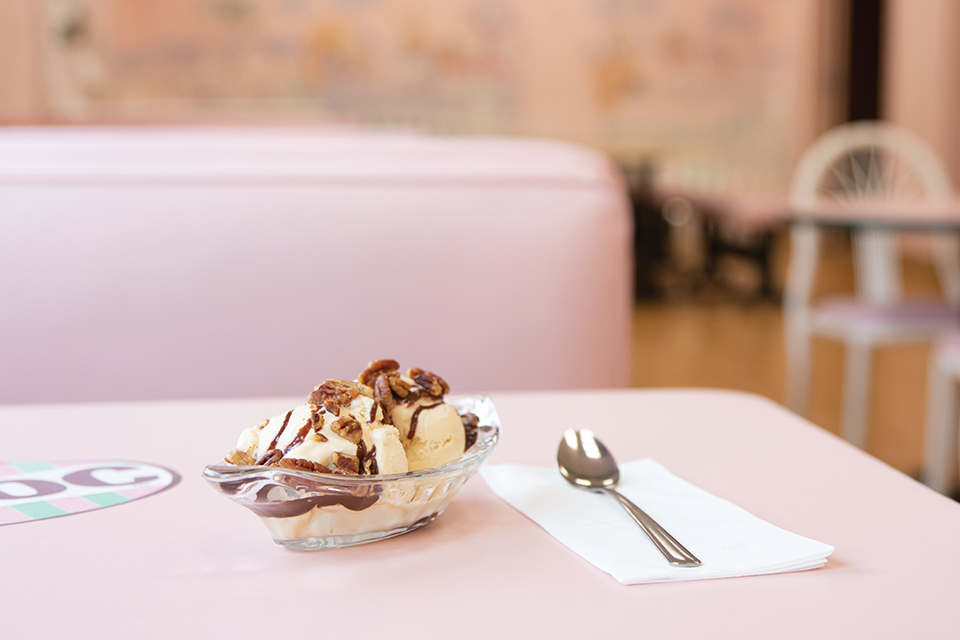 Malley's Chocolates Ice Cream Parlor | Lakewood

Those who live in northeast Ohio know that good things come wrapped in pastel hues of pink and green. Malley's Chocolates, which opened in Lakewood in 1935, sells sweets in all shapes and sizes at the company's 19 shops across Greater Cleveland.

Its Lakewood spot holds the distinction of being home to the first Malley's ice cream parlor, although the family business now has them at the Bay Village, Mentor and North Olmsted locations, too.
Yet the ice cream (made by New York-based Perry's Ice Cream) is a mere co-star to the true draw here. Malley's makes its own marshmallow topping as well as a hot fudge recipe that has been in the family for almost 90 years.

"It's a recipe my grandfather invented," says third-generation owner Dan Malley. "It's made in a big copper kettle, is super fresh and has the highest grade of ingredients that you're going to find in a hot fudge sauce."

Open since 1949, the Lakewood ice cream parlor is wall-to-wall pastel pinks and Alice in Wonderland decor that'll make you feel a little like you've fallen down the rabbit hole. Be sure to order a sundae that features the famous hot fudge, which is ladled into a small glass cup so you can drizzle it over the ice cream as you'd like.

"For decades and decades," Malley says, "there's a line out the door on a hot summer night to get in for a table and have a sundae." 14822 Madison Ave., Lakewood 44107, 216/529-6262, malleys.com

--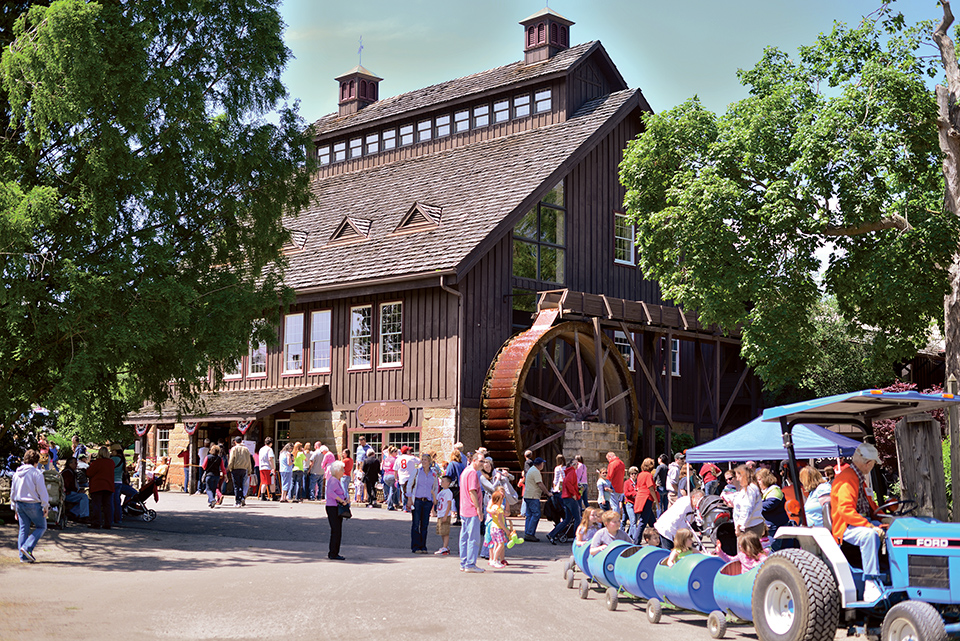 Velvet Ice Cream at Ye Olde Mill | Utica

Although Joseph Dager started Velvet Ice Cream in downtown Utica in 1914, the ice cream-maker has long been associated with Ye Olde Mill, a country corn mill turned shop and cafe that has been a favorite for locals and travelers alike since it opened in 1970. The business has stayed in the Dager family over the years, too, with sisters Luconda and Joanne Dager serving as the company's president and vice president, respectively.

"Joanne and I grew up in the business … [dad] brought us around the plant and brought us around Ye Olde Mill," recalls Luconda Dager. "Even as we got into high school, he would take us to food shows and we would be going to conferences and ice cream conventions and doing things that we thought other kids were doing, but they weren't."

After graduating from Xavier University, the sisters worked in outside jobs before returning to Utica to join the business and carry out the traditions of Ye Olde Mill. There, visitors can learn about the ice cream-making process at the on-site museum filled with artifacts and stories about crafting the company's time-honored treats.

Favorites among the 50 ice cream varieties include the Buckeye Classic (peanut butter ice cream filled with tiny versions of Ohio's famous buckeye candies) as well as the Super Friends, which has swirls of red, blue and yellow vanilla ice cream.

Ye Olde Mill's park-like setting offers two playgrounds, a fishing pond, nature trails and an arcade in the shelter house. The landmark is a field-trip favorite for local schools each spring, and live music fills the air once summer arrives.

"We've created such an ambiance where it's relaxing and you want to sit and enjoy your ice cream cone," Dager says. "That's what we do best." 11324 Mount Vernon Rd., Utica 43080, 740/892-3921, velveticecream.com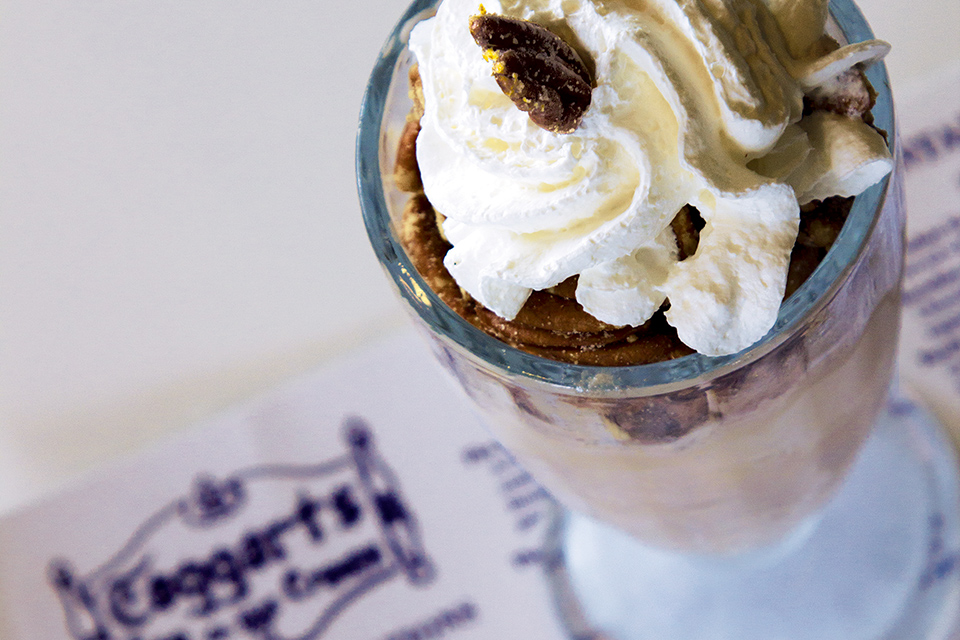 Taggart's Ice Cream Parlor | Canton
The high-backed booths and soda fountain inside Taggart's Ice Cream Parlor are the same ones that were here when Joe Taggart opened his shop in 1926. Its signature offering is the Bittner: a tall sundae glass full of ice cream covered with chocolate syrup and sprinkled with roasted pecans that weighs in at a whopping three-quarters of a pound. 1401 Fulton Rd. NW, Canton 44703, 330/452-6844, taggartsicecream.com
--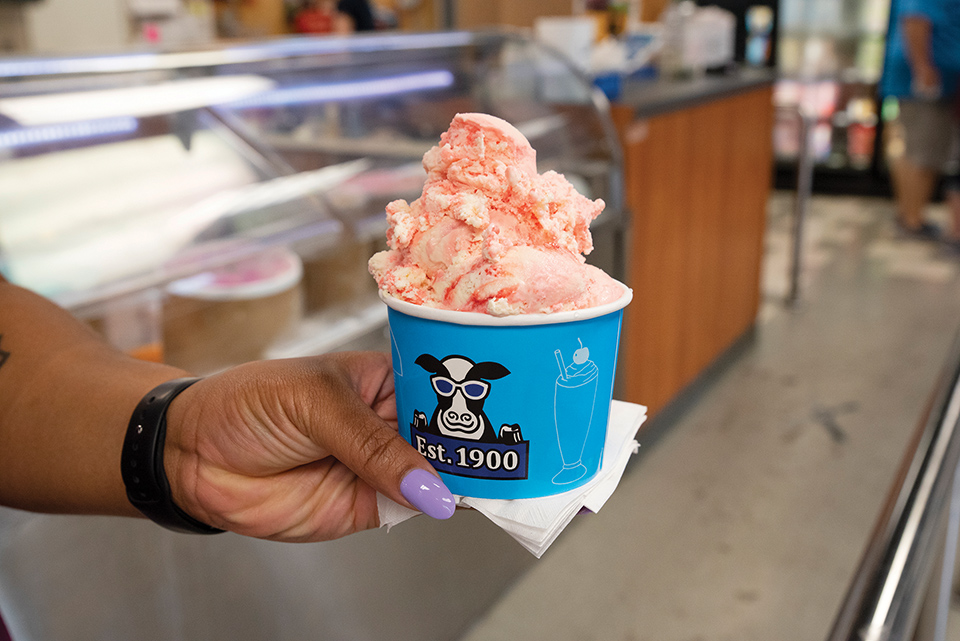 Toft Dairy's Ice Cream Parlor | Sandusky

Sitting along a stretch of state Route 6 west of downtown Sandusky, Toft Dairy's flagship ice cream parlor serves customers year-round. It's a landmark stop for summer travelers making their way along the Lake Erie shore and the locals who have been coming here for years.

The five-generation family business began in 1900, when Chris and Matilda Toft began selling fresh milk from their horse-drawn wagon, making it Ohio's oldest dairy. Today, it sources milk from 14 local farms within a 60-mile radius.

Although there are also locations at Cedar Point and in Port Clinton, Toft Dairy's ice cream parlor in Sandusky is the place to go to experience what has made it a northwest Ohio tradition. The old-school parlor's list of flavors spans 51 varieties and includes creative concoctions like Cedar Point Cotton Candy, Lake Erie Cookie Island Monster (blue vanilla cake batter ice cream mixed with chocolate chips, chunks of cookie dough and chocolate cookies and cream) and Muddy's Sea Salt Slam (a chocolate-and-salty-caramel-covered-peanut creation honoring the Toledo Mud Hens' mascot, Muddy.)

Toft Dairy president Chuck Meisler (his Grandma Edna was a Toft) has helped expand the company's dairy products, including its ice cream, to local grocery stores and other parlors in the region.

"I was hired as the company salesman when Toft's was already 83 years old," Meisler says. "Building this from the ground level has been hard work, but fun … and who doesn't love ice cream?" 3717 Venice Rd., Sandusky 44870, 419/625-5490, toftdairy.com

--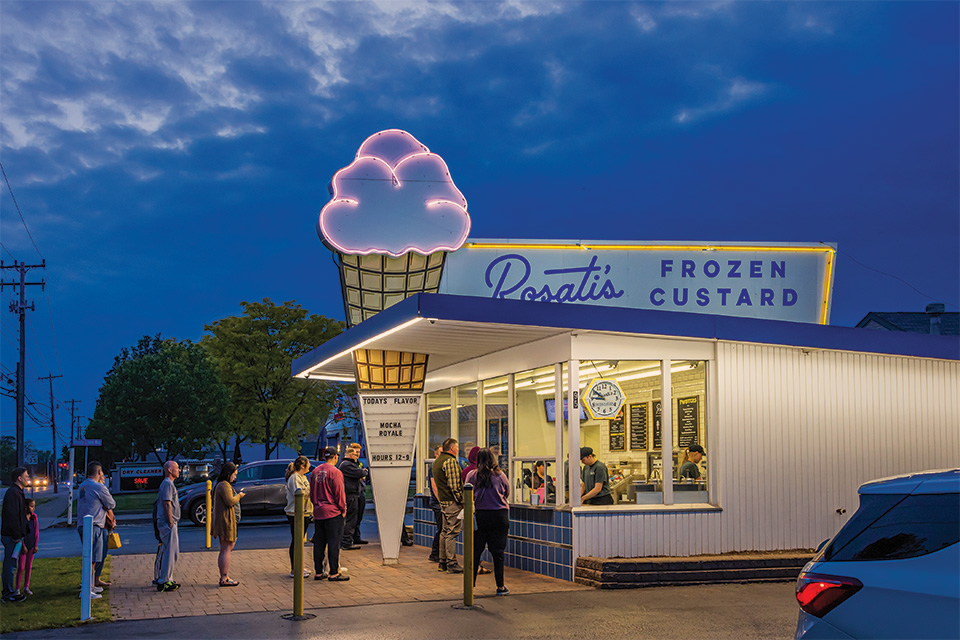 16 Roadside Ice Cream Stands in Ohio to Visit this Summer
Long live the roadside stand — part of the fabric of summer in our state. Here are decades-old favorites and new finds to check out during your travels this season.