Arts
'Yayoi Kusama: Infinity Mirrors' in Cleveland
The exhibition that has dazzled art lovers in Washington, D.C., Los Angeles and Seattle comes to the Cleveland Museum of Art.
July 2018
BY Barry Goodrich | © Yayoi Kusama, Photo by Cathy Carver
July 2018
BY Barry Goodrich | © Yayoi Kusama, Photo by Cathy Carver
The unlikely darling of the contemporary art world is an 89-year-old Japanese artist with an obsession for brightly-colored wigs and polka-dotted outfits; a woman who has spent the last 40 years living in a private Tokyo mental facility located a block from her studio.

In the 1960s, Yayoi Kusama gained notoriety for her live "happenings" in the public spaces of New York City, painting polka dots on the nude bodies of volunteers. By the early 1970s, she had left the country and returned to Japan, becoming a footnote to the pop art era.

Today, the avant-garde artist is a mythic figure from coast to coast due to the immensely popular "Yayoi Kusama: Infinity Mirrors," an exhibition of her immersive and mind-bending mirror rooms that has been drawing record-breaking crowds in Washington, D.C., Seattle, Los Angeles and Toronto since February 2017.

"She's arguably the most popular and well-known artist in the world now," says Reto Thuring, curator of contemporary art for the Cleveland Museum of Art, where the exhibition opens July 7 and runs through Sept. 30. "She appeals to all sorts of people because of the immersive and interactive aspects of her work. Her persona fascinates people … it's a real part of the story."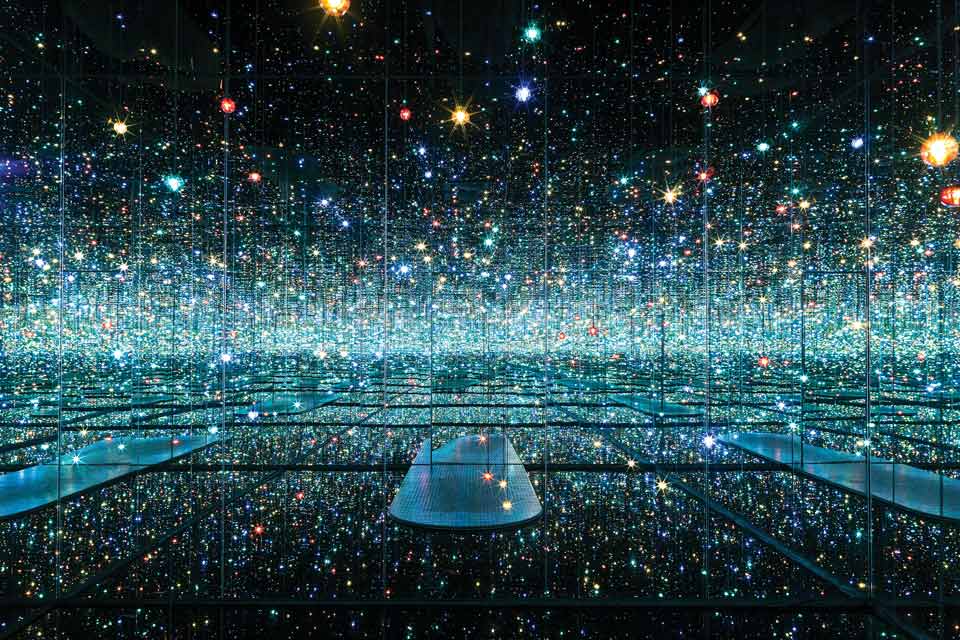 The popularity of the rooms, particularly among the millennial "selfie" generation, has created a rock-star aura around Kusama. Musical artist Adele recently filmed footage inside one of the rooms at The Broad museum in Los Angeles, and the mirror rooms have been the subject of more than 91 million Twitter and Instagram posts to date. Museum crowds have grown so large that visitors are now limited to 20 to 30 seconds in each of the rooms.

The visual and auditory hallucinations Kusama has experienced since childhood serve as the basis for her creations. In addition to the mirror rooms, the exhibition covers the seven decades of her career, spanning sculptures, photographs, drawings, films, archival material and "My Eternal Soul," her most recent collection of paintings.

The rooms use mirrors and LED lighting to create an ethereal environment of infinite space. In Kusama's "All the Eternal Love I Have for the Pumpkins" room, acrylic pumpkins with stripes of black polka dots are lit from within and displayed on a floor of black glass. The artist's most recent room, exclusive to the Cleveland Museum of Art, is 2016's "Where the Lights in My Heart Go," a stainless steel cube with an inner reflective surface and small puncture holes that create a planetarium-like experience.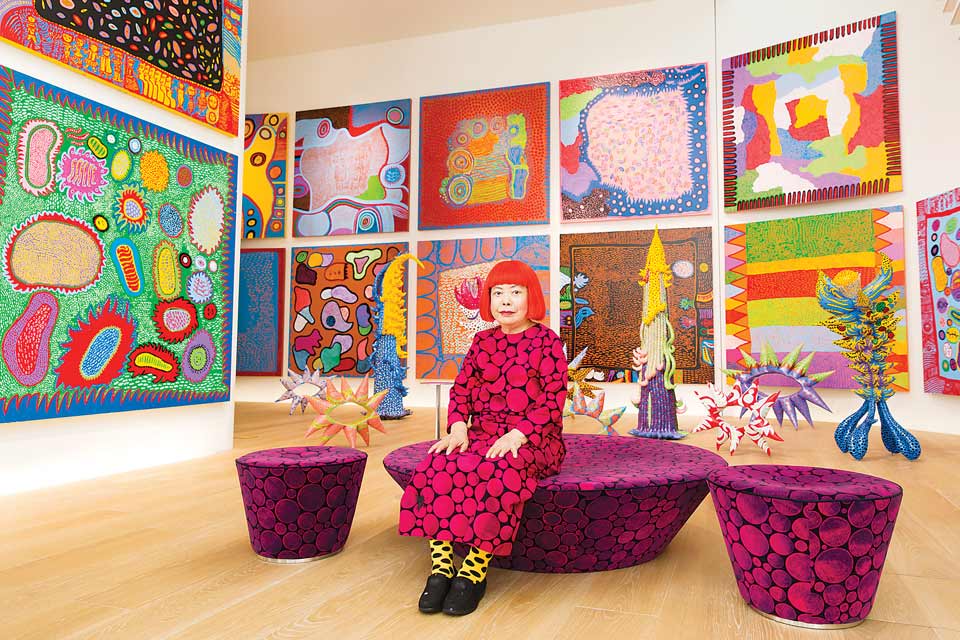 "It's the first room in which Kusama didn't use artificial light," says Thuring. "It creates an environment resembling the universe … a seemingly endless dark space with small dots of light like stars. It provides a space in which one can get lost. It's very thought-provoking."

Due to the exhibition's popularity, presales have already been conducted, but weekly ticket sales will also be held throughout the exhibition's run, beginning July 16 at 9 a.m.

"This is different from your normal museum experience," adds Thuring. "It's a multidimensional experience where you, as a visitor, really become a part of the works."

Cleveland Museum of Art
11150 East Blvd., Cleveland 44106, 216/421-7350, clevelandart.org
Hours: Tues., Thurs., Sat. & Sun. 10 a.m.–5 p.m., Wed. & Fri. 10 a.m.–9 p.m.
Admission: Tickets for "Yayoi Kusama: Infinity Mirrors" are $30 for adults, $15 for children 6–17 and free for children 5 and under (limit 2 children up to age 17 per adult ticket). All tickets must be purchased in advance either by phone or online.