Arts
The Wit and Wisdom of Erma Bombeck
The words of the renowned humorist and Ohio native come to life this spring at
Cincinnati Playhouse in the Park.
May 2017 Issue
BY Linda Feagler | Photo by C. Stanley Photography
May 2017 Issue
BY Linda Feagler | Photo by C. Stanley Photography
Among the idyllic memories playwrights Margaret and Allison Engel have of growing up in Chagrin Falls, there's one the twin sisters still chuckle about. "Our mom would get home from work about the same time we'd get home from school," Margaret recalls. "Allison and I would grab the comics page from that morning's Plain Dealer and flop down on the floor with it. Meanwhile, our mother would be sitting at the dining room table reading Erma Bombeck's column and laughing so hard she could barely speak. After she was finished, we'd take a look and be engulfed in laughter, too."

The Engels aren't alone in their admiration for the Dayton humorist. During a career that spanned more than 30 years, her thrice-weekly musings on the universal foibles of family life were published in 900 newspapers across the country, garnering a legion of 30 million readers. Bombeck's flair for the funny explored such eclectic subjects as socks that disappear in the washing machine, leftovers that refuse to die, the newfound wonders of disposable diapers and the hodgepodge of items buried in the household junk drawer.

In addition to her column, titled "At Wit's End," Bombeck wrote for Good Housekeeping, Reader's Digest, Redbook and McCall's; and authored a dozen best-selling books including The Grass is Always Greener Over the Septic Tank; If Life is a Bowl of Cherries, What Am I Doing in the Pits?; and Family: The Ties that Bind ... and Gag!

For more than a decade, she was a regular commentator on "Good Morning America" and a frequent guest on "The Tonight Show Starring Johnny Carson." Bombeck created, wrote and produced the ABC television series "Maggie" and saw The Grass is Always Greener Over the Septic Tank turned into a CBS made-for-television movie starring Carol Burnett and Charles Grodin.

May 6 through June 24, Cincinnati Playhouse in the Park is presenting "Erma Bombeck: At Wit's End," a one-woman show celebrating her prolific brilliance. Written by the Engel sisters and starring Barbara Chisholm, the play chronicles Bombeck's experiences as a stay-at-home mother of three, along with her stratospheric fame as a journalist, the staunch support she lent to the Equal Rights Amendment, and her unfailing ability to find comedy even as she battled breast cancer and the kidney disease that ultimately claimed her life in 1996.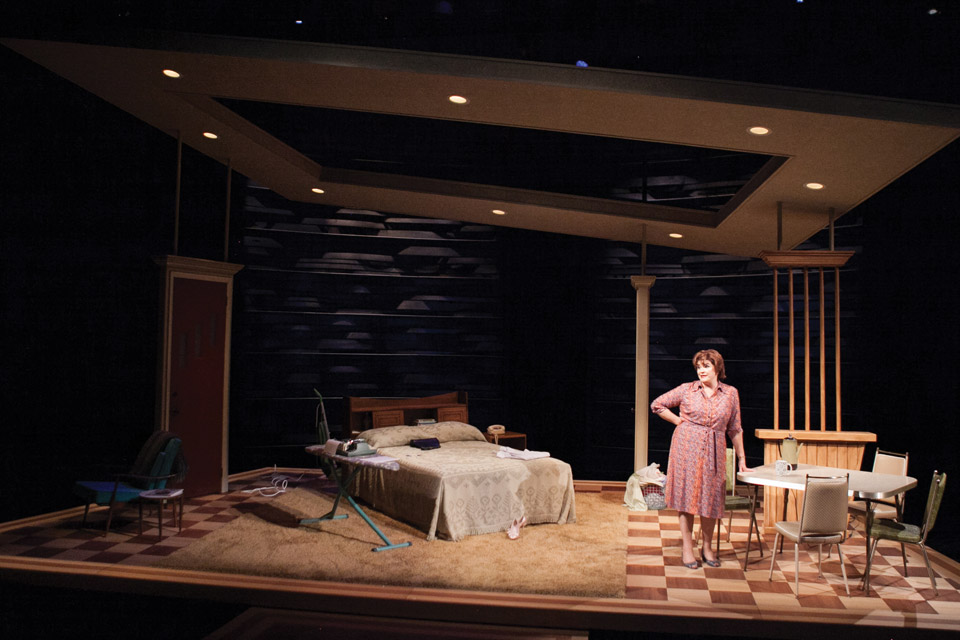 "Erma's humor is timeless," Allison Engel says. "So much of it is about relationships and the push and pull women feel as they try to balance career and family that's still valid today. Erma never pretended she had the perfect life and wrote about experiences we can all relate to. Readers loved her because they could say, 'I thought it was just me. Now, I know
it's everyone.' "

***

Born in 1927, Erma Louise Fiste began showing signs of her burgeoning talent while penning a humor column for the Emerson Junior High School newspaper.

Upon graduating from Patterson Vocational High School in 1944, she worked as a copygirl at the Dayton Journal-Herald, squirreling away tuition money to attend the University of Dayton. After earning a Bachelor of Arts degree in 1949, she was hired as a full-time writer at the newspaper and married college sweetheart Bill Bombeck. The couple moved to the Dayton suburb of Centerville in 1955.

"As much as she enjoyed being married and raising children, Erma was burning to be a writer, had gone to college to be a writer and had not expressed that part of her," Margaret Engel says. "She was stung by activist Betty Friedan's claim that housewives in America weren't living up to their full potential. That really hit a chord with her. So as soon as her youngest went to kindergarten, she started writing at age 37."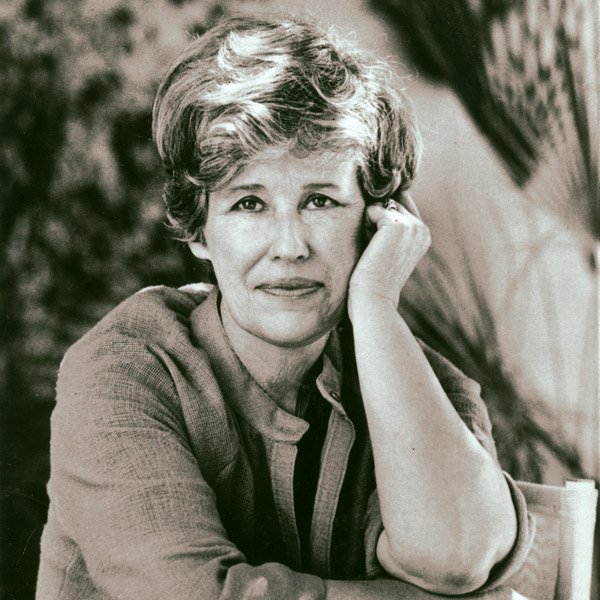 Bombeck earned $3 a week for her early discourses, published in the Kettering-Oakwood Times in 1964. The following year, newspapers across the United States began taking notice and publishing her column. Fame quickly followed.

"The kids, not her career, always remained the center of Erma and Bill's lives," Margaret says. "By the time her children returned home from school, she would be finished writing for the day, the office door would be shut, and she'd be a mom again. Erma wouldn't have it any other way."

***

Allison and Margaret Engel are no strangers to the frenetic world of journalism. A former reporter for the San Jose Mercury News, Allison received her Master of Arts in screenwriting from the University of Southern California. Margaret's work has appeared in Lorain's The Morning Journal, The Washington Post and The Des Moines Register.

In 2000, the siblings collaborated on Food Finds: America's Best Local Foods and the People Who Produce Them and helped turn the book into a Food Network show that ran for seven years.

When celebrated newspaper columnist Molly Ivins died in 2007 from breast cancer, the pair chose to eulogize her on stage by writing "Red Hot Patriot: The Kick-Ass Wit of Molly Ivins," which premiered at the Philadelphia Theatre Company in 2010.

Bringing Bombeck's story to the stage, Allison explains, was the ideal successor to the Ivins play.

"[Margaret] and I believe both of these women need to be remembered," she says. "We also liked the idea of writing a show for an actress over 50 because there are very few one-woman plays out there starring a female over 50 as a protagonist who is portraying a complicated, interesting, funny person."

Like the Engel sisters' mom did, Barbara Chisholm's mother introduced her daughter to Bombeck's humor at an early age. The actress, who is best known for her roles in the films "Boyhood," "Fast Food Nation" and "Broke Sky," relishes the opportunity to bring Bombeck's wit to life on stage.

"Great writers write about what they know, and Erma wrote about her life — which was so many women's lives — with affection and honesty," Chisholm says. "She was one of the few writers at the time who admitted that kids can drive you nuts and going all day without adult conversation can make you crazy. But Erma said it in a way that also honored the importance of the work stay-at-home mothers were doing."

The humorist's legacy continues to burn brightly. The Erma Bombeck Writers Workshop at the University of Dayton offers scribes of all skill levels the chance to hone their craft in humor and human-interest writing in seminars ranging from how to pitch a story and finding an agent to turning a blog into a book and developing your own voice. Held biennially since 2000, the 10th workshop is slated for April 5 through 7, 2018. The 2016 event, which sold out within six hours, was attended by 400 writers.

"Erma heard the words 'you can write' here at the University of Dayton, and they sustained her," says workshop director Teri Rizvi. "We offer the same encouragement and support. I know Erma would have loved this."

Cincinnati Playhouse in the Park
962 Mount Adams Circle, Cincinnati 45202
513/421-3888, cincyplay.com
"Erma Bombeck: At Wit's End," runs May 6 –June 24; visit website for show times and ticket information.

***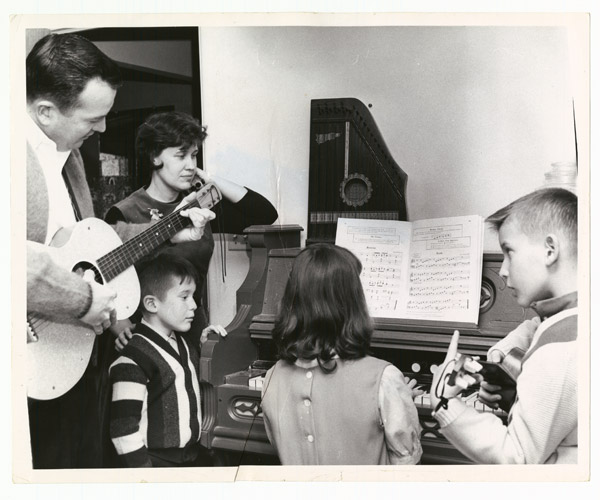 Mother's Way
Erma Bombeck's son Matt Bombeck shares some of his favorite one-liners from his mom's work.

To her readers, Erma Bombeck was a bastion of humor. But to Los Angeles screenwriter Matt Bombeck, she was simply mom.
"No matter how famous she became, mom always put us first and was very present in our lives," says Bombeck, 58. "So much so that when someone in elementary school asked me what my mom did, I said she was a 'syndicated communist' rather than 'syndicated columnist.' "
Bombeck adds that his mother's sense of honesty and fairness resonated with her fans.
"When people ask me what mom was really like, I tell them that she was the person they saw on TV and in her books and columns," he says. "There was no pretense about her. She felt she had an average life as a housewife raising kids, and she wanted to write about it."

Here are four of Matt Bombeck's favorite Erma-isms:
If you can't make it better, you can laugh at it.

When your mother asks, 'Do you want a piece of advice?' it is a mere formality. It doesn't matter if you answer yes or no, you're going to get it anyway.

Seize the moment. Remember all those women on the Titanic who waved off the dessert cart.

When my kids become wild and unruly, I use a nice, safe playpen. When they're finished, I climb in.