Arts
'The Poetry of Nature' in Cincinnati
The Taft Museum of Art features an exhibition of Hudson River School landscape paintings that depict the power and grandeur of the world around us.
November 2019
BY Linda Feagler | Photo courtesy of New York Historical Society
November 2019
BY Linda Feagler | Photo courtesy of New York Historical Society
Among the 41 oil paintings in "The Poetry of Nature: Hudson River School Landscapes from the New-York Historical Society" is one associate curator Tamera Lenz Muente wishes she could step into. Painted by Albert Bierstadt in 1886, "Autumn Woods, Oneida County, State of New York" is a splendid ode to the brilliant palette that makes fall Muente's favorite season.

"It's this spectacular explosion of glorious color I wait for every year," she says, as her eyes sweep over the 54-by-84-inch canvas. "But it's also a melancholy time because the leaves are falling, the air is getting cool, and although we know it is temporary, everything will soon die. It's this quick passing of beauty that makes the season all the more special.

"The landscape painters we are presenting," Muente adds, "understood that power of nature year-round."

On exhibit at Cincinnati's Taft Museum of Art through Jan. 12, "The Poetry of Nature" offers a majestic retrospective of natural wonders that inspired the formation of the Hudson River School, a movement of 19th-century American artists who embraced the romanticism of panoramic vistas in the Hudson River Valley and surrounding areas — including the Catskills, Adirondacks and White Mountains — and were dedicated to capturing them on canvas.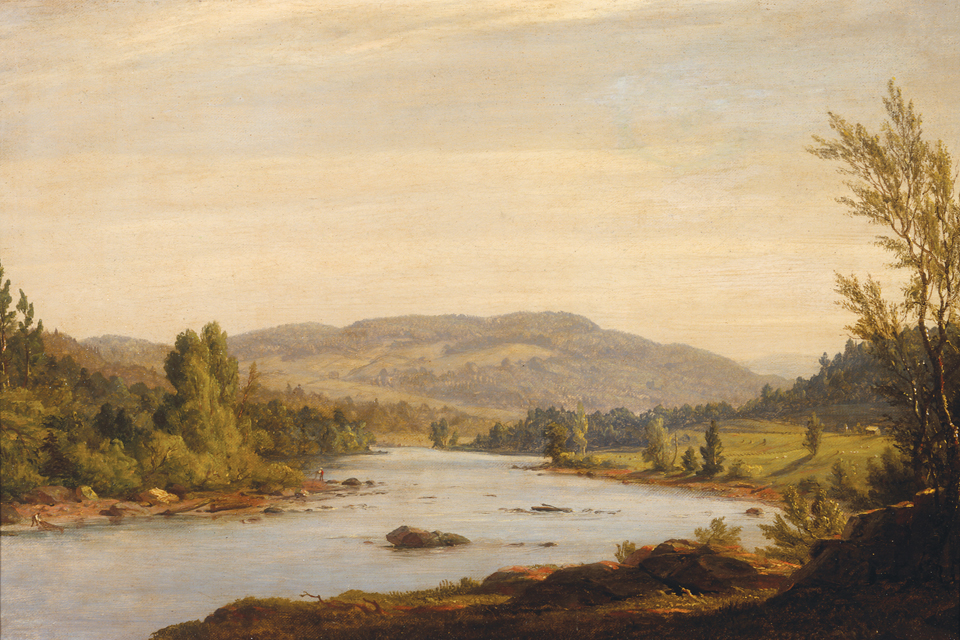 Some scholars believe an art critic who thought the subject matter was old-fashioned coined the movement's name, although the phrase quickly lost its negative connotation. Works by succeeding generations of artists associated with it expanded to include Canada, the American West and South America.

Although he wasn't born here, Thomas Cole is credited with launching this aesthetic style of painting, considered to be the first major art movement originating in the United States. The Lancashire, England, native and his family immigrated to America in 1819 when he was 18 and settled in Steubenville, Ohio, where Cole worked in his father's wallpaper factory before heading to Philadelphia to pursue a career in art.

After relocating to New York City in 1825, he became smitten with the pristine terrain filling the Hudson River Valley and moved there the following year. In addition to Cole and Bierstadt, other landscape artists who found inspiration from the palatial setting include George Henry Boughton, John Frederick Kensett and Asher B. Durand, whose works are also featured in the exhibition.

"Most of the members of the Hudson River School were based in New York City at a time when it was growing," Muente says. "The Industrial Revolution was happening, and the city was becoming hectic and dirty. These artists discovered they could have an incredibly tranquil experience in nature just by getting on the Hudson River and traveling north. Looking at their paintings also brought respite to people living in the city who could not get away."


Though famous for his images of American vistas, Thomas Cole also painted subjects from antiquity, literature and the Bible and imbued his works with symbolism. "Mountain Scenery," Muente says, reflects the artist's fascination with terrain as both an aesthetic and a narrative device.

"Cole based the painting on the sketches he made out in the field, but when he began working on it in his studio, he added touches that carried a moral message," the curator explains, pointing to the peaks depicted to dwarf other aspects of nature around them. "The elements of nature are so overwhelming and so awe-inspiring in this painting that it almost inspires a little bit of terror in anyone who looks at it. If you imagine yourself in that space, you'll feel very small."

Muente contrasts Cole's imposing style with that of Asher B. Durand, a protégé who became the leader of the Hudson River School movement after Cole's death in 1848. Unlike Cole, Durand adhered to faithfully reproducing every aspect of the natural world, down to the tiniest detail. She cites "Group of Trees," as an example of the "almost anatomical knowledge" the artist had of geological and organic formations including the boulders, trees and riverbanks that became hallmarks of his work.

"He captured every nuance in different kinds of leaves and bark in his paintings, so you know exactly what kinds of trees he was studying and then painting," Muente says. "Durand was a real champion of artists going into nature and painting directly from it. He told younger painters that studying nature was more important than studying works by the Old Masters."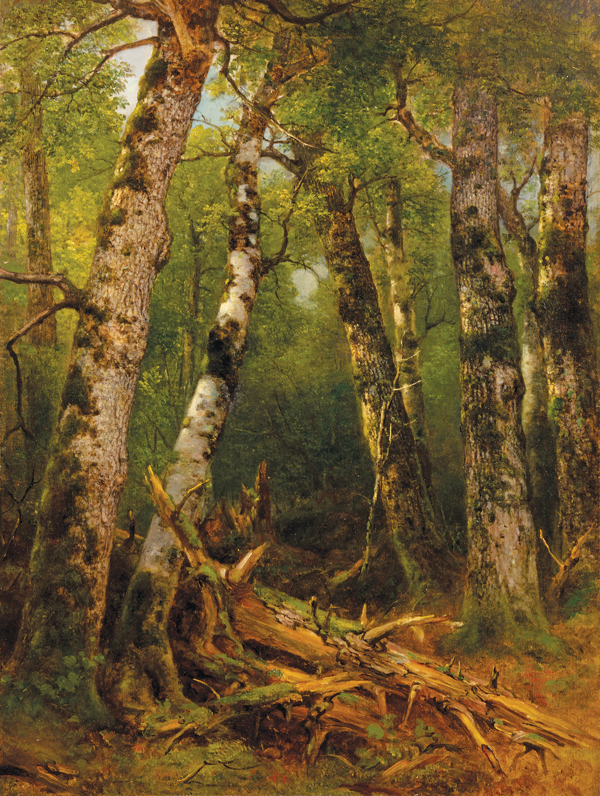 Although most of the exhibition's paintings span 1825 through 1866, several predecessors are showcased, including "Niagara Falls," an 1818 oil painted by Louisa Davis Minot recently discovered in the New-York Historical Society's collection.

"This is a true gem," Muente says. "There were female painters back then, they've just not been remembered and their work has not been preserved or talked about as much as paintings by men. Much of it has to do with the fact that being an artist was not considered an appropriate profession for women back then."

Although not much is known about the personal life of this mother of five, Minot did keep detailed accounts of her artistic sojourns to the falls, a passage of which is cited in the exhibition: "The roar deepened, the rock shook over my head, the earth trembled. … It was some time before I could command my pencil." In the oil painting, Minot captured an eye-level view of the torrents of plunging water and the mist gathering at the base. A closer look reveals the pair of men perched on a rocky promontory, which emphasizes the spectacle and immense force above them.

"These artists were clearly thinking about the importance of nature in their lives as they saw forests being cut down for land development and the construction of railroads," Muente says. "They wanted to show people the importance of these places and the need for preservation. I hope this show inspires everyone who sees it to consider the importance of nature, not only in their own lives, but in our culture as well."

Taft Museum of Art
316 Pike St., Cincinnati 45202, 513/241-0343, taftmuseum.org
Hours: Wed.–Fri. 11 a.m.–4 p.m., Sat.–Sun. 11 a.m.–5 p.m.