Arts
The Art of Alphonse Mucha
The artist depicted beautiful women and elegant lines in clever, highly prized advertisements. The Dayton Art Institute features 75 of his works through Dec. 31.
November 2017
BY Linda Feagler | Artwork courtesy of the Dayton Art Institute and the Dhawan Collection
November 2017
BY Linda Feagler | Artwork courtesy of the Dayton Art Institute and the Dhawan Collection
Katherine Ryckman Siegwarth saw the poster at a consignment shop in Phoenix and knew she had to have it. The assistant curator of collections and exhibitions at the Dayton Art Institute was 14 at the time and immediately drawn to the wispy romanticism evoked in artist Alphonse Mucha's "Bières de la Meuse." The reproduction of a color lithograph Mucha created in 1899 depicts a young woman casually holding a frothy stein of beer.

"Like many teens, I went through a fascination-with-Paris phase," Siegwarth says. "For me, this image represented all the vibrant beauty the city had to offer."

But it wasn't until she was studying art history at the University of Arizona that Siegwarth learned Mucha was a Don Draper of his day: The fetching image that hung over her bed for so many years was really a cleverly crafted advertisement for the brews produced in France's fertile Meuse River Valley region.

"It's only when you take a closer look that you realize the floral crown in the woman's hair is made of poppies, barley and hops, which represent an additional level of advertisement for the beer she is imbibing," Siegwarth says with a chuckle.

An original "Bières de la Meuse" lithograph is one of 75 works showcased at the Dayton Art Institute through Dec. 31 in "Alphonse Mucha: Master of Art Nouveau — Selections from the Dhawan Collection." The retrospective, presented by Los Angeles-based collector Raj Dhawan, showcases Mucha's role in shaping the look of late 19th-century and early 20th-century French art nouveau — a period characterized by long, organic lines in architecture, interior design, jewelry and posters.

"Many people are familiar with Mucha's style, which depicts a singular figure, often a beautiful woman, against a halolike background. But sadly they're not familiar with the artist's name," Siegwarth says. "As time goes on, the images remain but his story has fallen by the wayside."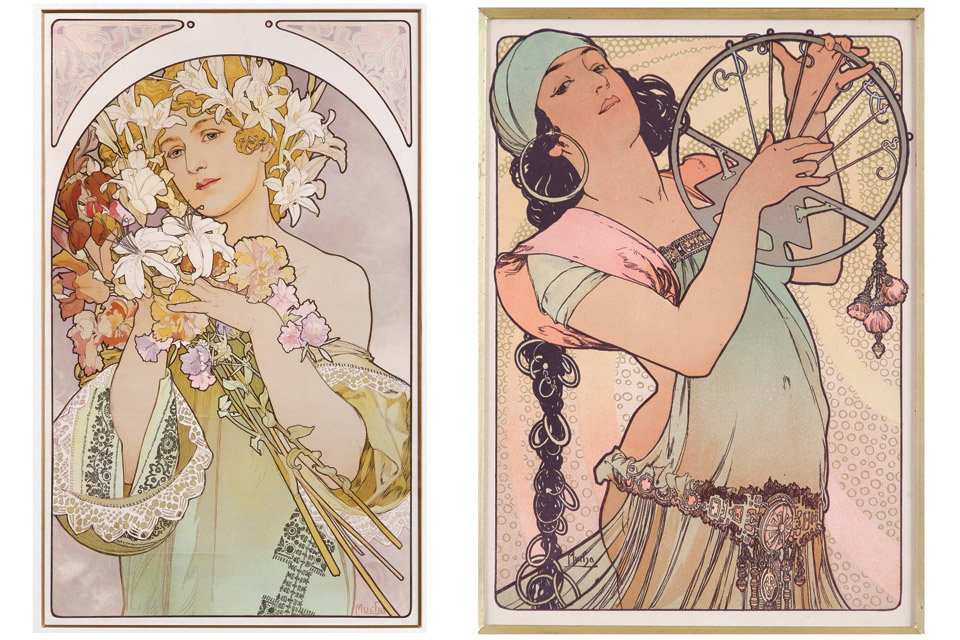 Born in 1860 in the town of Ivančice in Moravia (currently a region of the Czech Republic), Mucha showed a flair for drawing and, at age 27, relocated to Paris where he eked out a living creating illustrations for magazines and books.
His fortunes changed on Dec. 26, 1894. While working at a friend's print shop, a rush order arrived to produce a theatrical poster for "Gismonda," a four-act Greek melodrama starring acclaimed French stage actress Sarah Bernhardt. Since all the regular artists employed at the shop were on holiday break, Mucha seized the opportunity to create the placard.

"The poster for 'Gismonda' — one of the images of Bernhardt featured in the exhibition — became an overnight sensation when it hit the streets of Paris that New Year's," Siegwarth says. "Parisians loved it so much they bargained with the people hired to put them up around town, trying to get clean copies. Others took razor blades in the dead of night and tried to take them off walls for keepsakes.

"Sarah Bernhardt loved it so much she signed a six-year contract with Mucha to have him design not only additional lithographic advertisements for her plays, but also stage and costume designs for them. The actress became a huge promoter of his abilities and really helped bring him to the forefront of design."

The catalog accompanying the exhibition includes several critics' reactions to the release of that initial Bernhardt poster. One describes the image as "a mosaic on the wall … a creation of the first order. … It is wealth thrown open-handed on the dubious whiteness of our city's walls." Another reviewer was mesmerized by the subtle color schemes and aesthetic complexity of the design.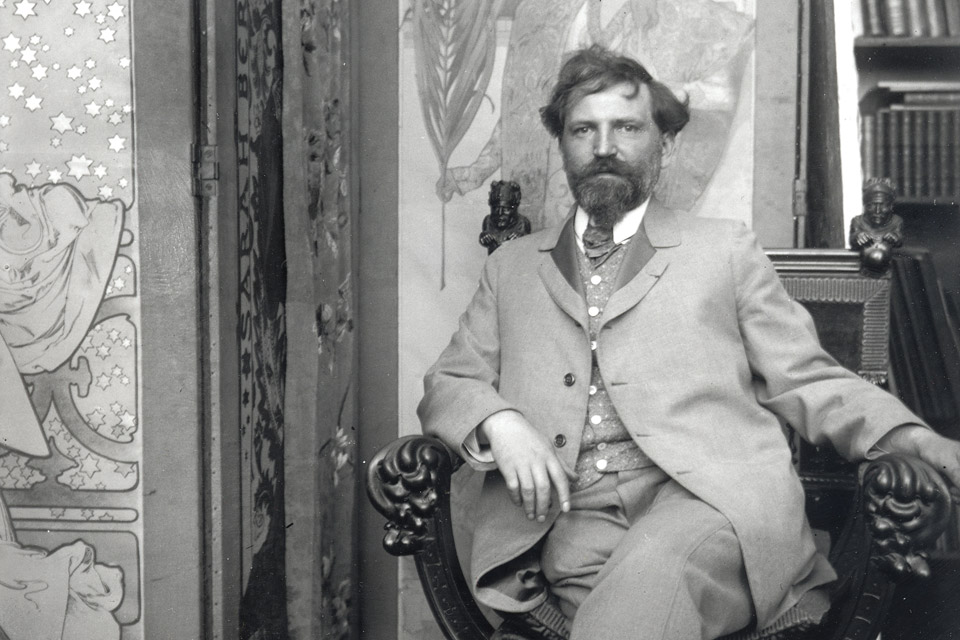 Mucha's models were the beauties of the times," Siegwarth says. "Anyone living today knows the popularity of using attractive women in advertising campaigns. The artist is definitely using a very specific strategy to entice his audience for the sale of whatever product he is promoting."

"Monaco, Monte-Carlo, Variant 1," is an exquisite example of that approach. Designed for a railroad client, the lithograph Mucha created in 1897 captures the beauty of Monte Carlo — a destination accessible by the railway. In it, a stunning young woman is surrounded by flowers shaped like train wheels.

But, the curator says, they're so much more than that.

"Although a railroad commissioned this design, it's also worth noting that in addition to seeing spokes, you also see a glimpse of the Monte Carlo cityscape in the background, and what do you do there? You gamble. Which asks the question: Is it a railroad wheel or a roulette wheel? I think it could be both. Subtlety is the genius of Mucha's work."

Perfecta bicycles were made in England but were popular in France, and Mucha's appealing poster undoubtedly helped the company's bottom line. "Cycles Perfecta," a lithograph the artist unveiled in 1902, captures the freedom of the road and exudes a sense of movement in the cyclist's wind-swept locks and flowing casual attire.

Although the exhibition includes Mucha canvases depicting the history of Slav people, as well as postage stamps and money he designed for Czechoslovakia, Siegwarth says it's the artist's femmes fatales who hold court.

"We get a glimpse of an intriguing time when many Parisians enjoyed a sumptuous lifestyle," Siegwarth says. "Mucha not only promoted that way of life but ushered in an entirely new art movement. The images are as fresh today as they were when the artist created them. Everyone is going to love this show."

Dayton Art Institute
456 Belmonte Park N., Dayton 45405, 937/223-4278, daytonartinstitute.org
Hours: Wed., Fri. & Sat. 11 a.m.–5 p.m., Thur. 11 a.m.–8 p.m., Sun. noon–5 p.m.
Admission: Adults $14, seniors 60+ and students 18+ with ID $11, children 7–17 $6, children 6 and under free