Arts
Survivor Story
The Columbus Museum of Art features artist Esther Nisenthal Krinitz's beautiful and haunting tapestries.
May 2015 Issue
BY Linda Feagler | Art Courtesy of Esther Nisenthal Krinitz
May 2015 Issue
BY Linda Feagler | Art Courtesy of Esther Nisenthal Krinitz
Esther Nisenthal Krinitz filled her intricate fabric collages with images of the bucolic fields and forests she remembered from her childhood in Poland. In "Swimming in the River," two of her sisters tend the geese along the water's edge. "My Brother Ruven" pays homage to the artist's sibling, whom she depicts eating a bowl of borscht outside the family's horse barn.

But a closer look at her stitches reveals the devastating story they were designed to tell. Although Krinitz's illustration of "Janiszew Prison Camp" appears to be a picturesque look at cows grazing in a field, the title of the work refers to the death camp on the other side of the meadow where Jewish youths were beaten and shot. And the trees resplendent with autumn foliage in "Digging Tank Trenches" bear witness to the violence below: Nazi soldiers force children at gunpoint to dig a route that will accommodate army equipment.

Through June 14, the Columbus Museum of Art is presenting "Fabric of Survival: The Art of Esther Nisenthal Krinitz." The 36 tapestries on display depict the life the artist and her sister endured to survive the Holocaust during World War II.

"There's an innocence to Esther's embroidery that's so honest," says the museum's adjunct curator Carole Genshaft. "She did not make the scenes overly dramatic or exaggerate them in any way, which adds to the power of the pieces."

The artist — who immigrated to Brooklyn, New York, in 1949 with her husband, Max Krinitz, and their daughter, Bernice — completed her first panel in 1977, shortly after her 50th birthday. Over the next two decades — until her death in 2001 — she sewed additional vignettes documenting her will to survive during the Nazi Party's reign of terror.

"Esther's early images center on the holidays Shavuot, Rosh Hashana and Passover. They remind me of how rich and joyous the lives of Jews living in Poland could be before the war and give a feeling of what was lost," says Genshaft, who is Jewish.

But the artist's hand-embroidered description on the bottom of her 14th collage, "Prelude to the Final Solution," describes the inhumanity that would ultimately intensify: "September 1942. … At dawn, the Gestapo made a surprise raid and in our nightshirts, lined us up by the river and terrorized us with their guns as our Polish neighbors looked on."

"This is so striking," Genshaft says. "Can you imagine how frightened Esther and her family were? Seeing this brings the horror home. The ghostlike figures seem to foretell what is to come."

Born in a thatched-roof cottage in the village of Mniszek (near what is today known as the city of Annapol) in central Poland, Krinitz treasured the afternoons spent swimming in the river and learning to walk on stilts, which she depicted in her needlework. But those days quickly disappeared: As Nazis began murdering Jews throughout Germany, Austria and Czechoslovakia, residents of the tiny town knew they would be next. The artist described that dread in her 17th collage, "Ordered to Leave Our Homes." "This was my family on the morning of October 15, 1942. We were ordered by the Gestapo to leave our homes by 10 a.m. to join all the other Jews on the road to Krasnik railroad station and then to their deaths."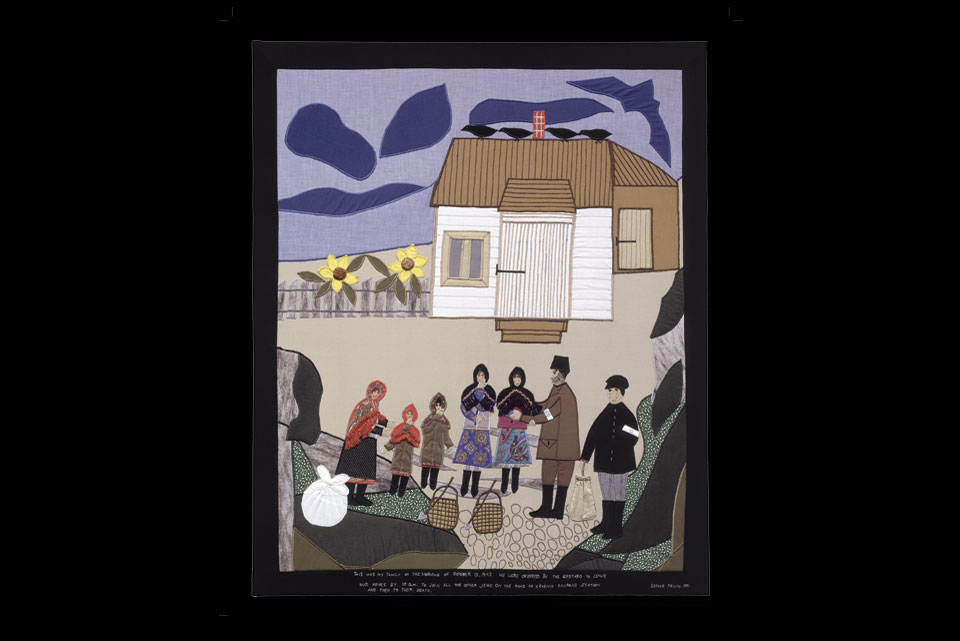 The night before, 15-year-old Esther had pleaded with her parents to send her to someone who would provide shelter. The next morning, she and her 13-year-old sister, Mania, separated from their family and headed to friends in a nearby village. After being refused aid, the siblings sought refuge in the forests of Poland.

Disguising themselves as Catholic farm girls, they found work as housekeepers and hired hands. Krinitz illustrated the fear of discovery that pervaded their lives in "The Bees Save Me:" "June 1943, in Grabowka. While I was tending the garden I had planted, two Nazi soldiers appeared and began to talk to me. I couldn't let them know that I understood them, so I just shook my head as they spoke. Dziadek, the old farmer who had taken me in as his housekeeper, came to stand watch nearby, but the honeybees rescued me first, swarming around the soldiers. 'Why aren't they stinging you?' the soldier asked Dziadek as they ran out of the garden."

"Esther chose vibrant colors, but she often added black clouds and crows to symbolize the terrible things that were happening," Genshaft says.

When the Allies liberated Poland in 1944, Krinitz returned to her hometown, only to be told that her family may have been sent to a nearby concentration camp. In "Maidanek," she describes her fruitless search for her parents and siblings: "… I looked through the piles of worn shoes but they all looked the same. After seeing the showers and gas chambers, the crematorium and the giant cabbages growing on human ashes, I joined the Polish and Russian armies stationed there."

Krinitz met her future husband at a displaced person's camp in Germany.

***

My mother never thought of herself as an artist," says Bernice Steinhardt. "But she could sew just about anything. She had an innate sense of color and composition — and a remarkable visual memory. When she decided to create these collages, my mother was not only focusing on her legacy, but was also holding on to her family in the only way she could — by acknowledging the memories she had of them. I think the process was very cathartic for her."

Steinhardt, a former senior executive in the U.S. Government Accountability Office, explains that unlike many Holocaust survivors, her mother never shied away from talking about her life during the war. Krinitz would describe those years to Steinhardt and her sister during days spent watching her make cinnamon rolls, potato kugel and pierogen in the family's sunny Brooklyn kitchen.

"Her stories were fascinating," Steinhardt says. "We saw our mother as a heroine. She and my aunt were hunted, and yet they managed to save themselves from a life-threatening situation."

As her mother's tapestries filled Steinhardt's home, it became clear that their message deserved an audience beyond family and friends. Since the exhibition's debut at the American Visionary Art Museum in Baltimore 14 years ago, it has traveled to two dozen museums around the world, including the Galicia Jewish Museum in Krakow, Poland. Memories of Survival, a children's book about Krinitz's life and work, and a documentary, "Through the Eye of the Needle," are companion pieces to the exhibition.

In 2001, to honor their mother's memory, Steinhardt and her sister, Helene McQuade, founded Art & Remembrance, an educational nonprofit organization dedicated to promoting the use of art and personal memoir as tools to promote healing and awareness of the effects of racism, prejudice, intolerance, bullying and war.

"I hope visitors to 'Fabric of Survival' take away the feeling of what it is like to experience war as one of its victims and the hopelessness that besets people who are caught up in it — including the survivors," Steinhardt says.

But, she adds, the exhibition can also serve as a catalyst for those wishing to share pivotal aspects of their own lives.

"Many people have remarkable stories to tell and are not confident they are important. My mother's story can serve as inspiration for them to unlock their own heart and look inside."

Columbus Museum of Art
480 E. Broad St., Columbus 43215614/221-6801, columbusmuseum.org
Hours: Tues.–Sun. 10 a.m.–5:30 p.m., Thur. 10 a.m–8:30 p.m.
Admission: Adults $12, students over 18 and seniors over 60 $8, students $5. Free on Sun.