Arts
Summer Sojourn
Toledo Museum of Art exhibition explores 300 years of French landscape painting
August 2015 Issue
BY Linda Feagler | Art Courtesy of Toledo Museum of Art
August 2015 Issue
BY Linda Feagler | Art Courtesy of Toledo Museum of Art
The countryside is alive with color. Majestic birches create ethereal patterns of light and shadow in Fontainebleau, and the path to Wargemont is bathed in kaleidoscopic swirls of gem tones that rival the warmth of the summer sun.

But, as Toledo Museum of Art senior curator Lawrence Nichols is quick to point out, beauty is not the only connection between the paintings currently on display in Gallery 18. The pieces provide a glimpse into the long French tradition of depicting scenes from nature.

"The exhibition looks back and it looks forward," Nichols says. "The artists represented here built on the past and, by doing so, communicated with each other over the centuries."

"From the Collection: 300 Years of French Landscape Painting" runs through Oct. 11 at the Toledo Museum of Art. It features 10 works, ranging from Claude Lorrain's 1641 "Landscape with Nymph and Satyr Dancing" to André Derain's 1906 "Landscape." Nichols explains that rather than centering on a particular art movement, the show is a mix of styles that represent varying views of nature.

At one end of the spectrum is Pierre-Henri de Valenciennes, who delighted in embellishing nature by ignoring its flaws. His 1806 "Classical Landscape with Figures Drinking by a Fountain," featured in the exhibition, exemplifies that philosophy.

Initially drawn to the fountain and figures at right, the viewer's eye is then directed past an overhanging tree and across a shadowy crevice and sloping mountain range before finally lighting on the billowing clouds, which complete the harmony the artist sought.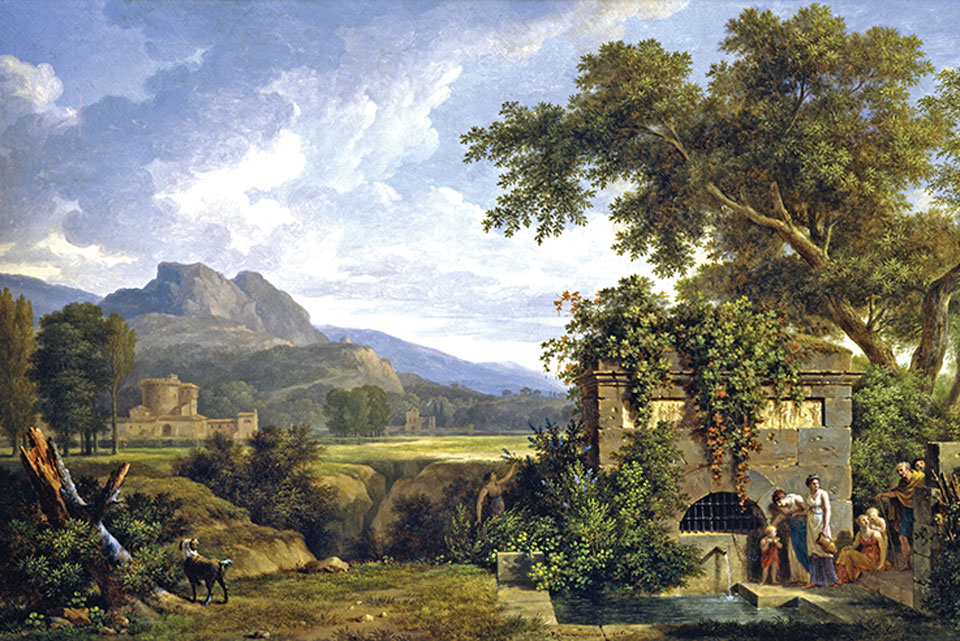 "In his treatise on perspective, published in Paris in 1800, Valenciennes wrote that 'Elevating Nature above itself carries profound and delightful sensations for the soul,' " Nichols says. "It's a sentiment that corresponds with the visual engagement of his landscapes for the viewer."
Claude Lorrain also believed in creating idealized scenes. He opted to fill them with figures taken from ancient history and Greek mythology. In his "Landscape with Nymph and Satyr Dancing," the late afternoon sun falls on a flute-playing shepherd and reclining sprite. The pair holds court beside a crumbling temple set in a glade that's worlds apart from civilization as we know it.
Other artists featured in the Toledo exhibition were clearly not so free-spirited. A leader in the realist movement, Gustave Courbet depicts jagged rock formations and rugged ravines in "Landscape Near Ornans." In the 1864 painting, the artist used quick flicks of his brush to create foliage, followed by a palette knife to sculpt stark limestone cliffs out of thick, white paint.
"Courbet has this wonderful line, 'Show me an angel, and I'll paint it.' In other words, if you can't see it, I'm not going to render it," Nichols says.
The Toledo exhibition marks the museum's debut of "Auvers, Landscape with Plough," painted in 1877 by Charles-François Daubigny and acquired in May.
"Notice how the land dips and rises, how the composition is roughly divided in half between land and sky," Nichols says. "The composition is redolent of an artist who would come later — Vincent Van Gogh."
And, the curator explains, the similarities are understandable.
Van Gogh lived the last two months of his life in the tranquil riverside village where Daubigny died 12 years before. A longtime admirer of his predecessor, Van Gogh wrote his brother Theo that Daubigny's work "if understood, touches us more deeply than one realizes. It must be good to die in the knowledge that one has done some truthful work and to know that, as a result, one will live on in the memory of at least a few and leave a good example for those who come after."
Upon his arrival in Auvers on May 20, 1890, Van Gogh visited Daubigny's widow, Sophie, who still lived in the house she had shared with her husband. The artist received permission to paint the couple's garden. He painted it three times before his death on July 29, 1890.
"I'm hoping that the show inspires artists or could-be artists to go take a photograph of nature or go sketch in nature or go paint in nature," says Nichols. "I also hope that it inspires people to look at fields, woods and waterfalls with new eyes."
Toledo Museum of Art
2445 Monroe St., Toledo 43620
419/255-8000,
toledomuseum.org
Hours: Tues–Wed. 10 a.m.–4 p.m., Thur.–Fri. 10 a.m.–9 p.m., Sun. noon–5 p.m.
Admission: Free