Arts
Still Lifes: Artist Jason Morgan
A Springfield Museum of Art exhibition showcases the painter's alluring and mysterious works.
January 2016 Issue
BY Barry Goodrich | Artwork courtesy of Jason Morgan
January 2016 Issue
BY Barry Goodrich | Artwork courtesy of Jason Morgan
In one painting, a tiny horse stands atop a toy VW bus surrounded by blueberries and parked beside a bundle of asparagus that curves skyward like the trunk of a palm tree. In another, a plastic dinosaur balances precariously on the edge of an eggplant — its mouth nearly touching the stem of a small orange pepper resting nearby.

With a talent for connecting seemingly unrelated objects, artist Jason Morgan's vivid, colorful paintings play on the element of surprise. He presents disparate inanimate objects in ways that entice viewers to gaze deeper into the whimsical, always-mysterious worlds he creates. Morgan is a master of hyperrealism, a contemporary genre of painting that, at first glance, resembles a high-resolution photograph. It is only when viewers look closer that the artist's personal touches are revealed.

"I don't want one of my paintings to look like a photograph," says Morgan. "I want it to look better than a photograph."

The artist's signature still life paintings are on display at the Springfield Museum of Art through Feb. 6. "Full Circle: Paintings by Jason Morgan" offers a broad representation of the Yellow Springs resident's work from the past five years. It features 25 pieces, including a number of paintings on loan from private collections.

Playing with the viewer's sense of scale, size and perspective, Morgan's still life paintings infuse vibrancy into everyday objects, be it an old spool of thread, half an orange or a tape dispenser.

"For him, it's the unexpected — the opportunity to challenge us to look at household items we tend to walk past every day," says Ann Fortescue, executive director of the Springfield Museum of Art. "What the viewer is first drawn to is the collection of objects. The longer you look at each work, the more mysterious details you discover — the mystery is in exploring the composition."

A native of the rural southeast Texas town of Kirbyville, just north of Beaumont, Morgan was drawn to painting at an early age. One day, his older brother brought home the Beatles' "White Album," which featured glossy photos of each band member. "I drew each one of them on to poster board," he recalls.

One of Morgan's earliest works is included in the Springfield exhibition: a painting of a Mack truck he completed at age 10 using enamel paints from a model airplane kit. "My aunt saved it," he says.

The self-taught artist is a longtime admirer of Rembrandt and Caravaggio, two of the first painters he discovered that achieved realism in their works.

"I couldn't believe something that was so old could be so well done," Morgan says. "These were artists who were grinding their own paint and making their own brushes."

The influence of those master painters can be seen in Morgan's work, which utilizes the chiaroscuro technique of contrasting the light and dark areas in a painting to achieve a dramatic affect.

"I always paint from dark to light," he explains. "To me it's the only way that makes sense."

While finding beauty in such classic still life subjects as fruits and vegetables, Morgan gravitates to more contemporary objects.

"I tend to like really dramatic images," he says. "I'm interested in the details of everyday objects that I think are beautiful. One of my favorite things to paint is a steel ball bearing. It's fascinating, and what it's reflecting is interesting, too."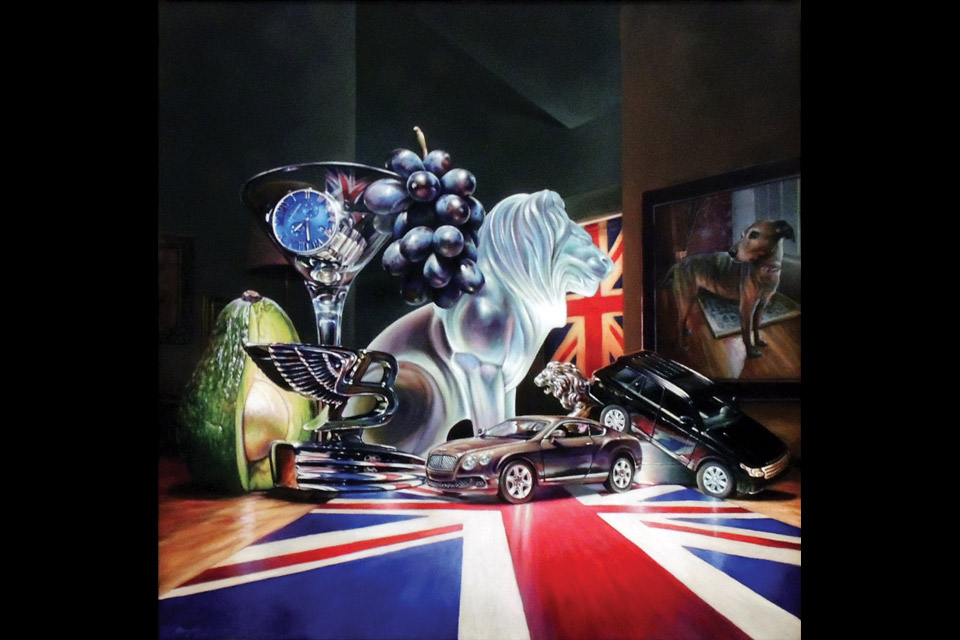 To create each painting, Morgan first meticulously arranges his subjects on a surface and then photographs them with an iPhone or iPad, putting the camera lens as close to the object as possible.

"It's an unusual way of looking at things," Morgan says. "I think it comes from being fascinated with 'The Incredible Shrinking Man' as a kid."

He then projects the images onto canvas with the help of a digital projector, losing about half of the image's clarity in the process. The shapes serve as a guide as Morgan re-creates and interprets the incredible details of the original photo by hand.

The unusual combinations of objects evoke emotions ranging from surprise to nostalgia among those who see them. "It's very endearing to people," Morgan says, adding that many times the objects in his pieces are from their childhoods.

"I see a lot of art, and no one is creating a narrative between objects like Jason," says Michelle Brandt of the Brandt-Roberts Galleries in Columbus, where much of Morgan's work has been displayed since 2012. "There's a playfulness and immediacy to them, but they're also thought-provoking. He's very judicious in what he chooses [to portray]."

Prior to becoming a full-time painter, Morgan worked as a graphic artist for 10 years, meeting his wife, Margaret, at a package-design firm in Cincinnati.

"If it wasn't for her I wouldn't be doing this," he says. "I've learned to depend on her a lot. She's got a great eye and is more artistic than I am. Margaret has always supported my choices, even when I wasn't making any money."

The couple moved to Yellow Springs in 2005, allowing Morgan to concentrate on his work in the small but artistic community. Since then, his artistic talents, which reach far beyond his still-life works, have become known throughout the region.
He painted large-scale public murals in Yellow Springs, Wilmington and Springfield. His 6 1/2-story mural on the old Regent Theatre building in downtown Springfield depicts early vaudeville stars who performed at the venue, while his Heritage Harvesters mural in Wilmington features the faces of several longtime Clinton County farm families.

"It's fun to paint really big things," Morgan says of his mural work. "It's so far removed from the paintings, but the process is almost exactly the same. I always paint the background first and then do the foreground."

Morgan is also an accomplished portraitist and has been known to take up to 1,200 photos of each client before narrowing it down to between 10 and 12 images to work from.

"There is so much nuance in the details of a person's face," he says. "A couple of brushstrokes can make a big difference in how someone looks. I can't tell you how many times women are almost crying by the time they see portraits of their children. I try to get that same emotion and reaction with my still lifes."

Springfield Museum of Art
107 Cliff Park Rd., Springfield 45504
937/325-4673, springfieldart.net
Hours: Wed.–Sat. 9 a.m.–5 p.m., Sun. 12:30–4:30 p.m.
Admission: $5, children under 17 free except for special exhibitions