Arts
'Star Wars' at Cincinnati Museum Center
"Star Wars and the Power of Costume" features an iconic collection of screen-worn wardrobe from George Lucas' space saga.
July 2017 Issue
BY Jim Vickers | All photos copyright and trademark of 2015 Lucasfilm Ltd. All rights reserved. Used under authorization
July 2017 Issue
BY Jim Vickers | All photos copyright and trademark of 2015 Lucasfilm Ltd. All rights reserved. Used under authorization
North of San Francisco, tucked among the hills of Marin County, stands the depository of two generations worth of childhood memories. Here, in a 30,000-square-foot warehouse at Skywalker Ranch, "Star Wars" creator George Lucas safely stores the wardrobe, models and props used to create the first six installments of his iconic space saga.
The Lucas Museum of Narrative Art collection includes items from other films for which Lucas was either the creator or writer — "Raiders of the Lost Ark," "Willow" and "Howard the Duck" to name a few — but 90 percent of it is from "Star Wars," and all of it is under the care of Skywalker Ranch's director of archives, Laela French.
Since May 2001, when French first began working for Lucas, she has also been tasked with devising ways to share the collection with the public, teaming with the Smithsonian Institution Traveling Exhibition Service to present these pop culture treasures in a fun and educational setting.
"Skywalker Ranch is a business location, we don't do tours," she explains. "Exhibits are our way of sharing this with the public."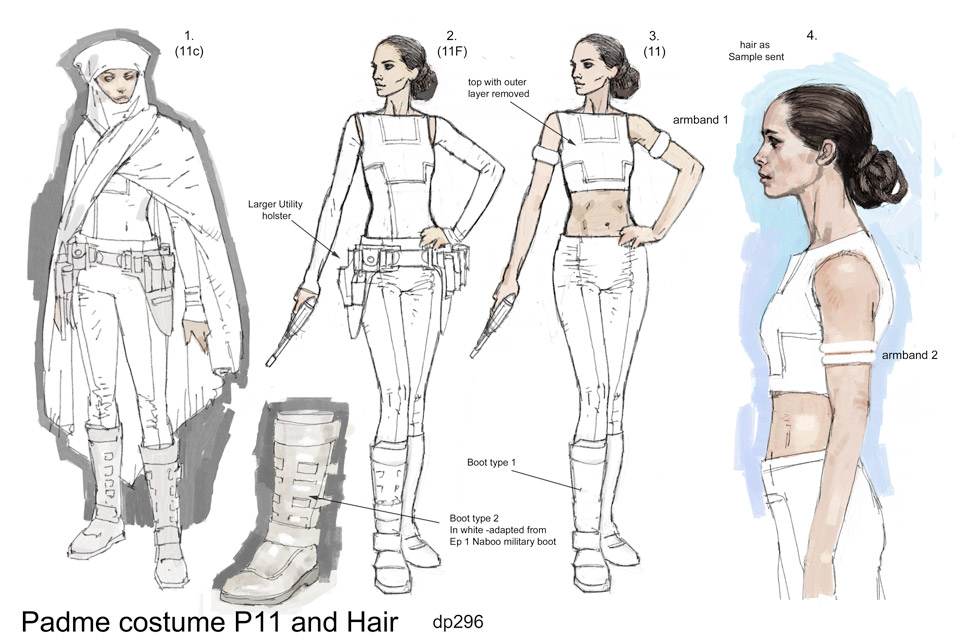 Those exhibitions have ranged from "The Magic of Myth," which explored the mythic themes in Lucas' worlds and characters, to " The Art of Star Wars," which highlighted concept art and creature design. The most recent is "Star Wars and the Power of Costume," an exhibition that opened at the Cincinnati Museum Center on May 25 and will remain on display through Oct. 1.
"We always want it to be more than just 'Star Wars,' " French says of the exhibitions. "We want 'Star Wars' to tell a bigger story, whether it's a science-related story or a mythology-related story or, in this case, the creative process."
"Star Wars and the Power of Costume" showcases the artistry and the influences that went into Lucas' famous films by displaying nearly 70 screen-worn costumes. In many cases, there is accompanying concept art that shows the evolution of wardrobe ideas as they made their way from sketchbook to screen — a process in which Lucas was involved each step of the way.
"I liken him to Steve Jobs," French says. "He's a stickler for every minute detail. Nothing goes by him. Every little thing you see on screen he's vetted and reviewed. Every costume made, he has looked at every fabric swatch and approved it."
"Star Wars and the Power of Costume" is divided into sections, including "Jedi vs. Sith," "Military," "Royalty and Beyond" and "Outlaws and Outsiders." It delves into not only what each costume says about the character who wears it, but highlights the inspiration behind the designs.
French points to Han Solo's wardrobe — a simple costume that reflects the Western serials that Lucas grew up on as a kid in the 1950s — as she begins dissecting what shaped it.
"I know people look at Han Solo and say, 'Oh, he's the gunslinger,' " French says. "But when you really break it down, I don't think people are conscious that his pants are right out of those worn by the Union soldier [during the Civil War]. His shirt is a Gen. Custer shirt. ... If you took off his vest and threw him out in the middle of a Western movie, you wouldn't even notice he was from 'Star Wars.'"

French says Lucas was also inspired by director Akira Kurosawa and his 1954 film "Seven Samurai," drawing on the traditions of the famous Japanese warriors for his cold-hearted villain Darth Vader. The character's costume from "Star Wars: Revenge of the Sith" is part of the exhibition on display at the Cincinnati Museum Center.
"George was very much inspired by Kurosawa and the samurai films," French says. "There was a sense that Darth Vader had this look of a dark samurai with a cape riding on the wind."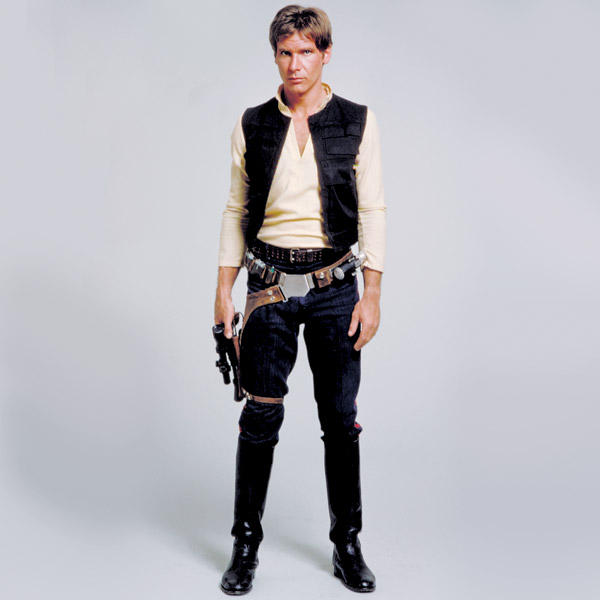 When audiences first saw Luke Skywalker's X-Wing Fighter flight suit in "Star Wars: A New Hope," they may not have realized the look was inspired by the orange spacesuits worn by NASA's Mercury program astronauts during the 1960s.
"When you see him with his jumpsuit, and he's holding his helmet and his gear and you put it next to a Mercury astronaut from the NASA program, they're almost identical," French says. "Kids today are not growing up with the history of the NASA program in front of them, but George did. This was his era. He was a kid of the '50s, so it's a very strong visual in his mind. ... It's almost like an homage."
The exhibition also showcases the sharp contrast between the gritty look of the original trilogy that is set after the fall of the Republic to the prequels that depict an era of royalty and societal hierarchy prior to the rise of Darth Vader and the Empire.
French says up to 100 artists worked on the costumes, from researching the royal dress of civilizations around the globe to making the garments to adding finishing touches like beadwork
Although Disney purchased the intellectual-property rights to "Star Wars" from Lucas in 2012 for a staggering figure of $4 billion, the contents of the archive remained his property. French says Skywalker Ranch helps with reference materials and research for the new "Star Wars" installments Disney is making.
"The directors for the new films come through and do a visual deep dive for a day at the archive and just kind of drink in the history of 'Star Wars,' " she says.
Maybe the most surprising thing about French's job is she's not a "Star Wars" nerd. But that doesn't mean she isn't fascinated by the film series' cultural impact.
"What I appreciate about 'Star Wars' is the longevity of it," French says. "Why is it still important to us? Why are we still talking about it? Why is this still alive and well today, 40 years later?"
She thinks part of the reason is the fact that the original "Star Wars" film came out in 1977, when Americans were still grappling with the aftermath of the Vietnam War and young people were tired of the cowboys-and-Indians Westerns their parents grew up with a generation earlier.
"We needed a new fairy tale and George came along and put 'Star Wars' on the screen," French says. "It was the fairy tale we needed — the mythology that we needed — at the time that we needed it."

Cincinnati Museum Center
1301 Western Ave., Cincinnati 45203,
513/287-7000, cincymuseum.org,
Hours: Mon.–Sat. 10 a.m.–5 p.m., Sun. 11 a.m.–6 p.m.
Admission: $24, seniors $21, children $16