Arts
Pure Imagination
The Columbus Museum of Art showcases the work of illustrators who make picture books worth looking at.
July 2014 Issue
BY Linda Feagler | ART BY
July 2014 Issue
BY Linda Feagler | ART BY
A voracious reader, Carole Genshaft is no stranger to bestsellers of all genres. But it's Robert Louis Stevenson's A Child's Garden of Verses that remains closest to her heart.

"I read that book over and over until it became dog-eared," recalls Genshaft, a curator at the Columbus Museum of Art. "In fact, when I was about 6 years old, it inspired me to compile a little book of poetry on white index cards, which I still have.

"Every time I take my grandchildren to the playground, the words to 'The Swing' go through my mind. And the illustrations by Alice and Martin Provensen are exquisite. They made the poems come to life for me."

Thanks to a new exhibition, Genshaft and visitors to the museum can connect with their inner child once more. Through Nov. 9, "Imagine! The Art of the Picturebook," explores the artistic merits of illustrations found in children's books.

The retrospective features 40 works, ranging from a watercolor by E. Boyd Smith for his 1906 edition of The Story of Pocahontas and Captain John Smith to Chris Raschka's renderings of The Grasshopper's Song: An Aesop's Fable Revisited, written by Nikki Giovanni and published in 2008. Much to Genshaft's delight, the artists who mean so much to her are also showcased: An illustration the Provensens created for Town & Country, the story of life in a big city and on a small farm, is a focal point.

"These pictures cross generations," Genshaft, 65, says. "And, if you've reached the grandparenting stage like I have, you'll see that the exhibit offers a wonderful excuse to introduce the children in your life to your favorites and learn about those you missed."

The curator, who specializes in Judaic art, admits that researching the featured artists and the authors they were associated with was a bit of a stretch. But, she adds, it was time well spent.

"I am amazed at the depth of creativity and imagination," Genshaft says. "The stories and their accompanying illustrations really, really send worthwhile messages. They open up whole worlds of things you might not have given any thought to before."

Leonard S. Marcus, author of Show Me a Story! Why Picture Books Matter: Conversations with 21 of the World's Most Celebrated Illustrators, explains that in addition to being works of art, the books speak volumes about what societal mores and conventions were at the time they were published.

"You can easily see what was and was not acceptable at a given period in history," Marcus says. "For centuries, books were clearly written for white people. Asians were often portrayed as house servants or outsiders. Until the 1960s, there were practically no picture books about children of color in the United States. That's astounding when you consider the fact that our country fought a Civil War and that, since the 1800s, people of color have represented at least 10 percent of the population."

Marcus, who reviews children's books for The New York Times, credits writer and illustrator Maurice Sendak with being a pioneer in painting realistic portraits of juvenile behavior. A pivotal example: Where the Wild Things Are, published in 1963. Sendak's celebrated story centers on a disobedient boy who yells at his mother and as punishment is sent to his bedroom without supper.

"The plot was very unusual for its time," Marcus says. "Up until then, the thinking was that books for young children should present a sunny picture of the child's life."

Although they were initially designed with youngsters in mind, the images showcased in the Columbus exhibition are clearly not child's play. The illustrators have meticulously honed their respective talents to create works that can be admired by anyone.

For Be Not Far From Me: The Oldest Love Story: Legends from the Bible, as retold by Eric A. Kimmel, illustrator David Diaz placed Joseph's coat of many colors in silhouette on a watercolor background. "Diaz's effect suggests the stained-glass windows found in a church or synagogue," Genshaft says.

A master in adding and subtracting, Floyd Cooper is renowned for his oil wash technique that involves painting an illustration — and then erasing it. The ambiance he achieves provides a striking complement to Sandra Belton's story of what's discussed in From Miss Ida's Porch. The tale is designed to acquaint children with the lives of jazz pianist Duke Ellington and opera star Marian Anderson.

"Miss Ida's house is a gathering place for kids as well as adults," Genshaft explains. "So, stories there are often told in hushed tones. Cooper's illustrations reflect that mood. They're beautifully hazy and muted, just like conversations on a hot summer night would be."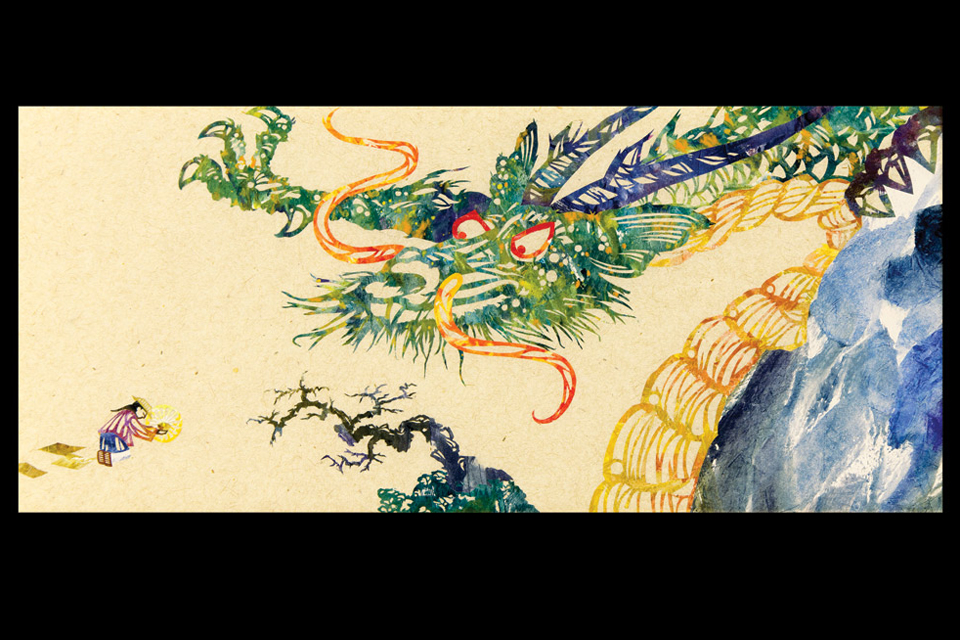 Robert Sabuda made tissue paper the basis for his series of gatefold illustrations for Marguerite W. Davol's narrative, The Paper Dragon. The legend involves a Chinese scrollmaker summoned to return a vengeful dragon to slumber. "Sabuda interpreted not only Davol's words but also the Asian tone and setting," Genshaft says.

Known for the diversity of the characters they portrayed in their illustrations, Leo and Diane Dillon replicated the aura of Persia in Two Pairs of Shoes, penned by P.L. Travers. Renowned for her Mary Poppins series, the basis for a Disney motion picture and later a Broadway musical, the Australian author's 1976 offering is the fable of two Middle Eastern men whose different views of their shabby slippers reveal deep truths about themselves.

The artists portrayed the atmosphere Travers described by using gouache paint, a medium that dries to a smooth, matte finish and a velvety appearance.

"Through depth of field, the Dillons intricately linked the character's current position as assistant to the sultan with his past life as a shepherd," Genshaft explains. "Brilliant colors and lots of detail echo the idea of a king's court and what was going on in the story."

As it did for her, the curator hopes the exhibition will foster an appreciation for these artists, who are not thought of as part of the mainstream.

"I hope visitors will reflect on how important picture books have been in their own lives," Genshaft says, "and to understand the collaboration involved in bringing these stories to life."

WHEN YOU GO
Columbus Museum of Art
480 E. Broad St., Columbus 43215
614/221-6801, columbusmuseum.org
Hours: Tues.–Sun. 10 a.m.–5:30 p.m., Thur. 10 a.m.–8:30 p.m.
Admission: Adults $12, students over 18 and seniors over 60 $8, students $5. Free on Sun.