Arts
Picasso's Evolution
The Columbus Museum of Art examines how World War I led Pablo Picasso to go beyond cubism.
June 2016 Issue
BY Linda Feagler | Artwork copyright 2016 estate of Pablo Picasso/Artists Rights Society
June 2016 Issue
BY Linda Feagler | Artwork copyright 2016 estate of Pablo Picasso/Artists Rights Society
As the summer of 1914 dawned and war clouds gathered over France, artist Pablo Picasso was experiencing a turning point of his own. Seven years earlier, he had excited the art world by introducing cubism, a form of painting and sculpture where subjects are portrayed in geometric shapes representing multiple perspectives.

But as World War I commenced, Picasso began viewing his life and art in a more conservative light. Although living in France, the artist was not called upon to fight because he remained a citizen of neutral Spain. However, as Picasso watched friends go off to war, he couldn't avoid the profound personal impact it made. The artist began refining the visual language of cubism by infusing it with traditional elements of naturalism that would remain until his death in 1973.

From June 10 through Sept. 11, the Columbus Museum of Art explores that evolution with "Picasso: The Great War, Experimentation and Change." Co-organized by the Barnes Foundation museum in Philadelphia, the exhibition features 50 oils, pencil drawings, watercolors and costumes the artist created between 1912 and 1924, as well as paintings by fellow cubists Robert Delaunay and Georges Braque and photos of Picasso and prominent pals snapped by French filmmaker Jean Cocteau.

"Picasso's multifaceted genius is brought to light in this exhibition," says Columbus Museum of Art executive director Nannette Maciejunes. "Throughout his entire life, Picasso was a restless spirit, always searching for something new to try. The period during and after World War I was no exception. It was a time that was clearly disruptive to him. Friends were killed at the front, and many who were not died from the influenza epidemic that followed."

Scholars often attribute Picasso's eventual inclusion of staid elements in his work to the fact that cubism was unjustly linked to Germany during the war because its avant-garde style was perceived as unpatriotic and propagandistic.

In the essay she penned for the "Picasso: The Great War, Experimentation and Change" exhibition catalog, art historian Simonetta Fraquelli explains that Picasso began drawing on elements in the French classical tradition because "it was seen as more loyal and supportive of his adopted country. … However, as he was to affirm later: 'I have not painted the war because I am not that kind of painter who goes about like a photographer for something to depict. But I have no doubt that the war is in these paintings I have done.'"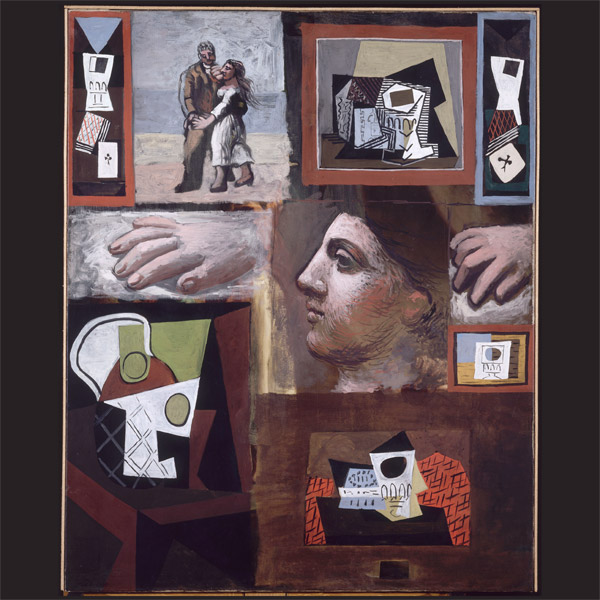 For David Stark, the Columbus Museum of Art's chief curator, Picasso's versatility never fails to amaze.
"Just when you think his art couldn't get any more abstract or difficult to decipher and understand, he changes course and paints the most incredibly realistic images you would imagine," Stark says.
"Pierrot," on loan from New York's Museum of Modern Art and featured in the exhibition, exemplifies that reality. Picasso painted the clown in 1918 in response to the declining health of poet Guillaume Apollinaire. The artist's longtime friend, who never fully recovered from a head wound he received in combat, died of influenza on Nov. 9, 1918, two days before the signing of the armistice agreement that ended the war.
"I love the way this white-costumed clown has the colors of the rainbow," Stark says. "And yet, the sense of melancholy Picasso feels on the death of his friend is readily apparent."
"Studies," on loan from the Musée Picasso in Paris, offers a collage of contrasts that meld the cubist still lifes Picasso was famous for with the classical figures he'd begun experimenting with. The easily recognizable profile of a woman is juxtaposed among cubist images of playing cards and drinking glasses on a table.
"Following World War I, there was a call to order — what the French call
le rappel a l'ordre
— which encouraged artists to draw inspiration from ancient cultures," Stark says. "Picasso honored that idea in his own way. It's not like he said goodbye to cubism. Instead, Picasso alternated back and forth between it and neoclassic realism. The painting is a summation of what the exhibition is all about — the dual nature of his styles."
That touch of antiquity is also evident in Picasso's 1915 work, "Still Life with Compote and Glass," acquired by the Columbus Museum of Art in 1931. The oil painting, which serves as the centerpiece for the exhibition, features an array of visual techniques the artist incorporated into his work, ranging from naturalistic, impressionistic and geometric to faceted and fragmented.
"Here he's playing with cubism by making it decorative to the point where it's almost pretty," Stark says, citing the intricate pattern of a cornice and the grain on a curved table leg, which adds a bit of unexpected beauty. "As much as Picasso's art is bold and daring, it's really his treatment of subjects, not the subjects themselves, that is surprising and innovative."
Clearly the women the artist formed romantic attachments with throughout his life also served as muses.
"Female Nude (I love Eva)," which Picasso created with oil, sand and charcoal in 1912 as a loving homage to his mistress Eva Gouel, is filled with cubist arcs and circles meant to signify hips, eyes, limbs — and the tilt of a nose. The work stands in sharp contrast to "Portrait of Olga," an oil and charcoal painting of his first wife, Ukrainian ballet dancer Olga Khokhlova, which the artist completed in 1920. Using publicity photos as a guide, Picasso used simple lines to depict his spouse's striking features and introspective demeanor.
At Khokhlova's urging, Picasso designed the set and costumes for "Parade," a ballet by Erik Satie, Serge Diaghilev and Jean Cocteau that premiered in Paris in May 1917. Inspired by popular forms of entertainment of the time, including Parisian music halls and American silent movies, the plot centers on the unsuccessful attempt of a troupe of performers to lure audience members to their show.
Some of Picasso's cubist costumes were crafted from rigid cardboard, which allowed dancers minimal movement. But others, such as the ensemble he created for the character of the Chinese conjurer, are made of sumptuous silk satin fabric and silver tissue.
The colorful outfit, which is included in the Columbus Museum of Art exhibition, features cubist elements of geometric patterns and colors that appear to glow. The swirls emblazoned on the tunic represent the smoke and vapors illusionists are known to use in their magic acts.
"As the world continues to mark the centennial of World War I, the exhibition offers visitors a different way to look at the era rather than emphasizing combat," Stark says. "And we're also presenting a side of Picasso many people don't now about — which makes his art more interesting and, in some cases, more to their liking."
Columbus Museum of Art
480 E. Broad St., Columbus 43215
614/221-6801,
columbusmuseum.org
Hours: Tues.–Sun. 10 a.m.–5 p.m.,
Thur. 10 a.m.–9 p.m.
Admission: Visit website for prices