Arts
'Paris 1900: City of Entertainment'
Turn-of-the-20th-century Paris offered a glimpse of a new and changing world. The Cincinnati Art Museum highlights the era with an exhibition organized by the Petit Palais Museum of Fine Arts.
March 2019
BY Linda Feagler | Artwork copyright Musee Carnavalet/Roger-Viollet
March 2019
BY Linda Feagler | Artwork copyright Musee Carnavalet/Roger-Viollet
Peter Jonathan Bell's academic specialty is Renaissance and Baroque art spanning the 15th through 18th centuries. But the associate curator of European paintings, sculpture and drawings at the Cincinnati Art Museum is also drawn to the Paris that existed at the turn of the 20th century.

"It was a time when modernism was knocking at the door," he says. "Decorative arts such as pottery, jewelry and bookbinding were becoming more important, rivaling marble sculpture and oil painting. The middle class was rising, and in terms of fashion, art and performance, Paris was the rival of the world."

From March 1 through May 12, the Cincinnati Art Museum presents "Paris 1900: City of Entertainment," a retrospective of the city's Belle Époque ("Beautiful Era") period of the late 19th and early 20th centuries. Organized by the Petit Palais Museum of Fine Arts and Paris Musées, the exhibition features more than 200 works, including painting, sculpture, glass, furniture and fashion.

Starting with the International Exhibition of 1900 — a world's fair held to celebrate France's achievements of the previous century and showcase the next — the featured objects are presented within six themes: "Paris, Showcase of the World," "Art Nouveau," "Paris, Capital of the Arts," "The Parisian Woman," "The Streets of Paris" and "Paris by Night."

"It re-creates a broad swath of what you would have experienced in Paris in 1900 if you were there," Bell says.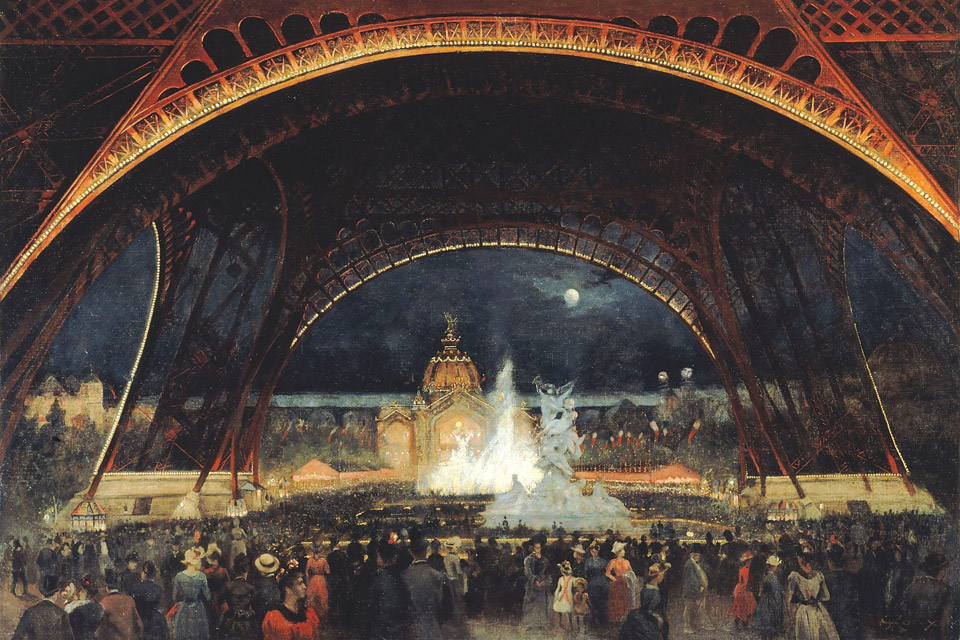 Visitors to the exhibition are greeted by "Allegory of the City of Paris," Louise Abbéma's 1901 oil painting depicting an elegantly attired Parisian woman majestically standing at the bow of a small boat as it floats through an archway emblazoned with the Latin phrase and Paris motto fluctuat nec mergitur, meaning "it is tossed by the waves, but does not sink."

Abbéma focused mainly on portraiture and images of everyday life. Her high-society portraits, executed with a light touch and rapid brushstrokes, reveal the impressionist influences that helped shape the artist's style.

"We thought this was a very fitting way to begin the journey since this is truly a Parisienne, an ideal Parisian woman," Bell says.

Throughout this time period, Parisian women were among the most important elements of the city's appeal. They set the tone in the world of fashion, and their style and manners were imitated around the globe.

In his 1903 oil painting, "Madame René Préjelan," Antonio de La Gandara focuses on his subject's large feathered hat, a fashionable accessory for the time, and accentuates the young woman's S-shaped silhouette.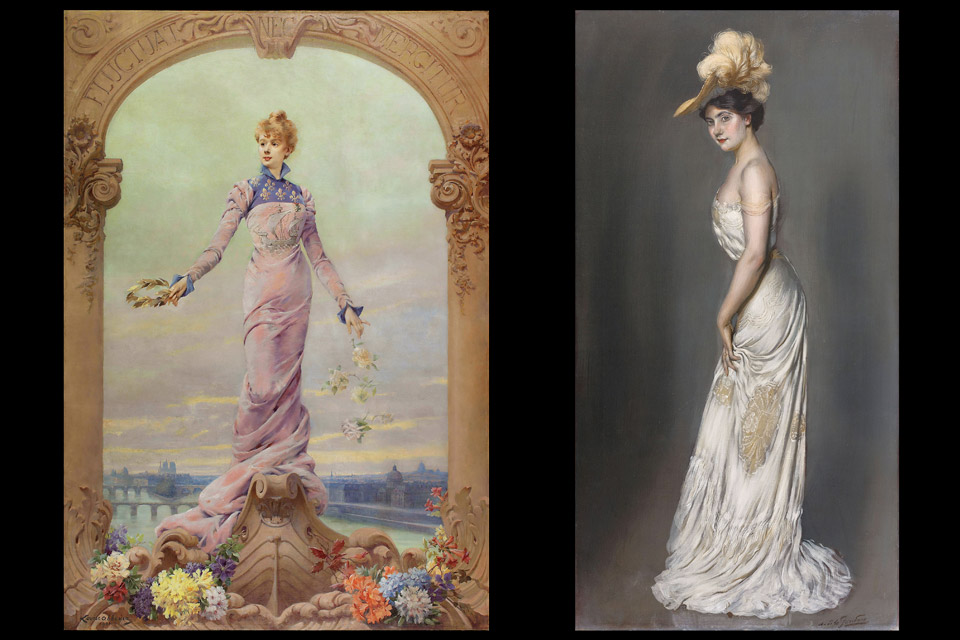 Portrait painter Auguste Renoir presents a softer side of French couture in his 1889 oil "Madame de Bonnières," composed primarily of pastel pink and blue hues.

"From this date onward, anyone who was commissioning a portrait from Renoir would have done so as much to [own a] Renoir as to have a portrait of their family member," Bell says. "The colors Renoir selected play off each other fabulously. But it's also an essay in the trappings of luxury — the gilt table, the impressive bouquet of flowers. It's truly a period piece."

Paris, along with Brussels and Barcelona, was one of the European capitals of art nouveau, a style introduced by artists who drew inspiration from nature and fantasy. Brothers Auguste and Antonin Daum, who inherited their father's crystal studio, often infused their vases with three-dimensional images of creatures including bats and insects.

"I think the Daum 'Beetle Vase' in our show, which was created about 1911, is a side of art nouveau that will really delight our visitors," Bell says. "The translucent colors paired with the elongated vase are exquisite, and the way [the artist] formed the glass vessel so the beetle stands out is fabulous."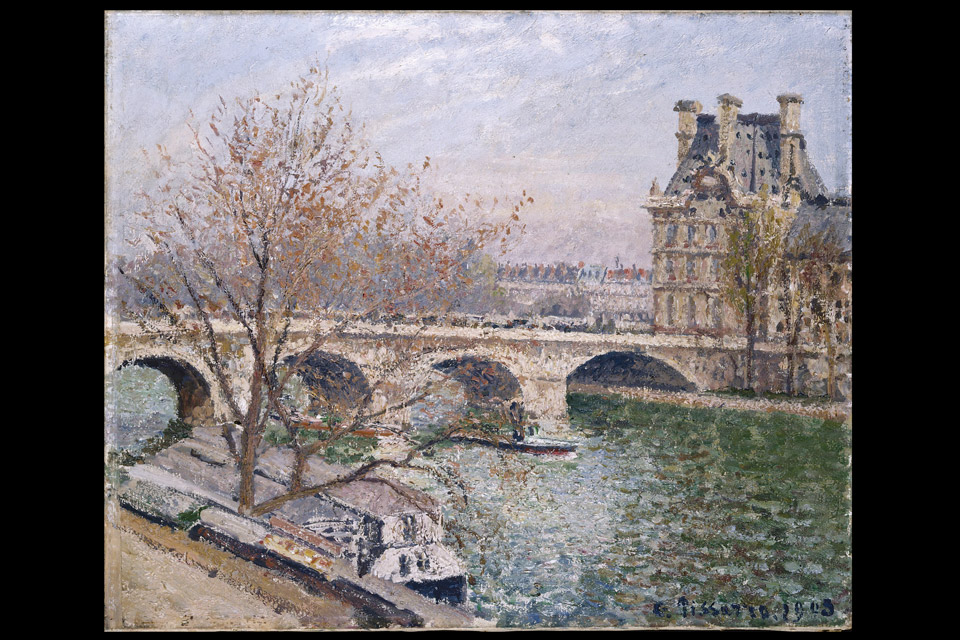 Bell cites Jean-Joseph Carriès as an artist unafraid to push the boundaries of his craft. The ceramist took his cue from folkloric subjects embraced by composer Richard Wagner to create "Frog with Rabbit Ears" in 1892.

"At first glance, this fantastical piece looks whimsical," the curator says. "But the more you look at it, you realize it borders on being dark and disturbing."

Parisian cityscapes by day or night were favorite subjects of painters who watched their metropolis be transformed by architectural wonders such as new train stations, bridges and the Petit Palais Museum of Fine Arts. In "The Pont Royal and the Pavillon de Flore," a 1903 oil by Camille Pissarro, the artist captured a scene featuring an elevated bridge crossing the Seine close to the Louvre. The urban setting the artist chose is juxtaposed with the tranquil interplay of light and water.

By night, Paris was a magnet for artists and actors, as well as those ready for a night at the opera or a bit of revelry at the cabarets dotting the city.

In 1909, Léopold Mourier, owner of Le Pré Catelan, the celebrated restaurant still in operation today, commissioned painter Henri Gervex to replicate a scene from Parisian high society.

" 'An Evening at the Pré-Catelan' is a showstopper," Bell says. "It immediately transports you back in time. I love this painting for the scale and dramatic sense of this late-night dinner at the best place in town. In this painting, Gervex is not just creating a feeling, he's actually depicting real people from Parisian society, including French socialite Duke Hélie de Talleyrand-Périgord, his wife, American heiress Anna Gould; and a Folies Bergère dancer and courtesan posing in the center window."

Alexandre-Georges Roux, best known for the illustrations he created for Jules Verne's science-fiction stories, honored the newly completed Eiffel Tower in his 1889 oil, "Nighttime Festivities at the International Exposition of 1889 under the Eiffel Tower." He captures the grandeur of the tower's base and the celebratory air of those who attended the event held to commemorate the 100th anniversary of the French Revolution.

"The variety of works we're presenting will let our visitors become immersed in an era that, by all accounts, is one of the great moments of the history of art and visual culture," Bell says.

Cincinnati Art Museum
953 Eden Park Dr., Cincinnati 45202,
513/639-2995, cincinnatiartmuseum.org
Hours: Tues.–Sun. 11 a.m.–5 p.m., Thur. 11 a.m.–8 p.m. ("Paris 1900"free 5–8 p.m.)
Admission: Adults $12; seniors, college students and children 6–17 $6; children 5 and under free