Arts
Natural Order
Five artists appearing in Columbus this month discuss how the patterns and processes found in the world we share have shaped their work.
June 2014 Issue
BY Linda Feagler | ART BY
June 2014 Issue
BY Linda Feagler | ART BY
An event that began as a one-day arts celebration on the Ohio Statehouse lawn in 1962 has since blossomed into a respected, three-date fete. From June 6 through 8, the capital city's riverfront will be transformed into a stunning outdoor gallery for the annual Columbus Arts Festival. More than 300 artists will be on hand for the juried show, which spotlights a variety of mediums, including painting, drawing, glass, wood, clay, metal, photography and fiber arts. Meet five participants who draw their inspiration from the world outside their doors.

Ageless Artistry

To Amy Dallas, the marriage of water and stone represents wedded bliss. The Grafton, Wis., sculptor collaborates with her husband, Jeff Dallas, to create three-dimensional art featuring these two natural elements.

"The contrast between stone and water intrigues us," Amy explains. "And the fact that they are as old as time makes them alluring subjects to work with and depict."

Using granite and marble tiles quarried from Pakistan, Brazil, Italy or India as a base, the couple sandblasts the stone into decorative pieces that can be used as wall hangings or grouted into place to add panache to a kitchen or bath.

Their favorite images illustrate the union of water and stone, whether it's a depiction of a stream cascading down a mountain or waves pounding the Lake Michigan shoreline. Amy, who earned her bachelor of fine arts degree from the University of Wisconsin-Madison, spent many study breaks strolling through the state capitol building and admiring the 43 varieties of stone from around the world that were used in its construction.

"Stone has always mystified me," she says. "I think [it] chose me to work with it rather than the other way around."

Amy and Jeff have been in love with their art form for more than a decade, which means learning to accept the idiosyncrasies inherent in the materials they use.

"Limestone is filled with fossils, so we incorporate them into our designs," Jeff says. "And the veins coursing through forest-brown marble make it difficult to sandblast, so we opt to use pieces of it as embellishments instead."

Much like the sense of tranquility a waterfall evokes, the couple hope their art exudes the same feeling.

"People have told us they appreciate the spa quality of our work," Amy says. "We take that as a big compliment."

For more information, visit tiletempo.com.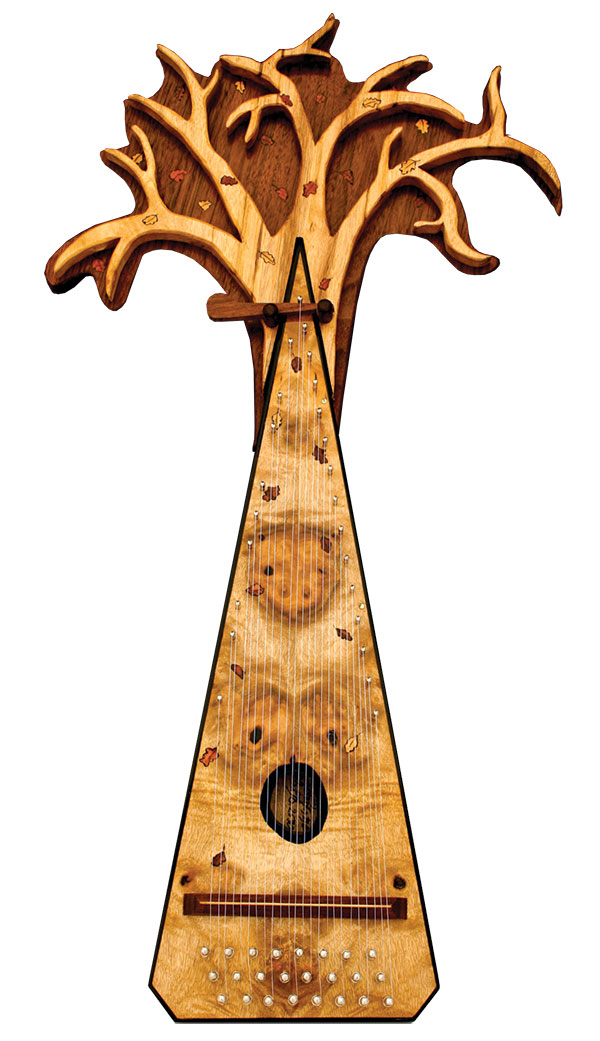 Stirring Sounds

Archie Smith readily admits he can't read a note of music. But that doesn't prevent the Mount Pleasant, N.C., artist from creating novel ways to produce it.
For three decades, the craftsman has fashioned stringed dulcimers and zitherlike psalteries out of exotic wood he finds on eBay. Smith then embellishes each of his pieces with motifs ranging from oak trees to Moravian stars.

"For centuries, dulcimers and psalteries have been revered for the haunting sounds they produce," says the 71-year-old. "I fell in love with them before I began creating them."

His interest in wood sculpting began as a hobby in the '80s while he was a professor at North Carolina's Lees-McRae College. After a day instructing students on the salient points of European history, the teacher relished retreating to his basement workshop.

"I'd always been fascinated by boomerangs, so I decided to start making them," Smith recalls. But he found that his creations were too lightweight. "I began to worry that they had the potential to cause a freak accident by hitting someone."

When a friend suggested he switch to stringed instruments, the artist pored over how-to manuals and listened to recordings featuring the sounds of dulcimers and psalteries at their ethereal best.

Smith explains that his most difficult decisions center around which wood he will use for each piece: aromatic cinnamon burl or durable sitka spruce, quilted sapele or shimmery waterfall bubinga?

"To make the cut, the wood must have an interesting grain pattern," the artist says, adding that each instrument takes 50 hours to complete and ranges in price from $125 to $500. "I only choose wood that's known for its durability and acoustic potential. My goal is to make a museum-quality piece that can be passed down from generation to generation."

For more information, visit archiesmithinstruments.com.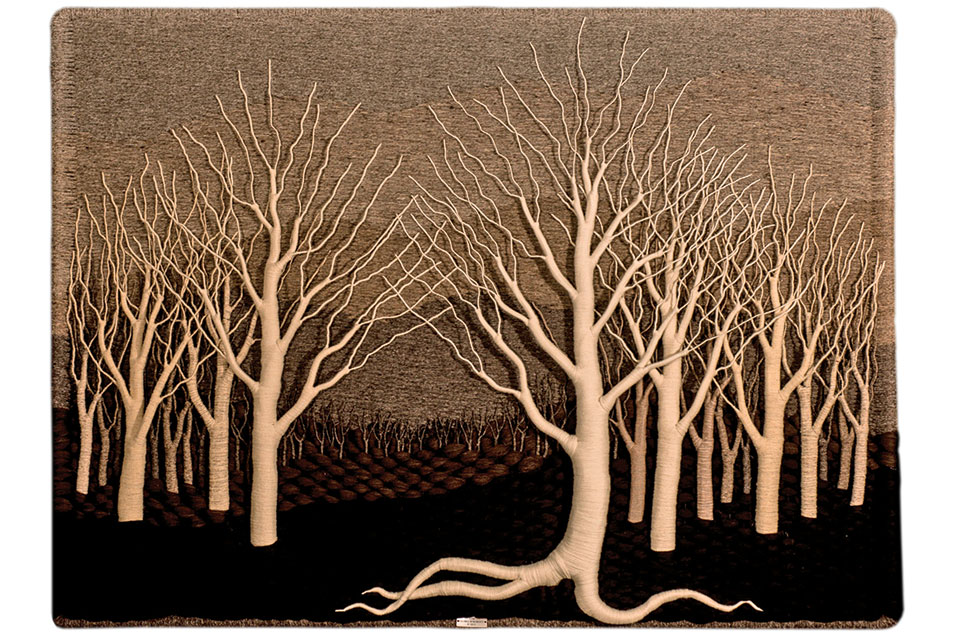 Feel Factor

From soft rose petals to sandpapery seashells, nature's touch is everything to Gloria McRoberts. It's become a hallmark of her work, and each of the Watertown, Tenn., fiber artist's wall hangings pay homage to nature's patterns.

"There are certain people in this world who are very tactile oriented, and I'm one of them," explains McRoberts, 71. "I'm constantly astonished at what nature has made for us out there each day."

The artist imports the wool she uses in most of her pieces from France, England and Germany. Occasionally, she combs farmer co-ops near her home on the lookout for material that does not have be dyed. Favorite finds include undercoats from sheep, goats, alpacas and even New Zealand possum.

"I was [surprised] there was such a thing as possum wool," McRoberts says. "[It] has a softness that's hard to beat."

The artist's talent was born three decades ago, while teaching stained glass workshops to high school students in Owensboro, Ky. When the principal asked her to add a weaving class, McRoberts admits she was initially stymied.

"I'd never woven anything in my life," she recalls. "So, I made up my own technique, which involves me creating the design as I go along."

Although McRoberts rarely sketches her concepts before beginning a new project, she says there is a lot of "pre-thinking" involved.

"Understanding what's called for is crucial," the artist says. "If mountains are in the foreground, the texture of the material I select must be [weighty enough] to reflect them."

McRoberts' appreciation for the natural order of things is often mirrored in comments made by her customers.

"People who see my designs often tell me that my work touches something spiritual in them," she says. "That means the world to me."

For more information, visit gloriamcroberts.com.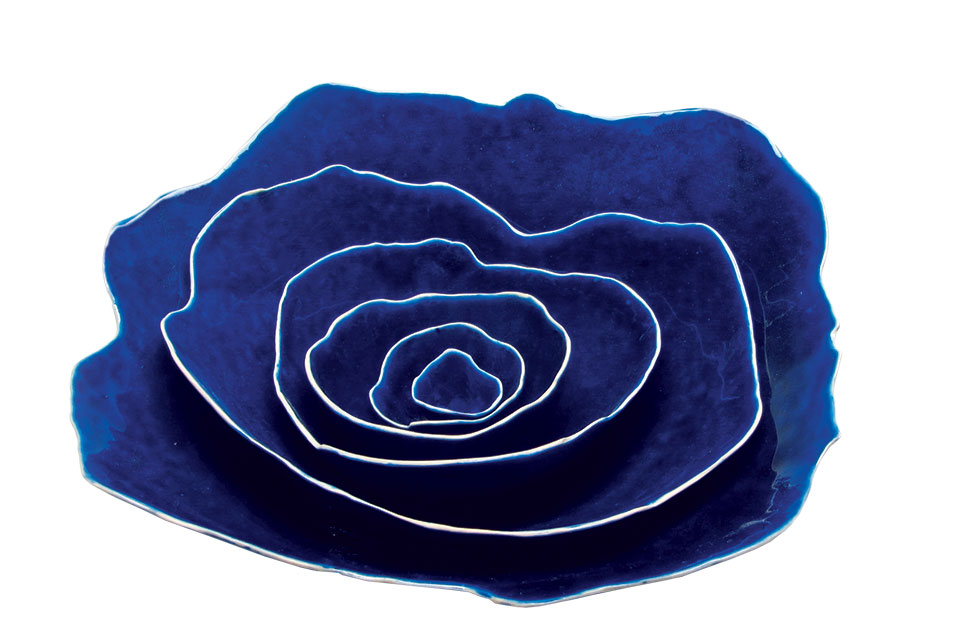 Back to Basics

For two decades, studio potter Kate Tremel has created ceramic bowls and vases inspired by the simplicity of ancient pots or the lines found on topographic maps.
But, true to the properties inherent in her art form, the shapes she sets out to make often have minds of their own.

"To [fashion] each piece, I hold a stone inside the clay and paddle the outside of the bowl [that's forming] as I turn the piece in my lap," explains the 48-year-old artist, who lives in Ann Arbor, Mich. "The process allows me to thin the porcelain like an eggshell. In the kiln, the forms often move and warp, enhancing the asymmetrical lines."

The artist draws inspiration from shapes found in the places she loves, be it the beach stones near her summer home in Maine or the cabbages in her garden.
"I'm interested in the imperfections of nature," she says. "To me, patterns that are flawless are not as compelling."

Tremel began making things as a child. She later developed her talents at a community arts center while earning bachelor of art degrees in Spanish and anthropology from Middlebury College in Vermont. Time spent as an exchange student in South America, where she served as an apprentice to a Peruvian artist who had grown up in a family of potters, synthesized her interests.

Tremel returned to the States and earned a master of fine arts degree in ceramics at Michigan's Cranbrook Academy of Art. When she's not at work in her studio, she shares her passion in the classroom as a lecturer at the University of Michigan's Penny Stamps School of Art and Design.

"Making pottery has become a compulsion with me," Tremel says. "Quite simply, it settles my soul. I want my pieces to do the same thing for the people who look at them and use them."

For more information, visit katetremel.com.

Columbus Arts Festival | June 6–8
Scioto Mile, Downtown Columbus
Hours: Fri.–Sat. 11 a.m.–10:30 p.m., Sun. 11 a.m.–5 p.m.
Admission: free
For more information, visit columbusartsfestival.org.