Arts
'Michelangelo: Mind of the Master' in Cleveland
The Cleveland Museum of Art features drawings that span the artist's career and offer insight into some of his most famous creations.
October 2019
BY Linda Feagler | Artwork courtesy and copyright of Teylers Museum, Haarlem
October 2019
BY Linda Feagler | Artwork courtesy and copyright of Teylers Museum, Haarlem
Emily Peters, curator of prints and drawings at the Cleveland Museum of Art, is in awe, and no wonder. The drawings featured in the museum's exhibition dedicated to artist Michelangelo are between 400 and 500 years old and span his entire career, from his days as an apprentice around 1487 through the late 1550s.

"The exhibition is a curator's dream," Peters says. "Michelangelo was known for burning his drawings because he was afraid other artists would steal his ideas. We don't know exactly how these survived, but we're glad they did."

Organized by the Teylers Museum in the Netherlands in collaboration with the Cleveland Museum of Art and the J. Paul Getty Museum in Los Angeles, "Michelangelo: Mind of the Master," which runs through Jan. 5, offers an intimate look at the Italian Renaissance artist's mastery of the human form. The sketches on display demonstrate his painstaking preparations for groundbreaking commissions that included the Sistine Chapel and Saint Peter's Basilica in Rome and the tomb of statesman Giuliano de' Medici in Florence. Each is paired with large wall murals featuring the finished work of art.

"The exhibit is beautifully paced," Peters says. "The drawings take you from one project to the next to really show you how Michelangelo revolutionized the human figure in the art world and how he approached each [commission]. They showcase the bold confidence he felt in his ideas. Drawing was central to the way he thought and formulated his ideas. It's clear that sometimes he went over something to change it, and it's fascinating to see the tweaks he made. The drawings also encompass the different techniques he used for drawing, whether it was pen and ink or red chalk or black chalk — the materials that were available to Renaissance artists."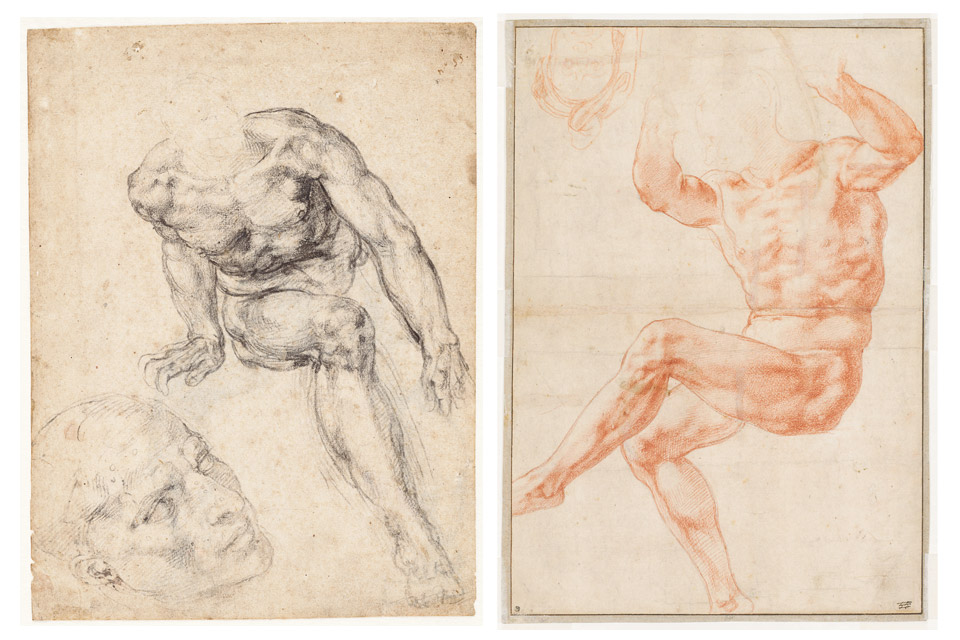 Since most of the drawings are double-sided they're displayed on pedestals, which means visitors can study his artistry at close range.

"Even if you go to Italy, you can't get this close to Michelangelo's work," Peters says. "Here, you'll be 2 inches away from it, which is a really different experience from standing at the bottom of the Sistine Chapel and looking 70 feet up."

***

Born in 1475 into a family that belonged to minor nobility in Florence, Michelangelo demonstrated an aptitude for drawing at 13 and caught the attention of Lorenzo de' Medici, the city's ruler and patron of the arts. It was during the time of The High Renaissance when artists took their cues from science, anatomy and architecture.

"During this period, there was a revival of interest in the classical past," Peters says. "The marble sculptures of ancient Greeks and Romans were being excavated, and the Medici family collected many of them. Michelangelo was clearly influenced by their appearance. You never see the anatomy of organs in his work. He was mostly interested in muscles and how the body looks when it moves — he looked at a shoulder, he looked at a knee, he looked at the twisting of the torso — and made this the focus of his drawings."

Michelangelo's attention to fluidity is evident in "Three Draped Figures with Hands Joined," a pen-and-ink drawing he made between 1496 and 1503. The artist's short, orderly strokes are placed parallel across the clothing two of the characters are wearing, relaying a hint of the twisting forms that would come to define his work after 1500.

When he was not using live models, Michelangelo made anatomical sketches of cadavers. "Studies of a Left Arm and a Shoulder," a red chalk and pen and ink drawing he created between 1515 and 1520, depicts a body stripped of skin to reveal the muscle underneath.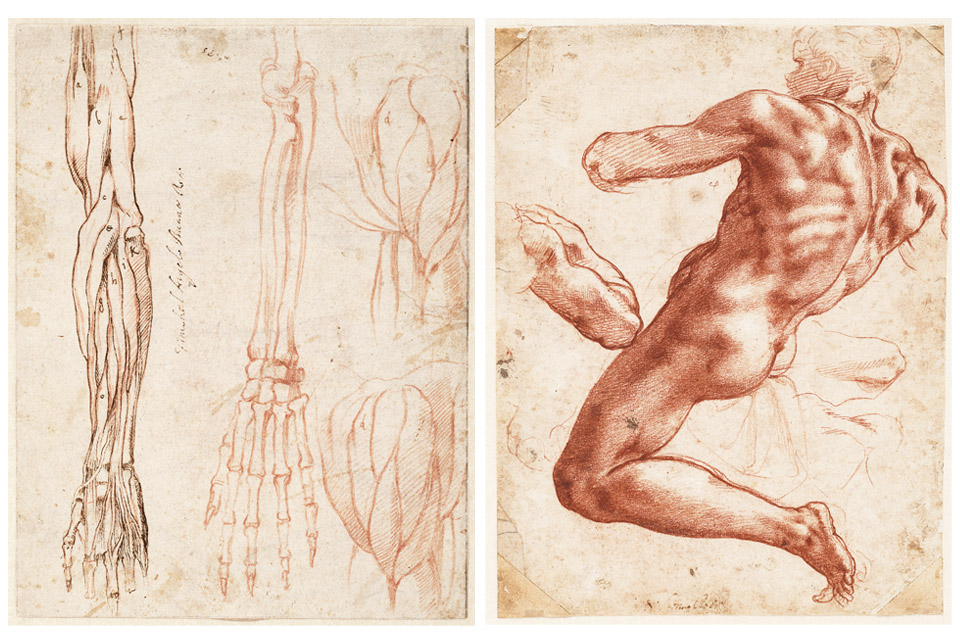 "Although anatomical study was not new, Michelangelo was one of the first Italian artists to consider anatomical knowledge a professional necessity," Peters says.

Rarely one to draw for pure enjoyment, Michelangelo never wasted time crafting a portion of the body that would not be visible on the finished piece. Peters cites "Study of a Male Nude" for "The Last Judgment" fresco, designed for the altar wall in the Sistine Chapel and featured in the exhibit, as an example. The preliminary drawing depicts what will be the prominent figure of St. Lawrence. The torso is placed at the center of the black chalk image, the curator explains, because Michelangelo already knew the cloud upon which the figure sits would cover the left leg. Instead of making a detailed sketch of the head on the body, the artist made it at the bottom of the paper, indicating with small circles on the forehead, upper cheek, nose and lip which areas of the fresco would have the strongest highlights.

"You can almost envision his thought process here: 'What do I need to emphasize on this figure if you're looking at it from 30 feet away?' " Peters says. "The answer is: dramatic shadow and the rippling of muscles."

In 1546, Pope Paul III appointed Michelangelo to be the chief architect of the new St. Peter's Basilica. The main challenge the artist faced was designing the grand dome, and he used drawings and models to convey his concept. Opinions as to the age of "Section through the Dome of Saint Peter's with Alternative Designs for the Lantern and Figure Sketches," a drawing featured in the exhibit, differ. Some scholars consider it an early study, while others date it between 1550 and 1561. With the help of a compass and ruler, Michelangelo rendered a cross section of the dome in black chalk. His vision for the design shows a hemispherical inner dome and an elongated outer dome with stairs between them.

"To me, these drawings represent a walk through time," Peters says. "The exhibition offers the chance to forge an intimate connection with the artist and the artist's hand in a way that's thrilling to me and will be to all who visit."

Cleveland Museum of Art
11150 East Blvd., Cleveland 44106, 216/421-7350, clevelandart.org
Hours: Tues., Thur., Sat. & Sun. 10 a.m.–5 p.m., Wed. & Fri. 10 a.m.–9 p.m.
Admission: Adults $15, seniors $10, students and children 6–17 $5, 5 and under free