Arts
'Maya: The Exhibition' in Cincinnati
Union Terminal hosts the U.S. premiere of more than 300 artifacts from the ancient culture that show its influence on the world.
April 2020
BY Linda Feagler | Photo courtesy of La Ruta Maya Foundation
April 2020
BY Linda Feagler | Photo courtesy of La Ruta Maya Foundation
Dave Duszynski admits he didn't know much about the Maya civilization that's existed in Central America since 2000 B.C. But after seeing "Maya: The Exhibition" at the National Museum of Archaeology and Ethnology in Guatemala, Duszynski knew he had to learn more. As the president of Mercury Museum Services for the Cincinnati Museum Center, he's always on the lookout for exhibits that will attract visitors to the museum located in Union Terminal, an art deco train station and National Historic Landmark.

As Duszynski studied the artifacts on exhibit in Guatemala, he was particularly riveted by a mask which dates to 400 A.D. Made from jade tesserae and shell and obsidian fragments, it was discovered in a king's tomb at El Zotz, an archaeological site in northern Guatemala.

"It's a beautiful piece of art made out of multiple pieces of jade that are fashioned together like a jigsaw puzzle," he says. "The eyes are so haunting, it's difficult to look away.

"I've seen exhibits of Maya artifacts before that contain mostly replicas. But this one is the real thing. Bringing it to Cincinnati was a must-do."

The mask and more than 300 other artifacts are making their United States debut in the Queen City. On display through Jan. 3, "Maya: The Exhibition" features relics associated with the civilization's daily life, religion and politics. It also showcases the innovations the Maya were known for — including the use of the zero in mathematics and the development of the 365-day calendar — and the lifestyle of the culture today.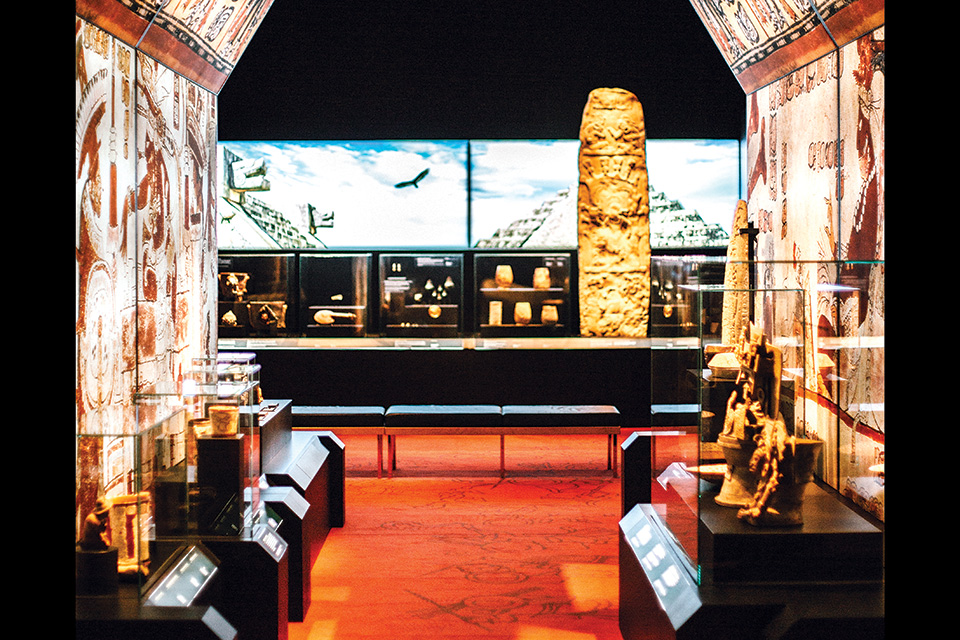 The Maya civilization, which encompasses southeastern Mexico, all of Guatemala and Belize, reached its peak around 600 A.D., a period when its population density surpassed every other in the world.

"The first people were farmers who lived in small villages, but beginning in 900 B.C., small stone temples began to appear," says exhibition curator Nikolai Grube, a professor of anthropology of the Americas at the University of Bonn in Germany. "The civilization followed a religion based on a multiplicity of gods. Cities were ruled by kings who considered themselves to be of divine origin. There were a lot of conflicts and a lot of warfare. It was very much like Europe during the Middle Ages."

A carved jade plaque dating back to 600 A.D., which was discovered in a ceramic urn in the highlands of Guatemala, depicts a king wearing a headdress based on the mask of a deity, sitting on a throne and leaning on a feathered cushion. The ruler is facing a tiny figure sitting nearby, who is shown with crossed arms — the sign of greeting and respect.

"The colors of burnt orange and blue are produced by the iron oxide embedded in the jade," Grube says. "The fact that jade comes in a variety of colors other than green is something we usually don't appreciate."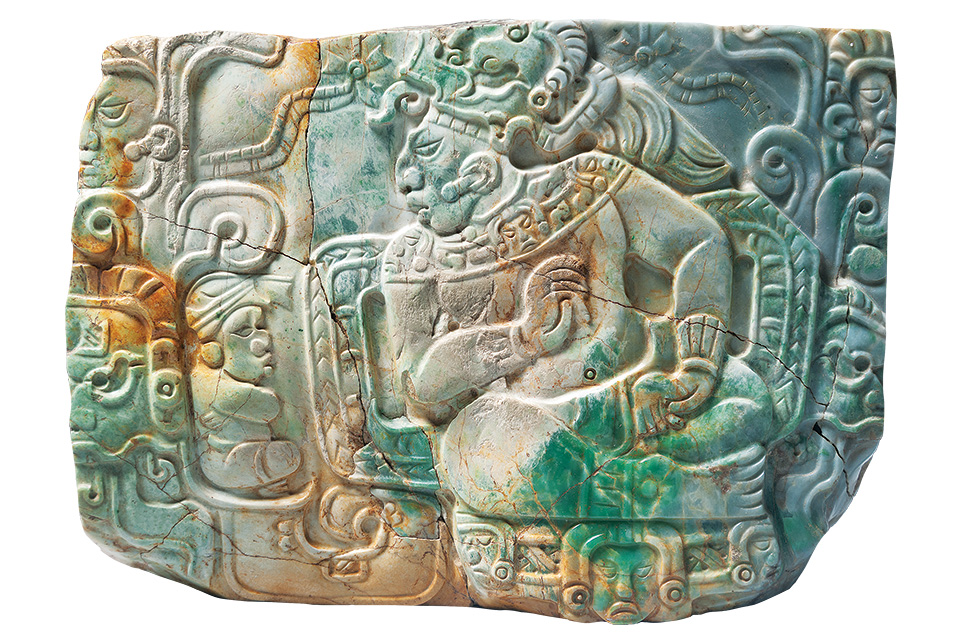 In 2006, archaeologists discovered a burial place in the northern Guatemalan city of El Peru, which dates to about 600 to 650 A.D. It contained 23 clay figures, including one dressed in a helmet that was worn when playing pitzil, a game scholars believe is similar to racquetball. Although the rules are not entirely known, the ball, which weighed as much as 9 pounds, could only be kept in play by using the knees, elbows and hips. The sport was also played by women and children.

"The figures found in the tomb with this ballplayer included dancers, scribes and animals representing different members of the royal court," Grube says. "They were buried with the king and his wife to accompany them to the afterlife."

The limestone panel that is a focal point of the exhibition dates to about 799 A.D. Discovered in Cancuen, Guatemala, it contains 160 sculpted hieroglyphic blocks chronicling the deeds of King Taj Chan Ahk and his ancestors.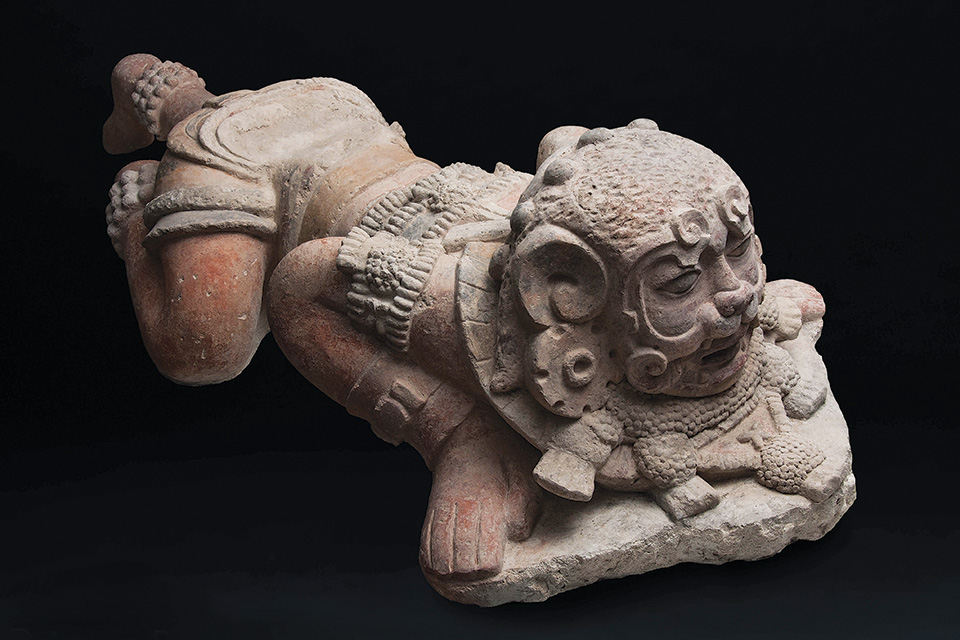 "The Maya had a highly developed writing system, which wasn't deciphered until after 1950," Grube says. "Archaeologists who have studied this panel believe it is part of a long inscription that once adorned the shrine inside the tomb of a deceased king. With this dedication, the new king wanted to show his predecessors that he was in the legitimate line for the throne."

The stucco sculpture of the jaguar warrior on display is believed to represent a mythological feline being. Since it is predominantly nocturnal and hunts its prey at night, the animal was associated with royal power and strength. Characters garbed in jaguar masks are a mainstay of Maya art, often appearing on monuments, ceramic works and architecture. In addition to the mask, the figure wears a loincloth painted in yellow and black to resemble a jaguar pelt, which may represent a ruler or high-ranking noble.

"Although the culture is ancient, Maya sent a very modern message," Grube says. "They were able to live in a tropical jungle without destroying it, and they developed a sophisticated agricultural system, which included the construction of terraces and a system of canals for collecting, managing and preserving water, even in dry seasons. It's a valuable lesson of resource preservation for all of us."

Cincinnati Museum Center
1301 Western Ave., Cincinnati 45203,
513/287-7000, cincymuseum.org
Hours: Mon.–Sun. 10a.m.–5 p.m.
Admission: Adults $21, seniors $19, children ages 3–12 $14

Note: This story was updated to include the extended dates of the exhibition. It now runs through Jan. 3, 2021.