Arts
Living Color
The Cleveland Museum of Art features 30 works from its collection that show how artists ranging from Edgar Degas to Mary Cassatt embraced pastels.
November 2016 Issue
BY Linda Feagler | Artwork courtesy of Cleveland Museum of Art
November 2016 Issue
BY Linda Feagler | Artwork courtesy of Cleveland Museum of Art
Although American impressionist Mary Cassatt earned accolades for her oil paintings of idyllic family life, it is her devotion to pastels as a creative art form that's evident in "After the Bath," which she completed in 1901. In it, a young mother gently towel-dries her cherubic toddler son as her rosy-cheeked daughter adoringly looks on.

Heather Lemonedes, chief curator at the Cleveland Museum of Art, says the artist once commented that pastel was the best medium for portraying children.

"She made the faces so realistic they're almost lifelike, yet allowed herself a great deal of freedom in drawing the garments the family is wearing to make them appear almost abstract," Lemonedes says, explaining that Cassatt made it a point to use pastel green and orange — colors that are very contrasting yet complementary.

"As a result," she says, "the orange is even more orange because it has green behind it."

The tender image is one of 30 works from the museum's collection that will be showcased Nov. 19 through March 19 in "Pure Color: Pastels from the Cleveland Museum of Art." Although celebrated for their different styles, each of the artists represented in the exhibition embraced the medium as a creative muse that added vibrancy to their canvases during the late 19th and early 20th centuries.

"When you hear 'pastel,' you may think of the colors you wear on Easter and in the spring," Lemonedes says. "But pastel is also the name of the chalk known for its rich palette and expediency."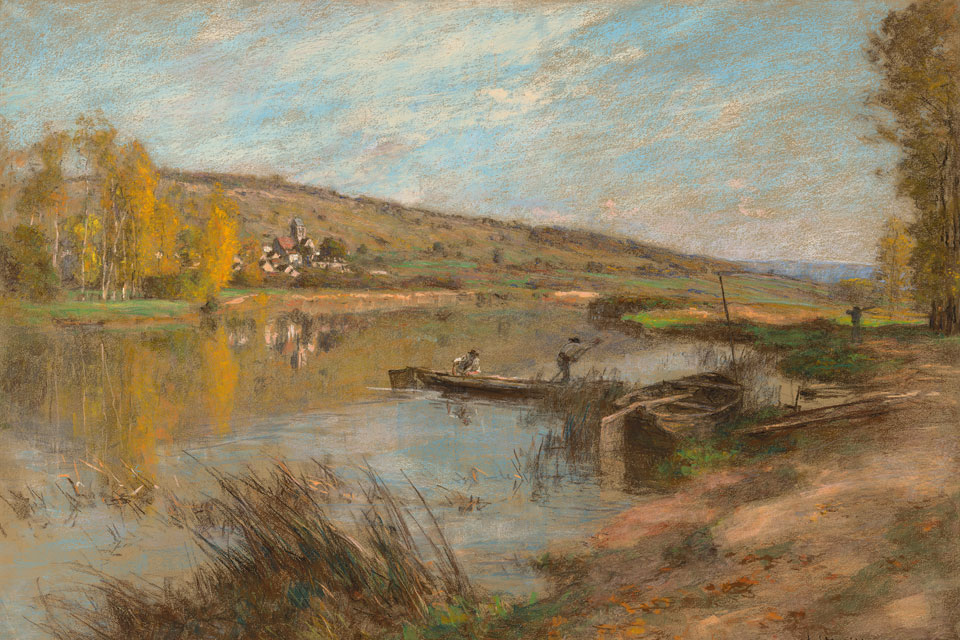 While researching the subject, Lemonedes discovered that chalks were used as far back as the Italian Renaissance when Leonardo da Vinci referred to them as a "dry coloring method." Since early chalk was made from substances found in nature, the selection back then was primarily limited to black, white and red.
The versatility of the art form made it an ideal medium for portraiture. Pastel portraits were inexpensive, could be quickly completed, easily copied and collected and were readily portable.

Because pastel works must be protected by glass, advances in technology also increased the demand for such works. Before the late 17th century, sheets of hand-blown glass could only be made in small sizes, thereby limiting the dimensions of the drawings.

In the 1680s, a pouring process was developed in France that enabled larger glass sheets to be made, allowing the size of pastels to increase in breadth to those of oil paintings.

By the 1860s, the decade in which the Cleveland Museum of Art exhibition begins, innovations in manufacturing had resulted in more than 250 available colors of chalk.

"Unlike crayons, pastels are not waxy, and unlike oil, you don't have to wait for them to dry," Lemonedes says. "So it was very exciting for artists to be able to easily purchase this commercially made product."

French postimpressionist Claude-Emile Schuffenecker relied on the colored sticks to add layers of tone to his work that would have been impossible with other mediums. His 1891 image, "Landscape with Figure and Houses," which was acquired in 2014, is making its Cleveland Museum of Art debut in the exhibition. The ethereal landscape is composed of a dense network of parallel strokes that create the effect of a shimmering mirage.

"The artist is not trying to draw the landscape exactly," Lemonedes says. "Instead, he's using the pastels to project his own feelings and emotions onto the landscape he sees and instilling it with a kind of imaginary quality."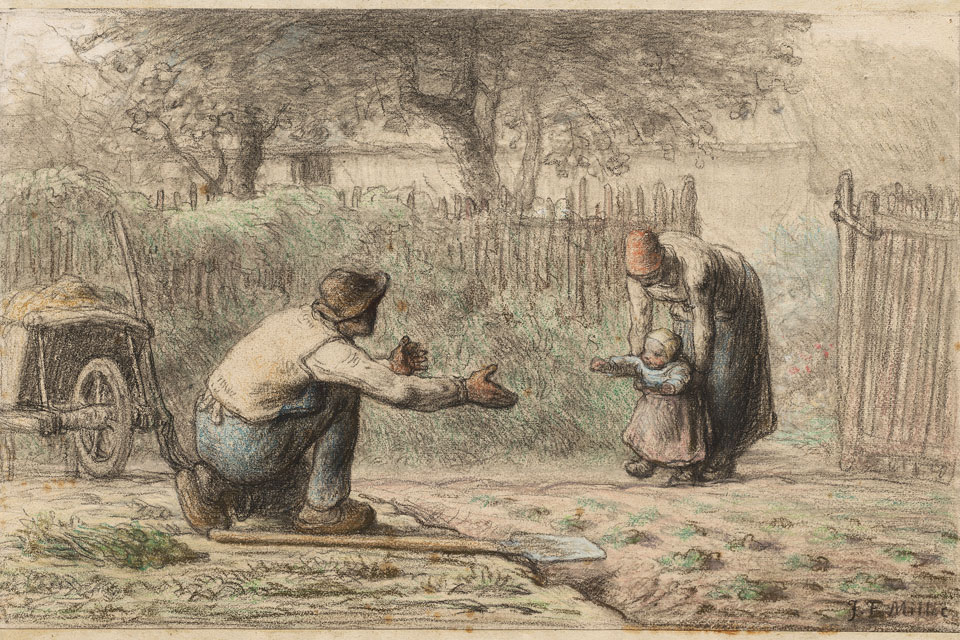 French realist painter Léon Augustin Lhermitte breathed new life into traditional themes by reintroducing them in pastel. "Quai au Sable, Chartèves," which he completed in 1904, depicts autumn foliage dotting a town located across the river Marne in France.
"The artist is known for adding hazy atmosphere to his realist way of working," says Lemonedes. "Here, the clouds and sky are very gestural and freely drawn, while the village in the background across the water is executed with real meticulousness. The result is something that is not only very convincing but also very beautiful."
French impressionist painter and sculptor Edgar Degas returned to the theme of horse and rider many times throughout his career. Lemonedes explains that many scholars believe the artist created "Before the Race" — his composition of a quartet of jockeys on horseback — in charcoal and pastel several years before intensifying the palette for the 1889 image featured in the Cleveland Museum of Art show.

"In this work, he created a wonderful rhythm of color that dances across the page," Lemonedes says. "Although the jockeys loom close to the foreground, their faces are abstracted in complex layers of pastel that achieved a new level of freedom and energy of execution."

"Composition," created by German abstract artist Otto Freundlich in 1924, adds an eye-popping element to the exhibition. Freundlich began creating his most celebrated works in 1911. "Composition" shows the artist's innate ability to reach optical intensity with a kaleidoscope of whirling color.

"We're used to looking at oil paintings, we're used to looking at marble and bronze sculpture, but people are probably a little bit less familiar with how magical and versatile pastels can be," Lemonedes says. "So I'm hoping visitors to the exhibit will … learn to love this medium in a deeper and richer way."

Cleveland Museum of Art
11150 East Blvd., Cleveland 44106
216/421-7350, clevelandart.org
Hours: Tues., Thur., Sat. & Sun. 10 a.m. – 5 p.m., Wed. & Fri. 10 a.m.–9 p.m.
Admission: Free