Arts
'Life in the Age of Rembrandt'
The Columbus Museum of Art celebrates the Dutch master with an exhibition illustrating his impact on artists who followed.
April 2019
BY Linda Feagler | Artwork courtesy of Dordrecht Museum, Purchased with Support of Vereniging Rembrandt, Particularly her Willem and Mary Reus-De Lang Fund 2015
April 2019
BY Linda Feagler | Artwork courtesy of Dordrecht Museum, Purchased with Support of Vereniging Rembrandt, Particularly her Willem and Mary Reus-De Lang Fund 2015
He's been hailed as a 17th–century virtuoso of painting, printmaking and drawing and lauded as the most important artist in Dutch history. Like many museums around the globe, the Columbus Museum of Art is marking the 350th anniversary of Rembrandt van Rijn's death with an exhibition honoring that acclaim.

"Life in the Age of Rembrandt: Dutch Masterpieces from the Dordrecht Museum," on display through June 16, celebrates the artist's legacy in an unexpected way: The exhibition focuses on the influence Rembrandt had on his contemporaries and artists who followed him rather than on the paintings he's famous for.

Organized by the Netherlands' distinguished fine-art museum, the exhibition features 50 artworks spanning 1600 to 1899. Many are paired with related objects from the period, ranging from a baby's high chair and a pipe to ice skates and tableware.

"There are many commemorative exhibitions this year to mark Rembrandt's death," says David Stark, chief curator of the Columbus Museum of Art. "We decided to go a bit broader by featuring works by other exceptional artists who were consciously emulating the brown color scheme, thick brushwork, distinctive treatment of light and the frequently blunt realism Rembrandt was known for."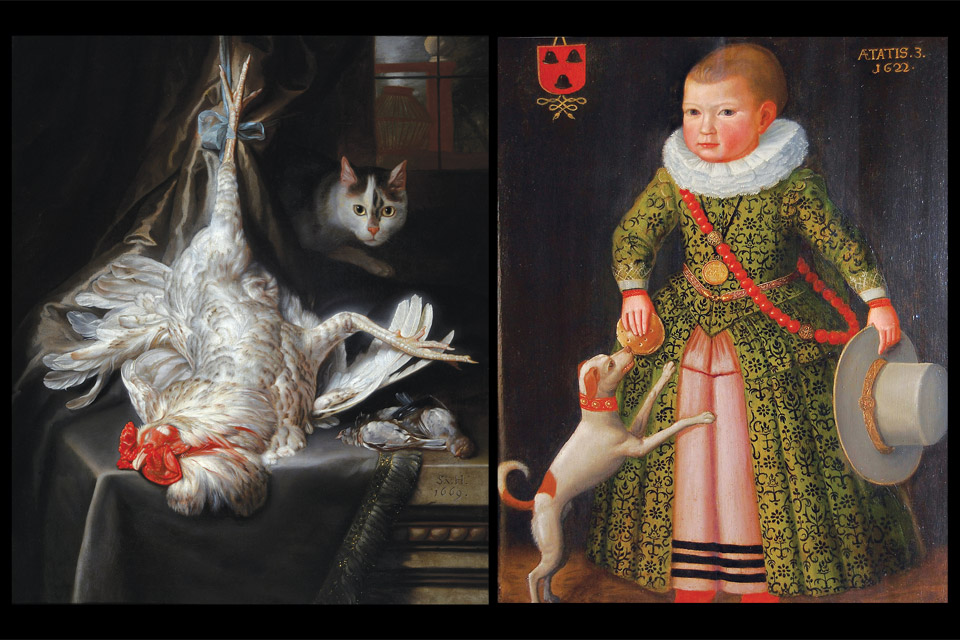 During the 1600s, the town of Dordrecht was a prosperous trading center, due in large part to its location at the meeting of several major waterways. The city was also a magnet for painters who were drawn to the landscape. One of them, Jacob Gerritsz Cuyp, was known for his portraits and still lifes. "Bed of Tulips" depicts Holland's favorite flower.

"What's interesting about the painting is that, along with windmills, we think of tulips as being the stereotypical image of the Netherlands," Stark says. "But at that point in time, tulips were considered an exotic novelty. The tulips Cuyp chose to paint — Semper Augustus — were the most rare, and sometimes fetched sums that were equivalent to the price of a house back then. Cuyp painted this view in 1638 — a year after the tulip market collapsed."

The curator adds that the tulips represent a concept the Dutch adhered to: Like flowers, life is fragile — so material goods should not be coveted, and the state of one's soul should never be ignored.

Abraham Susenier continued that theme two decades later in his 1659 oil painting "Still Life with Shells," illustrating more than 50 of them in hues of beige and pink arranged on a purple tablecloth. A lush curtain has been drawn back to give the viewer a glimpse of the valuable treasure trove imported from all over the world.

"Shells are similar to tulips in that they may seem to be humdrum objects at first," Stark says. "The presence of the curtain presents them as luxury items — yet another reminder that greed is one of the seven deadly sins, and the way to get into heaven for eternity is to live a moral life and not be preoccupied with wealth."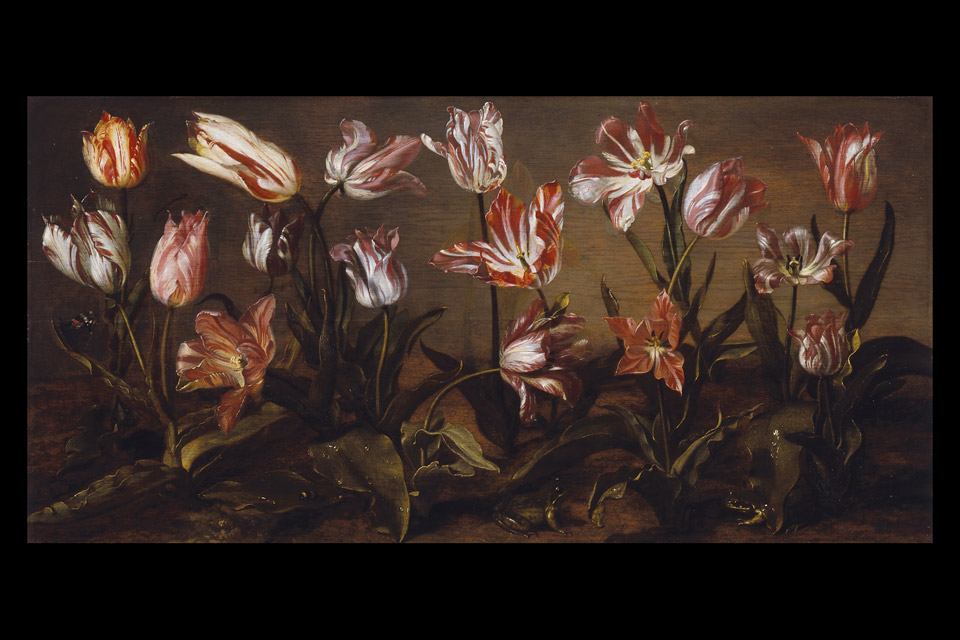 Rembrandt's career unfolded during the 17th century — the period known as the Dutch Golden Age — and the impact of that era echoed through the next two centuries. Antoine Waldorp was drawn to nostalgic landmarks from Rembrandt's day, as evidenced in "Mill with a view of Delft." The scene is dominated by a tower mill, a type of vertical windmill consisting of a brick or stone tower capped by a roof that rotates to bring the sails (blades) into the wind.

Used in Europe for nearly 600 years, mills like this one contributed to 25 percent of the industrial power of all wind machines before the advent of the steam engine and coal power. The mill Waldorp painted was demolished in 1837, a year after he completed the oil painting.

"Our exhibition reinforces the fact that the Golden Age cast a very long shadow on Dutch art," Stark says. "After Napoleon was defeated in 1815, Holland wanted to reassert its glorious heritage and national identity. Artists like Waldorp created romantic, nostalgic yearnings for the past, right down to the clothing the townspeople are wearing and the church tower in the background."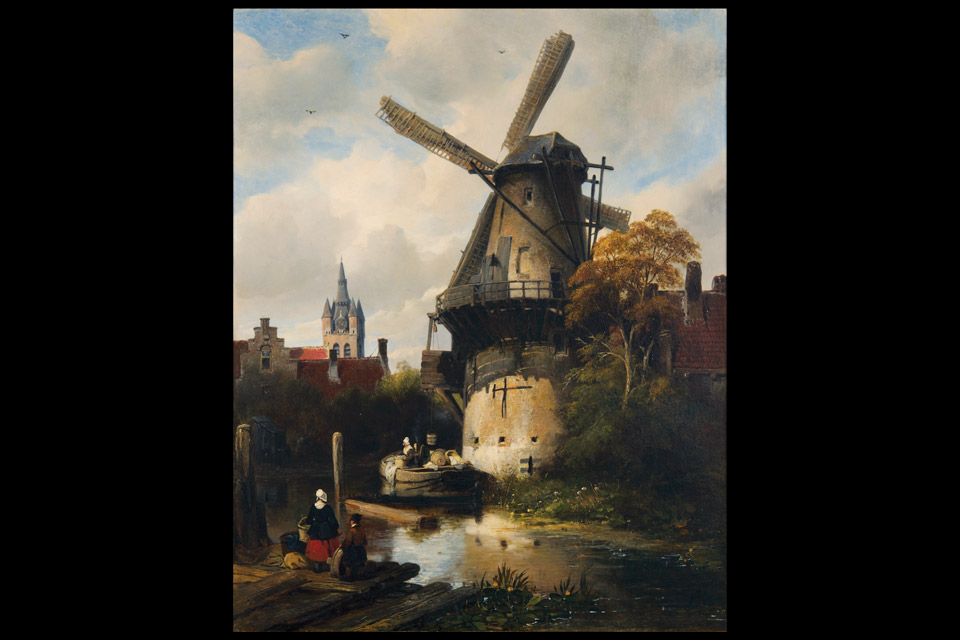 Although Rembrandt is celebrated for his paintings, he was also a master etcher. Biblical themes, portraits and landscapes were favorite subjects. Six of his etchings are featured in the Columbus Museum of Art exhibition.

"Adoration of the Shepherds," which he produced in 1654, tells the story of the birth of Christ. The image reflects the skillful style of sensitively etched lines and subtle shading the artist was known for. The Virgin is shown seated in the glow of an oil lamp, raising her cloak proudly to show her newborn child to the shepherds gathered around her.

"By no means was this etching meant to be displayed in a church," Stark says. "It held great meaning for the common people. Rembrandt depicts figures not as saintly but as human beings. By injecting that human element into his depictions of Biblical figures, he establishes a direct connection of the worshipper or the viewer with the event that's going on. This image is meant to communicate that salvation and hope was meant for people from all walks of life, especially and including the poor and rejected."


Among the many iconic images Rembrandt produced are a variety of self-portraits in which he looked at himself through critical eyes. "Self-Portrait with Saskia," which he finished in 1636, depicts the artist and his wife. Loosely holding a pen or pencil with his hand resting on a sheet of paper as if he's been interrupted, Rembrandt is garbed in historical costume — high, white-collared shirt, fur trimmed cloak and 16th-century hat. His wife also wears old-fashioned clothing, including a veil.
To capture his and Saskia's features, Rembrandt used a mirror, carefully recording the shadow falling across his face, cast by the broad-brimmed hat. Through a multistep process, the lines he scratched onto the treated metal plate were inked and transferred onto paper that was run through a press along with the plate.

"In so many ways, this period of Dutch history is similar to our own culture and lives," Stark says. "These images have to do with chronicling the everyday world and the environment in which these middle-class people lived. If you think about the pictures that are commonplace today that we take with our phones — pictures of ourselves, the city we live in, the food we order in restaurants — they are as reflective of our own lives as those featured in the exhibit. It's very easy to see those parallels."

Columbus Museum of Art
480 E. Broad St., Columbus 43215, 614/221-6801, columbusmuseum.org
Hours: Tues.–Sun. 10 a.m.–5 p.m., Thur. 10 a.m.–9 p.m.
Admission: Tues.–Sat. adults $26; seniors, students and children 4 and over $17. Sunday admission $8.