Arts
Jazz Legend
Herman Leonard's most famous photographs came from his time in New York City, after he graduated from Ohio University.
April 2014 Issue
BY Kelsey Smith | Photos courtesy of Kennedy Museum of Art
April 2014 Issue
BY Kelsey Smith | Photos courtesy of Kennedy Museum of Art
Heather Pinson kept seeing the photos over and over — candid, black and white images of famous jazz musicians. In one, Billie Holiday stands behind a microphone in the spotlight with smoke curling up around her shoulder, her eyes raised heavenward. Another depicts a young Miles Davis, playing his trumpet at New York City's famed Birdland.

Pinson frequently saw such shots decorating the walls of rehearsal rooms at universities she visited while working on her Ph.D. in interdisciplinary arts. She was drawn to the images because the subjects in them appeared young and relatable. But no matter whom she asked, no one could tell her much about the photos' origins.

"I was visiting [the University of North Texas], which is the biggest school for jazz," she recalls. "I asked one of the students, 'Where did you find this picture of Miles Davis? Who took the photo?' They didn't know … I didn't either, so I kept digging."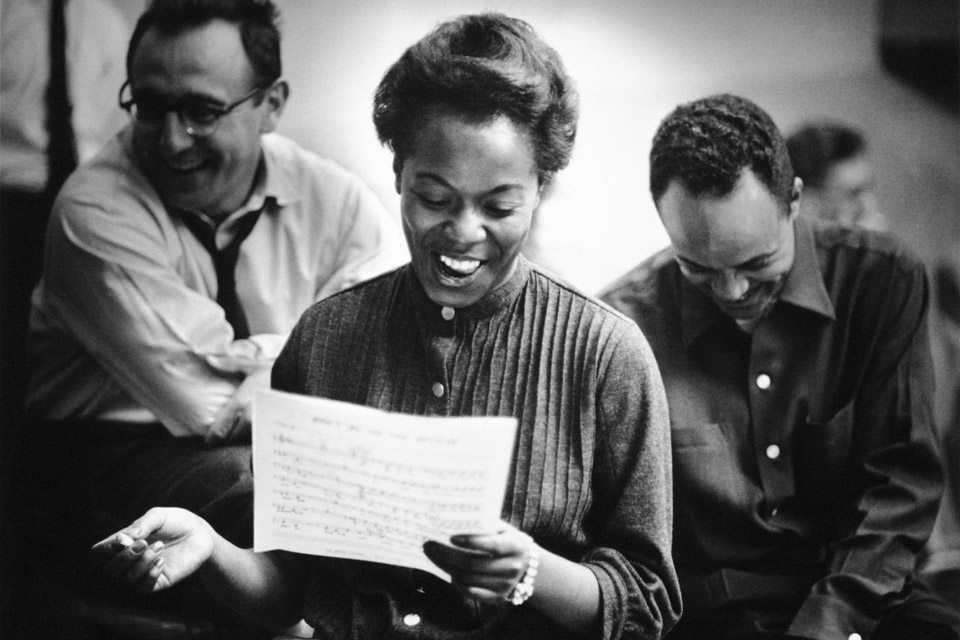 Pinson ultimately learned that Herman Leonard was the man behind the camera. The Pennsylvania native and Ohio University graduate photographed jazz legends such as Holiday, Davis, Thelonious Monk and Buddy Rich while working in New York City during the late 1940s and early 1950s.

"I found it interesting that all of these students studying jazz across the country had [seen Leonard's] photographs, but no one knew who he was," she says.

Pinson, now the department head of communication and professor of communication and media arts training at Robert Morris University near Pittsburgh, went on to write The Jazz Image: Seeing Music Through Herman Leonard's Photography, which was published in 2010.

She'll visit Ohio University this month to talk about Leonard's photos in conjunction with an exhibition of his work. "Improvisations: Jazz Photographs by Herman Leonard," which features 15 of the photographer's iconic images, is on display at the university's Kennedy Museum of Art through May 4.

"I concentrated on selecting works that would translate as portraits, with a focus on one musician," explains museum curator Petra Kralickova. "It was very easy to select the icons of jazz that would speak both visually and musically."

Leonard, who was born in Allentown, Pa., in 1923, took up photography at an early age, but Pinson says his interest also served an ulterior motive. "He wanted to meet some girls he had a crush on, and he found that with a camera in his hand he could ask them questions or take their picture for the yearbook."

As Leonard's passion for photography grew, he chose to study at Ohio University, the only school that offered a degree in the field at the time. Following his graduation and a subsequent apprenticeship with famous portrait photographer Yousuf Karsh, Leonard's love of jazz music led him to New York City.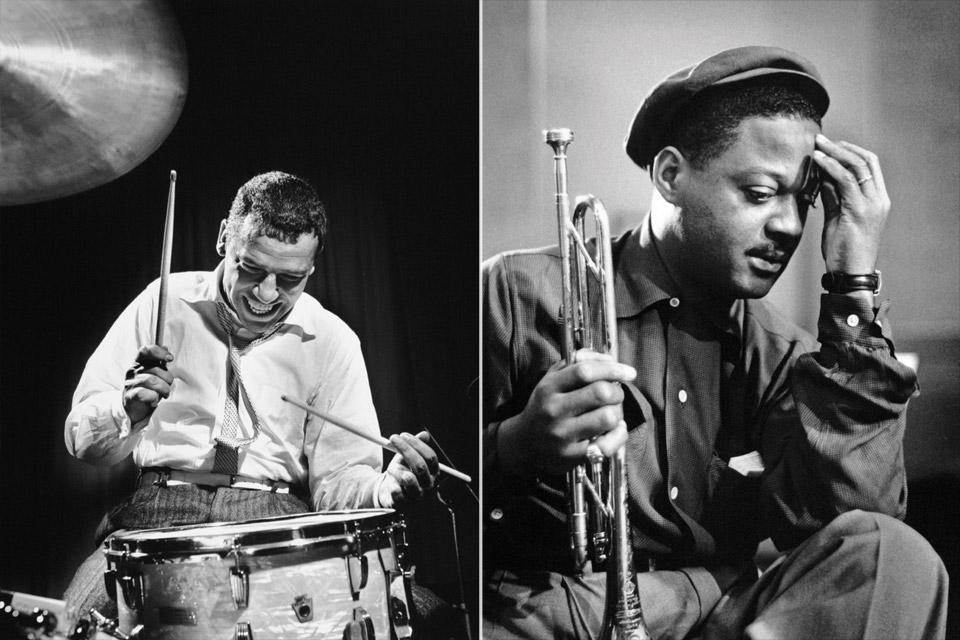 Although he was unable to afford admission to the concerts of the up-and-coming jazz artists who performed there, Leonard employed the same techniques he first used to meet girls years earlier to get through the club doors. "He offered to create promotional material for [the musicians], and they said OK," Pinson explains.

As a regular at these concerts, Leonard became friends with musicians who would go on to become jazz icons. But he ultimately couldn't make a living in New York, and eventually moved to Europe to work as Marlon Brando's personal photographer. Later, he remained in Europe to do fashion and advertising photography for magazines such as Life and Playboy.

Then, in the mid-1980s, when Leonard was in his 60s, he found the negatives of his jazz photographs and decided to show them in London in 1988. "He had the wherewithal to go back and find photographs that he had already taken and make a new career out of it," Pinson says. "He was always reinventing himself, his career and his art."

In 1993, Leonard gifted 63 of his jazz photographs to Ohio University, and they became part of the Kennedy Museum of Art's permanent collection when the museum was officially established in 1996. Leonard not only gave the Kennedy Museum of Art his prints, he also gave it the copyright to show his photos, a rarity for a museum of its size.

"He was invited to be a commencement speaker in 2009, and he toured [the museum] and saw all of his prints on display and touched them and moved them around," Pinson says. "It's that connection between place, person and imagery that makes this a unique experience."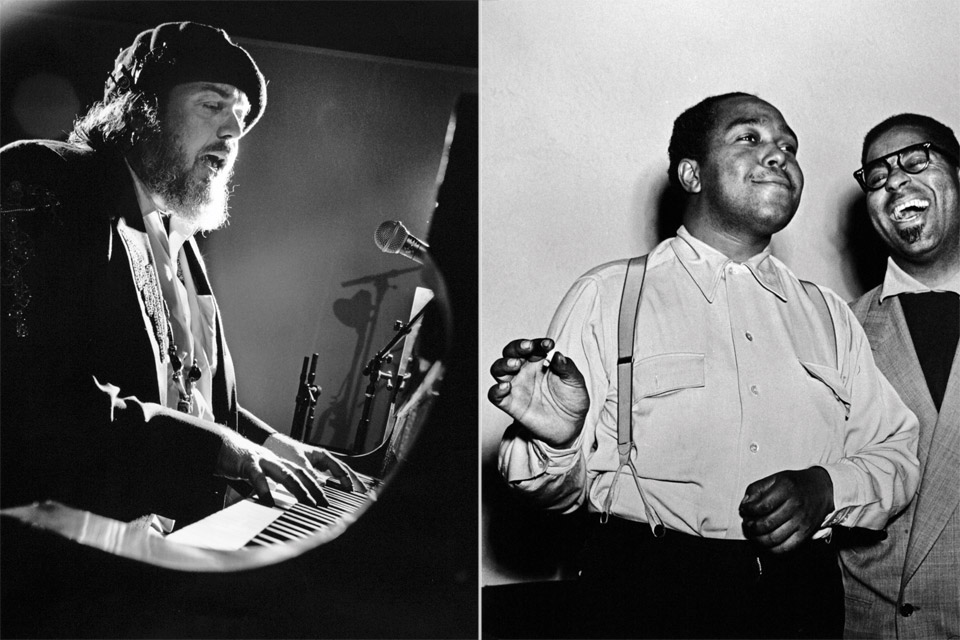 Leonard had lived in New Orleans, after falling in love with the city during the early 1990s. He lost his prints and much of his personal property when Hurricane Katrina hit in 2005. Fortunately, his photo negatives were housed in a safe at New Orleans' Ogden Museum of Southern Art. After Katrina, he relocated to Los Angeles and lived and worked there until his death in August 2010 at the age of 87.

"When I last talked to him, he had just finished a photo shoot with Sharon Stone and he was complaining to me that she didn't have anything interesting," Pinson says. "He said the interesting thing about photographing people was to focus not on their aesthetic qualities or their beauty, but to find something different or unique and share it."

Author Heather Pinson will speak about Herman Leonard's photos at the Kennedy Museum of Art on April 24.

WHEN YOU GO:
Kennedy Museum of Art
Ohio University, Athens 45701
740/593-1304, ohio.edu/museum
Hours: Mon.–Fri. 10 a.m.–5 p.m. (open until 8 p.m. Thur.), Sat & Sun. 1–5 p.m.
Admission: free


***


Click here to see more of the Herman Leonard jazz photos featured at Ohio University's Kennedy Museum of Art.