Arts
Imagination at Work
Artist and curator Dan Chudzinski brings whimsy and wonder to the world's first collection of original artwork from children's picture books.
July 2017 Issue
BY Vince Guerrieri | Photo by Jonathan Miksanek
July 2017 Issue
BY Vince Guerrieri | Photo by Jonathan Miksanek
The creature's rib cage appears big enough to sleep inside, and its powerful-looking jaws stretch wide as if ready to strike. Flipper-like appendages hang from its sides, and a long tail trails off into the distance. Here, in the lobby of the Virginia B. Gardner Fine Arts Pavilion at the University of Findlay, hang the remains of an animal never seen by human eyes.
They are the bones of "Bessie," a sculpture created by artist and Fremont native Dan Chudzinski. He works in the field of imaginary realism, an art genre that fuses the realistic with the fantastic.
He studied dinosaur skeletons before beginning the foam-based sculpture inspired by the folktale about an enormous creature that swims Lake Erie's shallow waters. Chudzinski sees it as a way to get children thinking about the space between fantasy and reality.
"The legend inspired the piece, but I wanted something a little more tangible," explains the artist, who became curator at the University of Findlay's Mazza Museum in 2015. "The goal is to spark their imagination … to let their mind wander."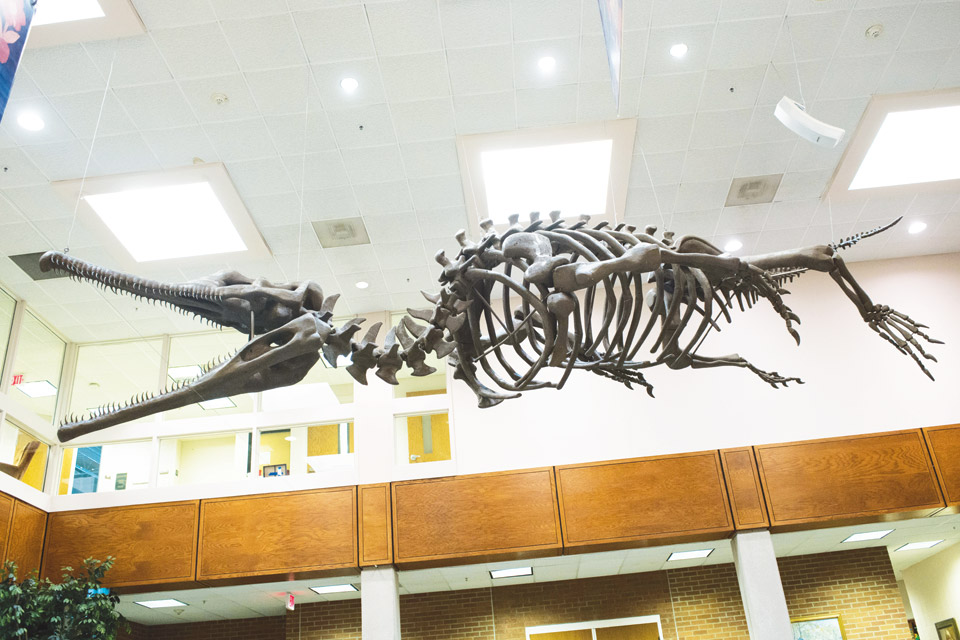 Jerry Mallett, an educator from Toledo, founded the Mazza Museum in 1982 as an institution devoted to artwork from children's literature. The collection began with four works of art on display in the basement of the university's library. By the time of Mallett's death in 2015, it spanned 9,000 pieces, ranging from an early sketch by writer and illustrator Maurice Sendak that became part of Where the Wild Things Are to animation cels from the 1967 Disney movie "The Jungle Book." There's even the certificate for the Caldecott Medal, which recognizes the year's best American picture book for kids, awarded to Cleveland native and Captain Underpants writer and illustrator Dav Pilkey in 1997 for his book The Paperboy.
"He said he didn't want the pressure of staring at it in his studio, so he gave it to us," Chudzinski says.
An artist by trade, Chudzinski majored in sculpture and history at Miami University in Oxford. After graduating college, he snuck into a tour at a Los Angeles special-effects studio and left with a job offer. He's studied the art of totem pole carving from Native Americans in Alaska and visited the quarries in Italy where Michelangelo got the marble for his sculptures.
Despite growing up in Fremont, which is less than an hour's drive from Findlay, Chudzinski had never heard of the Mazza Museum until he was 27 years old. Three years later, in 2015, he guest-curated an exhibition at the museum titled "The Enchanted Brush," which asked for artists' original interpretations of their favorite fairy tale characters. After that, he left for Alaska, with no plans to return home soon. Then he received word that Mallett had died, along with an offer to become the Mazza Museum's curator.
"The thought of being a curator had never occurred to me until that moment," he says. "It was like walking into Disney Studios after Walt had died. I reflected on the offer literally on top of a mountain in Alaska, and I felt like my whole life was leading up to this.
"Before I was a curator, I was kind of a Lost Boy," adds Chudzinski, referring to the gang of perpetual children who reside in author J.M. Barrie's Neverland. "Now I get to be an advocate for other artists."

***

The idea of being a sculptor first occurred to Chudzinski when he was 5 years old, after seeing a photo of Michelangelo's "Pieta" — the famous statue of the Virgin Mary holding the body of Jesus following his crucifixion that resides in St. Peter's Basilica.
"I couldn't believe he made that out of stone," Chudzinski recalls. "When we're kids, we know better what we want to do than when we're adults. My first language was art."
As a teenager, Chudzinski spent weekends as a volunteer at the Toledo Zoo learning about anatomy and taxidermy — skills that later came in handy as a sculptor. In fact, his sculptures merge fantasy and reality so realistically that, in at least one instance, it actually cost him a festival prize. His sculpture "Muse" depicts a woman with animal characteristics such as cat's eyes and lizard hands, wearing a costume. The judges thought the costume was the artwork and the woman was just the model.
"His attention to detail and incredible ability to tell a story in a single sculpture is a skill that's really impressive to me," says Chris Seaman, who guest-curated the Canton Museum of Art exhibition "Dream Worlds: The Art of Imaginative Realism," which included works by Chudzinski, including "Muse."
"As an illustrator, my goal is to tell a story in one image that a viewer can get in about five seconds," adds Seaman. "If I miss that mark, I fail. Dan has the ability to bring that into the 3-D world."
It's a skill Chudzinski continues to put to use inside the walls of the Mazza Museum. A crocodile — actually a carcass of one from Chudzinski's taxidermy experience — is part of the museum's "Dinosaurs and Dragons" exhibition. Because everything on display in the museum must be tied to a children's book, Chudzinski concocted a backstory that the animal came from Neverland, complete with a newspaper front page about the donation of the crocodile by Captain Hook.
In another corner of the museum rests a wooden throne with a suit of armor next to it. The display is surrounded by a series of six shields — one bearing the University of Findlay logo and the others representing fictional kingdoms ranging from Narnia to Oz. The throne — a $5 Salvation Army find that was reupholstered and accented with wrought iron decoration — was part of one of Chudzinski's first exhibitions as curator. Dubbed "Thrones," it was aimed at University of Findlay students who are fans of the HBO hit series "Game of Thrones."
It started as a social media campaign, with students taking pictures on the throne and sharing them online for the chance to win an autographed book from one of the artists featured in the exhibition.
Boosting public awareness has really been the next step for the museum. Last year, it debuted a mobile app to aid guests, and with more than 11,000 pieces now in its collection, the institution is beginning to take the show on the road.
"Igniting the Imagination," a sampling of the museum's collection, was on display at the National Academy of Sciences in Washington, D.C., in 2017. "Ohio: The Start of It All," commemorating famous firsts within the state, was shown at the Ohio Arts Council's Riffe Gallery in Columbus the same year.
"We'd done traveling shows in the past, but not on this level," Chudzinski says. "It raises revenue for the museum, but it also raises our profile and furthers the museum's mission."
Chudzinski refers to the Mazza Museum as a teaching museum, but nobody's done more learning than he has in his time there so far. He adds that it has even changed his approach to art.
"Every day I'm surrounded by great artwork," he says. "Yes, I spend less time in the studio, but the time I do spend is more focused. … I get an education here that's not available to anyone else."

To learn more about Dan Chudzinski's art, visit danchudzinski.com. For information about the Mazza Museum, visit mazzamuseum.org.