Arts
Image Conscious
The Cleveland Museum of Art explores Vincent van Gogh's repetitive nature.
May 2014 Issue
BY Linda Feagler | Photo courtesy of the Phillips Collection, Washington, D.C.
May 2014 Issue
BY Linda Feagler | Photo courtesy of the Phillips Collection, Washington, D.C.
History paints Vincent van Gogh as an artist who always teetered on the brink of insanity. There's no question the post-impressionist painter was a tortured soul. He sliced his ear off in the aftermath of a fight and died from complications following a self-inflicted gunshot wound.

But a different portrait emerges in van Gogh's masterpieces. When he wasn't plagued by bouts of acute depression, the artist took painstaking care with his paintings. In fact, van Gogh often created multiple versions of his subjects. Although the works were closely related to one another, the painter rarely failed to add different elements to each successive canvas.

Through May 25, the Cleveland Museum of Art is shedding new light on that versatility by presenting "Van Gogh Repetitions," the first exhibition to focus on the Dutch artist's creative process. Comprising more than 30 paintings and drawings, the exhibit showcases van Gogh's meticulous approach.

"Because van Gogh suffered from mental disorders, we have a deeply ingrained perception that he always painted in a frenzy of overheated emotion," says William Robinson, the Cleveland Museum of Art's curator of modern and European art. "Although he occasionally worked very quickly, van Gogh was also a remarkable craftsman who spent time in the studio refining his paintings.

"Our exhibition reveals that van Gogh was a far more complex and nuanced artist than people imagine."

Breaking free of the naturalism of the impressionist movement popularized by Claude Monet, Edouard Manet and Edgar Degas, van Gogh and contemporaries who included Paul Gauguin and Georges Seurat sought to forge individual styles filled with passion and abstraction.

"It's easy to see why van Gogh is one of the most well-known post-impressionist painters," Robinson says. "His work is incredible, from the beautiful calligraphic brush strokes to the way he creates decorative rhythms in his compositions. We've placed closely related [works] side by side in the exhibit to make sure those characteristics are apparent."

The curator is quick to admit that, to the uninitiated, the title of the Cleveland Museum of Art exhibition seems to belie the breadth of the artist's genius.

"When I first read the word 'repetitions' in van Gogh's letters, I thought it meant he had made copies of his work," Robinson says. "But that wasn't it at all. Van Gogh was using the word in the same way it was applied to a musical performance in the 19th century. Back then, it was expected that a musician would add his own interpretation to a score, slightly altering and reinterpreting it with each recital. So, in essence, repetitions are not exact duplicates. There are often noticeable differences between them.

"When I realized this," he adds, "I became totally convinced that van Gogh did not always work with his model in front of him. Instead, he would go back to the studio and paint, often adding imaginative elements."

Robinson explains that the repetitions not only helped van Gogh refine his technique but also served as thank-you gifts to those who sat for portraits and as tangible ways to spread the word about his burgeoning reputation to art dealers.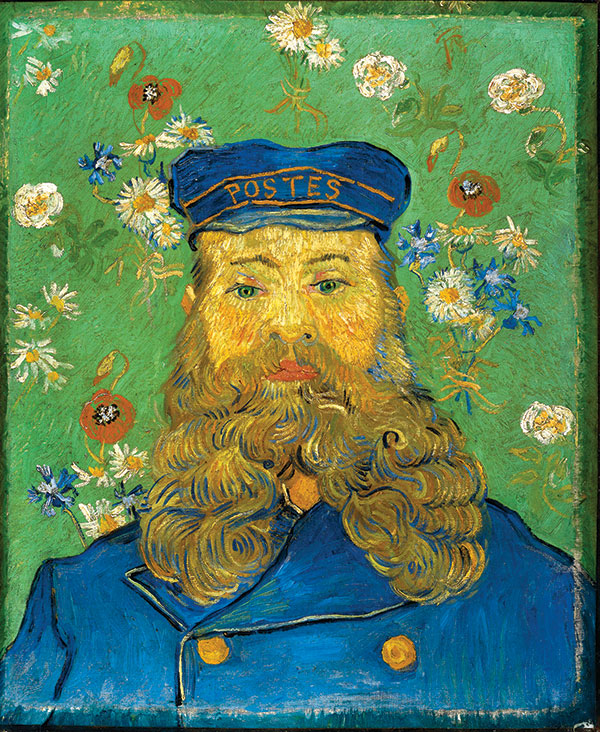 As examples, Robinson cites two versions of "Portrait of the Postman Joseph Roulin," featured in the Cleveland exhibition. One is on loan from New York's Museum of Modern Art; the other has been borrowed from the Kröller-Müller Museum in the Netherlands. Between July 1888 and April 1889, the artist produced six paintings and three drawings of the French mailman.

"Van Gogh wrote that while he was working on the first version of the painting, the postman became fidgety, so he decided to paint him a second time," Robinson explains. "We don't know why he created the others, but we can speculate that he planned on giving at least one to Roulin and his wife."

Although the artist left no clue as to the order of the subsequent versions, Robinson says he believes two of the paintings in the Cleveland exhibition are among the final works in the series.

"The figures are nearly identical," he says. "We carefully measured the distance between the pupils of the eyes in each and they are within a fraction of a centimeter, which means van Gogh probably traced the images. But once you get away from the face, you see variations. The buttons on the jacket aren't in the same place, and the position of the body has changed. But the real difference is in the backgrounds and the growing abstraction and complexity of the postman's beard."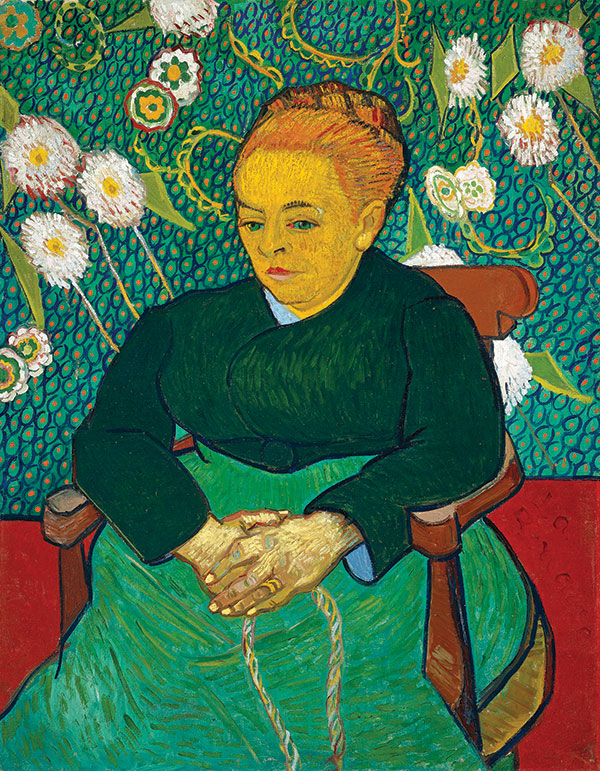 Van Gogh's propensity toward inventiveness never fails to fascinate the curator. As proof, he compares the Cleveland Museum of Art's painting of "The Large Plane Trees" with "The Road Menders," owned by The Phillips Collection in Washington, D.C.

In May 1889, seeking respite and a chance to recover from his most recent breakdown, van Gogh voluntarily committed himself to an asylum in the French village of Saint-Rémy-de-Provence. While on a chaperoned painting expedition, he happened upon repairmen patching a nearby boulevard.

"We know with absolute certainty from the way van Gogh described the paintings in his letters that ours is the first," Robinson says. "He painted it at tremendous speed to capture the excitement of what he was seeing. For some reason — perhaps because he had exhausted his supply of canvas — van Gogh used a dressmaker's cloth printed on one side with red diamonds. [It] created a lively pattern he did not even bother to cover."

By the time van Gogh painted "The Road Menders," his brother Theo had replenished his sibling's supply of canvas and the artist refined the image.
"He used a much calmer palette, balanced with more blues and greens in the second version, or repetition, as opposed to the explosive yellows and oranges in our painting," Robinson observes.

Although other painters created repetitions, Robinson marvels at the myriad ways van Gogh searched for his ideal.

"I can't think of another artist who was so engaged with painting repetitions as van Gogh was," he says. "Few painters in history could work with that kind of power and energy, yet still be in control.

"Clearly," he adds, "it confounds the normal way we think of him."

WHEN YOU GO:
Cleveland Museum of Art
11150 East Blvd., Cleveland 44106
clevelandart.org, 216/421-7340
Hours: Tues., Thur., Sat. & Sun. 10 a.m–5 p.m.; Wed. & Fri. 10 a.m.–9 p.m.
Admission: Fees apply for this special exhibition. Call for prices.