Arts
Illuminating Nature
Ohio native Clara Driscoll played a pivotal role in Louis Comfort Tiffany's New York glass studio — contributions highlighted in a new Cincinnati Art Museum exhibition.
April 2017 Issue
BY Linda Feagler | Artwork courtesy of The Neustadt Collection of Tiffany Glass
April 2017 Issue
BY Linda Feagler | Artwork courtesy of The Neustadt Collection of Tiffany Glass
Clara Driscoll's life didn't mirror the tranquil designs she fashioned from stained glass. The Ohio native was beset by heartache that began with her father's death when she was 12 and was followed by widowhood at age 31 and abandonment by a fiance four years later.
And yet, marvels Amy Dehan, curator of decorative arts and design at the Cincinnati Art Museum, Driscoll ultimately triumphed over adversity to supervise the Women's Glass Cutting Department at Tiffany Studios. During her tenure there, which spanned the years 1888 to 1909, the artist facilitated the creation of more than 30 lamp patterns — including the wisteria, peony, daffodil and iconic dragonfly designs — still revered today.
"There's no question that Clara had a magnificent eye for translating natural elements into art," Dehan says.
From April 1 through Aug. 13, the Cincinnati Art Museum presents "Tiffany Glass: Painting with Color and Light," a dazzling exhibition of five windows, 20 lamps and more than 100 pieces of opalescent glass created by Tiffany Studios between 1897 and 1910.
Organized by the Neustadt Collection of Tiffany Glass in Queens, New York, it's filled with fine examples of Driscoll's work, as well as pieces created by the artisans who worked beside her. To complement the exhibition, 36 favrile glass vessels purchased by the Cincinnati Art Museum between 1897 and 1898 and four leaded glass windows from the city's St. Michael and All Angels Episcopal Church acquired after the house of worship closed will also be displayed.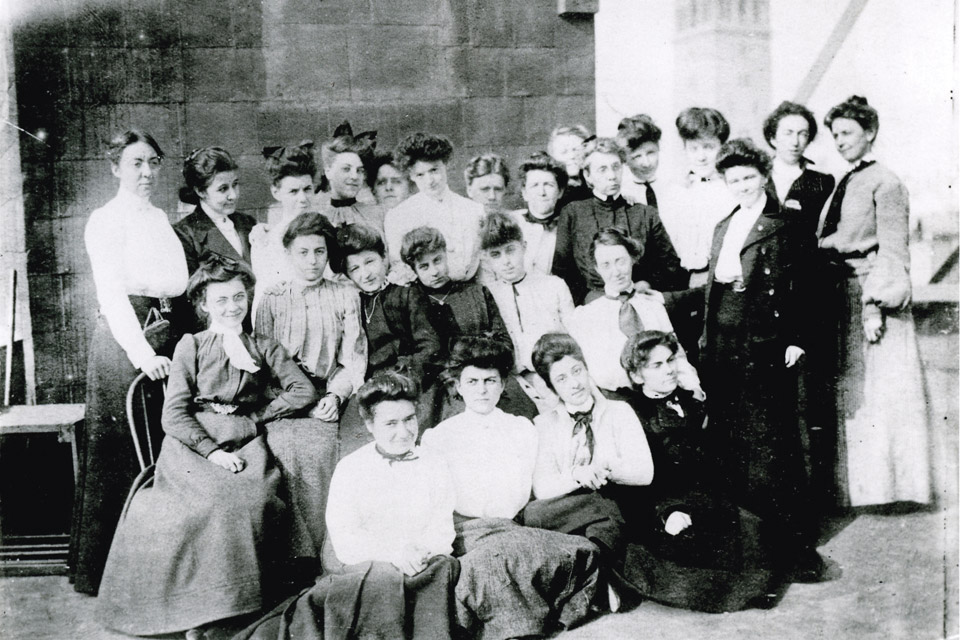 Trained as a painter, New York City native Louis Comfort Tiffany — son of renowned jeweler and Tiffany & Co. founder Charles Tiffany — began studying chemistry and glassmaking techniques in 1875. He founded his company a decade later.
"Louis admired the windows that had been created during the 12th and 13th centuries for their rich tones and the fact that the artists used colored glass as a pure media in which to depict their subject and kept the use of paint or stain to a minimum," Dehan says. "He and his chief glass chemist, Arthur Nash, developed a range of very specific types of glass designed to achieve multiple painterly effects that were truly innovative."
Their brilliantly hued vases, mosaics and windows soon garnered legions of admirers, including Driscoll. Born in Tallmadge in 1861, she attended Cleveland's Central High School, then enrolled in visual arts classes at the Western Reserve School of Design for Women (now the Cleveland Institute of Art).
After graduation, Driscoll worked as a designer for C.S. Ransom & Co., a Cleveland company specializing in furnishings with Moorish-style fretwork, before heading to New York to study at the Metropolitan Museum Art School and launch her career at Tiffany Studios.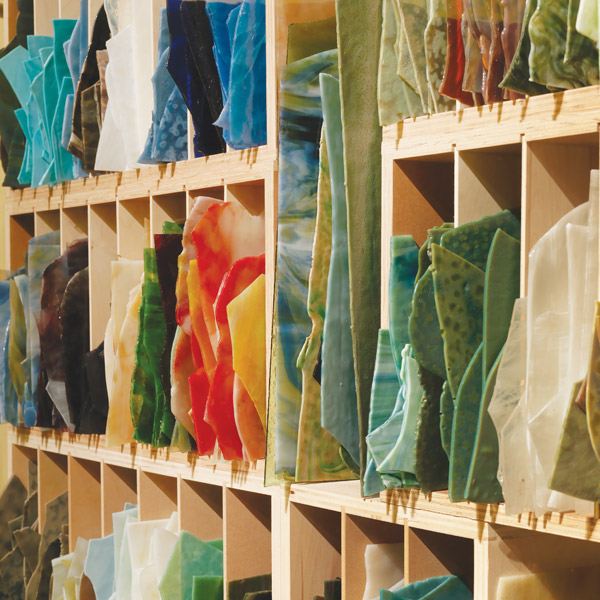 "Clara Driscoll's lasting legacy is her design of stunning objects, including leaded-glass shades and mosaic bases," says Margaret Hofer, co-author of A New Light on Tiffany: Clara Driscoll and the Tiffany Girls and The Lamps of Tiffany Studios: Nature Illuminated. "But had there not been a Tiffany, there would not have been a Clara Driscoll."
Hofer adds that the pair's successful artistic collaboration was based on mutual respect.
"Clara's letters mention the good working relationship she had with 'Mr. Tiffany,' as she always called him," the author says. "She really respected him, and he really respected her.
"Tiffany did not discriminate against women," Hofer adds. "He paid the women on the same scale as the men, which they appreciated given the fact that many of them could have been working in sweatshops. Instead, they were cutting glass in a much safer and more collegial environment."
Tiffany employed six female artists at his Manhattan studio in 1892. By 1897, the department had grown to 50 — from selectors who chose the glass to those who cut it and created the designs.
Once glass pieces were selected, cut and encased in a strip of copper foil so they could be assembled to form the pattern, male employees would complete the object by soldering the glass together.
"It was a painstaking business," Hofer says. "Glass selectors and cutters were paid hourly, but they had to record the number of pieces cut each day, as well as the number broken. They were promoted or given raises depending on their productivity."
Dehan cites the "Wisteria Library Lamp" Driscoll designed as an example of the intricate artistry synonymous with Tiffany. The lamp is replete with canopies of pendulous flower clusters atop a metal base meant to resemble the vine on which the plant blooms. The shade's 2,000 pieces of glass were assembled upon a wooden block that also provided the form for the "Apple Blossom Library Lamp" in the show.
"These are exquisitely constructed lamps," Dehan says. "Even though multiple versions were produced, each one is different due to variations in glass selection. But all were designed to beautifully replicate the flowers and plants they are patterned after."
The 1905 "Hollyhock Hanging Shade" in the exhibition is an example of that precise dedication. In keeping with authenticity, the glass flowers are as variegated as the living blooms they represent. Some are interpreted in shades of red and pink, while others have pink-and-white petals and are snow white at the edges. All have yellow centers and appear to climb toward the sun as nature intended.
Other than Louis Tiffany, designers at the studios rarely received public recognition for their work. But Driscoll was an exception. Hofer cites a story from the New York Daily News in 1904 lauding the artist for her prize-winning dragonfly lamp. Characterized by intricate brass filigree wings and pressed-glass jewel eyes, at least five variations of the lamp were generated from Driscoll's original concept. Two dramatically different versions are showcased in the exhibition.
"The 'Dragonfly Hanging Shade' contains layer upon layer of frenzied dragonflies. The design itself exudes a wonderful frenetic energy — you can almost hear the insects buzzing," Dehan says. "That's quite a contrast to the 'Dragonfly Reading Lamp,' which evokes a quiet calmness — except for the piercing red eyes of the blue-bodied insects."
Driscoll left Tiffany studios to marry a second time. As a homemaker, the artist continued to exercise her talent by painting flowers and sunsets on scarves. She died in 1944 at age 82.
As the world struggled to rebuild itself in the devastating aftermath of World War I, Tiffany's opulent designs were replaced by the streamlined look of American modernism. Tiffany Studios filed for bankruptcy in 1932; it's pioneering founder died a year later.
"I love the fact that so much of the emphasis of this exhibition is on nature," Dehan says. "Today, we are so focused on our screens and living life inside. … Tiffany's compelling works prompt us to see and reflect on what beauty lies beyond our closed doors."

Cincinnati Art Museum
953 Eden Park Dr., Cincinnati 45202
513/721-2787, cincinnatiartmuseum.org
Hours: Tues.–Sun. 11 a.m.–5 p.m., Thur. 11 a.m.–8 p.m.
Admission: Free