Arts
The Art of Quilt-maker Nancy Crow
Artist Nancy Crow draws inspiration from near and far to create beautiful and inventive quilts that take the medium to a new level.
July 2019
BY Rich Warren | Photo by Matthew Shaw
July 2019
BY Rich Warren | Photo by Matthew Shaw
Her quilts have graced the walls of the Renwick Gallery of the Smithsonian American Art Museum in Washington, D.C., as well as the Museum of Arts and Design in New York. But to Ohio artist Nancy Crow, the phrase "art quilt" — often used to describe her signature use of bold colors and complex geometric patterns and lines — is not one she embraces.

"I don't want that term anywhere near me," the artist says. "I consider it derogatory."

Instead, she sees herself as a contemporary quilt-maker who uses fabric as a means of personal expression — no less a visual artist than a painter — arranging her compositions on cotton cloth rather than canvas.

"Instead of brushes [as a painter would use], I use a rotary cutter," says Crow, who estimates she has made 300 quilts during her 40-year career.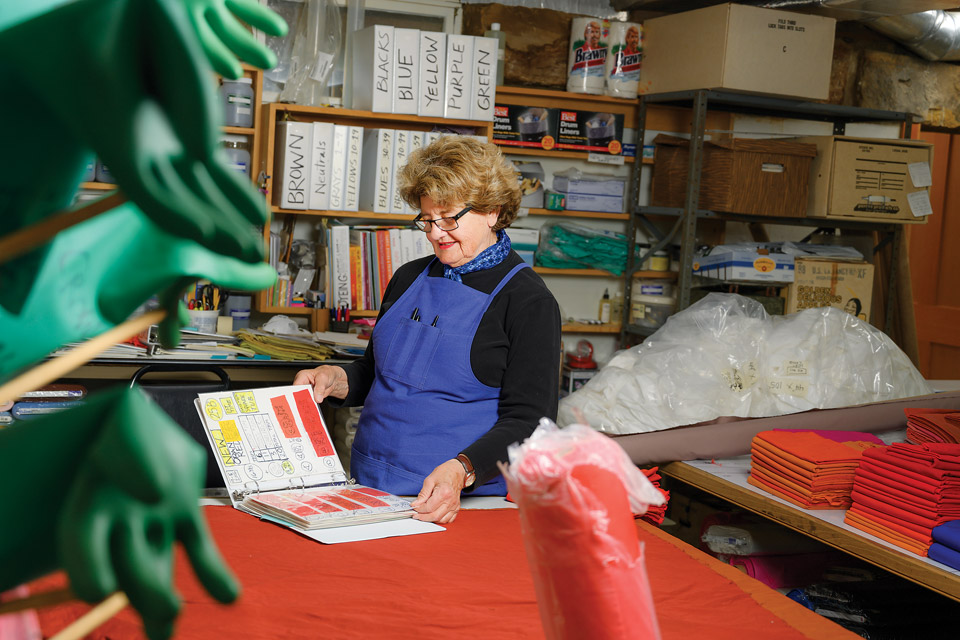 In 2019, the Mansfield Art Center showcased 32 of her favorites in "Nancy Crow Quilts: Color, Mark-Making & Engineering." The exhibition featured an assortment of the artist's machine-pieced quilts, many dyed by hand. Bright greens, reds, yellows and oranges collide, creating asymmetrical kaleidoscopic effects. Each makes a stunning, powerful impact.

Mansfield Art Center director George Whitten marvels at Crow's strong, abstract imagery.

"When I first saw Nancy's quilts, they made a profound personal impression on me," he says. "I expect the same will happen with anyone who comes to see this exhibition."

Crow creates her artwork in a cavernous 2,400-square-foot studio attached to her home on a 100-acre farm near Baltimore in Fairfield County. Tables are piled high with fabrics of many hues — chrome orange, curry yellow, avocado green — all hand-dyed by Crow in her basement. Banks of windows let the outdoors in, and Crow liberally scatters sources of visual stimulation around the space, including primitive masks, folk carvings and ceramics from around the world. A quote on the wall by Vincent van Gogh sums up Crow's work ethic: "Left to myself, I rely on my intoxication with work. And then I let myself go without limits."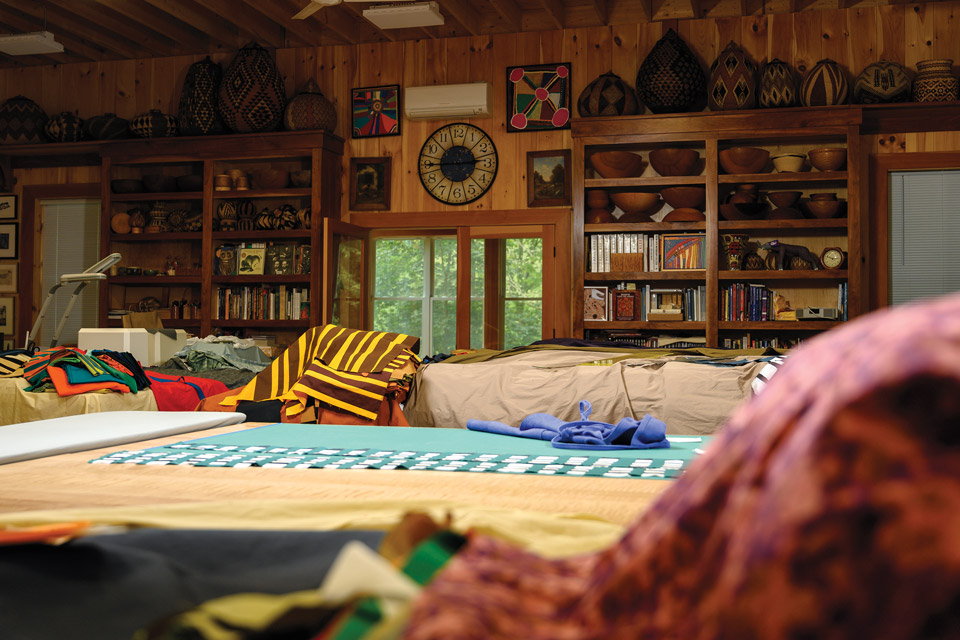 Letting herself go could be one way to describe how Crow works. She's usually fashioning as many as three quilts at a time, pinning strips of fabric she's cut from her many bolts of cloth onto her plentiful wall space, moving them around until she finds an arrangement to her liking.

"I look for relationships between the shapes and try to find connections between them that are rich with possibility," Crow says. "I've always thought that creating art is a process of discovery, not just in arranging the pieces that are part of it but also in the emotions it creates."

For the artist, that includes shearing the cloth. Eschewing the use of a ruler as a guide, Crow cuts freehand, intuitively judging shapes and proportions to match the images in her mind. She'll arrange and rearrange the quilt pieces or cut completely new ones until the visual rendering matches her internal vision. Once she's satisfied with the composition, the quilting process begins. Sometimes straight, sometimes curving, sometimes creating patterns of their own, the stitches subtly reinforce the colorful lines and patterns of the entire quilt that are part of the artistic statement she's striving to make.

Crow finds sources of inspiration wherever she goes. She's taught classes and studied in Australia, New Zealand and Japan. Doors in Guatemala, half-timbered houses in Germany and Mexican baskets with intricate designs fire her imagination. The quilts in her "Chinese Souls" series are an anguished artistic response from a horrifying encounter in China, where she witnessed a truckload of young men convicted of petty crimes being transported to their execution.

Finding inspiration close to home is also easy for Crow.

"Just looking at the way tree branches crisscross in infinite variety is enough to grab my heart," she says. "I can spend hours staring out the window of my studio at the branches of the apple trees in our orchard. Even in the wintertime, the beauty of all those incredibly sensuous branches helps me stay centered."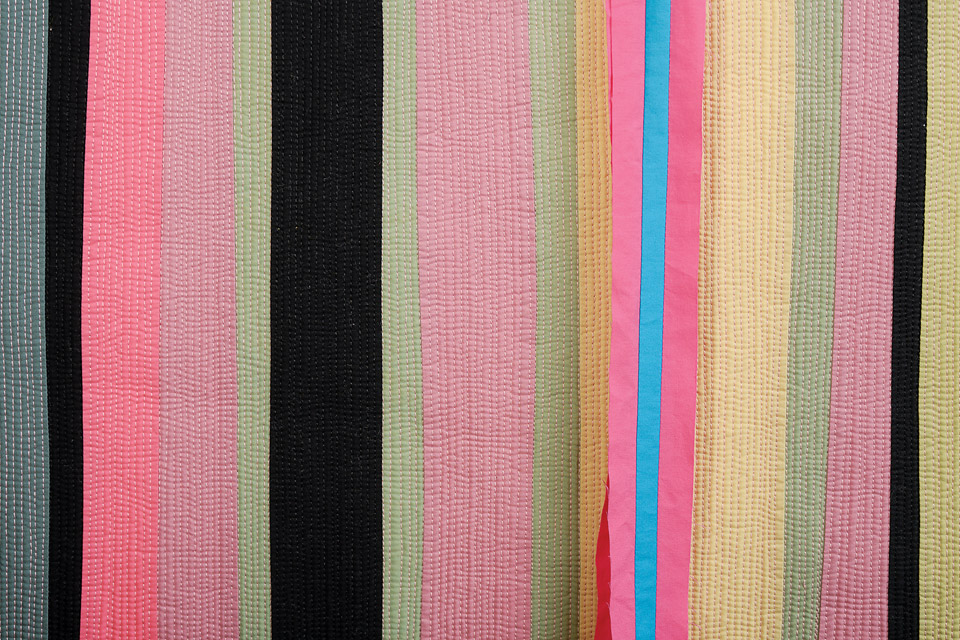 Many of the 80 pieces comprising her "Constructions" series trace their origins to the beams and boards of a neighbor's barn that was taken apart and reassembled on her property.

The youngest of eight children, Crow grew up near Loudonville and went on to study ceramics and weaving at The Ohio State University, where she earned a Bachelor of Fine Arts in ceramics in 1965 and a Master of Fine Arts in ceramics and tapestry weaving in 1969. A dust allergy forced her to abandon ceramics, and it didn't take long before she was frustrated by the limitations of working with a loom. Living in Athens in the 1970s, she joined a textile guild and made quilts but found herself becoming increasingly dissatisfied with the rigid grids and templates associated with traditional quilt-making.

In the late 1980s, Crow experienced an epiphany after seeing quilts made by Anna Williams, an African American artist from Baton Rouge, Louisiana, known as a pioneer when it came to incorporating improvisation in quilt design. Crow quickly adopted a more spontaneous form of quilt construction that has since become her hallmark. In the 1990s, shows at the Renwick Gallery of the Smithsonian American Art Museum and at the American Craft Museum catapulted Crow to the forefront of American quilt-making. Honors that have come her way include being inducted into the Quilters Hall of Fame and, in April, receiving the distinguished Masters of the Medium award by the James Renwick Alliance. Images of her quilts have also appeared on the covers of two books written by poet and civil rights activist Maya Angelou.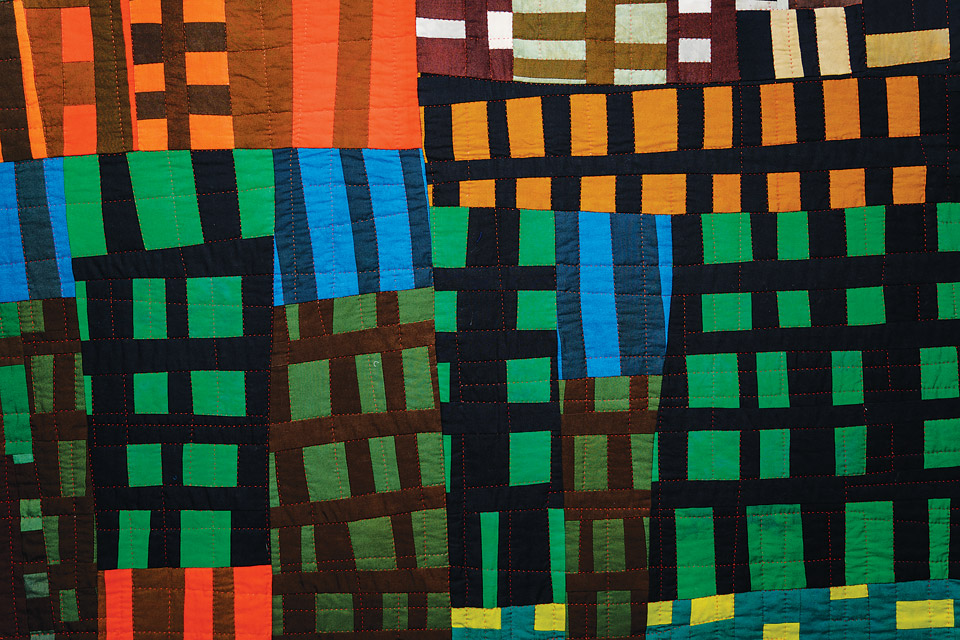 Each spring and fall, students from around the world converge on Crow's farm to study quilt-making in a series of sequential workshops with a curriculum the artist devised.

"Students come from all walks of life," Crow says. "We've got doctors, dentists, even a submarine engineer. "

None are professional quilt-makers, but all aspire to hone their skills to create high-quality fabric art. Most return multiple times, some taking as many as five years to complete the sequence of courses.

"Only the cream of the crop are accepted," says Crow.

Students who make the cut are given their own studio space where they complete quilting assignments in a series of exercises Crow and her faculty members assign them.

The artist readily admits that she's quite demanding, pushing her students to achieve their best.

"If something is working, I'll tell them so and ask them how they can make it even better. If it's not working, I'll tell them that also. I'm not one to worry about social niceties."

Judy Kirpich, a textile artist who lives in Tacoma Park, Maryland, appreciates Crow's curriculum and unedited feedback.

"I went to Harvard, and no one there taught me like Nancy does," she says. "Each workshop is like the equivalent of a graduate-level class. Nancy forbids you to copy her style or anyone else's. She wants you to develop your own voice, and she pushes every student to find their own vision. She's the most demanding teacher I've ever had, but she gets results."