Arts
Elijah Pierce: An American Journey
The Columbus artist's carvings reflected his faith and offered a commentary on the world in which he lived. The Canton Museum of Art hosts a retrospective of his work through March 4.
January 2018
BY Rich Warren | Artwork courtesy of Columbus Museum of Art
January 2018
BY Rich Warren | Artwork courtesy of Columbus Museum of Art
"God speaks to me. I know his voice. 'Elijah, your life is a book, and every day you write a page.'"
Elijah Pierce, a Columbus barber who became known as a giant in 20th-century folk art before his death in 1984, was fond of uttering those words as the explanation for what motivated him to produce his art.
A work illustrating that maxim, "Your Life is a Book and Every Day is a Page," is one of 39 produced by Pierce featured in "Elijah Pierce: An American Journey," on display at the Canton Museum of Art through March 4. The exhibition contains carvings borrowed from the Columbus Museum of Art — the largest repository of Pierce's work — as well as from New York's American Folk Art Museum and the High Museum of Art in Atlanta.
Pierce was a master woodcarver who created bas-relief narrative panels and stand-alone figures that he painted with bold colors and frequently embellished with glitter. The Canton Museum of Art retrospective focuses on the broad scope of his talent, showcasing works ranging from biblical stories and moral lessons to current events and popular culture of his time.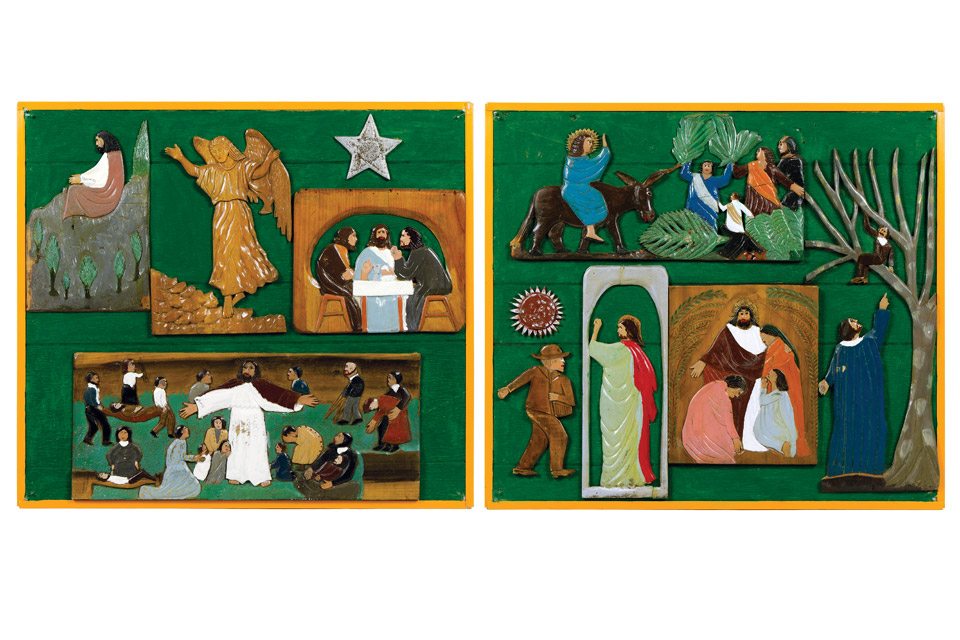 "We wanted to represent Pierce's entire body of work, to show the range of his achievement and how he uses each piece to tell a story," says Canton Museum of Art executive director Max Barton.
"The Book of Wood," seven massive relief carvings with 33 scenes depicting parts of Jesus' life — including Christ healing the sick and Judas' betrayal with a kiss — is at the heart of the exhibition. The celebrated work is exhibited as Pierce's wife originally suggested it be: One massive wooden "book" rests on a lectern with "pages" that turn.
"Mr. Pierce used his art as a vehicle to teach moral lessons," explains Nannette Maciejunes, executive director of the Columbus Museum of Art. "He was a lay preacher in his community who from an early age saw his calling to spread the word of God. He even prayed before he started carving so that he could reveal the story inside the wood."
"Pilgrim's Progress," on loan from the Columbus Museum of Art for the Canton exhibition, is an example of the allegories the artist was known for interpreting. In it, a man pushes a heavy sledge of logs up a steep hill as a variety of temptations — alcohol, cards, a scantily clad woman — try to distract him from his purpose.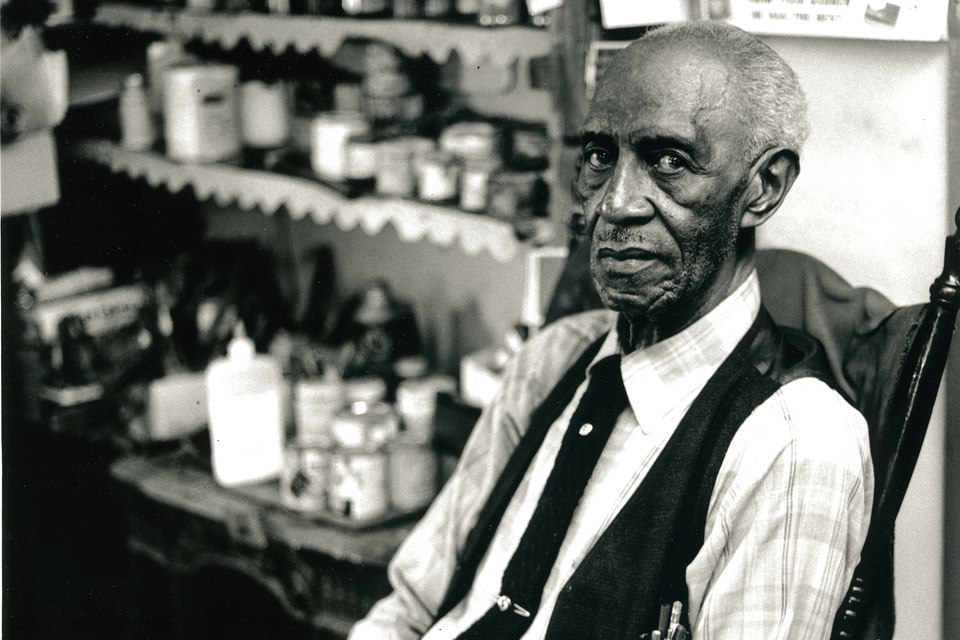 Maciejunes points out there are stories in Pierce's secular work as well. "Watergate," a commentary on American society in the '70s with elements depicting the March on Washington, the killings at Kent State and Jackson State and the war in Vietnam, is a focal point of the show. "Elijah Escapes the Mob" recounts the artist's story of his arrest for allegedly killing a man. When a witness exonerated Pierce, the sheriff released him, urging him to run fast to avoid the mobs that would soon be searching for him.
The son of a former slave, Pierce was born in Mississippi in 1892 and joined the Great Migration to cities in the north. In Illinois, he met his future wife, and the couple moved to Columbus in 1923, where Pierce opened a barbershop on East Long Street. The shop quickly became a hub where neighborhood residents would stop in to discuss local matters and national issues. When customers weren't in his shop, Pierce would sit in his barber chair and carve, producing hundreds of pieces that he frequently gave away to friends or members of his church or hung in an adjacent room.
In the early 1970s, Boris Gruenwald, a graduate student at The Ohio State University, saw Pierce's work and arranged for the artist, then age 79, to display it at Ohio State. Pierce's fame soon spread and exhibitions were organized for venues that included New York's Museum of Modern Art, as well as Washington, D.C.'s Corcoran Gallery of Art and the National Museum of American Art.
It was during that decade that Michael Hall, adjunct curator of folk art at the Columbus Museum of Art, befriended Pierce. Hall remembers a tall, elegant man with enormous, dexterous hands who was so much more than the pious man of faith people saw him as.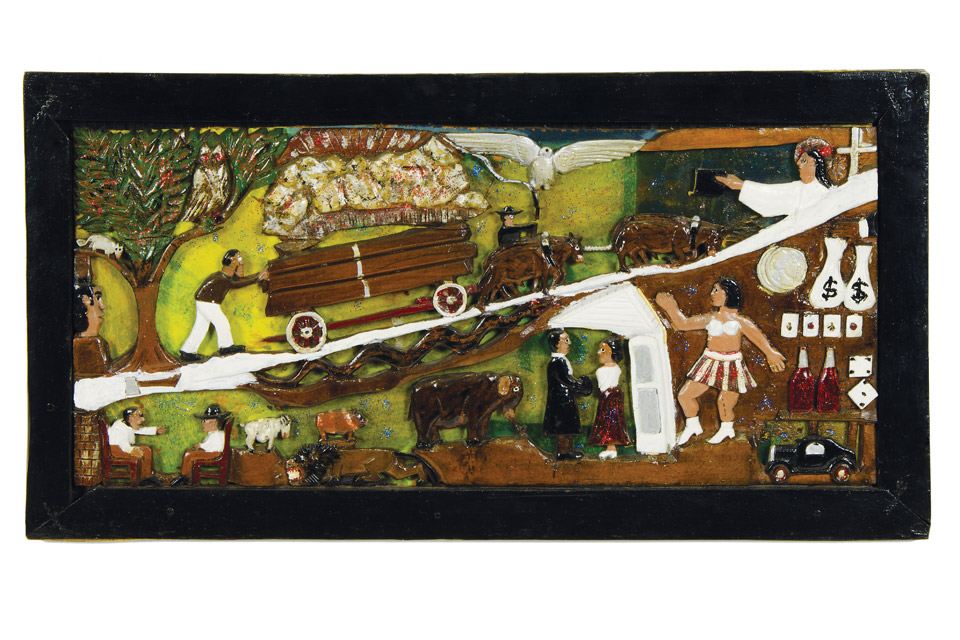 "He was also just a lot of fun, with a wry sense of humor — he loved to laugh," Hall says. The curator recalls being led into the room adjacent to the barbershop where Pierce kept his life's work, including "The Book of Wood," from which Pierce tested Hall's knowledge of the Bible.
"Before this time, he'd just been the Elijah Pierce who used his art as visual aids to communicate moral lessons and his own personal passions to people in his own community," Hall says. "But when the art world came calling in the 1970s, he was repurposed as an 'everyman' living among us whose vision was a personal expression but also high art. The power of his work, in my opinion, is that it can flow seamlessly back and forth and be both."
Reflecting on Pierce's art, Barton ponders what stories the artist would be telling us today.
"I wonder if he'd be having conversations with us in his art about peace and harmony between the races," he says. "But then I think if we only stop and pay attention, maybe he's already carved everything we need to know into his art."

Art credits: Top Panel: Elijah Pierce's "Book of Wood" Pages A and B; bottom panel: Elijah Pierce's "Pilgrim's Progress" (photos courtesy of the Columbus Museum of Art)
Canton Museum of Art
1001 Market Ave. N., Canton 44702
330/453-7666, cantonart.org
Hours: Tues.–Thur. 10 a.m.–8 p.m., Fri. & Sat. 10 a.m.–5 p.m., Sun. 1–5 p.m.
Admission: Adults $8, seniors 60+, students with ID and veterans $6, children 12 and under free.