Arts
Dracula Reinvented
Costume designer Ray Zupp shares how the Dayton Ballet is revamping Bram Stoker's classic character in its new show.
October 2016 Issue
BY Linda Feagler | Artwork courtesy of Dayton Ballet
October 2016 Issue
BY Linda Feagler | Artwork courtesy of Dayton Ballet
October is the month everyone's favorite bloodsucker rises once more. But this year, the Dayton Ballet is updating Bram Stoker's famous tale with new choreography, costumes and music that presents Dracula as a sympathetic character.
"In Stoker's story, Dracula is made out to be a monster," says Dayton Ballet artistic director Karen Russo Burke, who wrote the libretto and created the choreography for "Dracula: Bloodlines," which premieres at the Victoria Theatre Oct. 20 through 23. "But I began to wonder, what if Dracula was the victim this time? … When you consider the fact Dracula would always outlive everyone he loves, it really is heartbreaking."
The challenge for the production's creators was how to convey that passage of time. Costume designer Ray Zupp was up for the task of blending couture styles to achieve the desired effect. We talked with him about what went into presenting Dracula's transformation on stage.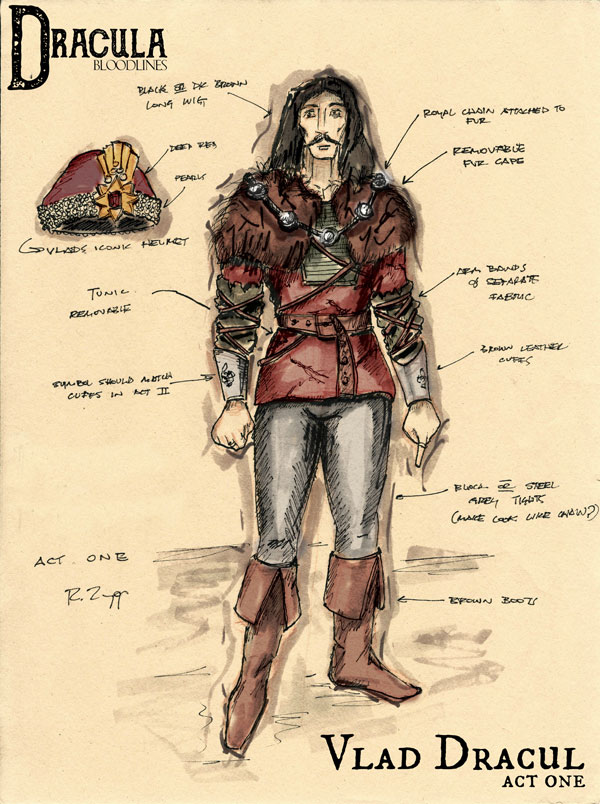 Act One:
Stoker based his famous character on historical accounts of Vlad III, a 15th-century Romanian prince who earned the nickname Vlad the Impaler for the way he tortured his enemies and drank their blood.
Zupp patterned Vlad's attire for the show's first act after 16th-century paintings and pen-and-ink drawings of the royal and scrutinized clothing samples to ensure both an accurate look and freedom of movement.
"In reality, he'd be wearing heavy chain mail, wool and wolfskin," Zupp says. "In ballet, clothing is really more than costume. It still has to tell a story, but it also has to be lightweight."
He found brocade, Lycra and faux fur did the trick. "No animals were harmed in the making of our production," he adds.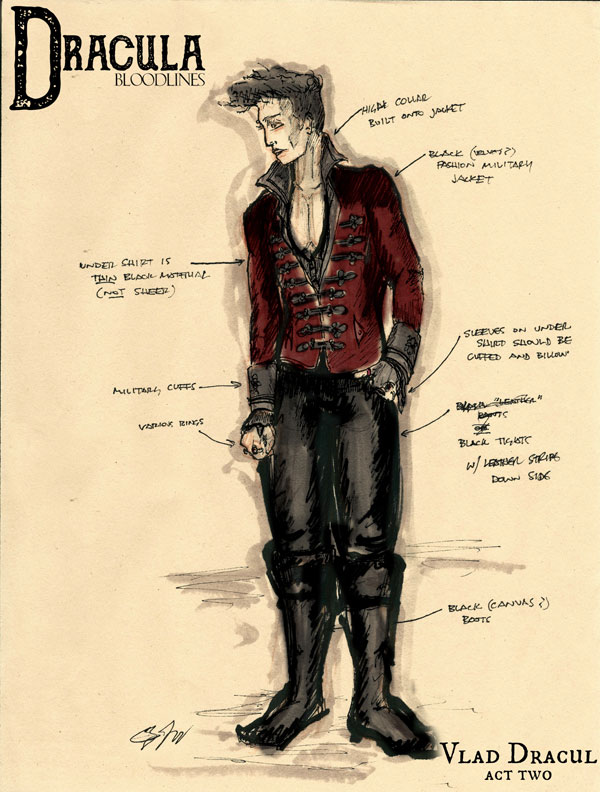 Act Two:
Zupp borrowed from trends on New York runways to transform Vlad, now known as Dracula by the second act, into a 21st-century GQ-esque fashion plate.
"What goes around comes around," Zupp says. "A Dolce & Gabbana jacket I saw several seasons ago was patterned after an 1800s military coat, which works perfectly here. Dracula's leather pants have a rocker-chic look to them, and the boots he's wearing have come back in for men. I opted to make the color palette as stark as possible, using shades of white, silver, grey and black.
"Since Dracula has lived for centuries, it stands to reason he could have pulled these clothes out of his closet," Zupp adds. "When it comes to looking good, living a couple of centuries will do that to you."
For more information, visit daytonperformingarts.org/ballet.