Arts
'Devoted: Visual Performances of Faith' in Dayton
The Dayton Art Institute presents an exhibition of work from its own collection showing how artists have interpreted and celebrated religions spanning the globe.
December 2018
BY Linda Feagler | Artwork courtesy of Dayton Art Institute
December 2018
BY Linda Feagler | Artwork courtesy of Dayton Art Institute
Among the mix of oil paintings, sculptures, jewelry and decorative items featured in "Devoted: Visual Performances of Faith" is an artifact Dayton Art Institute curator Peter Doebler is repeatedly drawn to: a bound, embossed red leather Quran containing the holy scripture of Islam measuring just 6 inches high and 4 inches wide.

Adorned with flowers painted in pastel hues, the text was written in black ink flecked with specks of gold. Historians surmise this copy was penned between the 15th and 18th centuries.

"Many times the subject of religion is presented as a static concept," Doebler says. "So we made sure the artwork presented in 'Devoted' is more than a display. It's meant to guide viewers to higher aspirations — and perhaps connect them to the divine."

On a personal level, the painstaking craftsmanship that's readily apparent throughout the volume has led Doebler to ponder the relic's past.

"It's reminiscent of medieval manuscripts in Europe," the curator says. "When you think about the amount of time and dedication it took for someone to write this, and the reverence they had for the words, you can't help but wonder who owned this in the past, what they thought about when they read it and how it enriched their lives."
The Quran is one of 24 objects featured in the exhibition, which runs through Dec. 30. Assembled from the Dayton Art Institute's collection, the pieces span 2,000 years and represent nine religions, including Christianity, Buddhism, Islam, Judaism and Hinduism.
"In any performance, the use of props, stage and script help guide the action and invite a response from the viewer," Doebler explains. "Similarly, the visual arts serve an important role in the performance of devotion in faith traditions around the world and facilitate spiritual practice. The origins of these items include churches, mosques and temples, as well as sacred spaces that were created in private homes."

Daily devotion is exemplified in the German house altar, crafted of cow bone, feather quills and watercolor images between 1580 and 1620.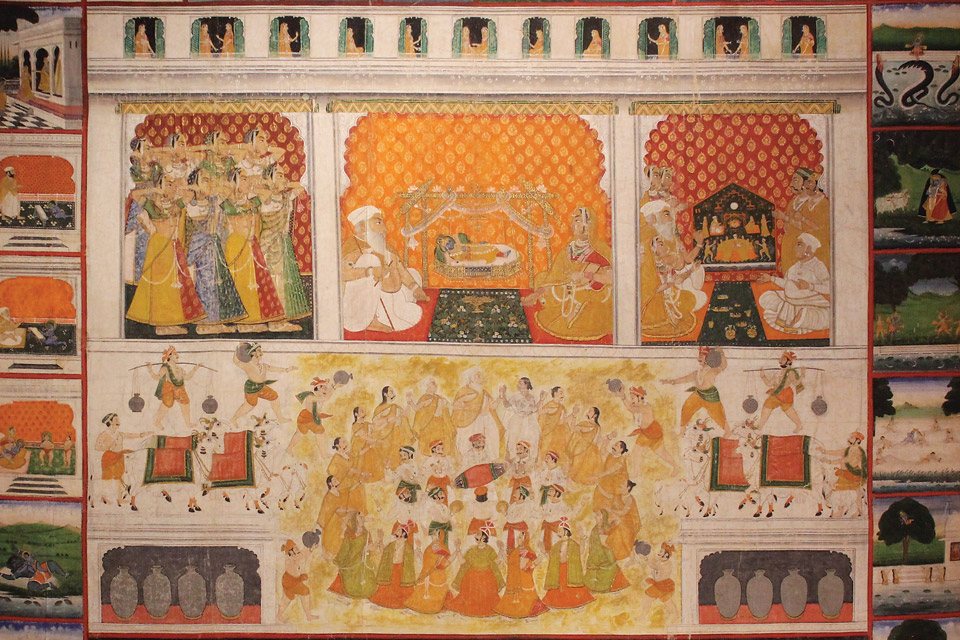 "This piece is clearly meant to be placed on a table in a household setting," Doebler says. "Its owners undoubtedly prayed or read their Bible in front of it. The IHS monogram, the symbol of Jesus Christ, which adorns the top adds a solemn touch."
Religion's universal themes of conception and birth are celebrated in riveting ways throughout the exhibition. "The Immaculate Conception," painted by Spanish baroque artist Bartolomé Esteban Murillo between 1670 and 1680, depicts the Catholic Church's doctrine that the Virgin Mary was miraculously conceived without inheriting the human propensity to sin, making it possible for her to be the mother of Jesus. Like other artists of the time, Murillo portrays Mary as otherworldly, atop a crescent moon and being carried to the heavens by angels while she's surrounded by symbols of purity, including a white robe and lilies. Many scholars believe the work may have provided a backdrop for an altar, where Mary's gaze served as a prompt for devotees to look heavenward.

"This painting makes an abstract theological teaching clear enough so that viewers unfamiliar with Catholicism understand it," Doebler says.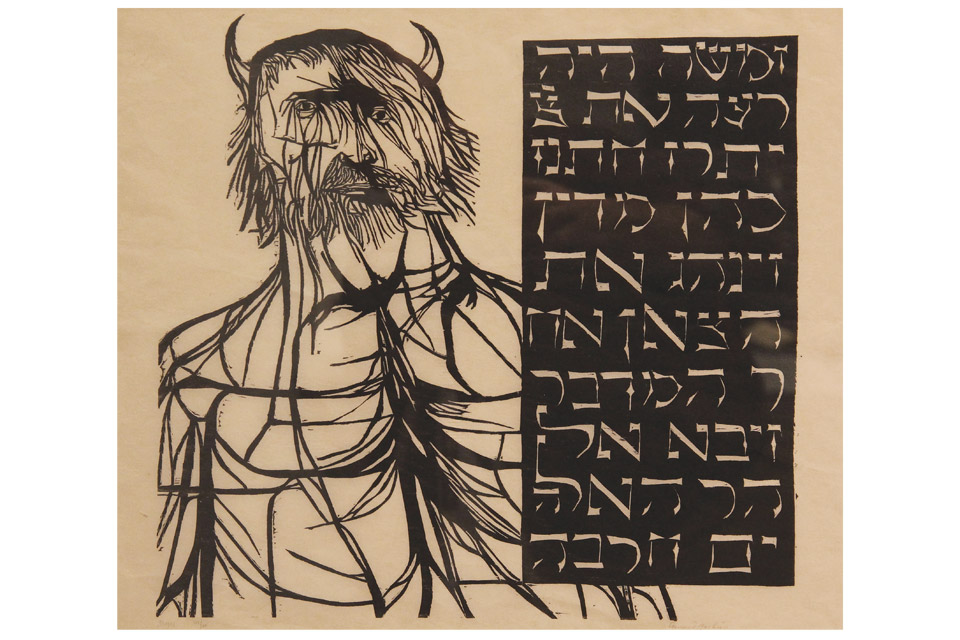 Similarly, the 19th-century distemper-on-cotton image of "Celebration of the Birth of Krishna" honors the beginnings of the most widely revered Indian divinity. Stories of Krishna appear across a broad spectrum of Hindu traditions. It's believed he had a miraculous birth, and the central scene of the canvas is filled with dancing and celebration. From infancy, Krishna's existence was threatened by his uncle Kamsa, and the bottom of the work depicts Krishna's father spiriting his son away across a river during an impending storm. The surrounding images are stories from Krishna's life, when foster parents raised him in order to elude Kamsa.

"Here we have two stories of miraculous births — a commonality among very different religious traditions — captured as works of art," Doebler says.

The curator cites "Moses," a woodcut on paper American sculptor Leonard Baskin created around 1960, as an example of the enduring popularity religion as subject matter continues to hold.

"When we think of the last century, we think of modernist, abstract works by artists like Picasso," Doebler says. "Although there was, for the most part, a kind of separation of religion and high art, you did have artists like Baskin who were committed to presenting religious scenes in new ways."
Two portraits (one in words, one in pictures) appear side by side in Baskin's work. On the right is the Hebrew text of Exodus 3:1 — "Now Moses was keeping the flock of Jethro his father-in-law, the priest of Midian; and he led the flock to the farthest end of the wilderness, and came to the mountain of God, unto Horeb" — which introduces the story of Moses meeting God and embarking on his mission to lead the Israelites.

The horns on Baskin's depiction of Moses are based on a mistranslation of Exodus 34:29, in which the Hebrew word for "radiant" was read as "horn," which led to Moses often being depicted with horns in European art — an illustration, Doebler says, the artist uses to underscore the ambiguous relationship of text and image as a way to preserve sacred traditions.

"My goal in curating this exhibition was to identify a good cross section of religion from different traditions," the curator explains. "What became clear as the exhibition came together is that it's not about what is right and what is wrong. If you just look at these artworks, you'll realize each is something beautiful and filled with tradition."

Dayton Art Institute
456 Belmonte Park N., Dayton 45405, 937/223-4278, daytonartinstitute.org
Hours: Wed., Fri. & Sat. 11 a.m.–5 p.m., Thur. 11 a.m.–8 p.m., Sun. noon–5 p.m.
Admission: Adults $8, seniors $5, college students 18+ with ID, children 17 and under and museum members free