Arts
A Christmas Story: The Ohio Making of a Holiday Classic
Ralphie and his Red Ryder BB Gun cemented Cleveland's Public Square, Higbee's department store and a Tremont neighborhood home in pop culture.
November 2013 Issue
BY Linda Feagler | PHOTO COURTESY OF Turner Entertainment
November 2013 Issue
BY Linda Feagler | PHOTO COURTESY OF Turner Entertainment
It's a holiday tradition savored like turkey with all the trimmings, one that's meant to be relished after the malls have closed. As Christmas Eve night falls, families across America gather around their televisions for "24 hours of 'A Christmas Story' " on TBS. The scene is calm, bright and, given the film's backstory, downright miraculous.
Although "A Christmas Story" has garnered legions of fans over the past three decades — more than 4 million viewers watched the cable-TV marathon last year alone — the film didn't impress audiences or critics when it hit theaters in November 1983.
"There are a number of small, unexpectedly funny moments in 'A Christmas Story,' " Vincent Canby of
The New York Times
wrote, "but you have to possess the stamina of a pearl diver to find them." Still, the motion picture became a bastion of civic pride in Cleveland, where many key scenes were filmed. On screen, Public Square glows, Higbee's department store shines, and a nondescript house becomes a home befitting a Norman Rockwell painting.
What follows is the story of how the late Bob Clark, at the time an established B-movie filmmaker known best for the ribald comedy "Porky's," made his iconic Christmas movie. It's told by the cast and crew who helped turn author Jean Shepherd's childhood memories into a holiday classic.
"A Christmas Story" seemed to be a departure from Bob Clark's usual film fare ("Black Christmas" and "Children Shouldn't Play With Dead Things"). But Clark became captivated by the Midwest reminiscences of American humorist Jean Shepherd and knew he had to bring them to the screen. The film is based on stories from Shepherd's bestselling books.
Reuben Freed
Production designer:
Bob passed me an early version of the script to "A Christmas Story." I thought it was the best thing I'd ever seen. I always believed Bob could be another Mark Twain, that he could be the storyteller for America. I couldn't wait to begin work on the movie.
Tedde Moore
The actress who portrays teacher Miss Shields in "A Christmas Story":
Bob really did embrace the nostalgia of the '30s and '40s [the era in which "A Christmas Story" takes place.] He loved period films. In fact, "Porky's" was based on the experiences he had in high school. Bob was quite a reporter of the times, which is why it is so interesting.
Clark didn't have to look far to find his Ralphie, the 9-year-old who obsesses over receiving an official Red Ryder BB gun for Christmas. Peter Billingsley was a shoo-in for the lead, having appeared in TV commercials and series. Melinda Dillon was also a natural for the Parker family matriarch. Clark admired her performance in "Close Encounters of the Third Kind." Other roles though were not so clear-cut to cast.
Scott Schwartz
The actor who plays Ralphie's pal Flick:
I had [co-starred in the 1982 movie] "The Toy," with Jackie Gleason and Richard Pryor. … I assumed I'd be Ralphie. But after we got to the reading and Bob assigned all the roles, I was kind of left sitting there scratching my head. I talked to Bob about it. There was no animosity. He said, "Hey, you're Flick, you're going to be great. It's not the size of the role but what you make out of it." … Who knew that so few moments of film [getting my tongue stuck on a flagpole] would end up becoming what it ended up becoming?
Ken Goch
Bob Clark's first assistant director:
Bob would have accepted Jack Nicholson in the role of The Old Man. The studio wanted Jack and flirted with the idea of asking him. If Jack had done the role, the whole post-release would have been different. … Darren McGavin did not have [the recognition] Nicholson did, so the studio didn't want to make the investment to push the film. But Darren was Bob's choice. He was one of the most likeable people you'd ever meet.
Cleveland Heights actress Patty Johnson LaFountaine turned in an unforgettable performance as the Head Elf who unceremoniously escorts children to Santa's lap. But, the character she portrays wasn't at all what Clark initially had in mind.
Patty Johnson LaFountaine
The actress who portrays Higbee's Head Elf:
My agent called and said a feature film was going to be shot in Cleveland. ... She said they were looking for an elf with a really bad attitude. And — I know this sounds insulting, but I didn't take it that way — she said, "I think if you audition, you're going to get the part."
I really didn't want to. I was a single mother with small children working full time as a teacher. It was a very intense time for me: My mom's funeral had been several days before. I had taken so much time off from work already, so I promised my agent that if I didn't have to wait in line to audition, I'd come down on my lunch break. Back then, they didn't ask you to send a tape. You were expected to wait in line with your portfolio of pictures in your hand. Since I had played a singing elf before, I brought those photos along.
When I finally met Ken Goch, he said, "Well, you have a lot of the qualities the director's looking for. But unfortunately, his concept is that he wants to cast a teenager." … That's when I went ballistic. I said, "You need to be more specific with the casting people, because why am I coming down here on this turkey shoot? You know you want a teenager, and obviously, I am no teen queen."
So, I snapped the photos out of his hand and said, "Well, good luck with this whole teen thing. If you want a professional elf, you know where I am."
That night, my phone rang and it was my agent telling me Bob Clark wanted to meet the next day. I thought there was some mistake. When I got to the audition, I discovered there were two of us who had been called back: me and a 15-year-old. My eyes were rolling around in my head as I stood there. But then Bob came over, shook my hand and said, "Oh, we're definitely going with you."
I guess my bad humor paid off, for once. They saw that hissy fit and thought,
Well, this is exactly what we need. Somebody who is definitely on the edge
. And they certainly got it.
Having an adult in that role adds so much because you can't help but think,
Why are those people
[LaFountaine and fellow elf Drew Hocevar]
working in Santaland?
You expect to see teens on Christmas break working as elves to make extra money. But no, it's us, the Frick and Frack of doom and gloom. The first time people see the scene, they are stunned on so many levels.
First, there are the happy times in the department store. Then, they see us, and whack!
Clark and his crew initially scouted Hammond, Ind., where Jean Shepherd grew up, but the movie called for a town that had an industrial, blue-collar feel. Although interior shots of the Parker family abode were filmed in Canada, a house in the Tremont neighborhood, its backyard and surrounding area served as the stage for exterior scenes.
RF
: Cleveland was perfect. We didn't want to showcase a major recognizable American city. We wanted to showcase a blue-collar area like the one Jean Shepherd was raised in. I mentioned to the location scout who was taking us around Cleveland that I wanted to be able to look down on an industrial area from a residential area. So, he took me to this place, and I saw the bar on the corner, and I saw a street that looked really promising. We turned the corner and there was the house.
KG
: It looked exactly like the place Jean Shepherd wrote about, including the [industrial] plant in the valley that was directly behind it. Clearly, it was the house that made Cleveland the location. There's no doubt about it.
Another crucial component: There needed to be a department store nearby that seemed frozen in time. Higbee's fit the bill.
RF
: We found the house first and knew Higbee's existed. Store personnel wouldn't let us anywhere near the place before Christmas, and we had a very compressed amount of time to shoot in January. Creating the look of Higbee's department store window was one of my most favorite parts of the project. …
Santa's Mountain was very much my imagining what Jean Shepherd and Bob described. … I'd run back and forth to Bob with a sketchbook filled with rudimentary illustrations, no Rembrandt. … For the slide, I bought a pool slide, designed a series of boxes and covered them in foam and plastic. Scenic artists worked their magic by dusting the mound with sparkle and fake snow.
PJL
: Oh my god, the [Santa's Mountain] platform was so rickety. And to compound the problem, once you were up around Santa's lair, there was nothing to hold on to. We were scared within an inch of our lives that the whole thing would collapse.
The cast and crew arrived in January 1983. It didn't take long to hit a snag: No snow.
RF
: We knew that making snow would be a challenge, but it would be impossible if we did not have cold temperatures. Thankfully, when we needed it, the temperatures got sufficiently low so that our genius special-effects guy Martin Malivoire could bring in a snow machine from a local ski resort and create not so much snow, but a kind of frost with frozen water chips.
For the deep background shots, we used fake snow — batting that is used to stuff mattresses and pillows. We also used potato flakes and anything we could get our hands on that would not be environmentally destructive.
A bus shelter on Public Square was a particular problem because it looked too new, so we faked it out by making it look like a popcorn-vending place.
To create the winter wonderland outside Ralphie's bedroom window, Martin sprayed a tree with ice-cold water. Temperatures froze enough to get that magical effect. It was as if God was smiling down saying, "Bless you guys."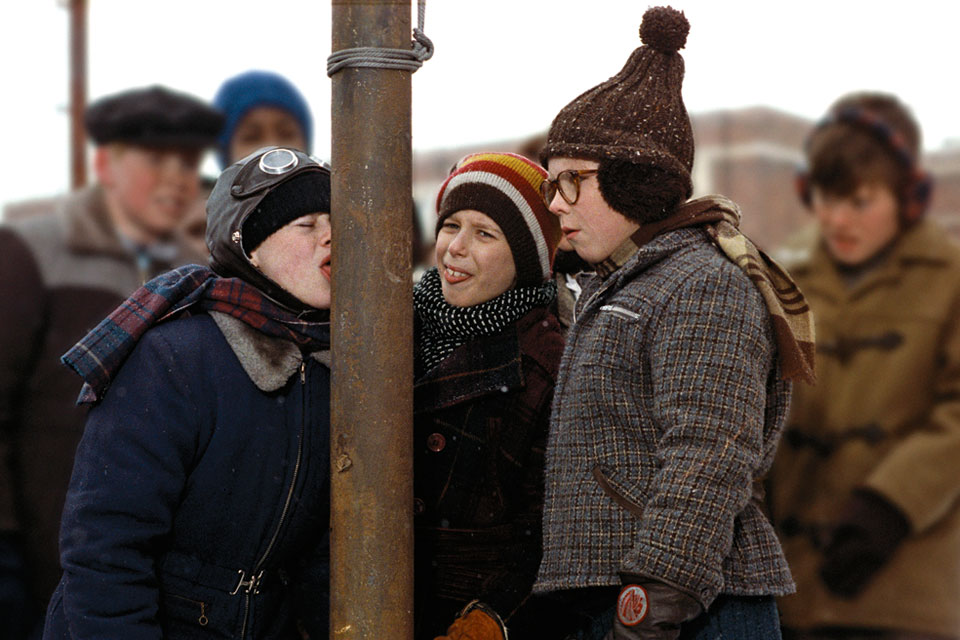 As unforgettable as favorite lines ("You'll Shoot Your Eye Out," "Fra-gee-lay," "Oh, Fuuudge!"), the leg lamp trumps the BB gun as the movie's most memorable prop.
RF
: The term "leg lamp" is Jean's invention. … Bob told me he wanted The Old Man to be in the window with the lamp, and that it needed to be big enough to be seen from across the street. So, it had to be the size of a human limb. I got a mannequin leg and asked costume designer Mary McLeod for input. She brought me a single pump, and I added fishnet stockings because that's what a bad girl would wear. For the lampshade, I drew on an image from a comic book that had a '40s look to it. That was the easy part. The difficulty was creating something that would break on command, that we could have more than one of, that could be electrified and stand by itself.
In addition to the leg lamp, a pop culture icon, the film has spawned memorabilia ranging from T-shirts and ornaments to a Broadway musical to an annual convention and a museum in Cleveland.
PJL
: The staying power of "A Christmas Story" is surreal. After it was on HBO a couple of times, came out on Beta and started showing up in movie-rental places, it developed a cult following. Today, child for child in every school where I teach, they, their parents and grandparents know the movie. The fan base just keeps growing. There are so many people who come back every single year to A Christmas Story House [in Tremont] with their whole family.
TM
: I'm proud to be part of the experience. As you can imagine, there's a certain amount of bemusement in the actors' community during fan weekends. But we are blessed. Our fans are not weirdo, whacked-out people … they are wonderful human beings who come together because they love the humanity in the film.
RF
: I'm not surprised at all [by its longevity]. The movie has wonderful values and speaks of the common man and the little boy we can all identify with.
SS
: I'm proud of what the movie has become, but I never say "I" and "me" — it's always "we" and "us." I was just a small piece of the puzzle. To be part of something millions of people watch year in and year out is pretty astonishing.