Arts
'Chihuly: Celebrating Nature' in Columbus
See incredible glass sculptures by artist Dale Chihuly installed among the natural beauty of Franklin Park Conservatory and Botanical Gardens.
December 2019
BY Linda Feagler | Artwork courtesy of Franklin Park Conservatory and Botanical Gardens/© Chihuly Studio
December 2019
BY Linda Feagler | Artwork courtesy of Franklin Park Conservatory and Botanical Gardens/© Chihuly Studio
The colorful spheres floating among the koi darting to and fro in the Pacific Island Water Garden pond could easily be mistaken for giant beach balls.

But these multihued globes in shades of yellow, red, green and blue are not inflatable toys. Titled "Niijima Floats," they were created by renowned glass sculptor Dale Chihuly and named for an island in Tokyo Bay and the small Japanese fishing floats he saw on the shores of Washington's Puget Sound in his youth. The glass orbs, which weigh between 30 and 60 pounds each, have been on display at Columbus' Franklin Park Conservatory and Botanical Gardens since 2003.

Through March 29, the 124-year-old Columbus landmark is hosting "Chihuly: Celebrating Nature," a collection of the sculptor's exquisite designs that features 19 Chihuly installations totaling more than 3,000 pieces of glass from Franklin Park's permanent collection as well as five additional sculptures on loan from Chihuly Studio in Seattle.

"When people think of glass art, they often think of small pieces," says Bonnie DeRubertis, associate director of exhibitions at Franklin Park Conservatory and Botanical Gardens. "But Dale Chihuly was a groundbreaker. He was able to re-envision what the medium could be and push the boundaries to take it to a whole new scale."

The conservatory, she adds, is the ideal showcase for the artist's work, since much of it is patterned after forms found in nature, ranging from the graceful "Marine Blue Herons" on display in the Bonsai Courtyard to the violet "Neodymium Reeds & Green Grasses" surrounded by a cacao tree and austral gem ferns in the Rainforest biome.
"Chihuly's shapes are so organic, and they really play off the plants we have here," DeRubertis says. "As a result, the colors in the glass pop and the sculptures are completely immersed within the space."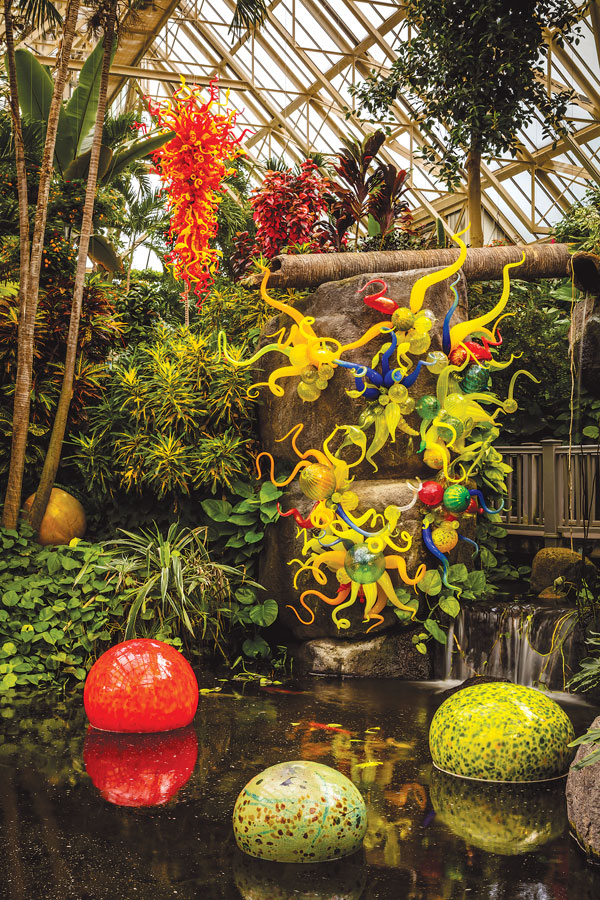 Since much of the art on display has been out of the spotlight since Chihuly's last retrospective here in 2009, the exhibition offers a fresh look at these versatile works, especially those reappearing in new formations throughout the conservatory.

"I love the challenge of re-envisioning how something can look and feel to the visitor in a new setting," DeRubertis says, pointing to the "Sunset Chandelier" hanging in the center of the Pacific Island Water Garden biome. Resembling tongues of red, yellow and orange flames, the vibrant glass is a reconfiguration of Chihuly's "Sunset Tower" sculpture, which had been nestled among ferns and philodendron in the Pacific Island Water Garden since 2003.

After Franklin Park Conservatory staff members brainstormed with Chihuly and his team about how to present the work in a different way, the iconic 660-piece tower was dismantled, shipped to Seattle and reshaped. The artist used the glass left over to create "Red Reeds & Sunset Sprays," now the centerpiece on the conservatory's Asian-inspired Zen Terrace.

"'Sunset Chandelier' feels like the icing on the cake in this beautiful place," DeRubertis says. "I imagine it would be difficult for an artist to reinvent an installation. But Dale Chihuly was able to look at 'Sunset Tower,' in a new way and create two new works of art from it."

***

Heralded as a pioneer of the art glass movement since he began working with the medium during the 1960s, Dale Chihuly is known for his vibrant seashell-like shapes, chandeliers, baskets and plant-like forms. He and his team never tire of exploring ideas for new forms that will complement exhibition space at museums and botanical gardens around the world.

"Originally, glass was very much a utilitarian material," says Britt Cornett, Chihuly Studio's director of exhibitions, who has worked with the artist since 2005. "But Dale makes it magical. He uses light, form and colors to create these unique artwork experiences."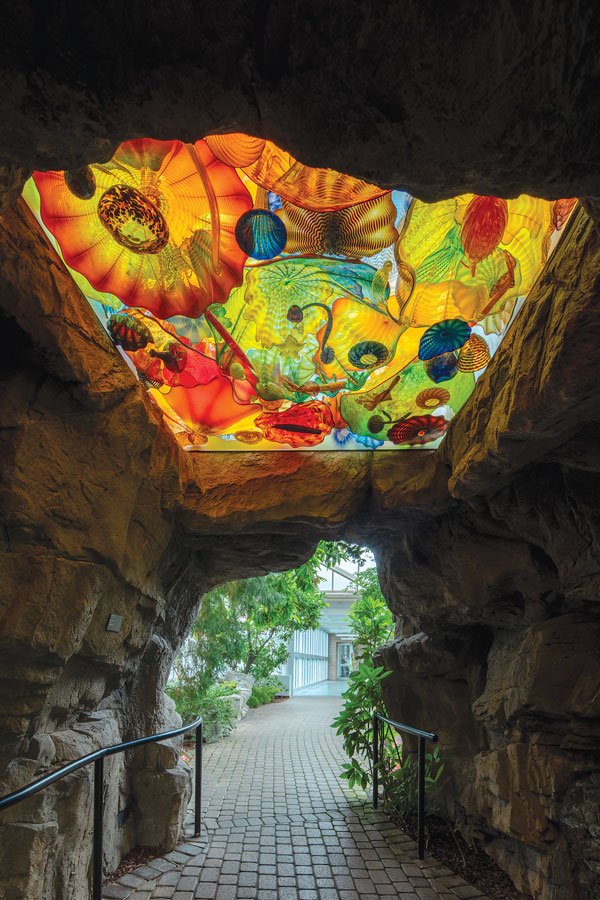 The Tacoma, Washington, native discovered his muse while enrolled in a weaving class at the University of Washington. For his final project sophomore year, Chihuly decided to add bits of glass to the cloth and was captivated by the way it caught the light. Pilgrimages to Germany, Czechoslovakia and Italy — as well as experimentation with melted stained glass and a lifelong interest in architecture and gardens — helped cement his passion. The artist spent a year working as a commercial fisherman in Alaska to earn money for graduate school at the University of Wisconsin, where he received his Master of Science degree in sculpture in 1967. Four years later, he founded the Pilchuck Glass School, which led Seattle to become a mecca for artists around the world.
Despite an automobile accident that caused him to lose sight in his left eye, Chihuly remained undeterred. As his renown spread so did his commissions. He's created installations for a variety of settings, including London's Victoria & Albert Museum, the 2002 Olympic Games in Salt Lake City, Japan's Toyama Glass Art Museum and Boston's Museum of Fine Arts.

"There's a natural synergy that happens when Dale's artwork is in a natural environment among beautiful gardens," Cornett says. "But it can also look fabulous in a very stark environment. I think that versatility is one of the successes that comes through in his career."

***

As DeRubertis passes through Franklin Park Conservatory's atrium and into the temperate Himalayan Mountains biome, she offers an invitation to stop and look up at a sculpture that's one of her favorites. Composed of hundreds of blown glass forms layered together on plate glass panels, "Persian Ceiling" is unique because, unlike most other Chihuly works, it was not predesigned in his studio. Instead, a cavity was created for the glass pieces, and installers laid each one by hand from above, while a team on the ground guided them. The translucent gold "putti" (which means "cherub" in Italian), smiling down on passersby from the center of the space adds a touch of whimsy.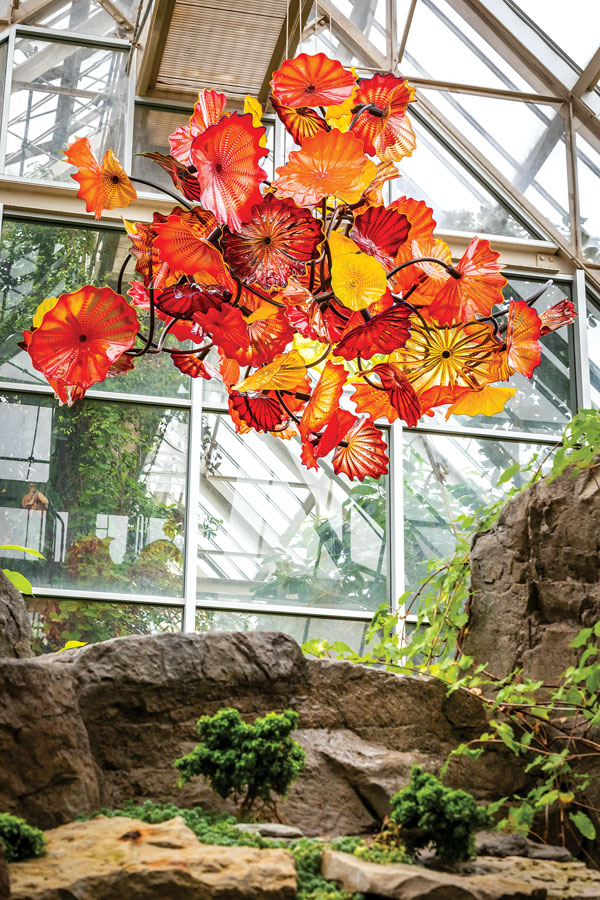 "There is something really fun about this," DeRubertis says. "Some visitors say it reminds them of watching fish swim by in an aquarium. Although this piece is stationary, it's just as mesmerizing."
The Himalayan Mountains biome is also home to the seven-piece translucent "Macchia Forest." To give the illusion of illumination, Chihuly applied a layer of white glass between colors to prevent them from blending. Pieces of colored glass are fused to the surface during the glassblowing process to produce the mottled effect for which it is named.

"During these garden shows, you have people coming to experience the conservatory and they discover Dale's art," Cornett says. "On the other hand, you have people who know who Chihuly is and are visiting the garden for the first time to see his work.

"It is," she adds, "a wonderful cross-pollination that leads to a beautiful sense of discovery."

Franklin Park Conservatory and Botanical Gardens
1777 E. Broad St., Columbus 43203, 614/715-8000, fpconservatory.org
Hours: Mon.–Sun. 10 a.m.–5 p.m.
Admission: Adults $19, seniors $16, children 3–12 $12, 2 and under free