Arts
Celebrating Harlem in Columbus
Author Wil Haygood curates a Columbus Museum of Art exhibition offering insight into how the Harlem Renaissance reshaped American culture.
October 2018
BY Linda Feagler | Artwork courtesy of Columbus Museum of Art
October 2018
BY Linda Feagler | Artwork courtesy of Columbus Museum of Art
He was born three decades too late. But ask award-winning writer and Columbus native Wil Haygood about the Harlem Renaissance — the intellectual, social and artistic movement that made the Manhattan neighborhood a cultural hub following World War I before sweeping the country — and it's clear his admiration for the period is personal.

Haygood, 64, vividly recalls the stories his mother, Elvira, recounted about the clubs that once lined Mount Vernon Avenue, Columbus' historic African-American neighborhood — venues that attracted performers who were either part of the Harlem Renaissance or committed to continuing the movement during the years that followed.

"My mother would talk about people like [jazz vocalist] Sarah Vaughan, [pianist and band leader] Earl "Fatha" Hines and [R&B] singer Big Mama Thornton who waltzed in and out of Mount Vernon Avenue from New York in the '50s," says Haygood, who lives in Washington, D.C. "In the 1970s, those legendary clubs were still standing, but they were on their last legs. You could still see these wonderful sepia-toned pictures in the windows of all the musical giants who came through the neighborhood — people like Duke Ellington and Cab Calloway and various figures of that ilk who left their mark on the city."

Haygood, who teaches journalism at Miami University, is known for his biographies of Adam Clayton Powell Jr., Sugar Ray Robinson and Sammy Davis Jr. An article he penned for The Washington Post about White House butler Eugene Allen served as the basis for Lee Daniels' "The Butler," the 2013 film starring Forest Whitaker and Oprah Winfrey. Tigerland, the story of Columbus' segregated East High School baseball and basketball teams that won state championships amid the racial turbulence of 1968, was published last month.

"My work has taken me all over the world," Haygood says. "But there's no doubt that something spoke to me about Harlem because it was the mecca of black art in this country. A lot of other metropolitan areas including Columbus mimicked what happened there. Those stories are fabulous to write about, and you often find other stories inside those stories. The fact that it all seems to be part of a big thread that stitches together people and places and timelines is pretty phenomenal."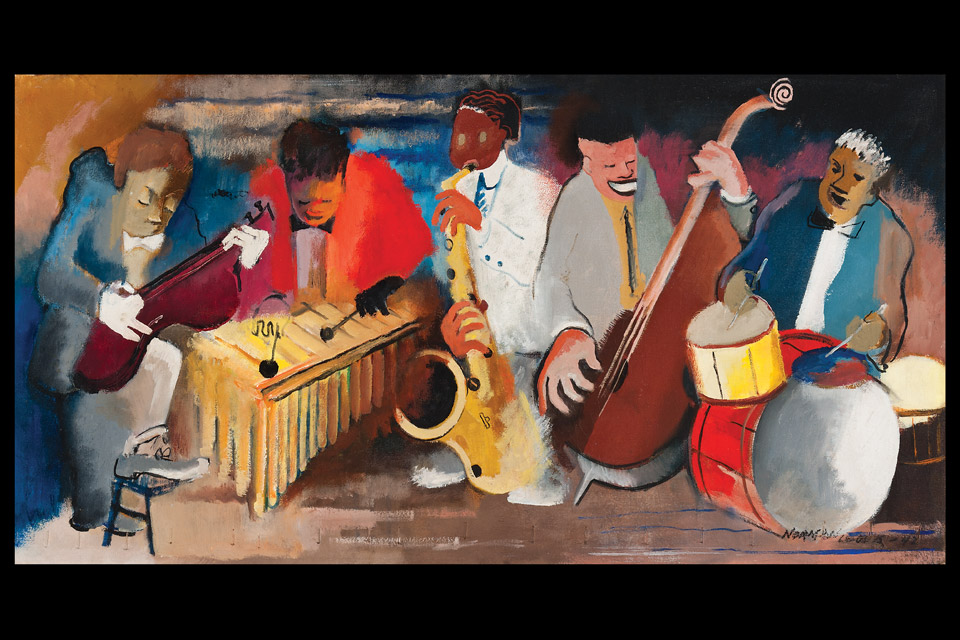 From Oct. 19 through Jan. 20, the Columbus Museum of Art celebrates the centennial of the period with "I, Too, Sing America: The Harlem Renaissance at 100," an exhibition curated by Haygood that features 130 paintings, sculptures, drawings, prints, photographs and books showcasing the era and the artistry it influenced. The curator chose the title as a homage to the poem "I, Too" written by Langston Hughes in 1926, which is filled with yearning for equality through perseverance and refutes the idea that patriotism is limited by race.

"I think any artist who feels pressure today from people in office who are trying to devalue the artistic contributions of certain races of people in this country can find a support system by looking at what happened in Harlem in the 1920s," Haygood says. "There, you have examples of defiance and courage and excellence, which serve as great inspiration in times like these."

***

The idea for "I, Too, Sing America" was conceived by Columbus Museum of Art executive director Nannette Maciejunes in 2015 during the book launch for Haygood's biography, Showdown: Thurgood Marshall and the Supreme Court Nomination That Changed America.

"It was truly a moment of serendipity," Maciejunes says. "As I sat in the audience at our city's Lincoln Theatre, I reflected on the fact that everything Wil has written about American cultural history has intersected with and touched on the legacy of the Harlem Renaissance. For me, this [exhibit] is very personal because it involved asking a major writer of the late 20th century and early 21st century to look at the Harlem Renaissance and present to us what it means to him."

Paintings Haygood chose to feature include "School's Out," a 1936 oil on canvas by Boston artist Allan Rohan Crite, depicting dozens of girls dressed in Mary Janes and knee-length yellow dresses emerging from grammar school. The simplified composition and flattened surfaces are reminiscent of American folk art and 15th-century Dutch art.

"I never saw art like this when I was growing up in the '60s," Haygood says. "I'm sure if I had it would have inspired me. That's why I make it a point whenever I'm in town to talk to students. It gives me great joy to spread gospel about literature and art to students who might be 8 or 12 or 15 years old, black or white or from other countries who now live here."

Before becoming an abstract painter, Norman Lewis was known for his use of calligraphic lines and a bright palette to illustrate black urban life.

"This scene is so appropriate, considering the fact that the Harlem Renaissance started with music," Maciejunes says about Lewis' 1942 oil "Jumping Jive," which captures the vibrancy of a jam session.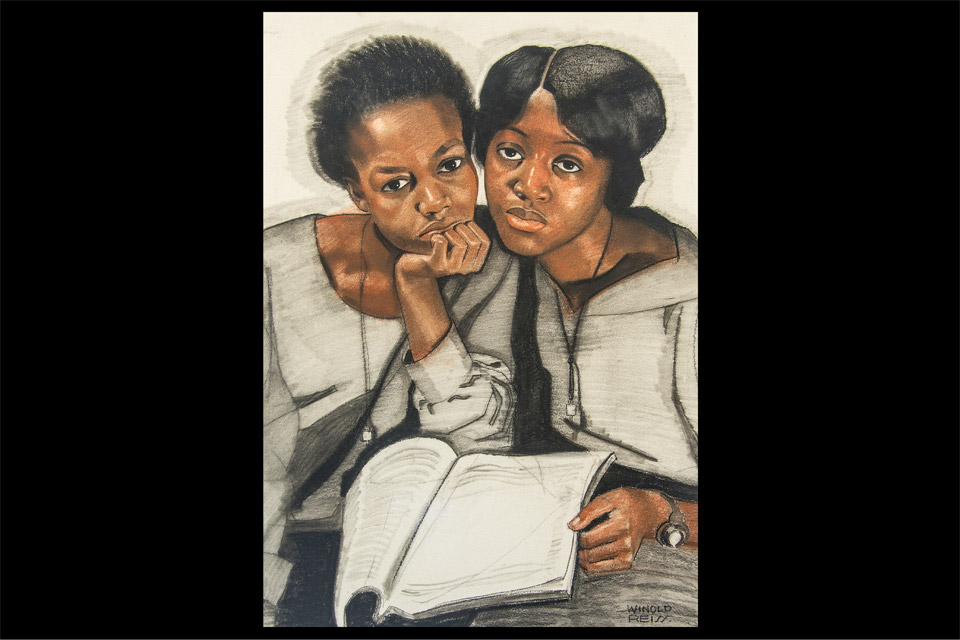 Winold Reiss' pastel portrait "Type Study, II (Two Public School Teachers)" led to raised eyebrows and voices when it debuted in 1925. The image of two steely-eyed teachers was one of several the artist created to illustrate the article "Harlem: Mecca of the New Negro," published in Survey Graphic, a magazine analyzing national and international issues. Black and white audiences alike found the pictures alarming. Some took offense at the depiction of African-Americans as frightening. Others were shocked the artist was Caucasian.

"When Wil selected this work, he told me that everyone needs allies, and if the Harlem Renaissance artists, musicians and writers did not have allies in the white community, it would have been much harder for them to achieve what they achieved," Maciejunes says. "The evocative style of this portrait is one Reiss excelled at. The people in his work really come alive."

Photography was introduced to America in the early 1800s, and it didn't take long for the medium to play an increasingly important role in defining the lives of black Americans. Focal points in the exhibition include prints from the Ralph DeLuca Collection of African American Vernacular Photography, one of the largest private collections of its kind.

Although some of the subjects who posed before the camera were entertainers and athletes, amateur photographers snapped many of the pictures featured in the exhibition as a way to record personal history.

"I love the image of the sailors," Maciejunes says. "When African-Americans returned from World War I, they brought back the idea based on experiences abroad that we could change our communities to include new freedoms economically and culturally. That had a huge impact on our country."

In addition to the museum exhibition, a variety of Columbus arts organizations have created special events designed to celebrate the cultural movement. (Visit cbusharlem100.org for a schedule or turn to page 49 for a preview of other events.)

"I hope people who see this exhibition find a reason to embrace inclusion," Haygood says. "Who doesn't like beautiful art? It's very important to have a sense that this nation grew out of writers and artists who had such an enduring role of moving us forward."

Columbus Museum of Art
480 E. Broad St., Columbus 43215614/221-6801, columbusmuseum.org
Hours: Tues.–Sun. 10 a.m.–5 p.m., Thur. 10 a.m.–9 p.m.
Admission: Adults $20, students over 18 and seniors over 60 $14, students ages 6–17 $11. Museum free on Sundays, but $6 charge for this exhibition