Arts
Canton Museum of Art Hosts 'Scrimmage'
Celebrate America's fall game with a collection of works stretching from the Civil War to modern day.
August 2017
BY Vince Guerrieri | Artwork courtesy of Colorado State University's Gregory Allicar Museum of Art
August 2017
BY Vince Guerrieri | Artwork courtesy of Colorado State University's Gregory Allicar Museum of Art
As a boy growing up in Massachusetts in the 1830s, John Rogers demonstrated an aptitude for art. However, he was steered toward a job that was thought to be more stable, until it wasn't.
Rogers' career as a draftsman was derailed by vision problems, so he turned to sculpting as a hobby. The creative outlet was far less arduous for his eyes than the detailed drawings he was expected to make for work.
His realistic sculptures ran the gamut, from capturing ordinary slices of life, such as men playing checkers, to making political statements, like his work "The Slave Auction." His sculptures included statues depicting Abraham Lincoln, and another that used actor Edwin Booth — the brother of Lincoln's assassin John Wilkes Booth — as a model.
Following the Civil War, Rogers started sculpting commercially, creating works that were designed to be mass produced and sold as attainable works of art fit for middle-class homes. By the time he died in 1904, he was celebrated as "the people's sculptor."
"He was known as an artist for common people," says Max Barton, the Canton Museum of Art's executive director. "His works were so marketable and popular in his lifetime."
One of his last artistic pieces was "Football," an 1891 sculpture showing a group of players tackling a ball carrier in what was then a novel sport becoming popular among upper-class youth at East Coast colleges. Rogers' sons served as the models for the tacklers, and the ball carrier is William Colvin, who was the center for the 1888 Yale University team that went undefeated and was proclaimed national champions.

"Very few of his works survive," Barton says. "This is a rare piece."
Starting Aug. 1 and running through Oct. 29, Rogers' sculpture will be on display at the Canton Museum of Art as part of "Scrimmage: Football in American Art from the Civil War to the Present." The exhibition features around 60 works — including pieces by Norman Rockwell, Winslow Homer and Andy Warhol — that explore football as a prism through which to view American life.
The roots of the exhibition stretch back to 2012, when a controversy was brewing on the campus of Colorado State University. A new, lavish football stadium was proposed for the college even though its team was far from a powerhouse. (The stadium, built at a cost of $240 million, will open this fall.)
"It was quite heated and contentious in terms of the money spent on football in an academic setting," recalls Linny Frickman, the recently retired director and chief curator at Colorado State University's Gregory Allicar Museum of Art. "It was so interesting to me to think about what a hot-button issue it was."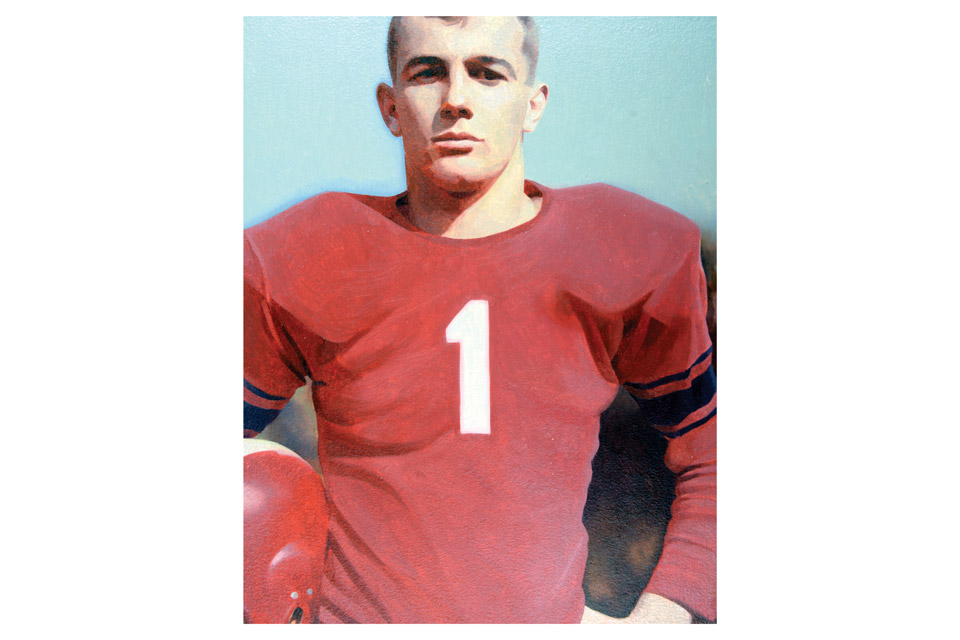 That got her to thinking how there was a real lack of scholarship about art and sports in the United States, even though a number of iconic American artists had created works celebrating the game of football.
"I was shocked to find that one household name after another had made images of the sport and nobody had done really any research on it," Frickman says. "Nobody had brought it together."
That fact made the job of finding the pieces and then getting the agreements needed to have them loaned out for the exhibition a challenge. One of the places Frickman contacted was the Canton Museum of Art, which counts Thomas Hart Benton's lithograph "Forward Pass" as part of its collection.
The Missouri native spent time sketching on the sidelines of the Kansas City Chiefs during their Super Bowl-winning season of 1969. At that point, Benton was at the end of an illustrious career that had seen him paint American landmarks as well as the opening of the West to settlement and, during World War II, illustrations of the threat posed by fascism and Naziism.

"He was prolific as a painter and is one of America's foremost artists," says Barton.
Frickman also made contact with Colorado artist Monique Crine, whose painting "Richard, 1961" is of her father in high school. It's based on a photo taken by her grandfather, who was a press photographer in the 1960s.
"She's an up-and-coming Colorado artist who's actually been exploring football players as subjects for several years," says Frickman, noting that the painting is part of Colorado State University's collection.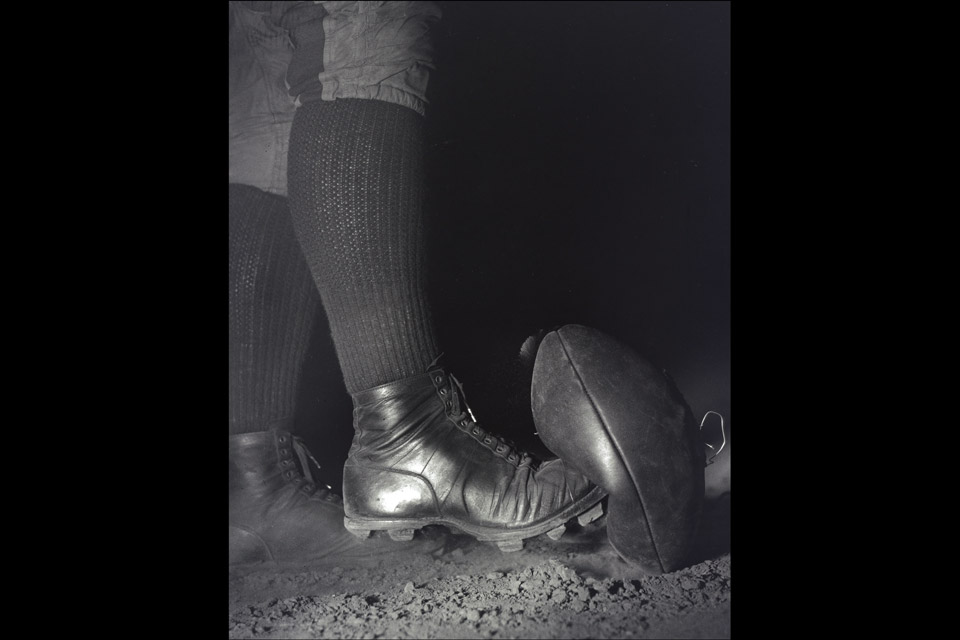 Frickman's "Scrimmage: Football in American Art from the Civil War to the Present" debuted at Colorado State University in 2015, and the following year it went to the University of Oregon, the college's partner in developing the exhibition. After a trip to the Figge Art Museum in Davenport, Iowa, it makes its final stop in Canton.
"What better place to have this seen than here at the Hall of Fame City and the birthplace of the NFL?" Barton asks, noting that the art museum is little more than half a mile from the former site of the Hupmobile dealership where the papers were signed in 1920 to form the American Professional Football Association. The organization became the National Football League two years later.
One of the artists featured in the exhibition is Ernie Barnes, who spent five seasons playing in the NFL and the AFL before turning to art, his first love. Barnes' painting career was aided by early sales to Barron Hilton, the hotel magnate and former co-owner of the San Diego Chargers. Sonny Werblin, who owned the New York Jets from 1963 to 1968, arranged for one of Barnes' first shows.
Barnes' work "Fumble in the Line," a detail of long-limbed players from both teams diving for a loose football, is part of the exhibition at the Canton Museum of Art.
"He's fascinating," Barton says. "In most of his works, he paints people with their eyes closed because he said we as people are blind to each other's humanity."
Many of the works from the 19th and early 20th centuries featured in the exhibition came about as commissions for publications of the day. Frederic Remington, known for his paintings of the American West, earned a living as an illustrator for various publications. One of his illustrations, for Harper's Weekly, portrays a touchdown by Yale University against Princeton during a game in Brooklyn on Thanksgiving, 1890.
"That was how you captured the moment," Barton says. "That's how the world learned about it."
The exhibit also demonstrates the changes in capturing football scenes. Harold Edgerton's "Football Kick," a photo from 1939, shows Harvard coach Wes Fesler's foot booting a ball (Fesler is probably best known to Ohioans as the Ohio State coach who immediately preceded Woody Hayes).
Barton notes that football started out as a game played by upper-class men attending Ivy League schools, before gradually filtering out as a game to be played, and watched, by the general public. He hopes this exhibition centered on the game helps make fine art more approachable as well.
"It's a great access point, for kids especially, to discover and experience the inspiration art has to offer," he says. "Sometimes, people are intimidated by coming to a museum, but this topic makes it a little more accessible. I think it'll speak to everyone with interest in art and in football."

Canton Museum of Art
1001 Market Ave. N., Canton 44702
330/453-7666, cantonart.org
Hours: Tues.–Thur. 10 a.m.–8 p.m., Fri.–Sat. 10 a.m.–5 p.m., Sun. 1–5 p.m.
Admission: Adults $8, students, seniors and military veterans $6, children 12 and under and Blue Star families free

Main image: One of artist John Rogers' last pieces was his 1891 sculpture "Football."